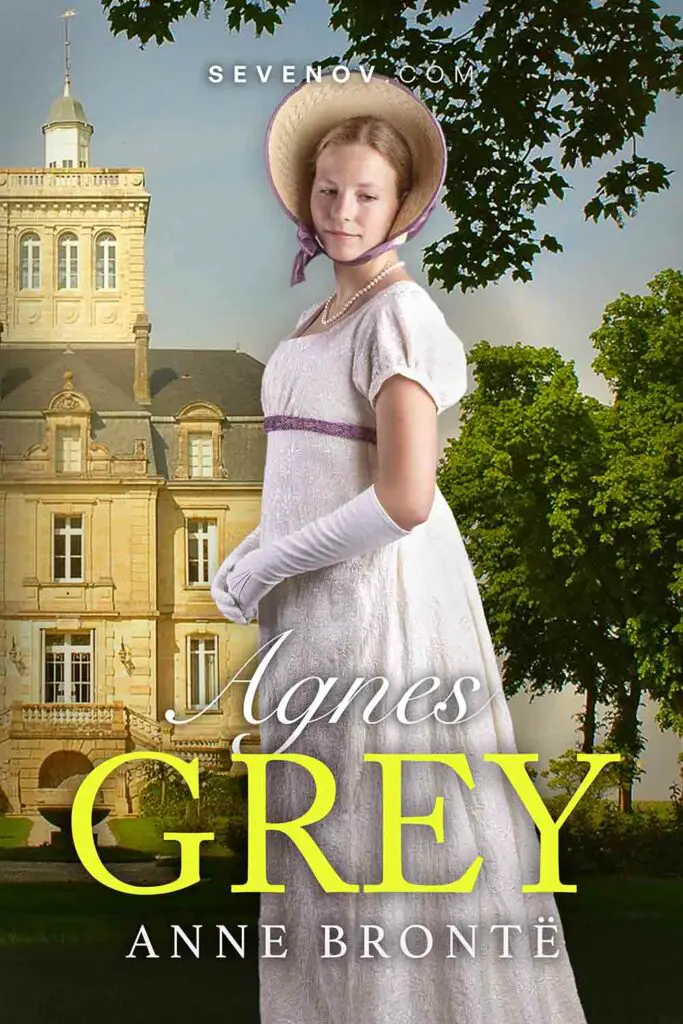 Agnes Grey by Anne Brontë
Author: Anne Brontë
Published: 1847
Genre: Coming-of-age, Realistic, Romance
Agnes Grey is an 1847 novel by Anne Brontë. It tells the story of Agnes Grey, the daughter of a clergyman who becomes a governess and works for families of the gentry. Strongly autobiographical, it is based on Anne's experiences working as a governess for five years. The novel explores society's oppression of women, cruelty towards animals, and themes of personal growth. Due to contemporary prejudice against women authors, Agnes Grey was first published under Anne Brontë's androgynous pen name, Acton Bell. 
Wuthering Heights and Agnes Grey were published in December 1847 in a three-volume format. Wuthering Heights, written by Anne's sister Emily Brontë under the pen name Ellis Bell, took up the first two volumes, and Agnes Grey took up the last. 
1. Synopsis
A young woman eager to prove her abilities, Agnes Grey leaves her family to work as a governess. Her enthusiasm is soon blunted by the harsh realities of her position, including loneliness, spoiled children, and unreasonable employers. Nonetheless, she finds comfort in her blossoming romance with a country parson and eventually carves a place for herself in the world. 
2. Plot Summary
Agnes Grey, the novel's first-person narrator, is the daughter of a clergyman of modest means. Her mother came from a wealthy family and forfeited her share of the fortune to marry the man she loved against her father's wishes. Agnes and her sole surviving sister, Mary, were raised in seclusion and educated by their parents. 
Her father tried to increase their wealth through investment, but when the merchant friend he entrusted his money to dies in a shipwreck, the family fell into debt and poverty. Mary and her mother try to reduce expenses by taking on the housework themselves instead of hiring servants. They treat Agnes like a child, not allowing her to help with the housework, as they would rather let her focus on her studies or play with her kitten. 
Wanting to prove her abilities and earn money, Agnes decides to become a governess. Her parents and sister are reluctant to let her go, but Agnes secures a recommendation from an acquaintance and eventually persuades her parents to let her work. 
Agnes arrives at the mansion of Wellwood to work for the Bloomfield family. The Bloomfields turn out to be both cruel and unreasonable. Their only son, Tom Bloomfield, is a tyrant who beats his sisters and governess. In addition, he enjoys torturing birds that he catches in traps, feeding them to the cat, and cutting them up with a penknife. Mrs. Bloomfield spoils her children, and Mr. Bloomfield nitpicks at Agnes' work. They do not allow Agnes to discipline their children but blame her for their behavior. Within a year, Agnes is dismissed as Mrs. Bloomfield is dissatisfied with her children's progress. 
She returns home and searches for another position as a governess. The Murray family responds to her advertisement and hires her as a governess for their two daughters, Matilda and Rosalie. Matilda is an unruly tomboy, and Rosalie is a pretty but manipulative girl. Nevertheless, they are easier to manage than the Bloomfield children, and Agnes is able to tolerate her position. 
While working for the Murrays, Agnes occasionally visits Nancy Brown, an almost blind elderly woman, to read the Bible to her. At Brown's home, she meets Edward Weston, a kind country parson who is visiting the poor. He goes on a walk with Agnes and picks some wild primroses for her. She keeps one of the flowers in her Bible. Weston tells her that his mother recently passed away. Their burgeoning friendship is noticed by Rosalie, who watches with curiosity. 
Rosalie has recently been presented to society and is courted by many suitors. She becomes engaged to Sir Thomas Ashby, a wealthy baronet. Although Rosalie brags to Agnes about her engagement to Ashby, she asks her to keep it a secret as she wishes to flirt with other men until she gets married. One day, when Agnes and Rosalie go on a walk, they meet Weston, and Rosalie flirts with him, much to Agnes' dismay. 
Agnes receives a letter from her sister, Mary, informing her that their father is dying and begging her to come home. By the time Agnes arrives home, their father is dead. After his death, Agnes and her mother open a small school so she does not return to the Murrays. 
Rosalie writes Agnes a letter telling her that she is miserable in her marriage and asking her to visit. When Agnes sees Rosalie again, she is shocked at her transformation from a cheerful girl into an unhappy woman. Rosalie confides in Agnes about her hatred of her husband and mother-in-law. She claims that Ashby left London because he was jealous of the gentleman who was attracted to her. Agnes learns from Rosalie that Weston has left the area and is upset as she thinks she will not be able to see him again. 
After visiting Rosalie at Ashby Park, Agnes returns home. She goes on a walk by the sea and meets Weston. He explains that he had been looking for her since moving to a nearby parsonage. Weston meets Agnes' mother, and she gets along with him. When Weston proposes to Agnes, she accepts. The two are happily married and have three children. 
3. Characters
Agnes Grey – Agnes is the daughter of a clergyman who is determined to support herself by working as a governess. At the story's start, she is a naive and sheltered girl but slowly becomes more mature through her experiences. She is thoughtful, brave, and compassionate, with a love for nature. 
Edward Weston – A country parson who meets Agnes while visiting the poor. He is pious and kind, which is why Agnes admires him. In the end, he marries Agnes and becomes a loving husband to her. 
Richard Grey – Agnes' father. A clergyman who plunges his family into debt through a failed investment. He cares deeply for his family and is a charitable person. Before he lost his wealth, he would give to the poor as much as he could. 
Alice Grey – Agnes' mother. She was born into a wealthy family but forfeited her share of the fortune to marry Richard Grey against her father's wishes. An educated woman, she tutored her children at home in everything except Latin, which their father taught them. 
Mary Grey – Agnes' older sister. She and Agnes were the only ones among their siblings who survived the perils of infancy and early childhood. After her family lost their wealth, she helped her mother with the housework to reduce expenses. Later on, she marries a parson, Mr. Richardson. 
Mrs. Bloomfield – She's Agnes' first employer and the mistress of Wellwood. She spoils her children and does not allow Agnes to punish them when they misbehave. 
Mr. Bloomfield – He's Mrs. Bloomfield's husband and the master of Wellwood. He often scolds Agnes for his children's unruly behavior even though she is not given the authority to discipline them. 
Tom Bloomfield – Tom is the only son of Mr. and Mrs. Bloomfield and a sadistic boy who bullies his sisters and governess. He enjoys torturing animals. His cruelty towards animals is encouraged by his family, especially his uncle, Mr. Robson, who gives him a nest of baby birds to torture. 
Mary Ann Bloomfield – Mary Ann is Bloomfields' eldest daughter. She is tall and dark like her mother. 
Fanny Bloomfield – Fanny is Bloomfields' second daughter, a beautiful girl. 
Harriet Bloomfield – Harriet is Bloomfields' youngest daughter, a two-year-old who is too young to receive instruction from Agnes. 
Mr. Robson – The Bloomfield children's uncle. He is a cruel man who abuses his dogs and encourages Tom to mistreat animals. 
Mr. Murray – Agnes' second employer. He enjoys hunting and teaches his daughter, Matilda, to swear. 
Mrs. Murray – Mr. Murray's wife. She is a materialistic woman who wants her daughters to marry rich men. As such, she is frustrated with Matilda's tomboy behavior and encourages Rosalie to marry Sir Thomas Ashby despite his poor character.
Rosalie Murray – The Murrays' eldest daughter. She is a selfish girl who likes toying with her suitors' feelings. Although she does not love Ashby, she marries him for his money and beautiful estate. She regrets her decision and confides in Agnes that she detests her husband and mother-in-law. 
Matilda Murray – The Murrays' younger daughter. She is a tomboy who likes horses and has learned to swear from her father and the male servants. 
John and Charles Murray – The Murrays' sons. They are sent to school, so Agnes does not teach them. 
Nancy Brown – Nancy is an elderly woman who is nearly blind. Agnes occasionally visits her to read her the Bible. 
Mr. Hatfield – Mr. Hatfield is a rector who wants to marry Rosalie for her wealth. She flirts with him but rejects him when he proposes. 
Sir Thomas Ashby – Ashby is a wealthy baronet who courts and later marries Rosalie. He is a philanderer who is given to gambling and drinking. Although he has affairs with other women, he gets jealous when he thinks Rosalie is flirting with other men. 
Mr. Richardson – Mr. Richardson is a middle-aged vicar who marries Agnes' sister, Mary. He is not rich, handsome, or young, but Mary considers him wise and amiable. 
4. Themes 
4.1. Gender
Oppression of women and governesses occurs throughout the story of Agnes Grey. Mr. Bloomfield, Agnes' first employer, verbally abuses her when the children run outside to play on a wet day. Moreover, Tom Bloomfield hits his sisters and governess to "keep [them] in order." The upper-class males in the story view women and animals as inferior beings that they can freely abuse and exploit rather than as thinking and feeling entities. Abusing women and animals reinforces their superior status in the social hierarchy.  
Other than being abused, women in Agnes Grey are encouraged to conform to stifling social expectations. Mrs. Murray encourages her daughter Rosalie to marry the wealthy baronet Sir Thomas Ashby despite knowing of his dissolute ways. She wants her daughters to marry well, at the cost of their future happiness. Since women at the time had limited career prospects, they were expected to attain financial security through marriage, an expectation Mrs. Murray placed on her daughters. The shallow and immature Rosalie internalizes this expectation and looks forward to living a life of luxury by marrying Ashby. 
Mrs. Murray also pushes her daughters to behave in a manner society deems proper for upper-class young women. When Rosalie goes for a walk in the fields outside, Mrs. Murray is dismayed. She tells Agnes, "It is not proper for a young lady of her rank and prospects to be wandering about by herself in that manner, exposed to the attentions of anyone that presumes to address her." In other words, upper-class women are expected to stay home and not leave alone without their guardian's permission. Although they are comfortable, they do not enjoy much freedom or independence. 
The disastrous effect of these limiting expectations of women is evident in Rosalie's eventual fate as Ashby's wife.  Although she succeeds in fulfilling her mother's expectations, she is lonely and trapped in a loveless marriage. Rosalie confides in Agnes that she is miserable living with Ashby as he drinks and gambles excessively, gets jealous easily, and carries on affairs with other women. 
4.2. Treatment of animals 
In Agnes Grey, Anne Brontë describes extensively the animals' features, behavior, and personality, emphasizing their capacity to feel just as humans do. The novel portrays animals as innocent beings that can feel pain and are thus worthy of empathy and protection. Furthermore, the story of Agnes Grey explores why people treat animals the way they do. 
Morally flawed characters in the novel, like Tom Bloomfield and Mr. Robson, are shown abusing animals to highlight their cruelty. They look on animals as members of the "lower creation," just like women and servants. Hence, they feel no empathy for them and abuse them relentlessly. As Tom Bloomfield says, "I'm not a bird, and I can't feel what I do to them." 
On the other hand, sympathetic characters like Agnes and Edward Weston are shown to be compassionate towards animals. Agnes tries to persuade her pupil, Tom Bloomfield, not to torture birds by saying, "Remember, the birds can feel as well as you," suggesting that she empathizes with the birds as she realizes their ability to feel.
Edward Weston, Agnes' love interest, shares her love for animals. He returns lost cats and helps small dogs escape from rat traps. Their kindness towards animals is likely a manifestation of their kindness towards all their fellow beings. Both characters are also shown caring for the poor and sick elderly woman, Nancy Brown, and it is at her house that they meet. For them, protecting animals is a moral duty, much like helping the poor. 
5. Quotes
"All true histories contain instruction; though, in some, the treasure may be hard to find, and when found, so trivial in quantity, that the dry, shriveled kernel scarcely compensates for the trouble of cracking the nut."
"It is foolish to wish for beauty. Sensible people never either desire it for themselves or care about it in others. If the mind be but well cultivated, and the heart well disposed, no one ever cares for the exterior."
"the flint and steel of circumstances are continually striking out sparks, which vanish immediately, unless they chance to fall upon the tinder of our wishes; then, they instantly ignite, and the flame of hope is kindled in a moment."
"You think, because I always do as you bid me, I have no judgement of my own: but only try me — that is all I ask — and you shall see what I can do." 
6. Notable Book Covers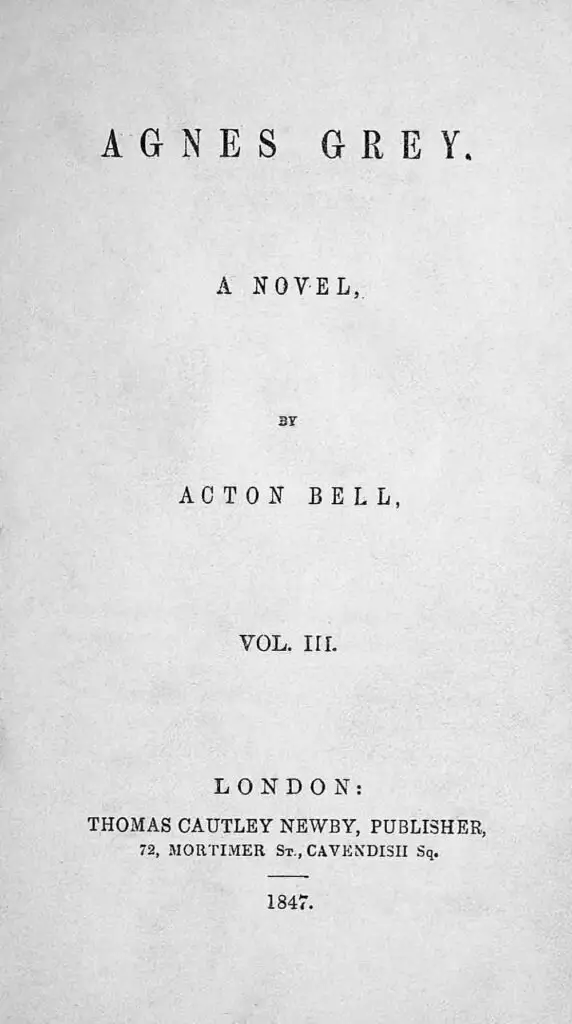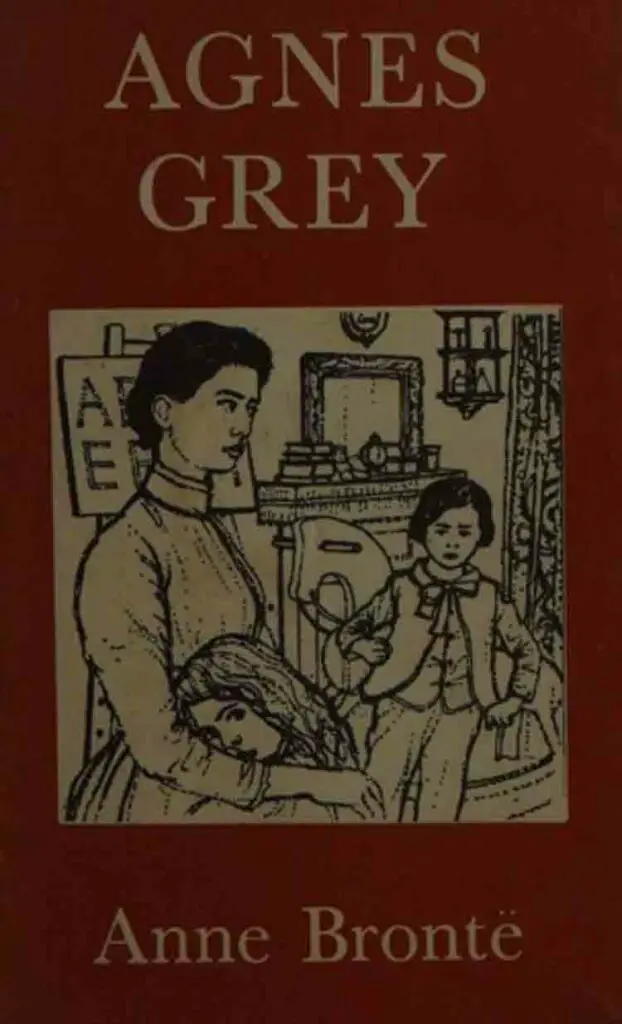 7. Frequently Asked Questions about Agnes Grey
Is there an Agnes Grey movie?
There is currently no film or television adaptation of Agnes Grey. However, the novel was adapted into a radio series first broadcast on BBC Radio 4 in 2017. The radio series was produced by Tracey Neale and starred Ellie Kendrick as Agnes. 
Does Agnes Grey have romance?
The main character Agnes falls in love with a parson, Edward Weston, but wrongly believes that he does not love her. After being separated, they meet again, and Weston proposes to her. The two of them marry at the end of the novel. 
Is Agnes Grey a feminist?
Anne Brontë wrote Agnes Grey during the first wave of feminism when women fought for equal property, marriage, and parenting rights. The titular character exhibits some traits associated with feminists. She desires to be independent, does not place great value on women's physical beauty, and works hard to succeed in her career.