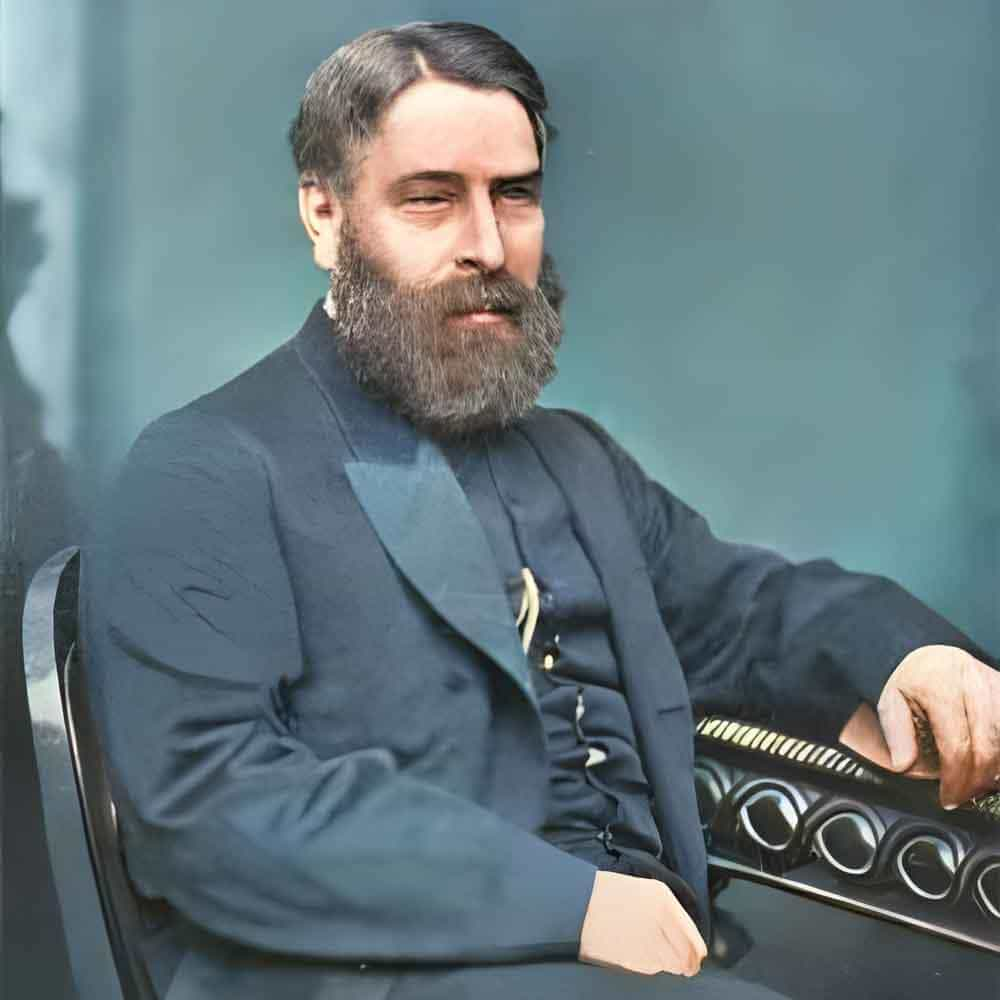 Arthur Bell Nicholls
Born: 6 January 1819
Died: 2 December 1906
Arthur Bell Nicholls was an Irish clergyman and the husband of English author Charlotte Brontë. He was a curate under her father, Patrick Brontë, from 1845 to 1861. Charlotte Brontë died nine months after their marriage. After her death, he remained in the family parsonage to care for Patrick Brontë and eventually returned to his native Ireland, where he remarried. 
1. Biography
1.1. Early Life 
Arthur Bell Nicholls was born at Killead, Country Antrim, Northern Ireland, on 6 January 1819. His parents were William Nicholls, a Presbyterian farmer, and Margaret Bell Nicholls, an Anglican. As one of ten children, he was assisted by his uncle, Reverend Allan Bell, who took him in. His parents could not afford to educate all ten of their children, so they made the hard choice to let Arthur and his older brother, Alan, go. At the time, Arthur was seven years old, and Alan was nine. Reverend Bell was the headmaster of the Royal Free School, Banagher, which Nicholls attended. In 1836, Nicholls enrolled in Trinity College, Dublin, graduating in 1844. 
1.2. Career
Arthur Nicholls was ordained in 1845 and obtained a post as assistant curate in Haworth, where he served under Patrick Brontë, Charlotte Brontë's father. As an assistant curate, he often visited the poor of the parish. He was known to be rigid and conventional; he organized a campaign to prevent women from drying their laundry in the cemetery. 
1.3. Marriage to Charlotte Brontë
Arthur Nicholls grew close to Charlotte Brontë while serving under his father. In December 1852, he proposed to her, drawing the ire of Patrick Brontë, who felt that he was too poor to be a good match for his successful daughter. Charlotte's lifelong friend, Ellen Nussey also disapproved of the match as she wanted them to remain spinster friends for life. 
In 1853, Nicholls announced that he was leaving for Australia to become a missionary but later changed his mind. He was moved to another parish but kept in communication with Charlotte. Gradually, Charlotte was moved by his persistence and decided to marry him. On 29 June 1854, Nicholls and Charlotte were married at St. Michaels and All Angels' Church. Since Patrick Brontë did not attend the wedding, Charlotte was led down the aisle by Margaret Wooler, her former schoolmistress at Roe Head. Despite her initial displeasure at Charlotte's marriage, Ellen Nussey was present as a witness.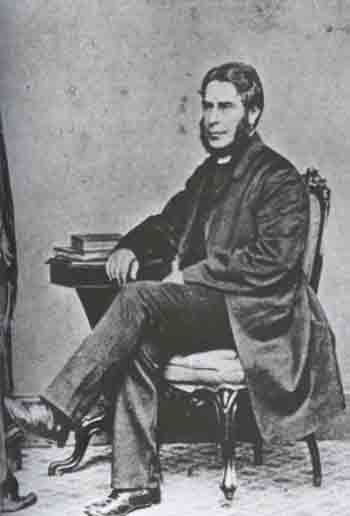 After the wedding, Nicholls and Charlotte went on a honeymoon in Ireland, traveling through Wales. While in Ireland, Charlotte met Nicholls' adoptive family, the Bells. She was pleasantly surprised to find "so much of English order and repose in the family habits and arrangements." She had heard much about "Irish negligence" and did not expect Nicholls' relations to be well-bred people. As for the Bells, they were excited to have a famous author in their house and as an in-law to boot. They were fans of Jane Eyre and had driven all the way to Birr to buy each volume of the novel. 
Although Nicholls was very different from Charlotte in temperament, their marriage appears to have been a happy one. In a letter Charlotte wrote to Ellen Nussey on Boxing Day 1854, she called Nicholls, "my dear boy… dearer now than he was six months ago." She added that "every day makes my own attachment to him stronger."
Charlotte and Nicholls' marital bliss was tragically cut short in March 1855 when Charlotte died from extreme morning sickness. Her death left Nicholls the copyright holder of her work and a reluctant curator of her memory. As public speculation about Charlotte's life became more intense, Patrick Brontë decided to enlist the help of her friend, Elizabeth Gaskell, to write a biography of Charlotte that would set the record straight. Nicholls did not want to contribute to the project initially as it would require permitting Gaskell to quote from Charlotte's private letters. 
However, he later relented and got involved in controversy. The biography harshly depicts the Cowan Bridge school attended by Charlotte, and the teachers who taught there accused it of slander. In response, Nicholls wrote letters to newspapers defending the accuracy of Gaskell's biography regarding conditions at the school.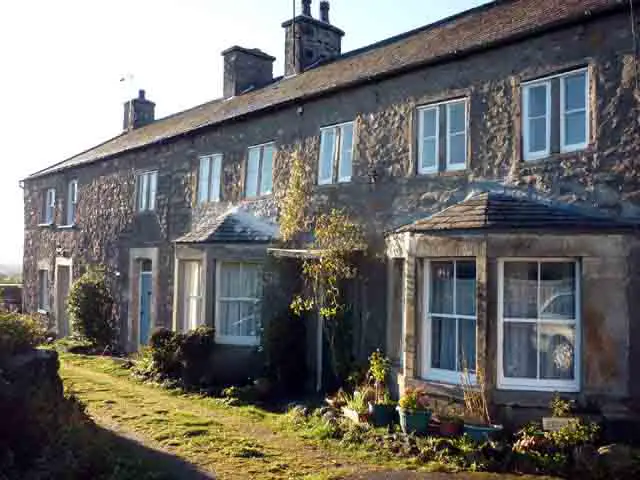 In 1857, he approved the publication of Charlotte's first novel, The Professor, posthumously. Many publishers had rejected the novel during her lifetime, and Nicholls wrote in the preface that he thought he ought not to withhold the work from the public since it is unlike Villette in many aspects, despite being based on the same material.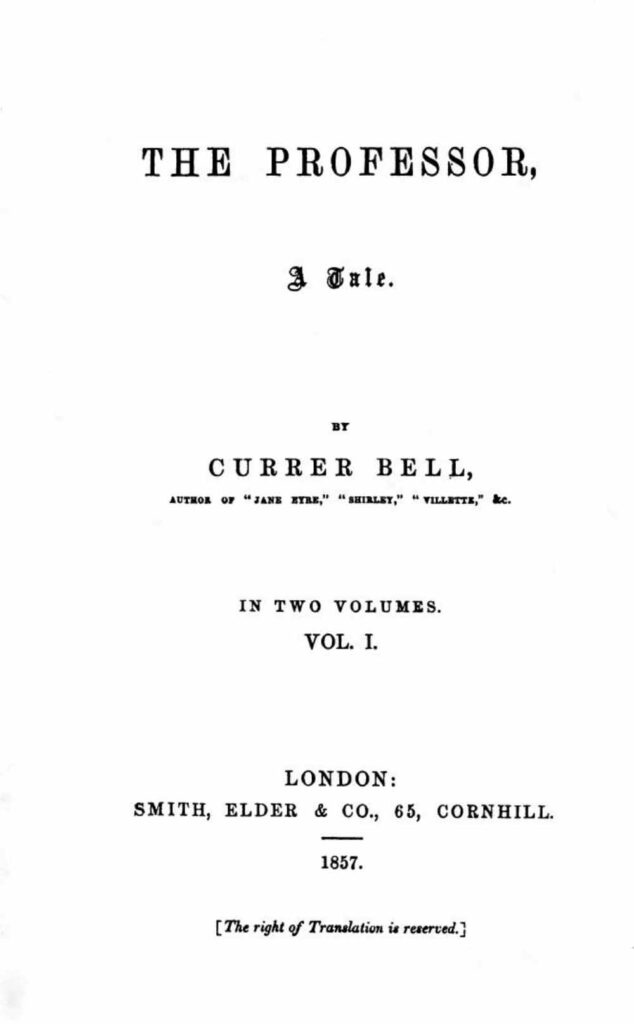 1.4. Later years
Arthur Nicholls remained at the Brontë parsonage until Patrick Brontë died in 1861. Afterward, he moved back to Banagher, County Offaly, Ireland, to live with his widowed aunt and her daughter, Mary Anna Bell. Nicholls left the clergy and managed a small farm. He married Mary Anna Bell in 1864.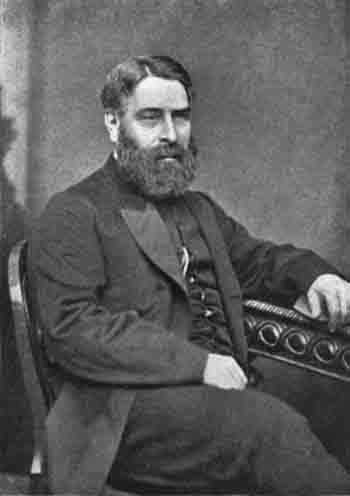 For the rest of his life, he largely kept aloof from Brontë biographers and aficionados looking for memorabilia. However, he stepped forward in 1876 to object to certain parts of T.W. Reid's biography of Charlotte. In 1895, he granted the journalist and literary critic Clement Shorter access to his Brontë archive. Shorter also convinced Nicholls to pass him Charlotte's letters for safekeeping. Not long after, Shorter started selling off Charlotte's letters through auction houses. 
Nicholls died at Banagher on 2 December 1906 from bronchitis. After his death, his widow, Mary Anna, sold his remaining Brontë memorabilia, including manuscripts, personal possessions, furniture, and artwork. Most notably, she rediscovered a portrait of the three Brontë sisters and a portrait of Emily Brontë, which was meant to be part of a larger group portrait. The Brontë brother, Branwell, painted both portraits and now hang in the National Portrait Gallery, London.