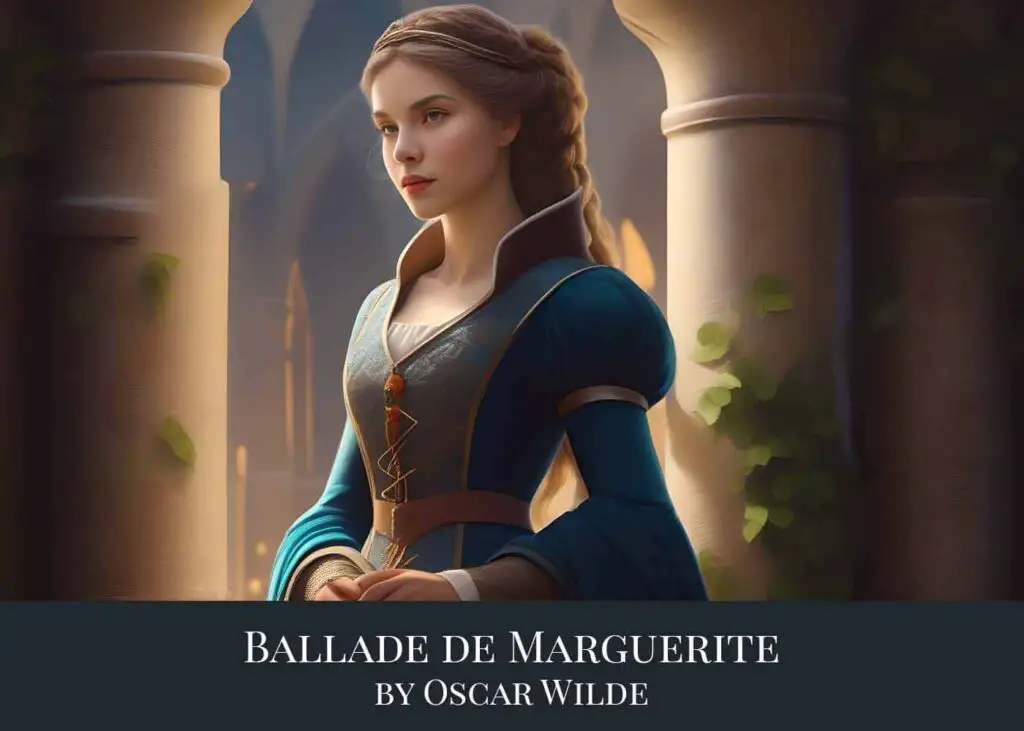 Ballade de Marguerite by Oscar Wilde
Delve into the evocative "Ballade de Marguerite" by Irish playwright, novelist, poet, and critic Oscar Wilde, a captivating poem reflecting on love, class, and tragedy. The poem weaves a tale of a young man's unrequited affection for a lady above his station. This stirring piece is included in Poems, Oscar Wilde's first poetry collection.  For readers eager to explore the full range of Wilde's poetic expression, Poems ebook is available for your reading pleasure at PageVio.
1. Ballade de Marguerite
I am weary of lying within the chase
When the knights are meeting in market-place.
Nay, go not thou to the red-roofed town
Lest the hoofs of the war-horse tread thee down.
But I would not go where the Squires ride,
I would only walk by my Lady's side.
Alack! and alack! thou art overbold,
A Forester's son may not eat off gold.
Will she love me the less that my Father is seen
Each Martinmas day in a doublet green?
Perchance she is sewing at tapestrie,
Spindle and loom are not meet for thee.
Ah, if she is working the arras bright
I might ravel the threads by the fire-light.
Perchance she is hunting of the deer,
How could you follow o'er hill and mere?
Ah, if she is riding with the court,
I might run beside her and wind the morte.
Perchance she is kneeling in St. Denys,
(On her soul may our Lady have gramercy!)
Ah, if she is praying in lone chapelle,
I might swing the censer and ring the bell.
Come in, my son, for you look sae pale,
The father shall fill thee a stoup of ale.
But who are these knights in bright array?
Is it a pageant the rich folks play?
'T is the King of England from over sea,
Who has come unto visit our fair countrie.
But why does the curfew toll sae low?
And why do the mourners walk a-row?
O 't is Hugh of Amiens my sister's son
Who is lying stark, for his day is done.
Nay, nay, for I see white lilies clear,
It is no strong man who lies on the bier.
O 't is old Dame Jeannette that kept the hall,
I knew she would die at the autumn fall.
Dame Jeannette had not that gold-brown hair,
Old Jeannette was not a maiden fair.
O 't is none of our kith and none of our kin,
(Her soul may our Lady assoil from sin!)
But I hear the boy's voice chaunting sweet,
'Elle est morte, la Marguerite.'
Come in, my son, and lie on the bed,
And let the dead folk bury their dead.
O mother, you know I loved her true:
O mother, hath one grave room for two?
2. Ballade de Marguerite Analysis
"Ballade de Marguerite" tells a story of unrequited love and the social class divide in a medieval setting. The speaker is a forester's son—a young man of lower social standing—who is in love with a Lady of higher birth and status. Each stanza presents his longing to be with her, juxtaposed against the reality of his station and the expectations of his society. Here's a breakdown of the poem's content and themes:
Longing for a Higher Social Status – The speaker expresses weariness of his lower social status, symbolized by "lying within the chase" (a hunting ground), while desiring to be among the knights in the marketplace, a place of higher social standing.
Warning Against Aspirations Above One's Station – The speaker is warned not to aspire to the lifestyle of the higher class, represented by the red-roofed town and the dangers therein, like being trampled by a war-horse.
Desire for Romantic Love – The speaker wishes not for the life of squires but to be by the side of a lady, indicating romantic aspirations.
Class Boundaries in Love – There's a reminder that a forester's son (lower class) cannot aspire to the lifestyle or love of those in higher social strata, symbolized by "eating off gold."
Insecurity Due to Social Status – The speaker questions whether his love interest would care about his lower social status, highlighted by his father wearing a green doublet on Martinmas day, a garment associated with foresters.
Unfulfilled Desires – The speaker imagines various scenarios involving the lady, such as her sewing tapestry, hunting, praying, or participating in courtly activities. He fantasizes about being close to her in these scenarios, despite the class divide.
Tragic Turn and Mystery – The poem shifts to a funeral scene. There's confusion about whose funeral it is. Suggestions range from Hugh of Amiens (a relative), Dame Jeannette (an old woman), to a fair maiden with gold-brown hair.
Revelation of the Lady's Death – It is revealed that the funeral is for Marguerite, the lady the speaker loves, as indicated by the boy's chant, "Elle est morte, la Marguerite" ("She is dead, the Daisy").
Grief and Despair – The poem concludes with the speaker's expression of profound grief and a desire to join his beloved in death, asking if there's room for two in the grave.
The poem is a poignant exploration of love across social divides and the pain of love lost, set against a backdrop of medieval customs and class distinctions. It captures the universal themes of longing, heartbreak, and the clash between desire and societal roles.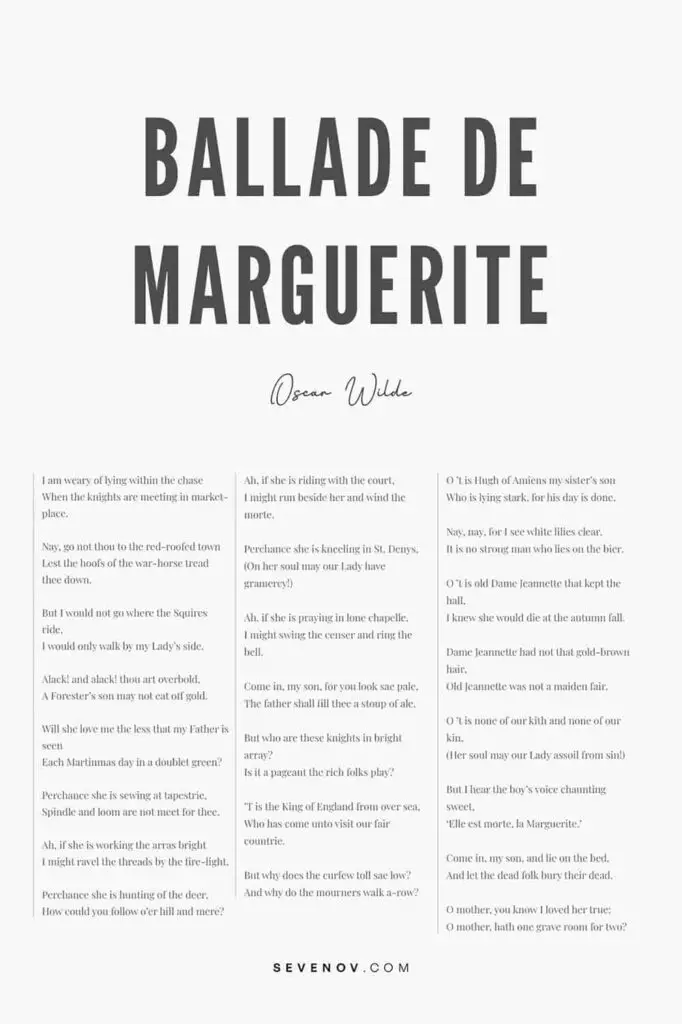 Download Ballade de Marguerite Poster
Size: 8″ x 12″ (2:3 ratio)
Format: PDF
Copyright information: For personal use only
Note: Actual poster background color is white. For the sample poster, the background is made gray for illustration purpose.
3. Conclusion
If "Ballade de Marguerite" resonates with you, you may find delight in discovering more of Oscar Wilde's poetry. His other works offer a rich tapestry of emotion and imagery, well worth exploring.