Biographical Notice of Ellis and Acton Bell by Charlotte Brontë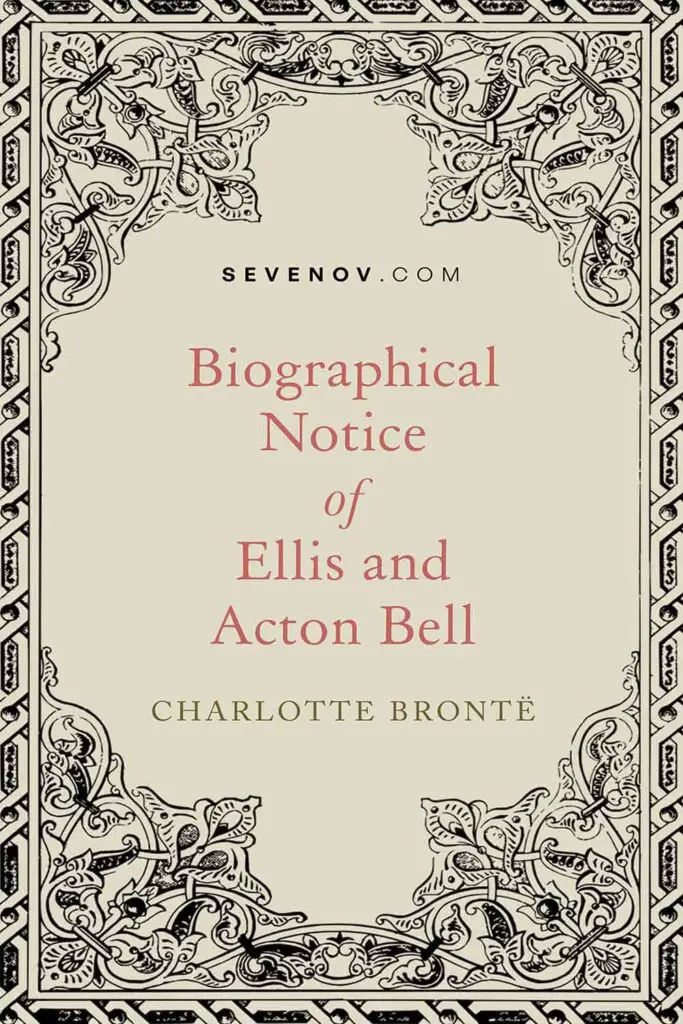 Author: Charlotte Brontë
Published: 1850
Genre: Biographies
Original title: Biographical Notes on the Pseudonymous Bells
Biographical Notice of Ellis and Acton Bell is a short biography written by Charlotte Brontë that explains how she and her sisters, Emily and Anne became published authors under the androgynous pseudonyms of Currer, Ellis, and Acton Bell. It was written in 1850, after the deaths of Emily and Anne Brontë, and published as the preface to the new editions of Wuthering Heights and Agnes Grey. The text is also known as 'Biographical Notes on the Pseudonymous Bells'. 
Synopsis of Biographical Notice of Ellis and Acton Bell 
In this biographical notice, Charlotte Brontë first describes how she and her sisters came to develop their literary talent. Growing up in a remote district, they often occupied themselves with books and literary composition. 
In the autumn of 1845, Charlotte came across a volume of Emily's poetry and was impressed by their "terse, vigorous and genuine" quality. As such, she persuaded Emily to publish her poems, together with those written by Anne and herself. 
Aware that female authors were subjected to prejudice, the Brontë sisters chose pseudonyms that would hide their gender. When their poetry volume Poems by Currer, Ellis, and Acton Bell was published, it sold very poorly. Nevertheless, they were not discouraged and eventually published their prose works, which earned them literary success. 
After detailing their literary careers, Charlotte goes on to describe the tragic decline and deaths of Emily and Anne. She pays respect to their memory before providing a sketch of their personalities. Charlotte ends the notice praising Emily and Anne for being "genuinely good and truly great" and explaining that she felt compelled to write this short biography to "leave their dear names free from soil."