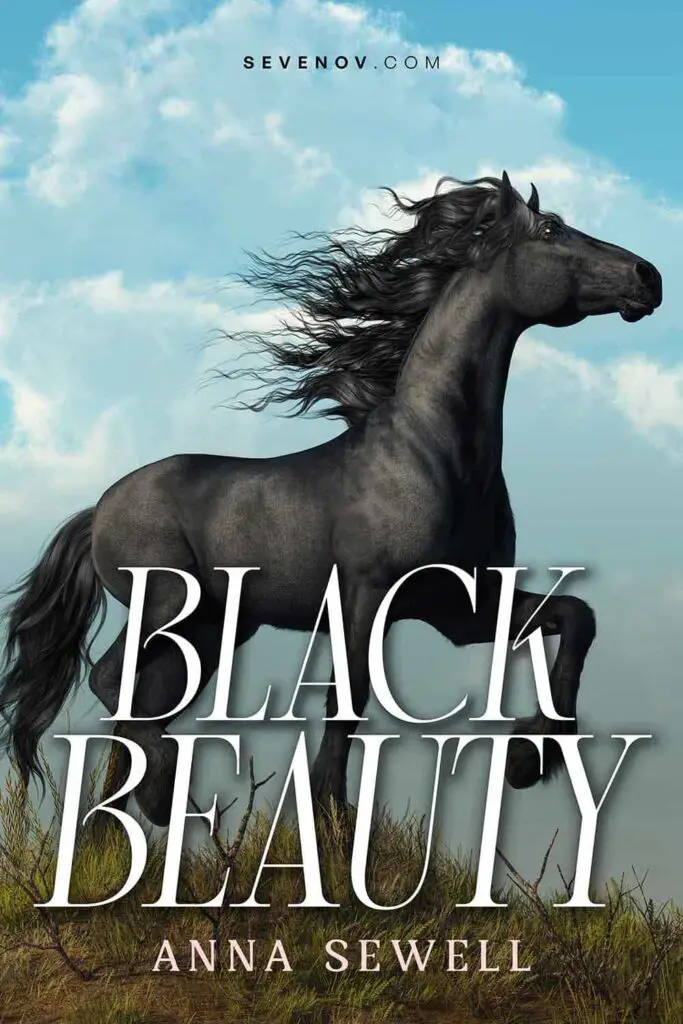 Black Beauty by Anna Sewell
Author:  Anna Sewell
Published: 24 November 1877
Genre: Children's Literature
Black Beauty: His Grooms and Companions, the Autobiography of a Horse, more commonly known as Black Beauty, is Anna Sewell's only novel, and upon its publication in 1877, it immediately garnered large-scale attention, with fifty million copies sold to date. While Black Beauty is still loved by many today, Anna Sewell could only enjoy the fruits of her labor a short five months before she died from her chronic illness. 
Black Beauty's skillful exploration of moral themes makes it a cornerstone of Children's Literature, with the book teaching children values and lessons such as compassion and animal welfare. Sewell's work has caused a powerful ripple effect in the treatment of horses and animal rights and welfare standards, drawing more attention to these areas.
1. Synopsis
Black Beauty follows a horse bearing the same name and the key life lessons he learns while growing up and interacting with humans. Told from an autobiographical standpoint, Black Beauty recounts the time from when he lived as a wild foal in the English countryside on a farm to when he was held captive as a transport horse, made to pull the carriages of people. 
Poignant and full of emotion, Sewell illustrates a tale of kindness and evil toward animals through the eyes of one. Despite the protagonist's form as a horse, the vivid way Black Beauty's life experience is captured draws readers in, forming a sense of realism that invokes empathy.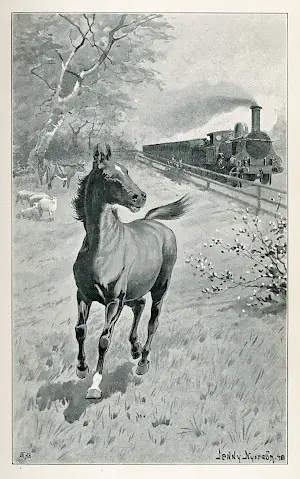 2. Story Summary
2.1. Birtwick Park
Black Beauty was born on a Victorian farm where she led a peaceful childhood with her mother, Duchess, and the kind Farmer Grey that looked after her. Despite being born as one of the more privileged horses, Beauty understands that not all humans are as compassionate as Farmer Grey and can even cause them harm. Beauty spends most of his childhood as a foal living an idyllic and carefree life. 
When Beauty is slightly older, he is sent to live at Birtwick Park, which Squire Gordon manages, and he is cared for by John Manly. Squire Gordon and John are also compassionate individuals and take exceptional care of Beauty. It is also at Birtwick that Beauty meets other horses and becomes fast friends with two horses named Ginger and Merrylegs. Beauty feels fulfilled and happy living at Birtwick, as beyond being treated well, Beauty is included in various tasks that give him a sense of importance. One particular incident that sticks with Beauty is when he was ridden to fetch a doctor for Squire Gordon's wife, who had fallen ill. 
Unfortunately, age catches up with Squire Gordon, and he too falls ill. Upon examining Squire Gordon, the doctor advises that he move to a warmer climate. Unable to bring Beauty and the other horses along, Squire Gordon sells Beauty and Ginger to the Earl of W. 
2.2. Earlshall Park
At Earshall Park, Beauty soon realizes what unprivileged horses must endure. Her new owners, The Earl and Lady of W, are rather unkind people, with Lady W insisting that bearing reins be used on Beauty and Ginger. Their primary caregiver is Reuben Smith, previously an apprentice to a veterinary surgeon. However, Reuben is a serial alcoholic, leading to him being fired temporarily. 
One day, Reuben is tasked to ferry Colonel Blantyre to town from the estate, and he brings Beauty along. Upon completing his task, he gets drunk in a pub and rides Beauty back in a drunken haze. His intoxicated state prevents him from noticing a loose nail in Beauty's shoe, and even when it comes off, Reuben is too drunk to stop. The sharp rocks hurt Beauty, and he loses his balance, causing Beauty to fall and sustaining a nasty cut that permanently scars him. Reuben is not as lucky and breaks his neck from the fall, dying instantly. 
2.3. Livery Stables
Due to his scar, Beauty is sold to a livery stable and is rented out as a horse-for-hire. He is bought by a man named Mr. Barry, who is kind to horses but lacks the knowledge to care for them. Unable to maintain Beauty, Mr. Barry sells Beauty to a man named Mr. Jerry Barker.
2.4. Cab Horse
Mr. Jerry Barker is Beauty's new owner, and he is a fair and kind man that knows how to care for horses. Beauty meets another horse named Captain. Beauty lives a reasonably good but busy life working as a cab horse under Jerry for some time. During a winter blizzard, Jerry is kept waiting by some irresponsible customers and develops bronchitis, which is nearly fatal. Unable to be a cabbie anymore, Jerry sells Beauty to a baker named Steven.
2.5. The Countryside
Working for Steven is reasonably bearable, but Steven fails to care for Beauty's living needs adequately. Unfortunately, Steven's other workers treat Beauty cruelly, often overloading him so they can complete deliveries faster. Beauty is forced to wear a bearing rein once again until a kind lady points out that the rein is counterproductive in making Beauty go faster. 
Beauty is also used as a cab horse under Nicholas Skinner. Beauty meets Ginger again here, but it is not a happy reunion. Ginger has been so overworked that she eventually dies. Not only is Nicholas unkind and cruel, but he also whips the horses he owns. Beauty finally collapses from overwork, and Nicholas plans to let Beauty die so he can be sent to a knacker to have his carcass recycled into various products. Fortunately, a farrier convinces Nicholas to let Beauty recover before selling him at a horse fair. 
2.6 Ending
At the horse fair, Beauty is bought by a kind man named Farmer Thoroughgood and his grandson Willie. They nurse Beauty fully back to health before a coachman named Joseph Green, who knew Squire Gordon, recognizes Beauty. Joseph's mistresses, three ladies named Miss Blomefield, Miss Ellen, and Miss Lavinia, take in Beauty, where he is treated with love and care in his last days after a hard life.  
3. Characters
Black Beauty
The novel's narrator Black Beauty is born into a relatively privileged life where he lives healthily and happily, having the fortune of good and responsible owners. Black Beauty spends most of his days as a young foal believing that humans do not have the capacity to be cruel to animals.
However, his impression soon changes when he is sold to various owners who are not only cruel but negligent in grooming and caring for him. By nature, Black Beauty is not a violent horse and does not lash out, but the harsh treatment takes a toll on his physical and mental well-being. Nevertheless, he does obtain a happy ending after a life of hardship and care.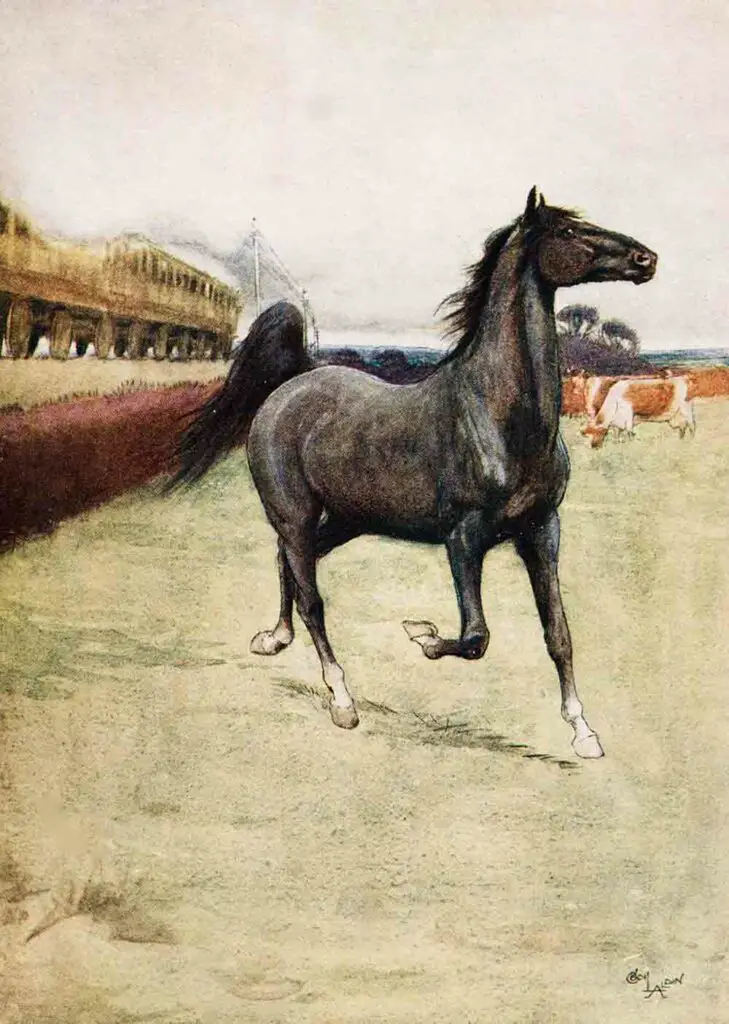 Farmer Grey
Black Beauty's first owner, Farmer Grey, is a kind man who owns the farm on which Black Beauty is born. He knows how to care for horses and treats them well.
Squire Gordon
As Black Beauty's second owner, he lives up to Farmer Grey's gentle demeanor. Squire Gordon is a competent rider and a strong advocate for animal welfare, is vehemently against using the bearing rein on horses, and often encourages other riders to refrain from using it. He showers Black Beauty and other horses with much care and love until his illness prevents him from being able to care for them any longer. 
Earl of W
They are the first of many poor masters that Black Beauty encounters. The Earl and his wife insist on using bearing reins on the horses, but he does show some degree of compassion toward Black Beauty and Ginger, letting them get used to the bearing rein. However, his vanity takes precedence over all else, and he sells Beauty because he feels the scar on Beauty's leg ruined his image.
Reuben Smith 
The head groom of the Earlshall estate, Reuben, is an aggressive alcoholic. He meets an unfortunate end when his drunkenness causes him to overlook safety precautions while riding Beauty. Despite his drunkenness, Black Beauty cannot deny that Reuben is a competent groom, as he had veterinary training. 
Jerry Barker
A kind and fair cab driver, Jerry treats his horses fairly and ensures they have reasonable working conditions. His strong religious faith plays a part in his belief that animals have the right to rest and that animal cruelty is a sin. In the cab driving community, he is sneered upon for kindly treating his horses and refusing to whip them. Beauty's time with him is short-lived as Jerry soon contracts bronchitis which puts him out of business. 
Nicholas Skinner
By far the worst master that Black Beauty has encountered, Nicholas Skinner is the owner of one of London's most successful cab businesses. Nicholas is a violent and cruel man who does not believe in treating animals well and that he should use them to their limit. Ginger dies under Skinner's treatment, and Black Beauty would have followed in his friend's footsteps if not for the intervention of a veterinarian.  
Farmer Thoroughgood and Willie 
Farmer Thoroughgood, a kind old man, and Willie have made it a routine to rehabilitate horses like Black Beauty who have been mistreated and overworked. They are gentle and firm in helping Black Beauty and nurse him back to health in no time.
4. Themes: Animal Rights and Welfare
The biggest, if not most important theme in Black Beauty, is the topic of animal rights and welfare. Set in Victorian England, there were close to no measures put in place to protect animal rights, especially animals in working conditions. Cars were not yet invented, and horses were the main form of transport for many Victorians, and this gave way to cab services which were essentially horse-drawn carriages. 
From the perspective of Black Beauty, Anna Sewell sheds light on the harmful and damaging nature of bearing reins and blinkers that are often used on horses to make them presentable and more efficient for drawing carriages. The first-hand, highly sensitized, and emotionally-charged voice of Black Beauty touched a chord in the hearts of many readers, especially children who often have an affinity for animals. It sparked a heightened awareness of the practices used in the cab industry, and many people began questioning the ethics behind how horses were treated.  
All in all, the story aimed to garner more empathy toward animals, especially horses. It gave a voice to these horses that could not better their situation and made people question their attitudes toward businesses or activities that involved animal labor. 
5. Writing Style
Black Beauty utilizes anthropomorphism, where the horse, Black Beauty, can experience and verbalize human emotions and traits. In employing this technique for the story, Sewell creates a connection between the protagonist Beauty and the readers, generating compassion toward the plight of the horses. By sensitizing her readers, Sewell enables them to see the value of animals. While this is a hyper-realistic portrayal of a horse in Victorian England, her tale is not that far from reality.
Told in first-person narration, the story places readers in a position where we are made to empathize and feel for the horses and what they are put through. The vivid descriptions include Beauty telling us what it feels like to have a bit in his mouth and the painful sensation of being whipped. What gets under our skin as humans is that these horses cannot express their emotions and thoughts, despite being subject to such immense stress. Unlike us, the horses in the story can only suffer in silence.
6. Influence on Literature, Film, and Theater
6.1. Impact on Literature
The most notable work influenced by Black Beauty is the novel Beautiful Joe, published sixteen years after Sewell's story. The novel starred an Airedale-type dog as its protagonist. Black Beauty's influence did not stop there, going on to strongly inspire Moorland Mousie, published in 1929. 
In 1950, Phyllis Briggs wrote a novel titled Son of Black Beauty, which she intended to be a sequel to Black Beauty. Another novel that is not only inspired by Black Beauty but claims to be its sequel is The Strike at Shane's: A Prize Story of Indiana. While its author is unknown, many critics suspect it to be the debut novel of Gene Stratton Porter. It first came to the public's attention when it won a contest sponsored by the American Humane Society. The story focuses on how animals on a farm in the midwest are treated.
Other writers, such as the Pullein-Thompson sisters, chose to take a different approach. They wrote various spin-offs of Black Beauty that centered around horses related to Beauty. The list is as follows:
Black Ebony (1975)
Black Velvet (1975)
Black Princess (1975)
Black Nightshade (1978)
Black Romany (1978)
Black Piper (1982)
Black Raven (1982)
Black Pioneer (1982)
Additionally, while Black Beauty's direct influence is still being debated, Michael Morpurgo's 1982 novel War Horse is said to be a parallel of Black Beauty. 
6.2. Influence on Film
The first movie adaptation of Black Beauty which Edward H. Griffith directed, was released in 1917, titled Your Obedient Servant. Despite being of a different name, the film closely follows the book's plot. From 1921 to 1978, four more adaptations of Black Beauty were released. The latest film adaptation is the same name as the novel Black Beauty. It was released in 2020 under Walt Disney and put a modern twist on Sewell's story. Directed by Ashley Avis, the film starred Kate Winslet as the voice of Black Beauty. However, Black Beauty is a mare instead of a stallion in the 2020 version. 
In terms of television series, the first release was in 1972 by London Weekend Television, titled The Adventures of Black Beauty. Black Beauty was once again serialized in 1978. 
6.3. Influence on Theater
In 2011, Black Beauty was adapted into a theater play by James Stone and directed by Chris Ford. Its first few performances took place at Broughton Hall Estate, North Yorkshire, and Epsom Racecourse, Surrey. The play of Black Beauty was met with great success and pleasant reviews, going on to be performed at various venues in the UK. 
7. Quotes from Black Beauty
"We have no right to distress any of God's creatures without a very good reason; we call them dumb animals, and so they are, for they cannot tell us how they feel, but they do not suffer less because they have no words."

the lady that saves Black Beauty from wearing a bearing rein
"There is no religion without love, and people may talk as much as they like about their religion, but if it does not teach them to be good and kind to man and beast, it is all a sham."

John Manly
"If a thing is right it can be done, and if it is wrong it can be done without; and a good man will find a way."

Mr. Jerry Barker
"Only ignorance! only ignorance! How can you talk about only ignorance? Don't you know that it is the worst thing in the world, next to wickedness? — and which does the most mischief heaven only knows. If people can say, `Oh! I did not know, I did not mean any harm,' they think it is all right."

John Manly
"Why don't they cut their own children's ears into points to make them look sharp? Why don't they cut off their noses to make them look plucky? One would be just as sensible as the other. What right have they to torment and disfigure God's creatures?"

Black Beauty
8. Notable Book Covers of Black Beauty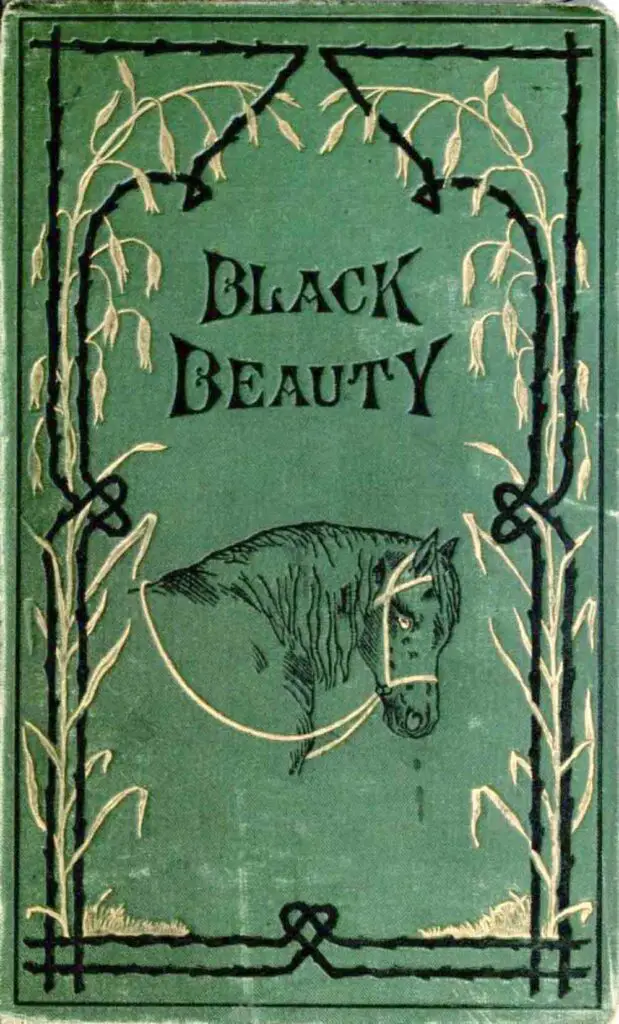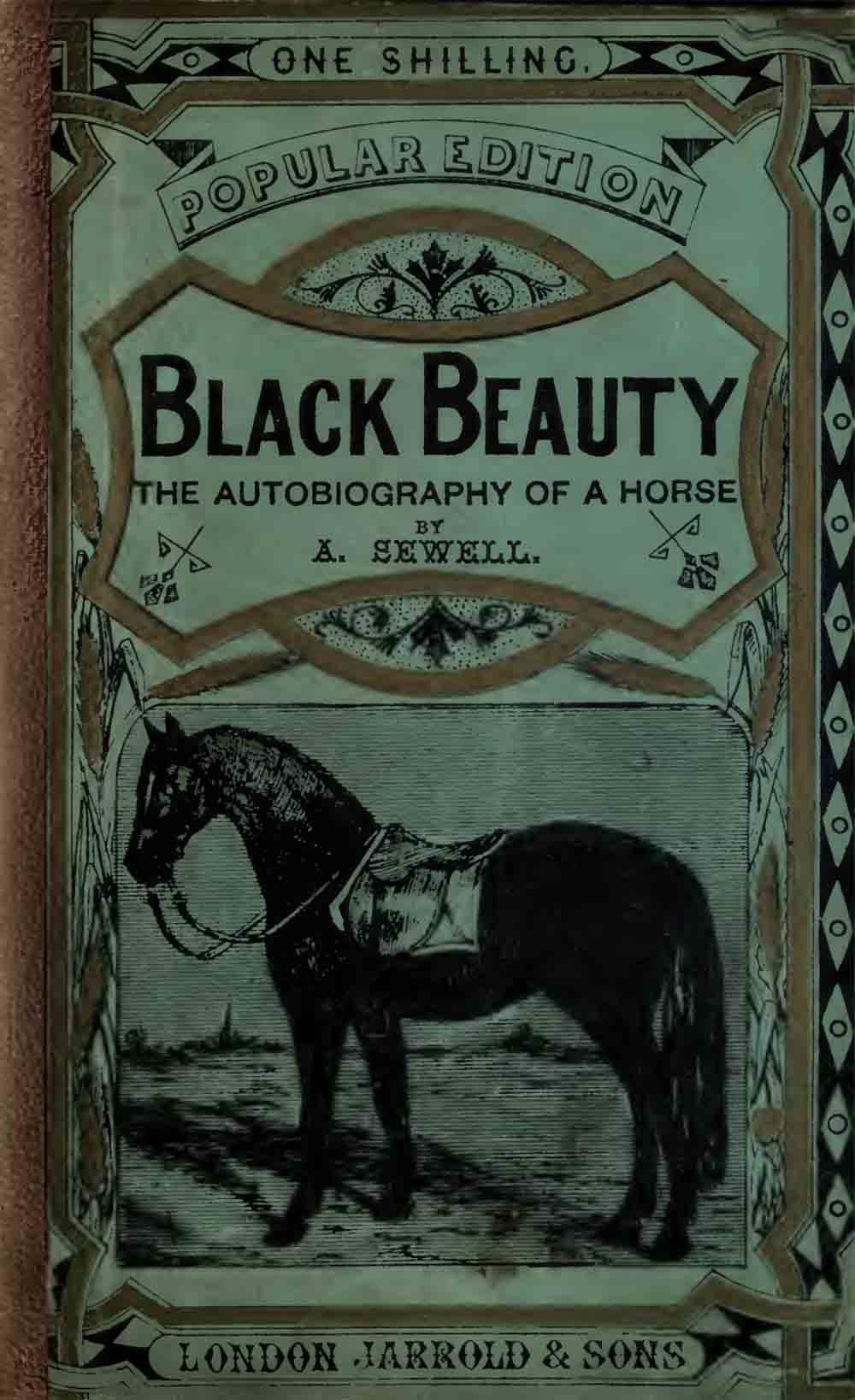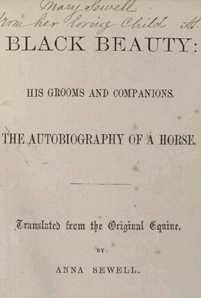 9. Frequently Asked Questions about Black Beauty
Is Black Beauty based on a real horse?
No, it is not. However, the plight of horses in the Victorian Age presented in the book is genuine. Anna Sewell grew up witnessing the inhumane treatment of horses by laborers and cabbies, inspiring her to write Black Beauty to spark empathy toward horses.
Does Black Beauty end happily?
Yes, it does. Although Black Beauty's life was filled with hardship and abuse, he was eventually rescued by the kind Farmer Thoroughgood and his grandson Willie.
Is the film adaptation of Black Beauty by Disney different from the book?
Yes, the adaptation is slightly different. Sewell's novel is set in Victorian England, while the Disney film is set in the twenty-first century. Black Beauty is also a mare instead of a stallion.
Many film critics and viewers have pointed out that Disney's version of Black Beauty incorporates a more human voice than solely just the horses'. However, many lovers of Sewell's original novel felt that the film failed to capture the essence and message Sewell intended. 
Is Black Beauty a social commentary?
Yes, the story can be interpreted as a commentary on animal welfare and women's welfare in Victorian times. Literary experts have noted the similarities in the treatment of horses and women back in the Victorian era. Both were expected to conform to the wishes of men and met with abuse when they failed to do so.
What is the message of Black Beauty?
Sewell hoped to spread the message that animals have the right to be treated fairly and respectfully. She hoped that people would develop more compassion toward animals, especially horses.
What age is Black Beauty appropriate for?
Ten years old and above. The story does deal with more mature and morbid themes, including fairly graphic descriptions of the physical torment that the horses experience.