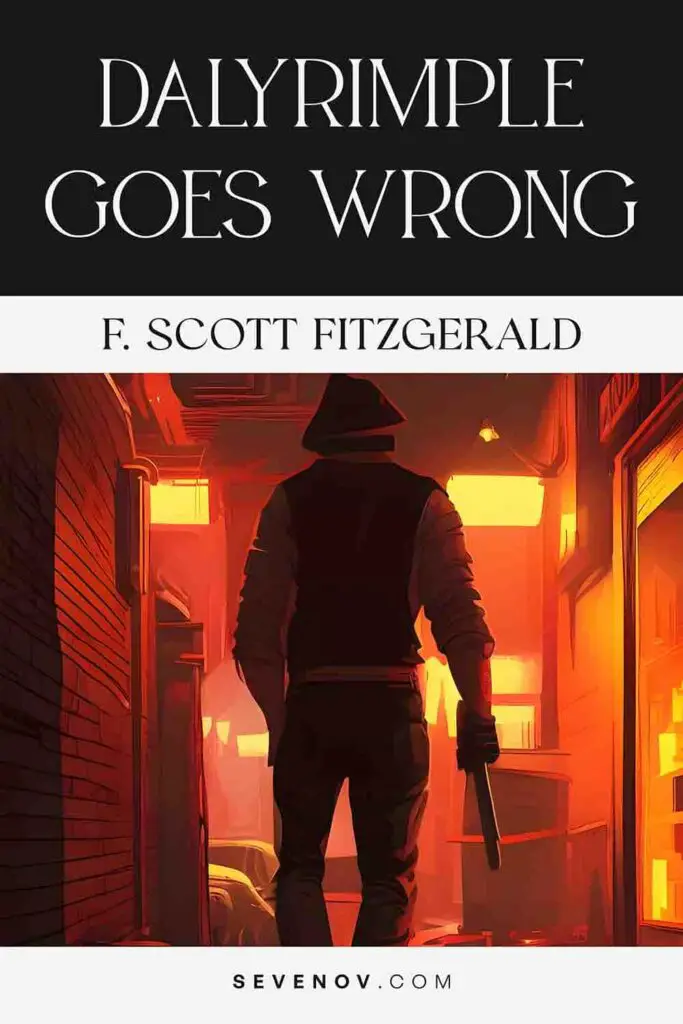 Dalyrimple Goes Wrong by F. Scott Fitzgerald
Author: Francis Scott Fitzgerald 
Published: The Smart Set (February 1920), Flappers and Philosophers (1920)
Genre: Short Story
"Dalyrimple Goes Wrong" is a short story written by F. Scott Fitzgerald and published in The Smart Set in February 1920 and in the short story collection Flappers and Philosophers in the same year. 
1. Dalyrimple Goes Wrong Synopsis
Bryan Dalyrimple, who had served in the army during World War I, was welcomed home as a war hero. However, he's broke and doesn't have a job. Seeking work, he finds employment in a grocery store but is dissatisfied with the low pay he receives. Determined to make more of his life, he resorts to stealing. 
2. Dalyrimple Goes Wrong Summary
Bryan Dalyrimple is a young man who has just returned from fighting in World War I. However, after spending a month in the home of Mayor Hawkins and realizing that Mrs. Hawkins was trying to hint him out of the house, he decided to seek a job. He approaches Theron Macy, the owner of the largest grocery store in town, for employment. Mr. Macy proposes to have Bryan learn the stock in the packing room and then work his way up into the office, but he is only offered a meager salary of forty dollars a month.
Bryan requests a raise, but it is never granted. Feeling frustrated and discouraged, Bryan contemplates quitting and eventually steals to make extra money. He disregards any guilt he may have, believing he is entitled to more money and nothing should stand in his way. Despite the risks involved, Bryan found a particular pleasure in the fact that he had not been caught. His outlook changed, and he no longer felt as bitter as before. He began to daydream of moving to South America or France. 
One day, Mr. Macy invites him to the home of one of the town's most influential men, Alfred Fraser. During their conversation, Mr. Fraser asks Dalyrimple his age, to which he replies that he is 23. Mr. Fraser then commends him for his speech during the 4th of July festivities, noting his young age and having been watching Dalyrimple since then. Mr. Fraser, recognizing Dalyrimple as a hardworking and patient lad for staying at the grocery shop for so long, offers him a place in the State Senate. After being assured of help and support, Dalyrimple accepts the offer. The story concludes with him planning to pursue a political career.
3. Theme
Dalyrimple's egocentric and selfish nature is a key theme of this story. He is indignant and insulted when he does not get the raise he wants. He is willing to do whatever it takes to get what he wants, disregarding others and resorting to theft. Thinking about theft, Dalyrimple justifies it by perceiving it as his rightful due. He was aware of his moral compass and was constantly striving to rationalize his actions.