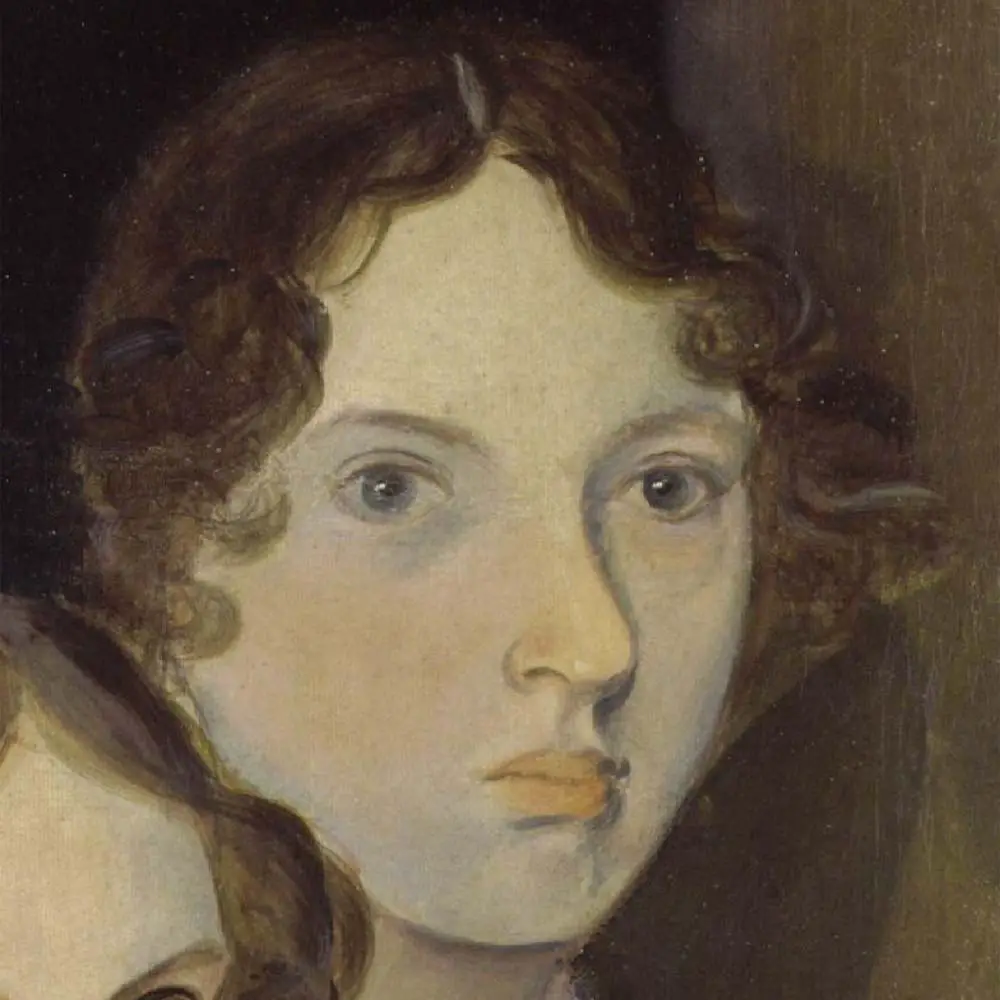 Emily Brontë
Born: 30 July 1818
Died: 19 December 1848
Nationality: English
Notable works: Wuthering Heights (1847)
Pen name: Ellis Bell
Emily Jane Brontë was an English novelist and poet who wrote only one book, Wuthering Heights, now regarded as among the greatest English novels of all time. She was the second oldest of the three Brontë sisters, who are renowned for their literary achievements. Her work was first published under the androgynous pen name, Ellis Bell. In December 1848, Emily died at the age of 30 from tuberculosis.  
1. Emily Brontë's Biography
1.1. Early Life 
Emily Brontë was born in 1818 to an Irish Anglican priest, Patrick Brontë, and his wife, Maria Brontë née Branwell in the town of Thornton, near Bradford, in the West Riding of Yorkshire, England.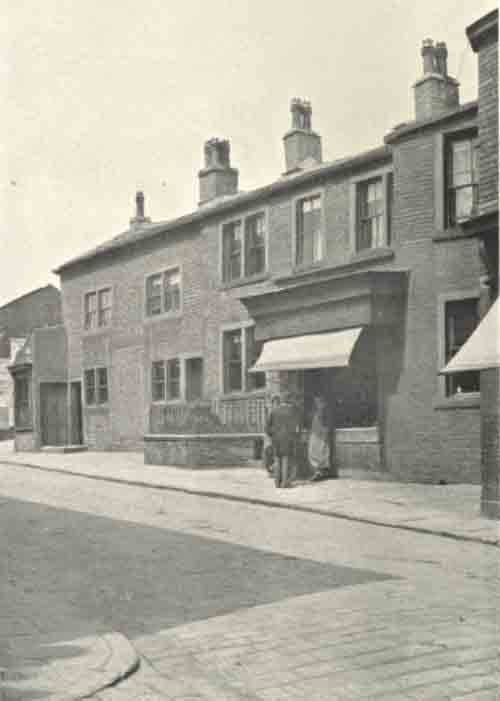 The family moved to the nearby village of Haworth in 1820 when Patrick Brontë was appointed the perpetual curate of St Michael and All Angels' Church. 
As the fifth of six children, Emily had three older sisters, Maria, Elizabeth, and Charlotte, an older brother, Patrick Branwell, and a younger sister, Anne. Emily's mother passed away in 1821 from cancer, after which, her aunt, Elizabeth Branwell helped look after the six children.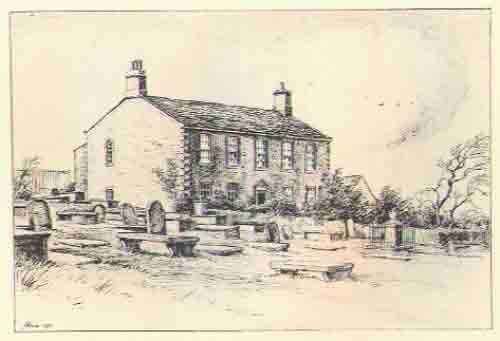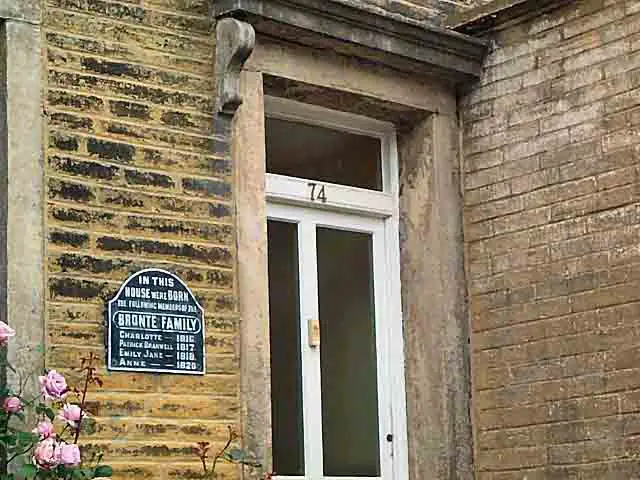 When she was six, Emily spent an unhappy year at the Clergy Daughter's School at Cowan Bridge. Cowan Bridge was not necessarily harsher than other boarding schools at the time, but the school lacked heating, imposed corporal punishment on the children, and fed them burnt porridge for breakfast. Fortunately, her father pulled her and Charlotte out when their older sisters Maria and Elizabeth Brontë contracted tuberculosis at the school and died in 1825. Maria was 11 at her death and Elizabeth was 10.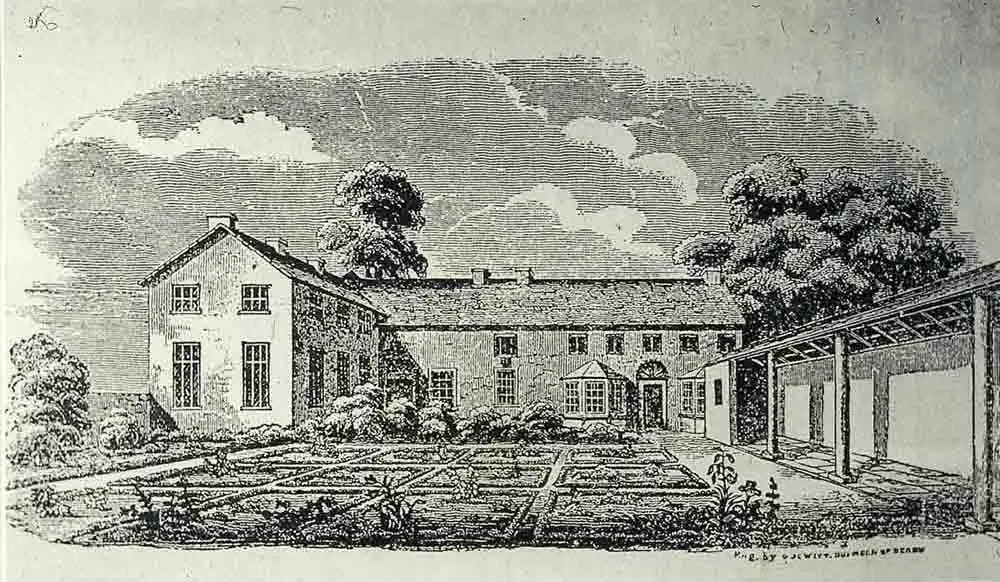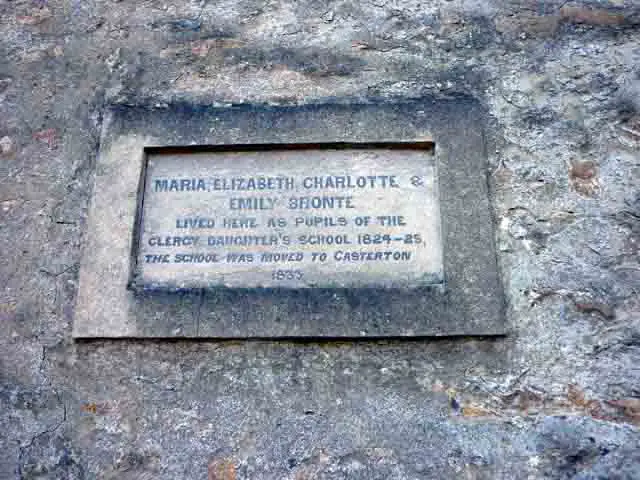 Although Emily had not done much formal schooling, she received a rich and varied education at home. Patrick Brontë encouraged his children to read widely and would discuss political matters with them as he would with adults. Tutors also came to their home to teach Emily and her siblings drawing and music. 
Despite the death of their two oldest sisters, the surviving Brontë sisters and their brother enjoyed a lively childhood immersed in creative writing. As a child, Emily Brontë wrote poems and stories about an imaginary island called Gondal with her younger sister, Anne. This collaboration continued into the early 1840s, as Emily and Anne never fully left behind the imaginary world of their childhood.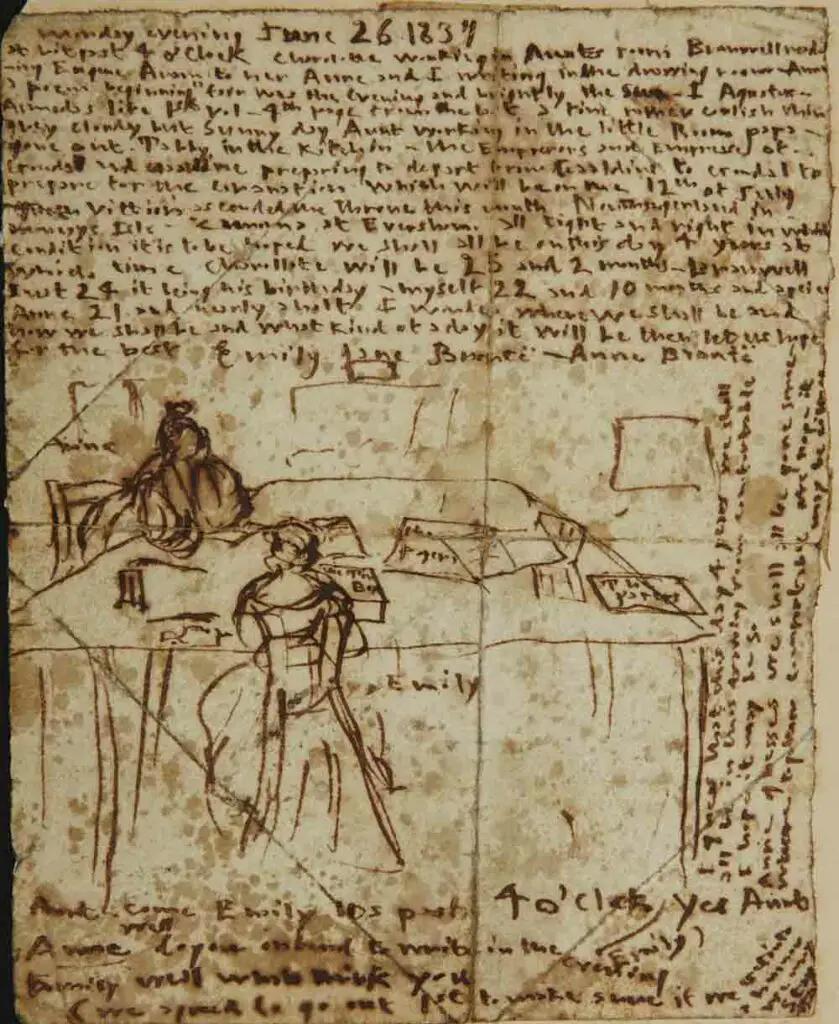 Early on, Emily and Anne played with their older siblings Charlotte and Branwell in the imaginary world of Angria. However, the younger siblings were often given inferior positions in the game so they left Angria and created Gondal to be an imaginary world of their own. The world of Gondal was an island in the North Pacific, north of the island Gaaldine. In this world, there were three other kingdoms, Angora, Exina, and Alcona. Gondal was ruled by Queen Augusta Geraldine Almeda (A.G.A.) who had several lovers, including Alexander – Lord of Elbe, Alfred Sidonia, and Fernando de Samara. 
While they were unpublished, a notebook containing poems about Gondal written by Emily has been found. Today, the 'Gondal poems notebook' is preserved and on display in the British Library's Treasures Gallery in London.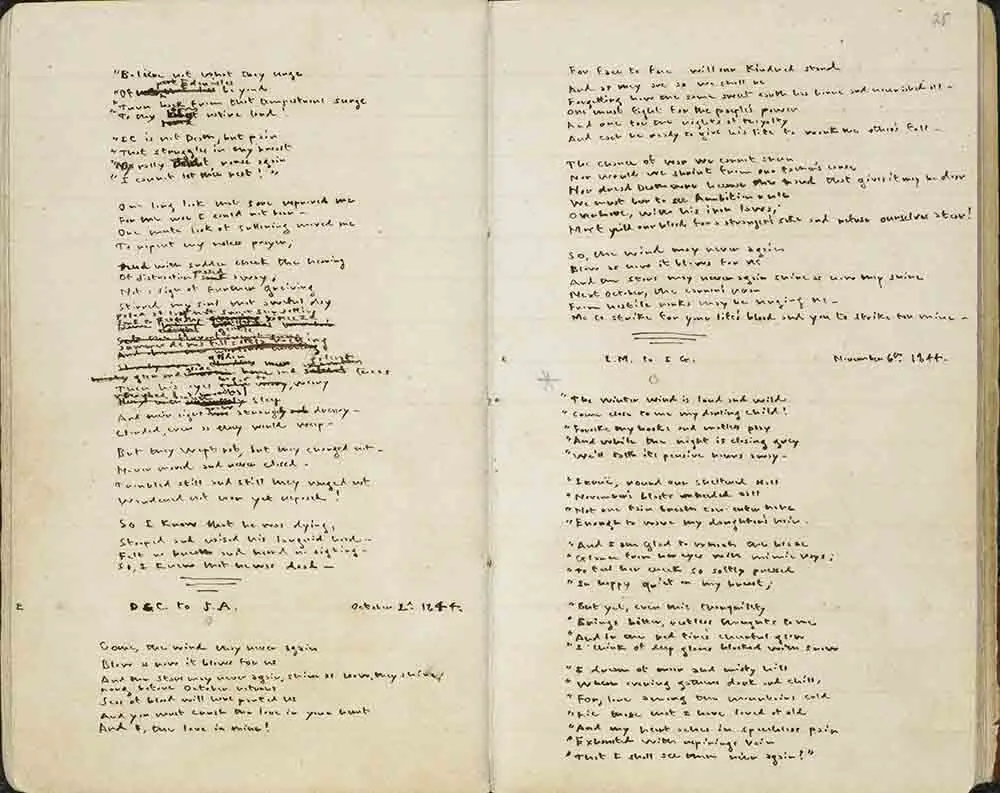 In 1835, when Charlotte started teaching at Miss Wooler's school at Roe Head, Emily, then 17, went with her as a student. Her second attempt at formal schooling lasted only three months; she soon left for home due to homesickness. 
1.2. Career and adulthood
Unlike the other Brontë sisters, Emily never took on a job as a governess. In 1838, she worked as a teacher for only six months in Miss Patchett's school at Law Hill, near Halifax, and then resigned. 
In 1842, she accompanied her sister Charlotte to the Pensionnat Héger, a boarding school in Brussels, Belgium. Charlotte had come up with the idea of starting a school for girls at their parsonage so the study trip to Brussels was meant to improve their language skills and prepare them for this endeavor.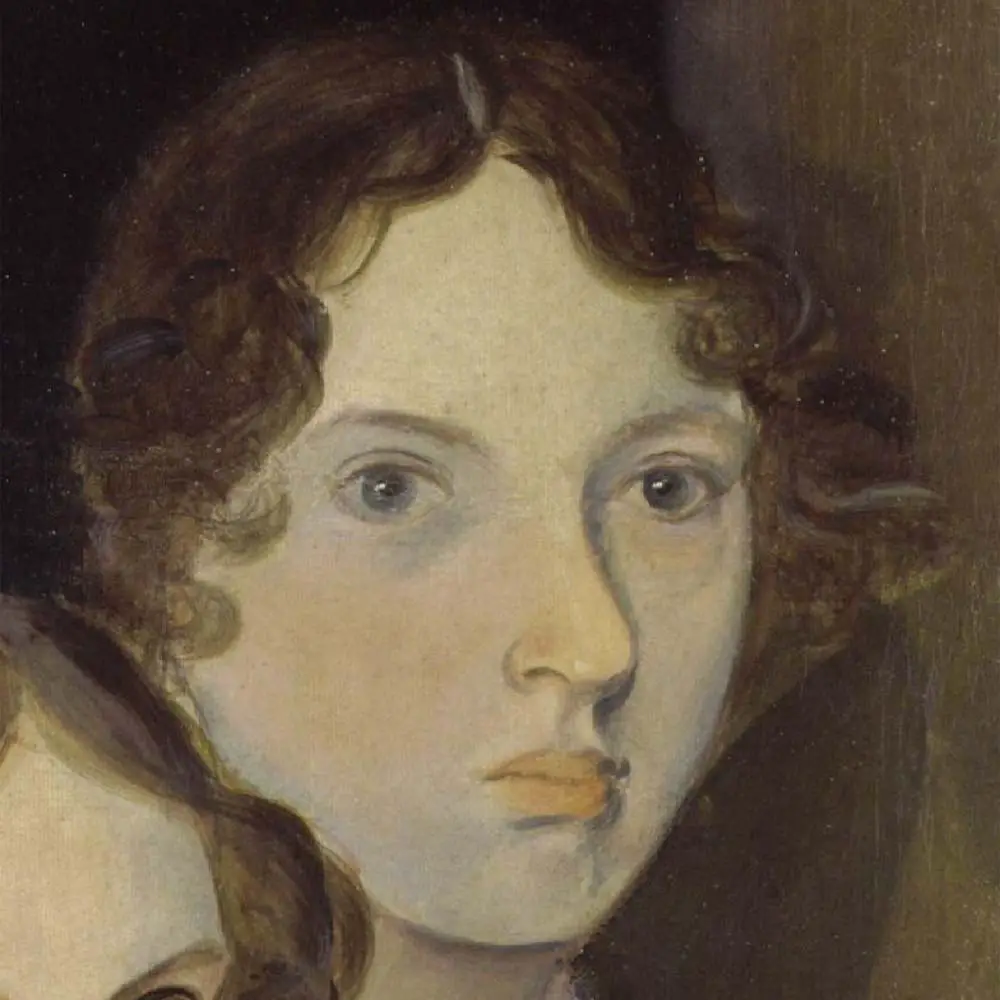 During her time in Brussels, Emily impressed her professor, Constantin Héger, as having a highly rational and powerful mind. By the end of the term, the two sisters had become fluent in French, and Emily in particular was offered to stay and teach music due to her skills as a pianist. In October of that year, however, the death of Aunt Branwell brought the sisters back home to Haworth. 
In the autumn of 1845, Charlotte discovered Emily Brontë's poems, which had been copied into two notebooks. Impressed by her sister's poetic genius, Charlotte insisted that these poems be published. Enraged by Charlotte's disregard for her privacy, Emily refused at first. Nonetheless, when Anne revealed that she had also been writing poems in secret, Emily changed her mind.
The three Brontë sisters then published their poems in 1846 under their pen names as the Poems by Currer, Ellis, and Acton Bell. Ellis Bell's (Emily Brontë's) poems were singled out as the best among the siblings. A reviewer from the Athenaeum wrote that "Ellis possesses a fine, quaint spirit and an evident power of wing that may reach heights not here attempted."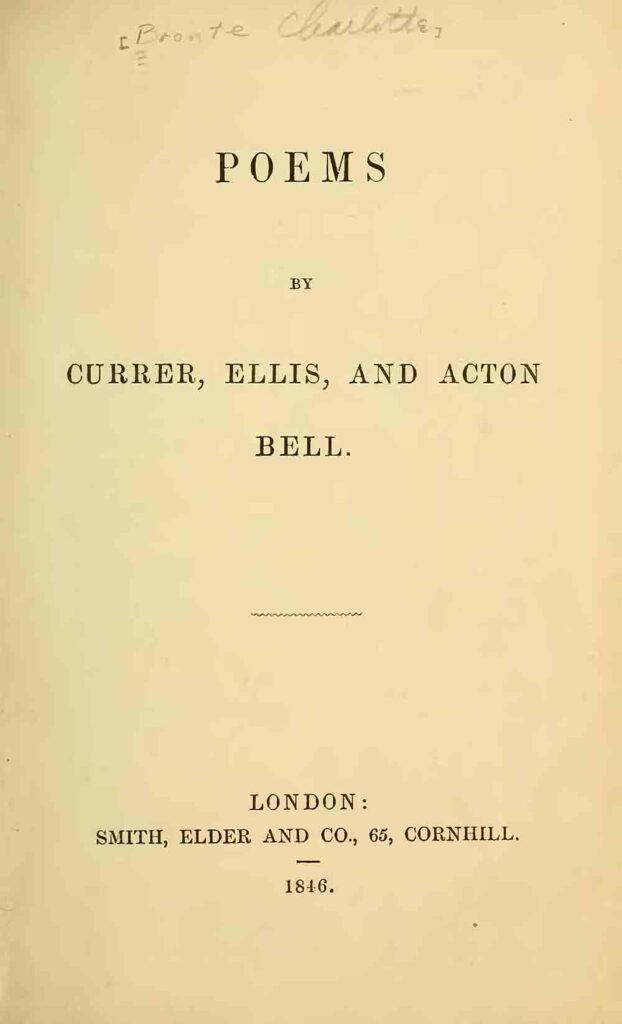 In 1847, Emily Brontë's Wuthering Heights was published in a volume with her younger sister Anne's novel, Agnes Grey. Although the novel received mixed reviews from critics when it was first released, it later became a classic of English literature. Emily died only a year after her novel was published and thus never knew of its eventual success. 
Emily Brontë's writing style in Wuthering Heights was influenced by her earlier experience as a poet and has been described as romantic, lyrical, and evocative of the wild Yorkshire moors where the story takes place. Her love for nature can be found in the abundant flora and fauna imagery used in the novel. For instance, the male lead, Heathcliff is described as a "wolfish man" who howls "not like a man, but like a savage beast". The relationship between the temperamental Catherine and the gentle Linton siblings, her husband Edgar, and his sister, Isabella was also compared to "the honeysuckles embracing the thorn."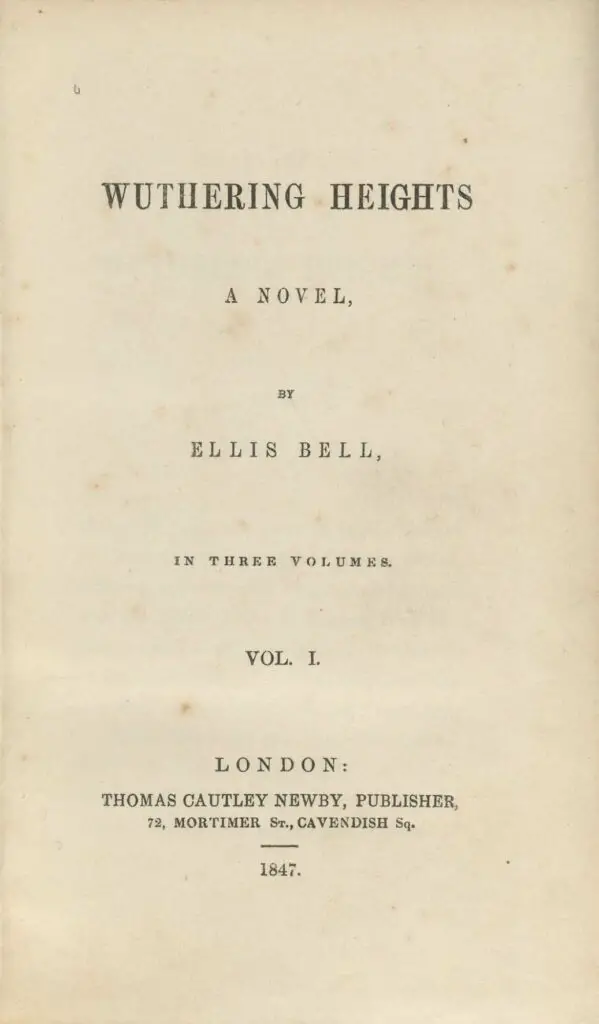 In contrast to the linear storytelling structure favored by Victorian writers, Emily Brontë told the story of Wuthering Heights mostly through the overlapping narratives of two characters, the tenant Lockwood and the servant Nelly Dean, that jump between the past and present. 
1.3. Personality
Emily Brontë was described by her sister Charlotte as having a shy and reclusive character. In the preface to the 1850 edition of Wuthering Heights, Charlotte wrote that Emily rarely left the house except to go to church or take a walk on the hills. While she listened attentively to others, Emily seldom sought conversation with them. Charlotte claimed that Emily had an imagination "more sombre than sunny, more powerful than sportive" in which she found inspiration for characters like Catherine and Heathcliff. 
She was also known to be deeply religious if unorthodox Christian. Her religiosity can be seen in her poem, No Coward Soul is Mine, where she expresses how her faith in God gives her courage to face the world's "storm-troubled sphere". In addition, the poem implies that God pervades all of existence, and cannot be confined to any one creed or church.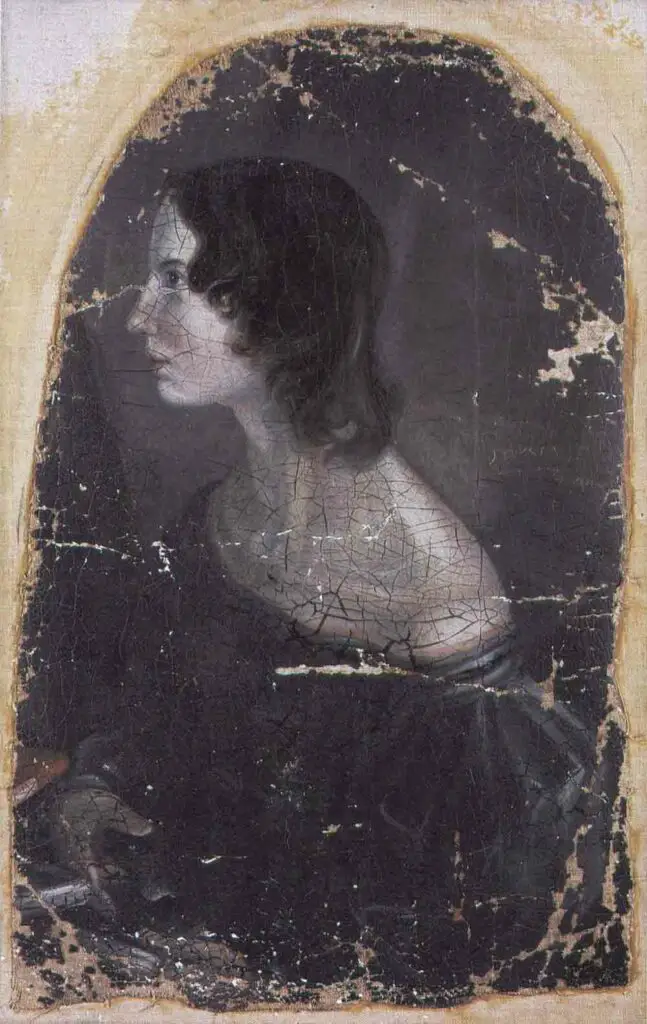 Emily's dog, Keeper, was one of her closest companions. He was a mastiff mix and rather large and menacing. Like his owner, Keeper was tough, intelligent, and loving only to a few individuals. Despite her affection for Keeper, Emily disciplined him very harshly, in ways that would be viewed as abuse in modern times. According to Elizabeth Gaskell's biography, The Life of Charlotte Brontë, Emily once punished Keeper for stretching out on a forbidden bed by dragging him by the scruff of the neck and beating him severely. 
A lover of nature, Emily often took long walks on the moors and enjoyed the freedom of the wild, desolate landscape around Haworth. The switch from the unrestrained environment at home to the strict discipline of a school proved too much for her when she accompanied her sister Charlotte to Miss Wooler's school at Roe Head in 1835. She left after only three months. 
Due to her reserved personality and the lack of material on her life, Emily Brontë remains something of an enigma to biographers and was dubbed the "sphinx of our modern literature" by the English journalist and literary critic Clement Shorter in 1896. Winifred Gérin, a notable biographer of the Brontë family, saved her book on Emily for last. Gérin spent 17 years researching the Brontës and even lived for a decade in Haworth. Compared to the hundreds of letters written by Charlotte and Anne Brontë, not much remains of Emily's life, making her biography an especially daunting task. 
1.4. Death and legacy 
Emily died at the age of 30 from tuberculosis. According to an 1883 biography by Anne Mary Frances Robinson, Emily was a pillar of strength in her family, with a tall and muscular frame. Hence, her illness came as a surprise and she ignored it at first. Emily's denial of her illness made her resolute that "no poisoning doctor'' should come near her. Refusing medical treatment, she struggled to breathe but still insisted on performing household chores as long as she was able to. Finally, in December 1848, she succumbed to her illness. 
Although Emily Brontë wrote only one novel, she has had a lasting impact on popular culture. 
Emily Brontë's Wuthering Heights has spawned many films, stage, and TV adaptations. Most notably, the 1939 film adaptation directed by William Wyler and starring Merle Oberon and Laurence Olivier won the 1939 New York Film Critics Award for Best Film and was nominated for eight Academy Awards. The most recent adaptation was a 2011 film directed by Andrea Arnold, starring Kaya Scodelario as Catherine, and James Howson as Heathcliff. 
Wuthering Heights has also been referenced in modern books and shows such as The Twilight Saga, the sitcom Friends (season 5), and the 2009 romantic comedy, The Proposal, in which it is the favorite book of Sandra Bullock's character. 
In 1978, the singer-songwriter Kate Bush wrote a song named after the novel, Wuthering Heights. Although it was her debut single, the song was highly successful, staying at the top of the UK Singles Chart for four weeks. 
In 2018, the Brontë Parsonage Museum, located in the Brontë family home in Haworth celebrated Emily's 200th anniversary with a special exhibition, Making Thunder Roar. The exhibition showcased a recreation of her Wuthering Heights manuscript as well as an audio installation inspired by the character of Heathcliff.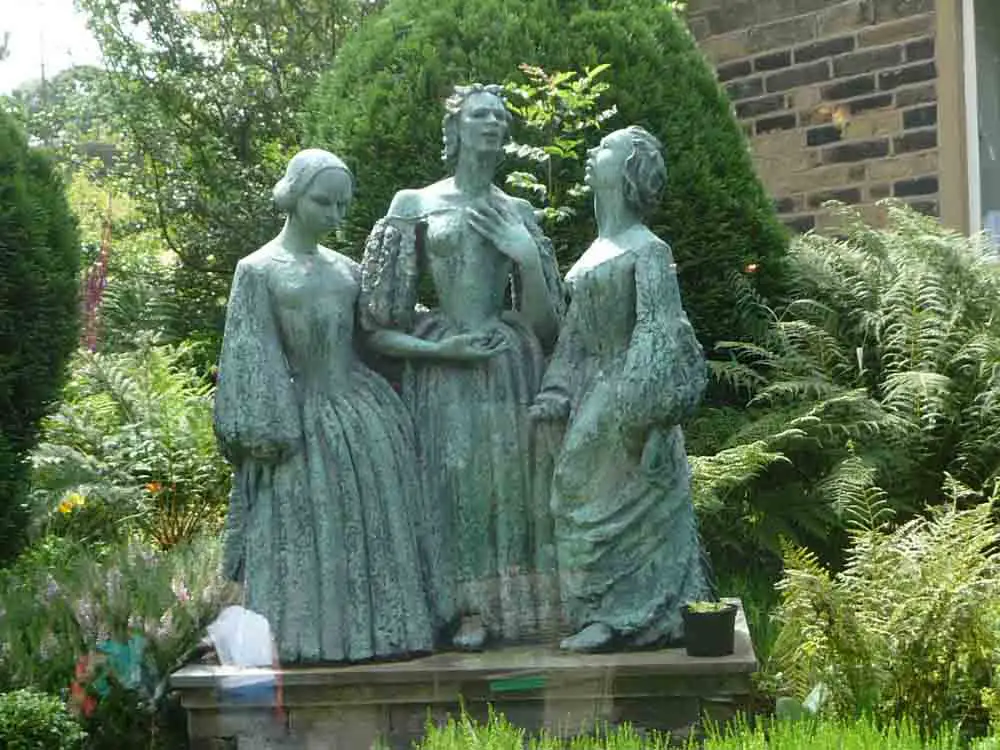 There is an upcoming movie, Emily, about Emily Brontë's life that will be directed by Mansfield Park actress Frances O'Connor. The title role will be played by French-British actress, Emma Mackey, who has previously acted in the hit teen drama, Sex Education. American film distribution company Bleecker Street has bought the U.S. rights for the movie and is planning a 2023 theatrical release in the states.   
Despite Emily Brontë's mysterious personality, some biographers have taken on the challenge of writing about her life. Among Emily's biographies are the ones written by Winifred Gérin (1971) and Anne Mary Frances Robinson (1883). Stories about her also appear in biographies of the Brontë sisters written by Elizabeth Gaskell (1857) and Juliet Barker (1995). 
2. Bibliography
Emily Brontë's Books
Wuthering Heights (1847)
Emily Brontë's Poems 
Poems by Currer, Ellis, and Acton Bell (1846)
The Complete Poems of Emily Brontë (1908)
Brontë Poems: Selections from the poetry of Charlotte, Emily, Anne, and Branwell Brontë (1915: Arthur C. Benson, Ed.)
Full list of Emily Brontë's poems
3. Quotes from Emily Brontë
"Treachery and violence are spears pointed at both ends; they wound those who resort to them worse than their enemies."

from Wuthering Heights
"Love is like the wild rose-briar; Friendship like the holly-tree. The holly is dark when the rose-briar blooms, but which will bloom most constantly?"

from the poem: Love and Friendship 
"Riches I hold in light esteem,

And love I laugh to scorn,

And lust of fame was but a dream

That vanished with the morn."

from the poem: Riches I hold in light esteem
"No coward soul is mine

No trembler in the world's storm-troubled sphere

I see Heaven's glories shine

And Faith shines equal arming me from Fear"

from the poem: No Coward Soul is Mine
"Honest people don't hide their deeds."

from Wuthering Heights
---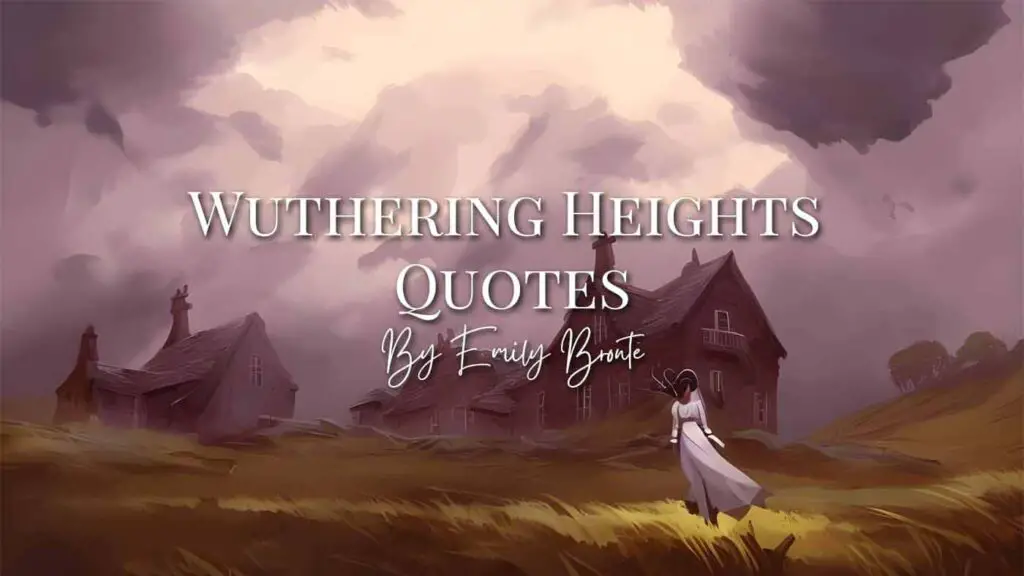 Recommended: Best Wuthering Heights Quotes by Emily Brontë
4. Frequently Asked Questions about Emily Brontë
What was Emily Brontë famous for?
Emily Brontë is famous for her only novel, Wuthering Heights, which is now regarded as a classic of English literature. The novel shocked readers at the time with its violence and passion, as well as its affront to conventional Victorian values. Wuthering Heights has since received praise from literary critics and diffused into pop culture through its numerous film, stage, and TV adaptations. 
What was Emily Brontë like? 
Emily was described by her contemporaries as being shy and reserved but possessing a passionate and fiercely independent nature. Her sister Charlotte wrote that Emily was "a solitude-loving raven, no gentle dove". 
Why did Emily Brontë use a pen name?
In the 19th century, literature was seen as the domain of men. Other than preserving her privacy, Emily used a gender-ambiguous pen name to increase the chances of her work being judged fairly. Her sister Charlotte wrote, "we did not like to declare ourselves women, because — without at that time suspecting that our mode of writing and thinking was not what is called 'feminine' — we had a vague impression that authoresses are liable to be looked on with prejudice."
Did Charlotte burn Emily's book?
Whether Charlotte burned the manuscript of Emily's second novel is unconfirmed. The story stems from a letter from Emily's publisher, Thomas Cautley Newby, addressed to Ellis Bell, Emily's pen name. This letter was discovered on Emily's writing desk after her death and in it, Newby wrote that he "shall have great pleasure in making arrangements for your second novel." Since this second novel was never found, suspicion arose that Charlotte burned it, perhaps due to being shocked by the novel's controversial content. 
5. Books about Emily Brontë for further reading
Gaskell, Elizabeth Cleghorn (1857). The Life of Charlotte Brontë. Vol. 2. London: D. Appleton.
Robinson, F. Mary A. (1883). Emily Brontë. Boston: Roberts Brothers.
Muriel, Spark & Stanford, Derek. (1953). Emily Brontë, Her Life and Work. Peter Owen Limited. ISBN 1014229286.
Gérin, Winifred (1971). Emily Brontë. Oxford: Clarendon Press. ISBN 01-9812-018-4.
Barker, Juliet R. V. (1995). The Brontës. London: Phoenix House. ISBN 1-85799-069-2.
You Might Be Interested…