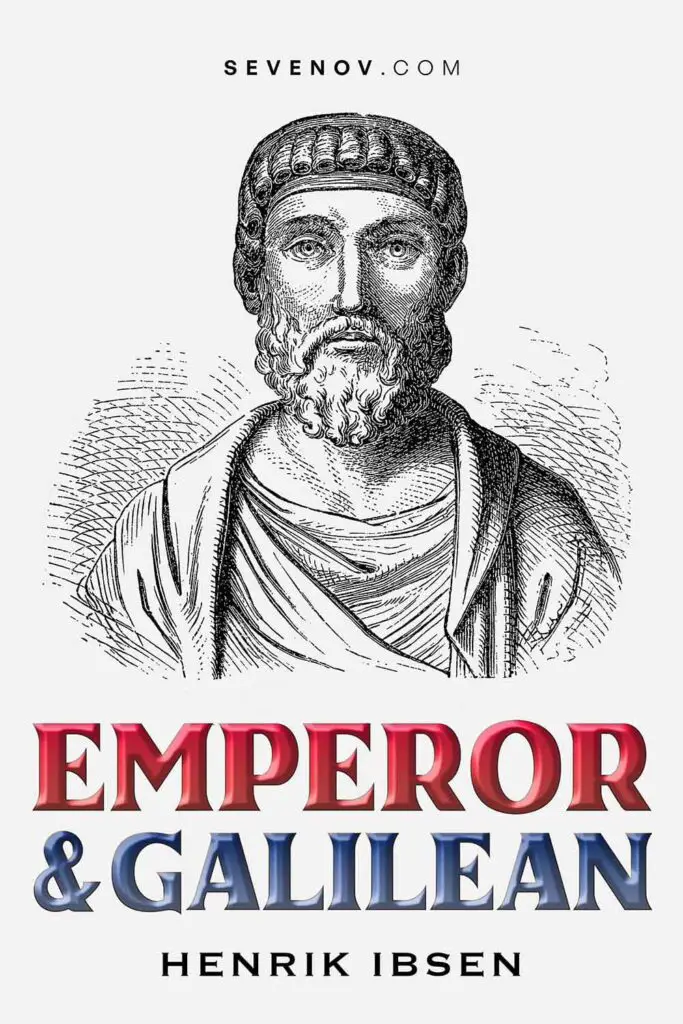 Emperor and Galilean by Henrik Ibsen
Author: Henrik Ibsen 
Published: 1873
Genre: Plays, Historical
Emperor and Galilean (Kejser og Galilæer) is a play by the Norwegian playwright Henrik Ibsen. Ibsen conceived the idea for the play in 1864. He collected historical material in Rome for the next four years before writing the play in 1871. It was completed and published in 1873. The premiere was at the Theater der Stadt in Leipzig on 5 December 1896. 
Emperor and Galilean revolves around the life of Julian the Apostate (331-363 CE), the last non-Christian ruler of Rome. He desired to take his empire back to its ancient Roman values and revive traditional Roman religion at the expense of Christianity. At the same time, he had a distaste for his dynasty as they claimed authority for being Galileans, the same ethnicity as Jesus Christ. 
Although Emperor and Galilean is one of Ibsen's lesser-known plays, he called it his major work. The play is Ibsen's longest, written in two parts of five acts each. 
1. Synopsis of Emperor and Galilean
Julian, a cousin of Emperor Constantius II, grew up in the Constantinople court, surrounded by constant surveillance. As a young man, he struggles to reconcile his yearning for faith with the reality of the corrupt world he lives in. Julian believes Christianity has destroyed the beauty of Greek thought and wants to revive the Roman Empire's ancient pagan traditions. As he rises to power, he grapples with notions of individual freedom, faith, and meaning. 
2. Story Summary
Part One: Caesar's Apostasy
Act I
Julian, a cousin of Emperor Constantius II, lives in the Constantinople court under surveillance. His mentor, Ekivoly, wants to prevent him from being influenced by the sophist Libanius. To sow discord between Julian and Libanius, Ekivoly distributes poems that attack Julian under the name of Libanius. Julian is visited by his childhood friend Agathon and learns the truth about the hostile poems from him. 
Constantius II announces that his heir is to be Gallus, Julian's half-brother, and Libanius is to be banished to Athens. Agathon is a Christian, while Julian is fascinated by Greek thought. Julian follows Libanius to Athens even though he told Constantius II he was traveling to study in Pergamum. 
Act II
In Athens, Julian soon loses interest in Libanius as the sophist does not have the truth he is looking for. He meets the Church Fathers Basil of Caesarea and Gregory of Nazianzus, who run an intellectual circle with Libanius where they debate philosophical ideas. After growing disenchanted with these three intellectuals, Julian hears rumors about a mystic named Maximus and decides to leave Athens to find him. 
Act III
Julian meets Maximus in Ephesus, and the mystic sets up a symposium for Julian to communicate with the other world. Julian hears a voice saying that his mission is to establish the empire by way of freedom. When he asks what the way of freedom is, the voice answers that it is the way of necessity.
The voice vanishes, and Maximus tells him that there are three empires. First is the empire founded on the tree of knowledge, second is the empire founded on the tree of the cross, and third is the empire of the great mystery, which shall be founded on both the tree of knowledge and the tree of the cross. Julian receives news that Gallus has died, and he is now appointed Caesar. He takes it as a sign that he is destined to establish the empire referred to by the voice.
Act IV
In Lutetia, Gaul, Julian learns that Gallus was executed under suspicion that he was trying to kill the emperor. Julian marries Helena, Constantine I's daughter and the emperor's sister. Helena is poisoned in a conspiracy, and in her dying moments, she confesses to Julian that she loved Gallus and betrayed the emperor. After Helena's death, Julian's soldiers urge him to go to Constantinople and seize power. 
Act V
The last act of part one takes place in Vienne, Gaul. Julian is awaiting news from Maximus on the dying emperor. He learns that though the Emperor has not long to live, he has taken a new wife and may soon have a son, which would jeopardize Julian's chances of succession. The Emperor has sent forces to destroy Julian, so he chooses to defend himself and the Empire's future. Julian declares that if he wavers, the Empire will fall into the hands of a decrepit ruler who will leave behind a helpless child as a successor. 
After a long moral struggle, Julian decides to abandon Christianity for traditional Greco-Roman religion and philosophy. He makes an offering to Helios, the Greek sun god, as he is proclaimed Emperor. 
Part Two: Julian the Emperor
Act I 
Julian, now Emperor of Rome, announces his rejection of Christianity and his desire to return to ancient Roman traditions. Julian soon realizes that restoring Roman religion will be arduous but is determined to succeed. He thinks that Christians are intolerant as they insist that their god is the one true God and destroy the temples of pagans. 
Foreign envoys arrive, bringing gifts for the new emperor. One of Julian's followers, Ursulus, urges him not to persecute others for their faith. Julian promises not to hate anyone for their faith but says he will not tolerate the faults of Christians merely because they are Christians. He declares that he will chase out all the extravagant servants, dancers, jugglers, and eunuchs from the palace to enforce frugality. Emperor Julian rides through the city with vine leaves in his hair, associating himself with the God of wine and ritual madness, Dionysus. 
Act II
Several citizens come to the Emperor seeking help. Among them is Gregory of Nazianzus, a Christian priest Julian met in Athens. Gregory claims Christians are being persecuted as many Christian politicians have been executed since Julian took power. However, Julian defends himself, saying that he executed these politicians for their crimes, not their faith. Nonetheless, he admits that the execution of chancellor Ursulus was unjust. 
The chamberlain Eunapius enters and informs Julian that the Christians committed outrages on the temple of Venus, which he had lately restored. Julian instructs Eunapius to seize the criminals who destroyed the temple so that he can execute them. 
As Julian rides out in the streets, a procession of Christian prisoners passes by. Julian is shocked to see his childhood friend, Agathon, among the prisoners. 
Eunapius tells Julian that Agathon was the ringleader of the Christians who destroyed the temple of Venus. Julian urges Agathon to repent so that he may be released. However, Agathon refuses and orders the other prisoners to choose Christ or the Emperor. 
Act III
Julian's former teacher, Libanius, visits him. He is overjoyed to be reunited with Libanius, and the two embrace. Libanius tries to persuade Julian to stop promoting Roman religion as it may inflame religious tensions. Libanius also speaks against the governor of Antioch, Alexander, who he perceives as being too harsh on the Christians. 
Julian performs a sacrifice in public in Antioch. He is displeased when only a goose is brought for the sacrifice. The city is going through a famine, so the priest says that one goose is all they can afford for the gods. 
Cyrillus, a Christian leader, is brought before the Emperor after being tortured. To Julian's surprise, Cyrillus refuses to renounce his faith. A troop of psalm singers passes by, and Julian is told they will mourn at the graves of Christians. Outraged at his subjects' defiance, Julian calls off the sacrificial ceremony. 
Maximus arrives and tells Julian of the God Emperor who is to unite the kingdom of the spirit and the kingdom of the flesh. Julian decides to resume the war with Persia to become the God Emperor who can overcome the power of the Galilean, Jesus Christ.
Act IV
Despite being advised to retreat, Julian advances against the Persians. Julian desires to rule over his people in both mind and flesh, so he sees Christ as an obstacle. Christ holds power over his followers' minds since they believe him to be greater than any earthly emperor. Julian receives news from Alexander that the Christians in Antioch have grown more fanatical since his departure. 
Worse still, Athanasius, a fanatic Christian leader, has returned to Alexandra. He quickly garnered support, and the city's Christians murdered their lawful bishop Gregory for being too moderate. 
A Persian posing as a deserter tricks Julian into burning his ships and flees. By the time Julian realizes the deception, it is too late. 
Act V 
Six weeks after burning the fleet, Julian's army is in a seemingly hopeless situation. They lack the resources to advance against the Persians, but they cannot escape without their ships. As the Persians approach, Julian becomes increasingly desperate. In the battle with the Persians, Julian is wounded by a spear and later dies in his tent. Outside, soldiers rejoice that the new emperor will be a Christian. 
3. Characters
Part One 
Emperor Constantius II
Empress Eusebia
Helena, sister of the Emperor
Gallus, a cousin of Emperor
Julian, half-brother of Gallus
Memnon, an Ethiopian slave, the bodyguard of the Emperor
Potamon, goldsmith
Fokion, dyer
Evnapy, barber
Fruiterer
Brigade Commander of the palace guards
Soldiers
Rouged woman
A paralytic
A blind beggar
Agathon, son of a vine-grower from Cappadocia
Libanius, a philosopher
Sallust of Perusia
Hecebolius, a teacher of theology
Maximus, a mystic
Eutherius, a chamberlain
Leontes, a quaestor
Myrrha, a slave woman
Decentius, a tribune
Sintula, an equerry
Florentius and Severus, generals
Oribases, a doctor
Laipso and Varro, subalterns
Maurus, a standard-bearer
Soldiers, church-goers, pagan spectators, courtiers, priests, philosophy students, dancing girls, servants, the quaestor's suite, and Gaulish warriors.
Visions and voices
Part Two
The Emperor Julian
Nevita, a general
Potamon, a goldsmith
Caesarius of Nazianzus, physician to the Emperor
Themistius and Mamertinus, orators
Ursulus, Chancellor of the Exchequer
Eunapius, a barber
Barbara
Hecebolius, a teacher of theology
Courtiers and civil servants
Inhabitants of Constantinople
Participants in the procession of Dionysus, flute-players, dancers, acrobats, and women
Envoys from the eastern kings
Eutherius, a chamberlain
Palace servants
Judges, orators, teachers, and inhabitants of Antioch
Medon, a corn-merchant
Malchus, a tax-collector
Gregory of Nazianzus, brother of Caesarius
Phocion, a dyer
Publia
Hilarion, her son
Agathon of Cappadocia
Bishop Maris of Chalcedon
Participants in the procession of Apollo, priests, temple servants, harpists, and city guards
Agathon's younger brother
The procession of Christian captives
Heraclius, a poet
Oribases, physician to the Emperor
Libanius, orator, and chief magistrate of Antioch
Apollinaris, a hymn writer
Cyrillus, a teacher
An old priest at the sanctuary of Cybele
Women psalm-singers of Antioch
Fromentinus, a captain
Jovian, a general
Maximus, a mystic
Numa, a soothsayer
Two other Etruscan soothsayers
Hormisdas, an exiled Persian prince
Anatolus, captain of the bodyguard
Priscus and Chytron, philosophers
Ammian, a captain
Basil of Caesarea
Makrina, his sister
A Persian deserter
Roman and Greek soldiers
Persian warriors