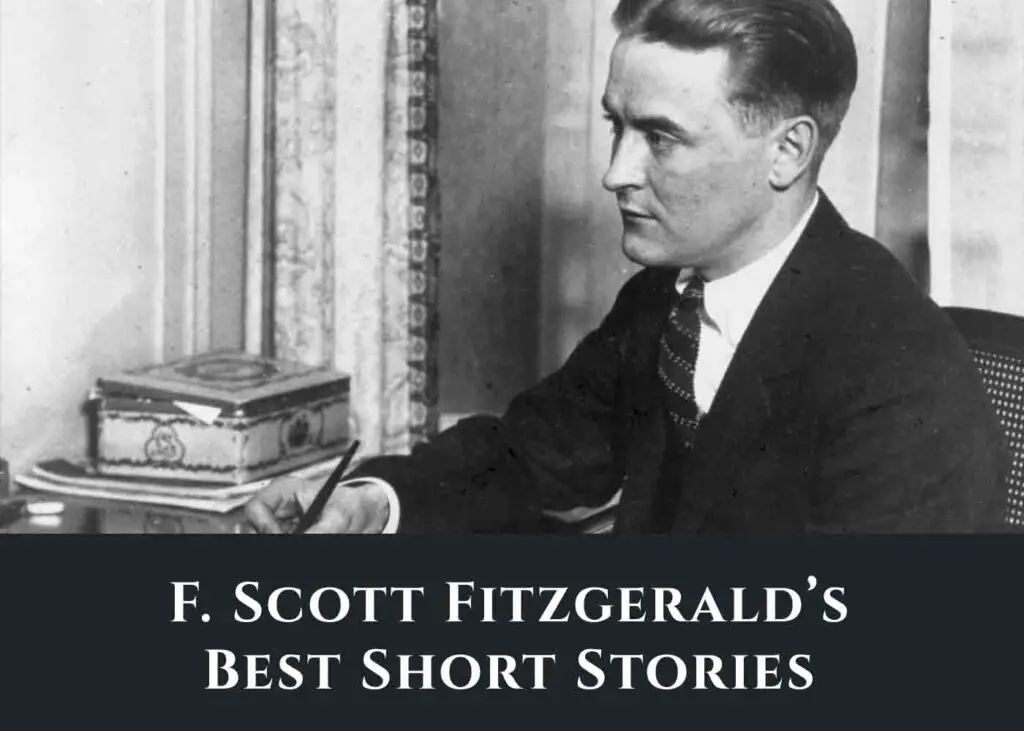 F. Scott Fitzgerald's Best Short Stories | Top 3 Picks
When one hears F. Scott Fitzgerald's name, they instantly think of The Great Gatsby and the Jazz Age. While it is true that the writer is best known for his novels depicting the Jazz Age, he has also written many short stories that give us a glimpse of the 1920s. Before Fitzgerald's novels took off, and after their popularity waned, he relied on publishing short stories to make a living.
Our Selection of F. Scott Fitzgerald's Best Short Stories
Published throughout various magazines and newspapers such as The Saturday Evening Post and Scribner's Magazine, Fitzgerald's short stories ranged from the comedic absurd to heavier and darker themes. We have picked out the top three short stories from Fitzgerald, sure to make you experience the full range of human emotion that the writer often invokes in his readers.
1. May Day
One of Fitzgerald's heavier stories, "May Day," was published in The Smart Set in 1920. May Day follows a group of youth during the outbreak of the May Day riots in 1919, which symbolized the transition to a new decade of increased liberty and looser morals. Many readers and critics noted that Fitzgerald's works tend to avoid political sentiments, making May Day the first to broach political themes.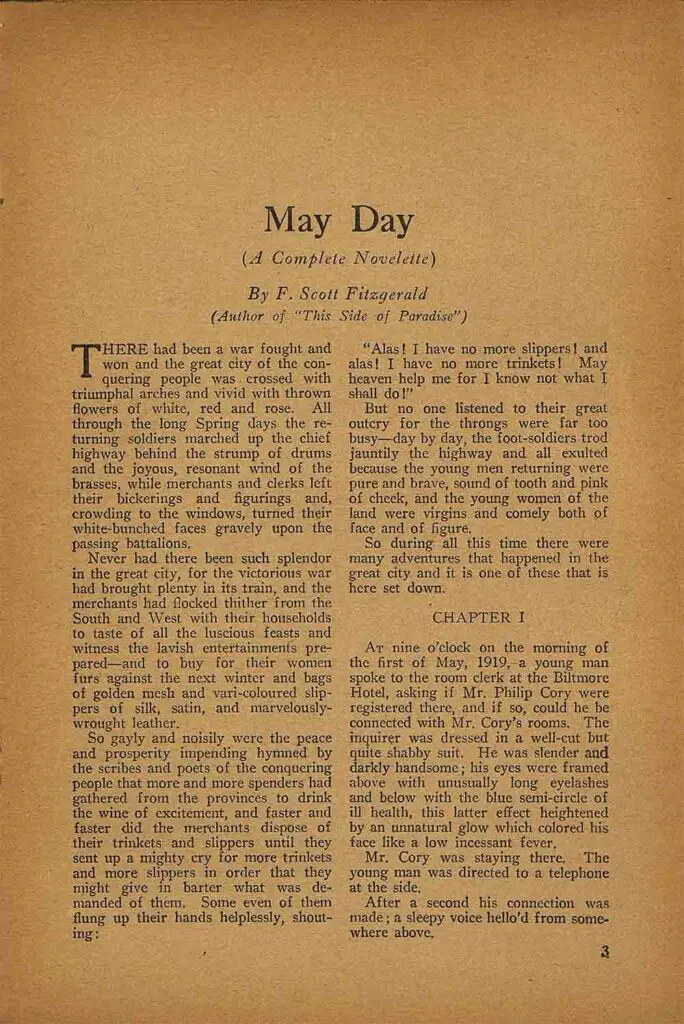 While "May Day" features similar subject matters such as complicated romance and hedonism, they are overshadowed by the political unrest that seems to be at every twist and turn as the protagonists navigate the city. The story mainly follows Gordon Sterret, an aspiring artist whose life unravels through the story, and his friend Philip Dean. The two men lead different lives of opposite social and financial status, with Philip achieving material success. As Fitzgerald weaves a heart-racing tale of the uprisings across the city, he also charts the separate paths that the two friends take. 
By the end of the story, we see Gordon and Philip in vastly different outcomes that correspond to the original trajectory of their lives at the start of the story. Through this short tale, Fitzgerald reminds us of how such an iconic decade in American history began. "May Day" symbolizes how history is often two sides of the same coin. An individual's positive experience is often paralleled by the misfortune of another living in the same society and time. 
2. The Curious Case of Benjamin Button
A crowd favorite, "The Curious Case of Benjamin Button" has sustained its reputation as a timeless tale since its publication in Collier's in 1922. Its popularity has even led to a film adaptation in 2008, starring famous actor Brad Pitt as Benjamin Button. However, what makes this story so popular? The unique tale follows Benjamin Button, a boy born with a rare condition that makes him age backward physically and mentally. His condition renders him an outcast in most stages of his life, and even when he does finally find success in his college life and love life, it is not long before they fall apart.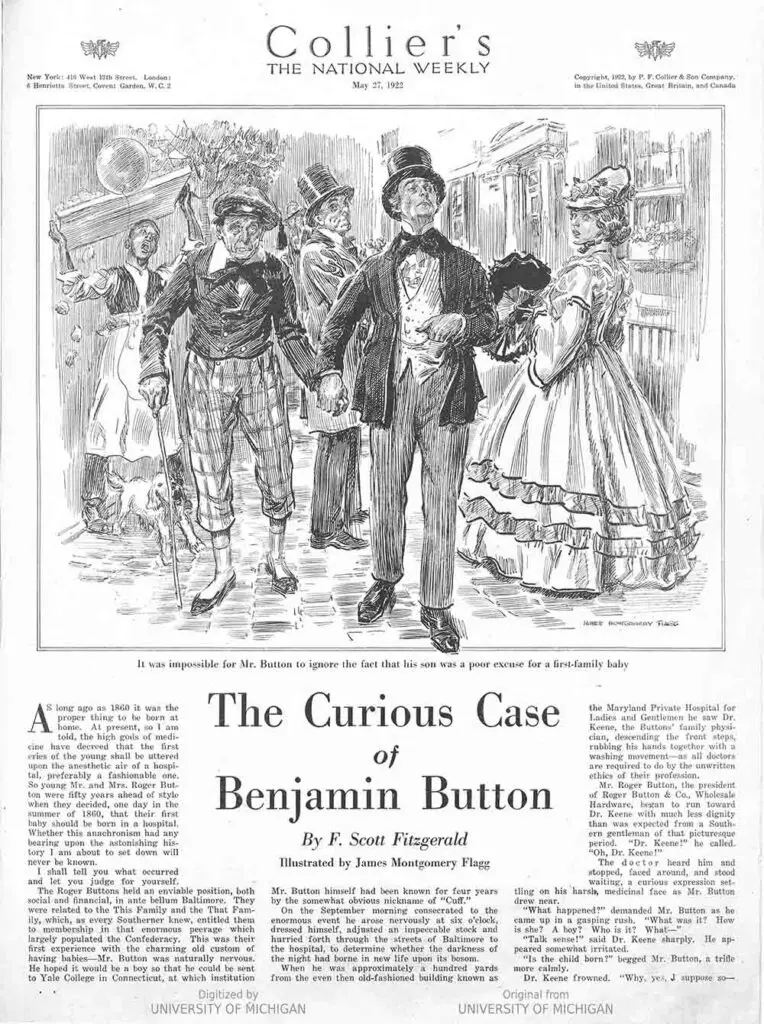 While the story toes the fine line between absurdism and realism, the message behind this tale is one that many can relate to in our lives today. Benjamin Button and his rare condition represent someone who does not conform to society's traditional expectations in terms of appearance and life stages. Benjamin experiences his life backward and cannot fully live out his potential because of the mismatch in his mental capacity and physical circumstances. He has to learn how to cope and deal with the fact that he will always be different from others, and they will not always accept him. 
While the book prompts us to entertain more philosophical lines of thought, the movie adaptation focuses more on the explanation and story behind Benjamin's condition. Nevertheless, "The Curious Case of Benjamin Button" redefines what it means to be 'normal,' and even then, is there really such a thing as 'normal'? 
3. Winter Dreams
In the article on F. Scott Fitzgerald's best novels, we could not end off the list without The Great Gatsby. Similarly, how could we forget about "Winter Dreams," an important foundation for the Great American Novel? "Winter Dreams" was published in Metropolitan Magazine in 1922 and later anthologized in All the Sad Young Men in 1926.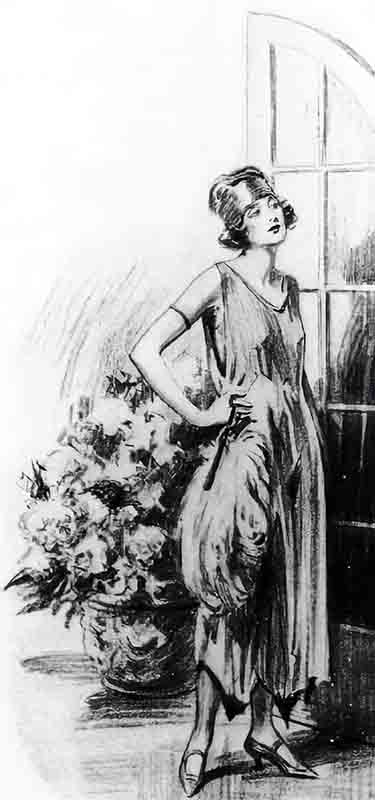 "Winter Dreams" centers around the romance of Dexter Green and Judy Jones, a reflection of Fitzgerald's romance with his first love, Ginevra King. Fitzgerald modeled Dexter's character and life experiences after his own. Coming from middle-class backgrounds, Dexter and Fitzgerald harbor similar dreams of gaining material success. Their aspirations are very much influenced by the ideals of the American Dream, where the promise is that hard work will be rewarded with wealth. As for the love interests, King and Judy are both popular and wealthy socialites. Their luxurious lifestyle and high social status make them desirable to Dexter and Fitzgerald. 
Notice the similarity of "Winter Dreams" to The Great Gatsby? Fitzgerald has a penchant for using his romances as material for his stories, spinning them into tales of love tragically obstructed by one's social class. Regardless, "Winter Dreams" remains one of Fitzgerald's most iconic short stories. We are given a glimpse of the inspiration behind The Great Gatsby and how in achieving material success, love does not always follow.