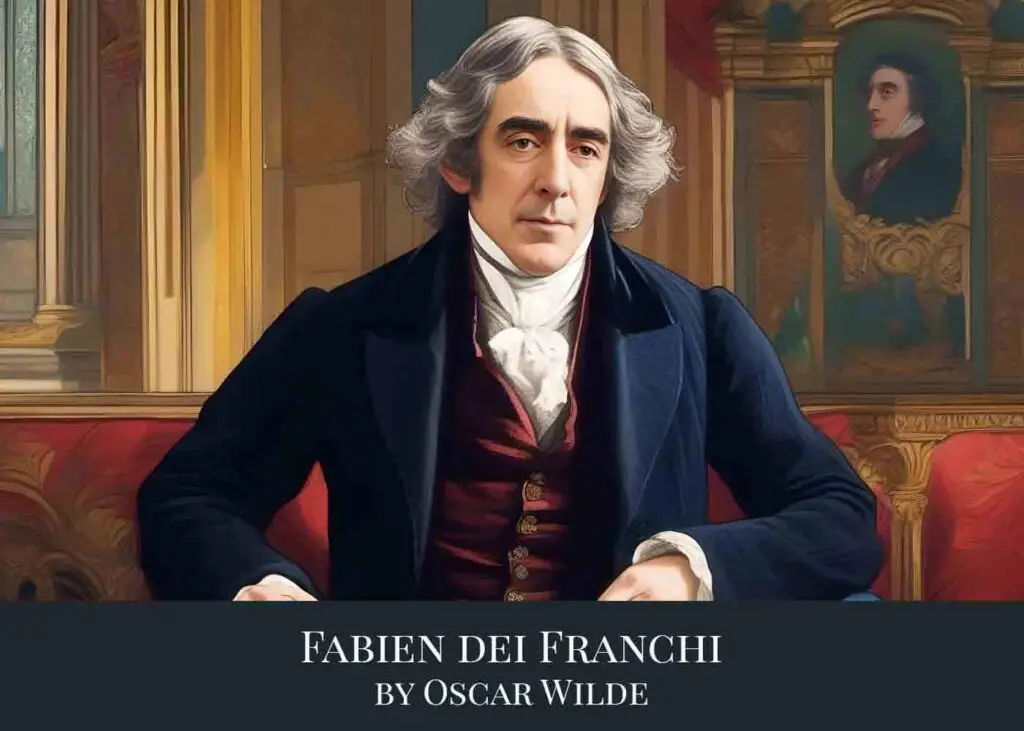 Fabien dei Franchi by Oscar Wilde
"Fabien dei Franchi" is a captivating poem by Oscar Wilde, written for his friend Henry Irving as he pays homage to Irving's depth of theatrical performance. This piece was included in his poetry volume Poems. For those interested in exploring more of Wilde's poetic mastery, Poems is available online at PageVio.
1. Fabien dei Franchi
The silent room, the heavy creeping shade,
   The dead that travel fast, the opening door,
   The murdered brother rising through the floor,
The ghost's white fingers on thy shoulders laid,
And then the lonely duel in the glade,
   The broken swords, the stifled scream, the gore,
   Thy grand revengeful eyes when all is o'er,—
These things are well enough,—but thou wert made
   For more august creation! frenzied Lear
   Should at thy bidding wander on the heath
   With the shrill fool to mock him, Romeo
For thee should lure his love, and desperate fear
Pluck Richard's recreant dagger from its sheath—
Thou trumpet set for Shakespeare's lips to blow!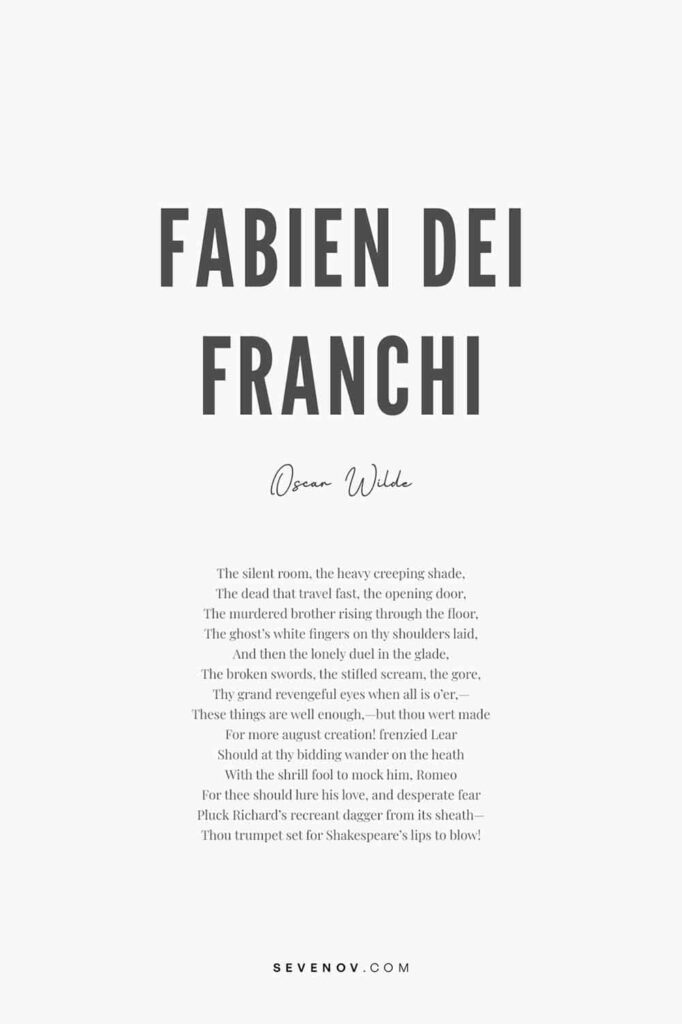 Download Fabien dei Franchi Poster
Size: 8″ x 12″ (2:3 ratio)
Format: PDF
Copyright information: For personal use only
Note: Actual poster background color is white. For the sample poster, the background is made gray for illustration purpose.
2. Fabien dei Franchi Analysis
This poem is a tribute to Henry Irving's potential, skill, and the evocative power of performance. Each line paints a vivid picture of dramatic scenes, emphasizing the emotional intensity and dark themes often found in theatrical productions. Let's break it down:
Lines 1 to 4 set a scene filled with gothic elements: a silent room, creeping shadows, the dead moving quickly, a mysteriously opening door, a rising murdered brother, and a ghost touching the actor's shoulders. These images evoke a sense of eerie suspense and supernatural occurrences, common in dramatic and horror genres.
Lines 5 to 7 shift to a scene of a lonely duel in a glade, hinting at a personal, intimate conflict. The broken swords, stifled screams, and gore paint a vivid picture of a violent struggle. The mention of "revengeful eyes" suggests a climax of emotion and plot, possibly indicating Irving's intense portrayal of a character consumed by vengeance.
Lines 8 to 9 transition from these specific dramatic scenes to address Irving directly, suggesting that while these performances are impressive ("These things are well enough"), the actor is capable of even greater feats. The phrase "thou wert made / For more august creation" implies that  Irving's talent is suited for more significant, perhaps more classical or prestigious roles.
Lines 10 to 13 present examples of such roles, drawn from Shakespeare's plays. The poet suggests that Irving should take on the complex characters of "frenzied Lear" wandering the heath, Romeo luring his love, or a fearful Richard plucking his dagger. These references to Shakespearean characters underscore the depth and range of emotions and scenarios Irving could masterfully portray.
The final line, "Thou trumpet set for Shakespeare's lips to blow," metaphorically elevates the actor to an instrument through which the grandeur and eloquence of Shakespeare's works can be expressed. It suggests that Irving is not just performing roles but bringing Shakespeare's characters to life, serving as a medium for the playwright's genius.
Overall, the poem praises Irving's abilities and suggests that he was destined for grand Shakespearean roles that require depth, emotion, and a powerful presence. It's a celebration of theatrical artistry and the transformative power of a skilled actor.
3. Conclusion
If "Fabien dei Franchi" has captivated you, explore this list of Oscar Wilde's poems for more of his enchanting verse.