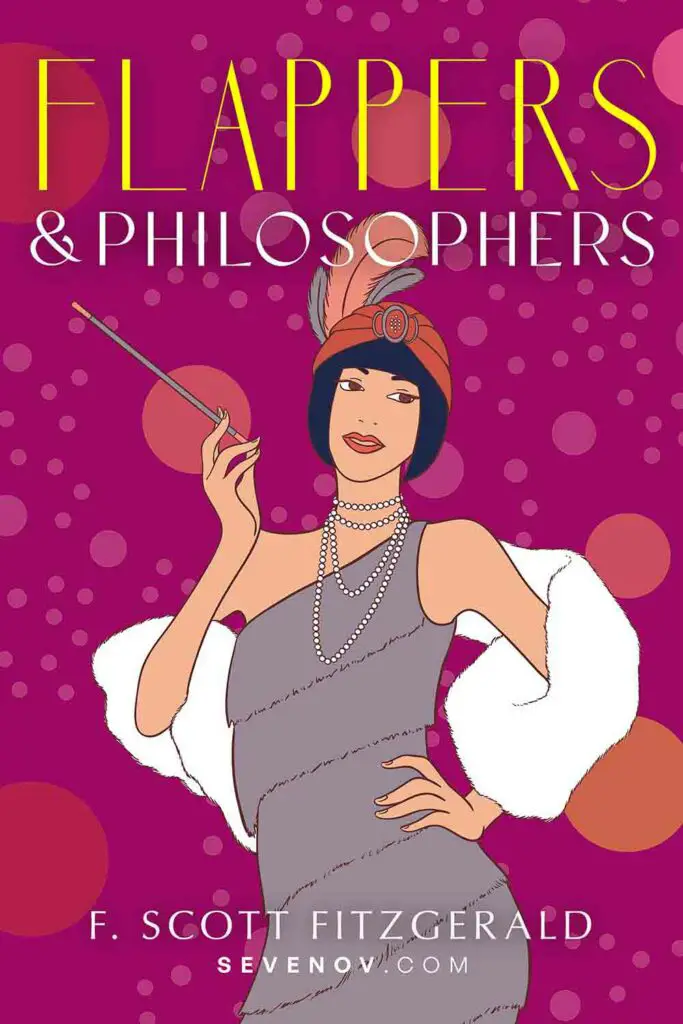 Flappers and Philosophers by F. Scott Fitzgerald
Author: F. Scott Fitzgerald
Published: 1920
Genre: Short Stories Collection
Flappers and Philosophers is an anthology of short stories written by F. Scott Fitzgerald that depicts the lives and morality of individuals who lived through World War I in 1920s America. The collection comprises individual works that Fitzgerald wrote for Saturday Evening Post and Scribner's Magazine.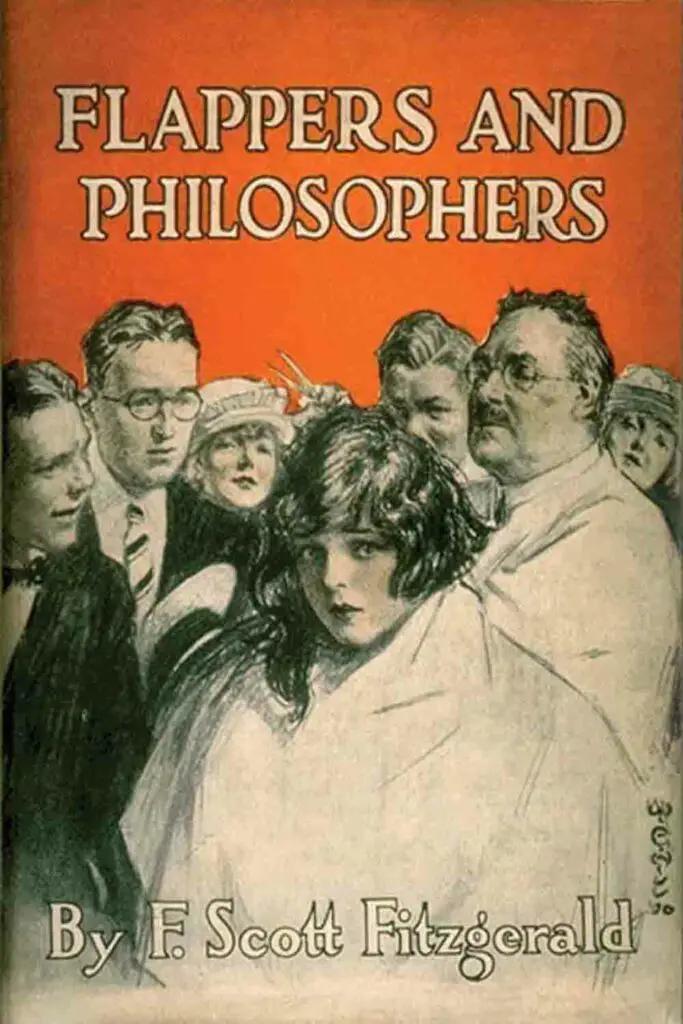 1. Flappers and Philosophers Synopsis
Flappers and Philosophers hosts an array of tales and characters, from lighthearted, unlikely romances to heavier themes such as gender roles and life for post-war veterans. As the title suggests, many of the stories feature flappers, a generation of young women in the 1920s who wore short skirts (underneath the knee), cropped their hair, listened to jazz, and flaunted their scorn for what was then considered appropriate behavior. 
On the other hand, the philosophers are more likely representations of the thoughts and questions that each story embodies, compelling readers to view the characters from multiple lenses. A few years after the anthology was published, we see these women portrayed again in Fitzgerald's novels. Never a dull moment arises when reading this compilation of tales that bring us through the Roarin' 20s. 
2. Flappers and Philosophers Stories
Flappers and Philosophers contains the following short stories:
2.1. The Offshore Pirate
"The Offshore Pirate" weaves fantasy and reality in a story set off the coast of Florida. When a pirate raids a 19-year-old heiress' yacht, taking her captive in both mind and soul, she succumbs to Stockholm Syndrome.
Find out more about "The Offshore Pirate."
2.2. The Ice Palace
Sally Carrol, a 19 years old Southern girl in Georgia, is overcome with boredom and decides to travel to the vast Northeast by marrying her boyfriend Harry, who resides there. She quickly discovers that the North may not be what she had hoped for. Fitzgerald's personal life and marriage may have influenced his fictional interpretation of the North-South divide in this story.
Find out more about "The Ice Palace."
2.3. Head and Shoulders
The unique story features the titular philosopher, which employs Fitzgerald's wit and irony. The plot revolves around a brilliant scholar who falls in love with a chorus girl and their attempts to create a fresh start together. Horace is accepted to Princeton at 13 and the Master's program at 17, but his life is turned upside down when he falls in love with Marcia. A piece that exemplifies how life can be changed in the most ironic and inconceivable ways under Fitzgerald's writing.
Find out more about "Head and Shoulders."
2.4. The Cut-Glass Bowl
Evylyn Piper has a cut-glass bowl in her home, a traditional wedding gift in the Middle West. The cut-glass bowl serves as a metaphor which Fitzgerald intertwines suspense with. Unfortunately, it is also a tragic metaphor for fate and the hardships Evylyn will face. Fitzgerald's more somber story vividly depicts marital life versus individual identity. In the words of her former lover Carleton, "Evylyn, I'm going to give you a present that's as hard as you are and as beautiful as you are and as empty and as easy to see through." 
Find out more about "The Cut-Glass Bowl."
2.5. Bernice Bobs her Hair
This story is a Fitzgerald spin on Jane Austen's Emma. Bernice, Marjorie's cousin, comes to visit. Initially uninterested in the domesticated and socially awkward Bernice, Marjorie becomes enthralled when her cousin seeks her help. Marjorie becomes her mentor in interacting with men, bobbing her hair as the final touch. What transpires after is a tale of great amusement.
Find out more about "Bernice Bobs her Hair."
2.6. Benediction
Fitzgerald describes the fight between the physical and the spiritual in this story, arguably the heaviest read of the collection. Lois is caught in a dilemma. Should she continue to see a man who uses her merely for sexual gratification or leave the relationship? Lois's internal battles are exacerbated when she visits her brother, preparing for priesthood in a Jesuit monastery. Fitzgerald may have based the narrative on his visit to a seminary in Woodstock, Maryland, where he visited his cousin. 
Find out more about "Benediction."
2.7. Dalyrimple Goes Wrong
This story is Fitzgerald's condensed rendition of Dostoevsky's Crime and Punishment, but with a spin. Former exalted soldier Bryan Dalyrimple experiences difficulty job-hunting in a post-war society to which he is unadjusted to. Stuck in a job with few prospects and minimal salary, he then devises a plan to conduct a succession of minor offenses. Unlike the unfortunate Raskolnikov, Bryan seems close to grasping success. 
Find out more about "Dalyrimple Goes Wrong."
2.8. The Four Fists
Samuel Meredith took four blows to his face in his lifetime, each resulting in an epiphany that reshapes him and his life. Fitzgerald's argument that life is full of twists arises; what appears as a setback may potentially lead to success, and a sense of right and wrong triumphs over all. A clever narrative told with plenty of wits. 
Find out more about "The Four Fists."
3. Writing Style
Fitzgerald's short stories employ more humor and wit than his novels but do not lack equally thought-provoking themes and realism. His writings incorporate many literary elements: metaphors, traditional descriptions, humorous and insightful turns, flat paragraphs, caustic parodies, and so on. Fitzgerald often applies stark imagery and metaphors to his stories, bringing the scenes to life.
4. Impact on Literature 
Published at the dawn of the Jazz Age, Flappers and Philosophers would lay an essential foundation for Fitzgerald's other works and characters, especially his novels, which capture the rise and fall of the Roaring Twenties, along with the lives of the individuals that experienced its culture in full force and complete decline. 
5. Frequently Asked Questions about Flappers and Philosophers
Why did Bernice from "Bernice Bobs her Hair" crop her hair?
Bernice bobs her hair to prove Marjorie wrong as the latter spreads the rumor that Bernice merely lied about wanting to cut her hair to receive male attention.
Are the stories in Flappers and Philosophers real?
While the stories in "Flappers and Philosophers" are fictional, Fitzgerald wrote them as representations of life in 1920s America and key icons such as Flappers.