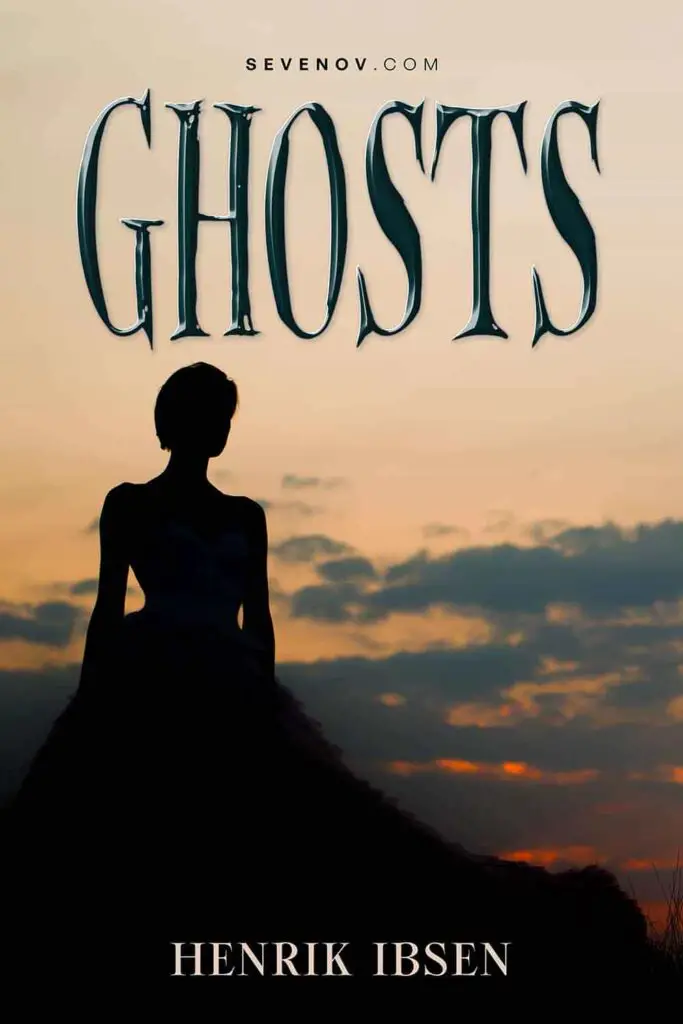 Ghosts by Henrik Ibsen
Author: Henrik Ibsen
Published: 1881
Genre: Realistic
Ghosts (Gengangere) is a play by the Norwegian playwright Henrik Ibsen. It was published in 1881 and premiered in 1882 in Chicago, Illinois, where a Danish company performed it for an audience of Scandinavian immigrants. 
The original title 'Gengangere' is a Scandinavian word that means 'something that walks again' or 'revenants.' It alludes to the ghosts of the past that haunt the play's characters, no matter how much they wish to be rid of them. When Ghosts was first performed, it stirred controversy over its portrayal of venereal disease, incest, religion, and euthanasia. Nevertheless, it has been recognized as a sharp critique of hypocritical 19th-century morality. 
In 1898, when Ibsen met King Oscar II of Sweden and Norway at a dinner in Ibsen's honor, the King told Ibsen that Ghosts was not a good play. To which Ibsen responded, "Your Majesty, I had to write Ghosts!"  
1. Synopsis
Helen Alving is a widow about to dedicate an orphanage to her late husband. Despite her husband's philandering, she stayed with him to maintain the facade of a respectable family. When her son Oswald returns home, she discovers he is suffering from a venereal disease inherited from his father. Oswald is also in love with a servant girl, Regina, not knowing that she is his father's illegitimate child and thus his half-sister. Although Helen Alving tries to hide her husband's dissipated past, the web of lies she has spun is eventually brought to light. 
2. Story Summary
Act I
The entire play takes place in Mrs. Helen Alving's home. As the play opens, a carpenter, Jacob Engstrand, arrives to see the servant girl Regina, who works for the Alving family. Although Engstrand married Regina's mother when she was already pregnant by another man, he treats Regina like his own daughter. Engstrand intends to open a sailor's hostel using the money he earned by working on the orphanage built by Mrs. Alving to honor her late husband. He wants Regina to work with him at the hostel, but she refuses and asks him to leave. 
Pastor Manders comes to visit Mrs. Alving so that they can sort out the paperwork regarding the orphanage. Manders persuades Mrs. Alving not to buy insurance for the orphanage, as it shows a lack of faith in God. 
Oswald, Mrs. Alving's son, enters the room, and Manders is struck by how much he resembles his late father. Oswald has just returned home and discusses his life abroad. Manders is shocked when Oswald mentions that he used to live with families who were not married by the Church. 
After Oswald leaves, Manders starts to lecture Mrs. Alving. He chastises her for fleeing from her debauched husband, Captain Alving, many years ago and taking refuge with him. Her reckless act endangered Manders' reputation. Moreover, he believes that 'a wife is not appointed to be her husband's judge.'
Mrs. Alving eventually returned to her husband, but he did not change his ways. It only appeared as though he did because Mrs. Alving learned to cover up her husband's affairs. She divulges to Manders that she once caught her husband seducing their servant girl, Johanna, who got pregnant with his child. Afterward, she sent the young Oswald abroad so he would not witness his father's adultery. 
Oswald returns from his walk and flirts with Regina as they prepare for dinner. Suddenly, Mrs. Alving and Manders hear Regina call out, asking Oswald to let her go. The two are horrified as it seems the ghosts of Captain Alving and Johanna have returned, and history is to repeat itself. 
Act II 
Mrs. Alving and Manders know that Regina is Johanna and Captain Alving's daughter and thus Oswald's half-sister. Manders is alarmed and suggests sending Regina back to Engstrand, but Mrs. Alving thinks Oswald's interest in Regina is just a passing fancy. 
Engstrand enters and asks Manders to lead a prayer meeting for the workers since the orphanage is completed. Manders reproaches Engstrand for lying to him that Regina was his child. However, Engstrand says that he wanted to protect his wife Johanna's reputation and did not marry her for the hush money she received from Mrs. Alving. Hearing Engstrand's explanation, Manders forgives him. He then leaves to lead the prayer meeting. 
Mrs. Alving goes into the dining room, where Oswald is drinking. Oswald reveals that he is sick. The doctor told him, "The sins of the fathers are visited on the children," alluding to inherited venereal disease. Oswald grew up believing his father was a faithful man, so he thinks his careless lifestyle must have caused the illness. Mrs. Alving is distraught, and when Manders and Regina return, she decides to tell the truth. At this moment, they hear shouts from outside – the orphanage has caught fire. They rush out as Manders declares that the fire is a judgment on the lawless Alving household. 
Act III 
Back at Mrs. Alving's home, Engstrand tells Manders that the fire was caused by candles used in the prayer meeting. He saw Manders snuff a candle and throw it away among wood shavings. Worse still, Manders had not bought insurance for the orphanage. Now that Engstrand knows of his role in causing the disaster, Manders is afraid for his reputation. 
Mrs. Alving gives Manders permission to settle her financial affairs as he pleases. To keep Engstrand silent, Manders decides to devote Mrs. Alving's money to his sailor's hostel, which he says will be a place for sailors to receive guidance and stay away from vice. However, Engstrand likely intends it as a place of debauchery. 
Manders and Engstrand leave. Mrs. Alving asks Regina to sit beside her and Oswald, then reveals the truth to them – her husband was a dissipated man, and Regina is his illegitimate child. After learning the truth, Regina leaves since she thinks nothing can come out of her relationship with her half-brother, Oswald. Moreover, she does not want to nurse a sick man. 
Left alone with his mother, Oswald discloses what the doctor told him – his disease will result in a softening of the brain. Soon, he could become incapable of taking care of himself. He begs his mother to euthanize him using a fatal dose of morphine. Mrs. Alving is mortified and refuses at first. However, she sees her son's suffering and tells him she will do it if necessary. As the sun rises, Oswald shrinks together in his chair, his muscles relax, and he urges his mother to give him 'the sun.' 
3. Characters
Mrs. Helen Alving
Mrs. Alving is a widow who hides her late husband's adulterous past to protect her family's reputation. She feels constrained by the rules of her society but lacks the courage to disobey them. 
Oswald Alving
Oswald is Mrs. Alving and Captain Alving's son. He is a painter who suffers from a venereal disease, likely syphilis, inherited from his promiscuous father. At a young age, he was sent abroad by his mother. 
Regina Engstrand
Regina is a servant girl who works for the Alving household. She is the illegitimate child of Captain Alving and his maid, Johanna. 
Jacob Engstrand
A carpenter and Regina's assumed father. He married Johanna when she was pregnant with Captain Alving's child. 
Pastor Manders
Mrs. Alving's old friend. He is in charge of managing the orphanage that she built to honor her late husband. 
Captain Alving
Mrs. Alving's late husband. He was a dissipated person who drank excessively and had many affairs. 
Johanna
Johanna is the Alving household's former maid and Regina's mother. Mrs. Alving paid her off to keep quiet about her affair with Captain Alving. 
4. Themes
4.1. Inheritance 
The play focuses on the 'ghosts of the pasts' people inherit from their forefathers. These ghosts may take on a physical form, such as the venereal disease Oswald inherits from his philandering father. They may also refer to intangible beliefs that cling to people in the present even when they have become outdated. For example, the belief that a woman has no right to judge her husband's actions or that a child owes a filial duty to their parents regardless of the circumstances. 
These 'ghosts' rob people of their happiness by making it impossible for them to live a free and genuine life. Helen Alving is pressured to stay with her unfaithful husband because of the entrenched patriarchal beliefs of society. As such, she needs to hide the truth about his conduct to maintain her family's reputation and cannot be honest even with her son. Although she succeeds in preserving the Alving family's respectability, their happiness is a sham; there was never any life in her marriage. 
The only way to be freed from the burdensome inheritance of the past is to accept new beliefs that break the cycle of misery. When Pastor Manders first comes to the Alvings' house, he notices that Mrs. Alving has on her table books containing ideas that he disapproves of. She tells him that these books give her a sense of security as they explain and confirm what she has thought. It is implied that if she had followed her true beliefs, such as those in these books, she would not have stayed with Captain Alving and created a miserable family. 
4.2. Law and Morality
The morality in the 19th-century society of Ghosts is hypocritical, judgemental, and based on blind faith. This conventional morality is embodied by the character of Pastor Manders, a man who indiscriminately follows entrenched dogmas and judges others who do not. 
When Oswald mentions that he used to live with couples who were not officially married but had children, Pastor Manders is appalled and calls their relationships 'illicit relations'. His judgemental view of these couples is rooted in the belief that a marriage is only genuine if the church consecrates it.  
Despite his professed respect for marriage, Manders tolerates adultery as he persuades Helen to stay with her unfaithful husband. Though she tells him that she resents her loveless marriage, he assures her that it was 'in accordance with law and order'. 
To Pastor Manders, law and morality are necessary to maintain order in society, and one must not question them too much. He believes that sometimes, one needs to rely on the judgment of others. 
In contrast, Helen Alving is someone who has suffered greatly because of conventional morality and, as a result, questions its validity. She tells Pastor Manders it is 'perpetual law and order' that 'does all the mischief in this world of ours.' However, it is too late for Helen to break free of the rules of her flawed society, as they have already destroyed her happiness. Her son's illness could have been avoided if she had disregarded her family's advice to marry the wealthy but degenerate Captain Alving. As Helen blindly followed social norms, she ended up trapped in an unhappy marriage, and her son had to suffer for his father's misdeeds. 
The play shows that failure to disobey the morality of an unjust society can have tragic consequences. 
4.3. Wealth and Reputation
Various characters in the play are obsessed with obtaining wealth and reputation, causing them to sacrifice their happiness and the happiness of others. Helen Alving's mother and two aunts persuade her to marry the debauched Captain Alving because of his fortune. Their actions cause Helen to end up with an unfaithful husband who ruins her happiness. Helen remains with Alving to protect her reputation and that of her family. However, she realizes her mistake when Oswald tells her he suffers from a venereal disease he contracted because of his father's philandering ways. 
Engstrand wants to set up a sailor's hostel to make money and blackmails Manders to obtain the necessary funds. He lies to everyone that the hostel will be a charitable institution when he intends it to be a house of debauchery. Not only that, he persuades Regina to work in the hostel, knowing that it could lead her toward prostitution. 
5. Quotes from Ghosts
"I am half inclined to think we are all ghosts…it is not only what we have inherited from our fathers and mothers that exists again in us, but all sorts of old dead ideas and all kinds of old dead beliefs and things of that kind. They are not actually alive in us; but there they are dormant all the same, and we can never be rid of them. Whenever I take up a newspaper and read it, I fancy I see ghosts creeping between the lines. There must be ghosts all over the world. They must be as countless as the grains of the sands, it seems to me. And we are so miserably afraid of the light, all of us."

Helen Alving
"Yes, when you forced me under the yoke of what you called duty and obligation; when you lauded as right and proper what my whole soul rebelled against as something loathsome. It was then that I began to look into the seams of your doctrines. I wanted only to pick at a single knot; but when I had got that undone, the whole thing ravelled out. And then I understood that it was all machine-sewn."

Helen Alving 
"It is the very mark of the spirit of rebellion to crave for happiness in this life."

Pastor Manders
6. Frequently Asked Questions About Ghosts
What do Ghosts signify in Ibsen's play?
In Ibsen's play, the title 'Ghosts' refers to the ghosts of the past that return to haunt the living. These 'ghosts' often take the form of dead beliefs that cling to people, depriving them of happiness. The English title imperfectly captures the meaning of the original Danish title, Gengangere, which means the 'something that walks again' or 'the ones that return.' 
What is Oswald's illness in Ghosts?
Oswald's illness is strongly implied to be congenital syphilis. His promiscuous father was infected with syphilis and brought the disease home to his mother. Oswald then contracted syphilis from his mother when she was pregnant with him. 
The doctor Oswald sees does not give him an exact diagnosis but tells him that 'the sins of the father are visited on the children,' alluding to his father's adultery. Moreover, Oswald's severe headaches are a symptom of neurosyphilis, a variant that afflicts the nervous system. 
What does the sun represent in Ghosts?
At the end of the play, Oswald begs his mother to give him 'the sun,' which represents the truth behind his dysfunctional family. This metaphor symbolizes how only by knowing the truth can Oswald break free of the lies that have corrupted his family and avoid repeating the mistakes of the past. 
The play mostly takes place against the backdrop of a gloomy fjord landscape veiled by steady rain, symbolizing the lies Mrs. Alving uses to conceal her husband's misdeeds. Oswald is distressed by the darkness of the family's house, complaining in Act II that he "can't recollect ever having seen the sun shine all the times [he's] been at home." The dark surroundings can only be lit up when the sun comes out.