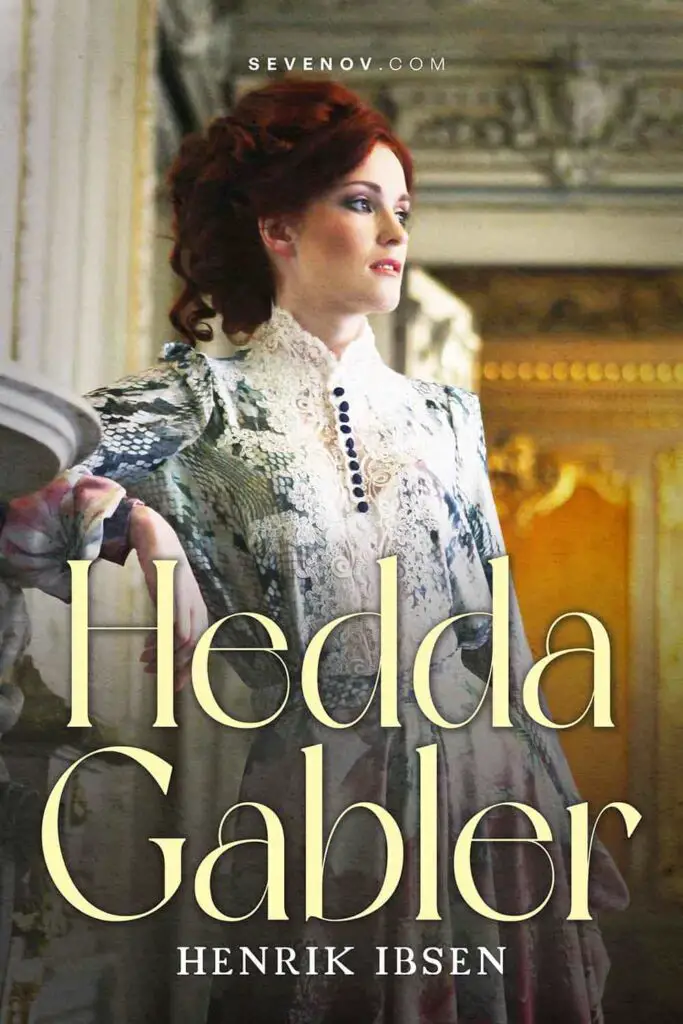 Hedda Gabler by Henrik Ibsen
Author: Henrik Ibsen
Published: 1890
Genre: Realistic
Hedda Gabler by Henrik Ibsen is a four-act play. The titular character is the beautiful and much-admired daughter of a general. She marries a man she does not love and feels stifled by her conventional married life. Her inability to escape the unhappy married life she has created for herself leads to tragedy.
The play was first published in December 1890. It premiered on 31 January 1891 at the  Residenztheater in Munich. 
Gabler is Hedda's maiden name; after she gets married, she becomes Hedda Tesman. Ibsen named the play 'Hedda Gabler' instead of 'Hedda Tesman' as he intended to "indicate that Hedda as a personality is to be regarded rather as her father's daughter than her husband's wife." Hedda never truly becomes Tesman's wife as she feels no love for him. She yearns for her glory days as her father's daughter, as shown by how she plays with her father's pistols as a diversion. 
1. Synopsis
Hedda Gabler and Jörgen Tesman are newlyweds who have just returned from their six-month honeymoon. Hedda is the beautiful daughter of General Gabler and was highly admired in her youth. Desiring a life of luxury and glamor, her marriage to a bookish academic fails to satisfy her. When Tesman's rival, Ejlert Lövborg, reappears in their lives, he sparks a series of events that lead to tragedy. 
2. Story Summary
Act I
The play opens in the Tesmans' drawing room. Juliane Tesman, Jörgen Tesman's aunt, and a servant, Berte, discuss the Tesman family's new mistress. Berte expresses her reluctance to leave Aunt Juliane and Juliane's ill sister, Rina, behind to work for Tesman and his new wife, Hedda. She is also concerned that she will never be able to please Hedda. 
Tesman and Hedda enter the drawing room. The newlyweds have just returned from a six-month honeymoon. Tesman is delighted to see Aunt Juliane and tells her that he has spent the honeymoon doing research and now has high hopes of getting a professorship. 
Aunt Juliane leaves. An old friend of Hedda's, Thea Elvsted, arrives. She is looking for Ejlert Lövborg, a former tutor in the Elvsted household. Ejlert is an old rival of Tesman, and he gets envious when Thea tells them that Ejlert has recovered from his drunkenness and written a best-selling book. Tesman hides his envy by promising to support Ejlert, and Hedda encourages him to invite Ejlert to their house. 
Another guest, Judge Brack, arrives. He advises Tesman to be more prudent in his spending and informs him that he may have to compete with Ejlert for the professorship. Afterward, Tesman tells Hedda that they will have to reduce their expenses. Hedda says that at least she still has one thing to kill time with – her father's pistols. Tesman runs after her, urging her not to play with those dangerous things. 
Act II
Judge Brack comes to see Tesman, but he is out visiting Aunt Juliane. Hedda confides in Brack that she does not love Tesman and only married him as she thought her youth was over. Tesman enters and tells Hedda that he will soon be leaving for a party at Brack's house. 
Ejlert arrives and talks about his bestselling book, which he says was not that good because he 'wrote a book that everyone could agree with.' He then shares about his upcoming book, which he intends to be his masterpiece. 
Ejlert assures Tesman that he will not compete with him for the professorship as he only wants critical acclaim. Relieved, Tesman goes into another room with Brack to enjoy some punch while Ejlert stays with Hedda. Through their conversation, the audience learns that Hedda and Ejlert used to be close friends, and Ejlert was once in love with her. 
Thea Elvsted enters looking for Ejlert. When Ejlert learns that Thea is concerned that he might go drinking again, he feels insulted. In defiance, he decides to go to the party at Brack's house, taking the manuscript of his upcoming book with him. Tesman, Brack, and Ejlert leave for the party. 
Act III
Tesman returns from Brack's party. He tells Hedda that Ejlert had read to him his new book at the party and admits that he was jealous of Ejlert's talent. Although Ejlert had sworn off alcohol, he got drunk at the party and dropped the manuscript for his new book. Tesman brought Ejlert's manuscript home, intending to return it to him the next day. After Tesman leaves to visit the dying Aunt Rina, Hedda locks Ejlert's manuscript in the writing desk. 
Ejlert arrives, and Hedda admonishes him for coming so late to fetch Thea Elvsted. Ejlert claims that he destroyed the manuscript for his new book. At this point, it is revealed that the book was a joint effort between Thea and Ejlert. Devastated, Thea cries that what Ejlert has done is tantamount to killing their child. After Thea leaves, Ejlert tells Hedda the truth – that he lost the manuscript while drunk. Ejlert leaves, intending to commit suicide. Hedda gives him one of her father's pistols to kill himself. After Ejlert is gone, Hedda takes out the manuscript and burns it. 
Act IV
Tesman returns from Aunt Juliane's house. Hedda reveals to Tesman that she burned Ejlert's manuscript, saying that she did it for the sake of his career. Moved by Hedda's love for him,  Tesman rejoices. 
Brack arrives and announces that Ejlert is dying. Hedda is pleased to learn that Ejlert shot himself in the chest, declaring that there is beauty in his death. Thea Elvsted is shocked and in grief, but she is determined to piece together Ejlert's manuscript again using the loose notes she kept. Tesman helps her, and the two go into an inner room to work on the notes. 
Brack then discloses to Hedda that Ejlert's death was an accident; a discharged pistol had gone off in his breast pocket. Hedda calls Ejlert's death ridiculous and sordid, disappointed that his death was not an act of free will. To make things worse, Brack tells Hedda that he knows she had given Ejlert the pistol that killed him. If anyone knows about this, it will cause a scandal for Hedda. Brack promises to keep his silence if Hedda submits to his wishes and becomes his lover. Unwilling to submit to Brack, Hedda goes into an inner room and shoots herself in the temple. 
3. Characters
Hedda Gabler
The beautiful and once widely admired daughter of a general, Hedda does not adapt well to her less glamorous married life. She is dissatisfied with her loveless marriage and conventional life. Hedda is selfish, manipulative, and desires a life of luxury.
Jörgen Tesman
Tesman is Hedda's husband, an aspiring academic who is bookish and naive. He is close to his two aunts and feels envious of his rival, Ejlert. 
Aunt Juliane
Juliane is Tesman's aunt, a kind elderly woman who gladly sacrifices herself for her family. 
Berte
Berte is a longtime servant of the Tesman family. She is attached to Aunt Juliane and Aunt Rina, which makes her reluctant to leave them to work for Tesman and Hedda. Moreover, she is concerned that she will never be able to please the demanding Hedda. 
Ejlert Lövborg
Ejlert is Hedda's old friend and Tesman's rival. He published a bestselling book and is working on another book he intends to be his masterpiece. 
Thea Elvsted
Thea is Ejlert's friend and the wife of his former employer. Ejlert was an alcoholic when she met him, but she helped him overcome his addiction. She collaborated with Ejlert on his second book, the one he regards as his masterpiece. 
Judge Brack
Brack is a friend of Hedda and Tesman. He is an unscrupulous man who wants to have an affair with Hedda. He tries to proposition her, but she evades his advances, afraid of scandal. Hedda often gossips with Brack, confiding in him about her disillusionment with her married life. 
Aunt Rina
Aunt Rina is the ill sister of Aunt Juliane. She does not appear in the play but is mentioned by the other characters.
4. Themes
4.1. Marriage and Love
Hedda Gabler marries Jorgen Tesman, not for love but because she desires respectability. Tesman is from a respectable middle-class family with good career prospects. Moreover, Hedda's youth was fading, so she simply 'danced herself out' of her single life. For Hedda, marriage is not tied to love but rather a compromise she has to make to fit into her society. 
Although she does not love Tesman, she avoids getting into extramarital affairs with other men because she is afraid of scandal. She wishes to honor her marriage to Tesman, at least on the surface. Behind his back, she mocks him in front of others. 
By marrying Tesman, Hedda gains the respectability she desires. However, her loveless marriage stifles her, and she cannot find meaning in her conventional life. Hedda plays with her father's pistols and tries to manipulate others to amuse herself. These diversions are not able to make up for her empty existence, so she ultimately ends up destroying herself. 
4.2. Power
Like many other characters in the play, Hedda Gabler desires power over others. 
Judge Brack desires power over Hedda so that he can make her his mistress. Tesman wants to climb up the career ladder by securing a professorship, which would guarantee his family's financial security. Ejlert wants to gain critical acclaim as an academic by publishing a masterpiece that claims to see the world's future. Elvsted came looking for Ejlert because she wanted to use her influence over him to ensure he didn't fall into drunkenness again. 
Unlike the other characters, Hedda desires power over others not for pragmatic gains but because manipulating others gives her pleasure. When she learns that Ejlert has recovered from alcoholism, she goads him into drinking again. She also hides the fact that she possesses Ejlert's lost manuscript to drive him into despair and make him kill himself. 
Despite her deviant desire for power, Hedda passively follows social norms which dictate she gets married before her youth is over. As such, she marries a man she does not love to maintain her respectability. Hedda's deference to social norms reflects her lack of power over herself. This deficiency makes her obsessed with having power over others so that she feels in control. 
4.3. Beauty 
Hedda Gabler yearns for beauty that is beyond her mundane life. Ugliness repulses her – she refuses to see Aunt Rina when she is dying, telling her husband, "I don't want to think of illness and death. You musn't ask me to have anything to do with ugly things."
In her everyday life, she has to face the ugliness of being in a loveless marriage and tied to a man who shares nothing in common with her. Although she gets to live in a lovely house and go on a six-month honeymoon, these luxuries come at a price. Her husband has gotten into debt to afford these things and reminds her they must reduce their spending. Hedda is dismayed as her married life turns out to be less glamorous than expected. Because Hedda does not dare to follow her desires, she is doomed to live a life of mundane ugliness. 
Hedda Gabler desires the beauty of free will to free herself from this ugliness. To create this beauty, she manipulates Ejlert into attending Brack's wild party, knowing he is weak to alcohol. When she obtains the manuscript he lost, she burns it and then encourages Ejlert to commit suicide. While Ejlert's death saddens the other characters, Hedda sees his suicide as a 'free and fearless action' and 'an act irradiated by spontaneous beauty.' 
Unfortunately, Judge Brack dispels this illusion by revealing that Ejlert's death was an accident. Disgusted by the ugliness of Ejlert's fate and not wanting to be enslaved by Brack, Hedda commits suicide. In the end, it is unclear if her fate was a tragedy or just the natural consequence of a hollow life. 
5. Quotes from Hedda Gabler
"It's a liberation to know that an act of spontaneous courage is yet possible in this world. An act that has something of unconditional beauty."

Hedda Gabler
"I want for once in my life to have power over a human being's fate."

Hedda Gabler
"It's a release to know that in spite of everything a premeditated act of courage is still possible."

Hedda Gabler
6. Frequently Asked Questions about Hedda Gabler
What do the vine leaves symbolize in Hedda Gabler? 
In the play, Hedda Gabler says several times that Ejlert will wear vine leaves in his hair. Vine leaves symbolize Dionysus, the Greek god of wine and theatre. Ejlert is a recovered alcoholic who has sworn off alcohol. When he goes to Judge Brack's party, Thea Elvsted is concerned that he will start drinking again. However, Hedda assures her that Ejlert will return with vine leaves in his hair. She implies that Ejlert, like the god Dionysus, has control over his drinking and power over himself. 
The vine leaves symbolism emphasizes Hedda's idealistic view of Ejlert and her desire to see him as the hero of a beautiful tragedy. Alas, Ejlert turns out to be no god but a weak man who succumbs to his alcohol addiction and gets so drunk that he loses his precious manuscript.  
Why does Hedda Gabler burn the manuscript?
Hedda claims that she burned Ejlert's manuscript to secure Tesman's career since he would no longer need to compete with Ejlert for the professorship. However, this is unlikely to be the true reason as Hedda does not love Tesman. One possible explanation is that Hedda is jealous of Thea's power over Ejlert. Ejlert was Hedda's former friend, and she likely had romantic feelings for him. After she rejected him, he got involved with Thea Elvsted. 
In Act II, Thea tells Hedda that she came to town looking for Ejlert so she could use her influence on him to stop him from drinking again. Later on, when Ejlert leaves for Brack's party, Hedda says that she wants 'once in [her] life, to have power over a human being's fate.' She calls herself 'poor' and tells Thea that she does not realize how she is 'offered such riches.' Hedda wants the power to influence Ejlert, and the 'riches' she refers to is this power.
Knowing that the manuscript is the joint work of Ejlert and Thea, Hedda burns it, saying, 'Now, I am burning your child Thea…Your child and Ejlert Lövborg's." The fact she mentions Thea first highlights her resentment towards Thea. Hedda resents Thea as she has what Hedda desires most, which is the power to influence others, specifically Ejlert, the man she loves. 
Why did Hedda Gabler give Ejlert the pistol?
Knowing that Ejlert is devastated by the loss of his manuscript, Hedda gives him one of her father's pistols to encourage him to commit suicide. She wants to witness the spectacle of a beautiful death – one that Ejlert chose of his own free will and which required a great deal of courage.