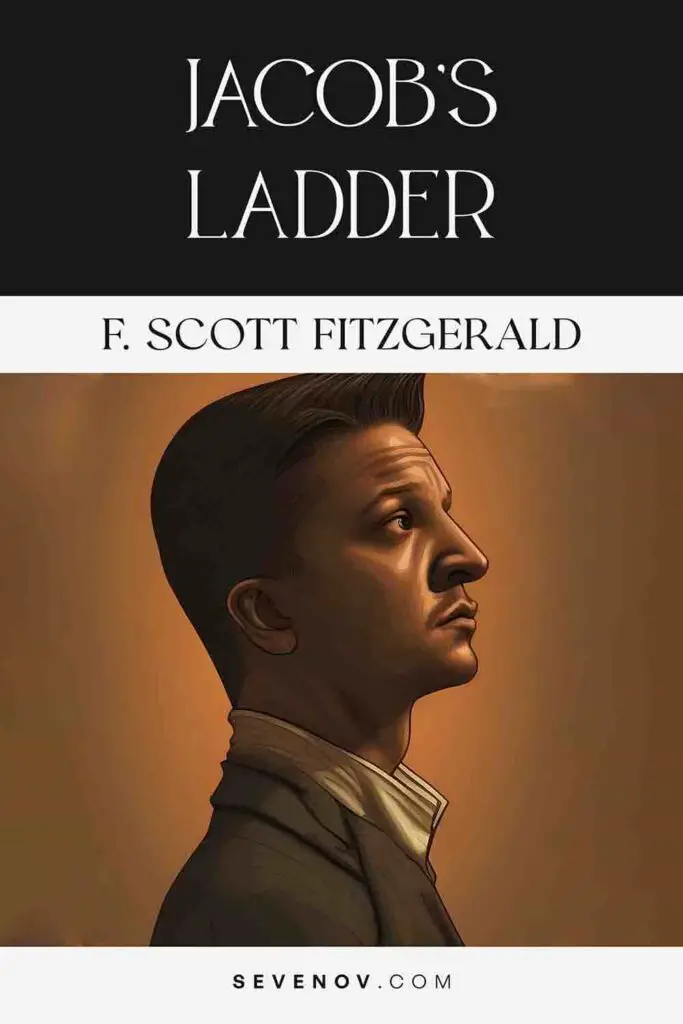 Jacob's Ladder by F. Scott Fitzgerald
Author: Francis Scott Fitzgerald 
Published: The Saturday Evening Post (Aug 20, 1927)
Genre: Short Stories
Published in The Saturday Evening Post in 1927, "Jacob's Ladder" is a tragic love story written by F. Scott Fitzgerald. 
1. Synopsis
"Jacob's Ladder" follows Jacob Booth, a thirty-three-year-old man who falls in love with sixteen-year-old Jenny Delehanty. Jacob realizes too late that he has feelings for her and is left heartbroken. Many readers and critics have drawn parallels between "Jacob's Ladder" and Tender is the Night, published in 1934, where the story's protagonist also falls in love with a much younger girl.
2. Story Summary
2.1. Murder Trial
The story opens with the scene of a murder trial in a courtroom, where our protagonist Jacob Booth is in attendance. While looking around, Jacob spots Jenny Delehanty, the accused's sister. He falls for her beauty and later helps her avoid the press who hound her for questions. He points out her attractiveness, offering to set up a meeting with a movie director for her.
2.2. Jenny Prince
Jenny is introduced to a director named Billy Farelly, and Jacob helps her settle on the stage-name Jenny Prince. Jenny soon becomes a rising sensation, landing multiple roles. She expresses immense gratitude toward Jacob, but he resolves not to manipulate her trust in him to fulfill his desire for her. One day, Jenny kisses him.
2.3. Distance
Jacob notices that Billy expresses interest in Jenny and tries to dissuade him. In doing so, he realizes her significance in his life. Jacob witnesses Jenny's success in showbiz and hopes to become a singer again, but his vocal cords have long been damaged.
Jenny's career pulls them apart, and Jacob finds that Jenny is attracting male attention. He confesses to her, but his feelings are unreciprocated. Nevertheless, Jenny consents to marry him as he provides a sense of stability, and she feels that she owes her success to him. 
2.4. Blackmail
Jenny's fame attracted unwanted attention. Someone called Scharnhorst uncovers the fact that her sister is a convicted criminal and attempts to blackmail her. Jacob comes to her rescue and prevents her from being blackmailed.
2.5. Futility
As Jenny becomes busier, Jacob sees her less and less. When Her heart belongs to someone else when they finally meet after a few years, her story comes to a close with Jacob only being able to get close to Jenny through her movies as a spectator. 
3. Characters
Jacob Booth
At thirty-three, Jacob meets sixteen-year-old Jenny Delehanty, who he falls in love with. He spends the next few years pursuing her, hoping she will love him back. While his love for Jenny is strong, Jacob displays basic morality and awareness regarding their age gap and cares for her in ways that are as appropriate as he can manage. 
Jenny Delehanty
Young and fresh-faced, Jenny quickly rises to stardom in Hollywood. While she feels grateful toward Jacob, she knows she does not have genuine feelings for him.
4. Theme: Love and Futility
With the romance between Jacob and Jenny being the key plotline of "Jacob's Ladder," it is no surprise that love is such an important theme. The futility of love is intensely discussed throughout the novel. The title is a biblical allusion to Jacob's Ladder, a staircase that the biblical Jacob dreams of leading to heaven. However, the ladder does not truly lead to heaven, just like Jacob's pursuit of Jenny did not win her over, and he loses her to someone else.
5. Quotes from Jacob's Ladder
Silently, as the night hours went by, he molded her over into an image of love – an image that would endure as long as love itself, or even longer – not to perish till he could say, 'I never really loved her."
6. Frequently Asked Questions about Jacob's Ladder
Why is the story titled Jacob's Ladder?
The title of Fitzgerald's short story is a biblical allusion to Jacob's Ladder in the bible, where Jacob dreams of a ladder that leads to heaven in the Old Testament. 
However, the ladder does not lead to heaven and symbolizes how Jacob's devotion to Jenny does not lead to her loving him. Jacob Booth places Jenny on a pedestal but, in doing so, makes her unattainable to himself.
Why did Jenny not marry Jacob?
She does not love him and only agrees to marry him initially out of gratitude.