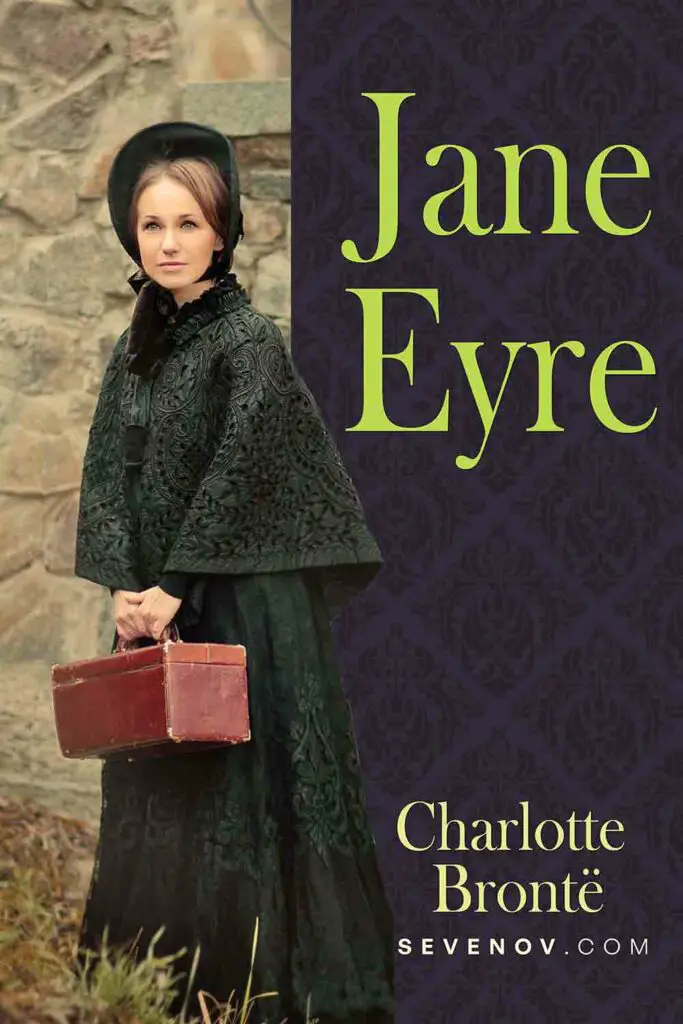 Jane Eyre by Charlotte Brontë
Author: Charlotte Brontë 
Published: 1847
Genre: Coming-of-age, Gothic, Romance 
Jane Eyre is an 1847 novel written by Charlotte Brontë that tells the tale of a young woman who overcomes various hardships in her life before falling in love with her employer and finding happiness. It was first published under her androgynous pen name Currer Bell and found immediate success. Today, Jane Eyre is one of the most widely read classic novels and has been adapted many times into film, television, stage plays, and more. 
1. Synopsis
Jane Eyre is a fictional autobiography written from the viewpoint of the titular character, a poor, plain but strong-willed orphan girl. As a child, Jane is mistreated by her cruel relatives and then sent away to a boarding school. There, she encounters even more deprivations but acquires an education and meets her best friend, who tragically dies of consumption. Eventually, she takes up a post as a governess at Thornfield Hall, where she falls in love with her employer, Mr. Rochester. However, he hides a dark secret that changes her life forever. 
2. Plot Summary
2.1. Gateshead Hall
Jane Eyre is a ten-year-old orphan girl who lives at Gateshead Hall with her wealthy relatives, the Reeds. Her maternal uncle, Mr. Reed, was kind to Jane, but his death leaves her with his cruel and abusive family. A servant named Bessie is Jane's only friend in the household, as Jane is ostracised by her aunt Mrs. Reed who forbids her children from playing with her.  
One day, Jane gets into a fight with her bullying cousin, John Reed when he mocks her for being a poor orphan and throws a book at her. Mrs. Reed blames Jane for the fight and punishes her by sending her to the red room, the terrifying chamber where her uncle had died. Believing that she has seen her uncle's ghost, Jane faints in fright. She wakes up in her room, attended to by the kind apothecary, Mr. Lloyd. 
The next day, Jane remains in bed and Bessie comforts her by singing her a song. When Mr. Lloyd speaks with Jane, she confides in him about how miserable she is living at Gateshead Hall. He then suggests to Mrs. Reed that Jane be sent away to school. This is an idea that Mrs. Reed is enthusiastic about, eager to get rid of her niece. 
2.2. Lowood Institution
Mrs. Reed enrolls Jane in the Lowood Institution, a charity school for orphan girls run by the harsh director Mr. Brocklehurst. A religious hypocrite, Mr. Brocklehurst provides a luxurious lifestyle for his children while taking Bible quotes out of context to preach a poor and ascetic lifestyle for the girls of Lowood. Mrs. Reed warns Mr. Brocklehurst that Jane has a "tendency for deceit", causing him to believe that she is a liar. 
At Lowood, Jane finds that life is harsh – the girls are provided with cold rooms, inadequate and spoiled food, and thin clothes. However, she is able to take comfort in her friendship with an older girl, Helen Burns. Helen practices a gentle, compassionate form of Christianity, which entails loving her enemies and tolerating hardship. Even after Helen is whipped by their cruel teacher, Miss Scratcherd, for having poor posture and dirty nails, she tells Jane that it is her duty to endure such humiliation. She also discourages Jane from holding grudges against her enemies, saying that she would be happier if she did not do so. 
When Mr. Brocklehurst visits the institution, Jane accidentally drops her slate in front of him. He accuses her of being careless and a liar, before punishing her by forcing her to stand on a stool for the rest of the day. 
In spring, a typhus outbreak sweeps through the school, infecting half the students. Jane remains uninfected but learns that Helen is dying from consumption. Helen tells Jane that she is glad to leave the world's suffering behind and dies in her arms. 
Eventually, Mr. Brocklehurst's mismanagement of Lowood is exposed and a more sympathetic group of overseers takes over the school. Conditions improve greatly and Jane stays on for six more years as a student and two as a teacher. Subsequently, Jane feels ready for a change and looks for a position as a governess. 
2.3. Thornfield Hall
Jane receives a post as a governess to an eight-year-old French girl named Adèle Varens who lives at Thornfield Hall with her guardian, Mr. Edward Rochester. When she reaches Thornfield, she meets the housekeeper Mrs. Fairfax and a servant named Grace Poole. Mrs. Fairfax tells Jane that the master of the house, Mr. Rochester is currently away. Jane hears eerie laughter emanating from within the house and Mrs. Fairfax attributes it to Grace. 
One night, Jane goes to post a letter and helps a man who falls off his horse. When she returns to Thornfield, she learns that this man is Mr. Rochester. Mr. Rochester invites Jane and Adèle for tea the next day, and while Jane initially finds him "changeful and abrupt", the two of them slowly grow close. 
Strange things start to happen at the house, such as mysterious laughter being heard, an attack on a guest, Mr. Mason, and a fire breaking out in Mr. Rochester's room. Jane saves Mr. Rochester's life by rushing into his room and putting out the fire. He thanks her, then asks her not to tell anyone about the fire. Mr. Rochester blames the fire on the servant Grace but for some reason, allows her to continue working for him. 
Jane realizes that she has developed feelings for Mr. Rochester and is upset when he leaves Thornfield to attend a party. A few days later, Mr. Rochester returns with his guests, including Blanche Ingram, a snobbish socialite who appears to get along with him. Jane feels jealous and compares her portrait to that of the beautiful Blanche.  
2.4. Return to Gateshead Hall
Not long after, Jane is informed that John Reed has committed suicide and Mrs. Reed has suffered a stroke. She returns to Gateshead Hall to care for her dying aunt and attempts to reconcile with her. Mrs. Reed gives Jane a letter from her uncle, John Eyre, in which he asks her to move in with him and become his heir. However, Mrs. Reed admits to lying to Mr. Eyre that Jane had died at Lowood. After Mrs. Reed's death, Jane stays with her cousins for a month before returning to Thornfield. This is because Mrs. Reed's daughters, Georgiana and Eliza, have grown estranged and cannot stand being alone with each other. 
Years ago, Eliza had foiled Georgiana's plans to elope with her lover, Lord Edwin Vere, by revealing her plans to their mother. As a result, Georgiana greatly resents Eliza. When Georgiana goes to London to live with an uncle and Eliza enters a convent, Jane decides to leave Gateshead Hall. 
2.5. Mr. Rochester's Dark Secret
Upon returning to Thornfield, Jane learns that Mr. Rochester is about to marry Blanche. Unable to contain her feelings, Jane confesses her love to him one evening. Mr. Rochester proposes marriage and Jane is extremely surprised, suspecting that he is teasing her. He explains that he only pretended to be serious about marrying Blanche to make Jane jealous and that he was in love with her all this time. Convinced of his sincerity, Jane agrees to marry him. 
During the wedding, Mr. Mason, accompanied by a solicitor from London named Mr. Briggs, reveals that Jane cannot marry Mr. Rochester as he is already married to Mr. Mason's sister, Bertha Mason. Bertha was a wealthy Creole woman who later became insane and violent, prompting Mr. Rochester to lock her away. He then hired a maid, Grace Poole, to look after her. Whenever Grace gets drunk and neglects her duties, Bertha escapes and wreaks havoc around the house. 
Although they cannot marry, Mr. Rochester asks Jane to live with him in Southern France as his wife. Despite her love for him, Jane refuses to go against her Christian morals and leaves Thornfield Hall. 
2.6. Moor House 
After leaving Thornfield, Jane runs out of money and is forced to sleep outdoors. Fortunately, she is taken in by a compassionate clergyman, St. John Rivers, who lives in Moor House with his sisters, Diana and Mary Rivers. St. John finds her a teaching job and his two sisters leave to become governesses.
When he discovers Jane's true identity, St. John is shocked and tells her that her uncle, John Eyre has left her an inheritance of 20,000 pounds. John Eyre was also St. John, Diana, and Mary's uncle, so when he died, they were surprised that he did not leave them much money. Exhilarated to discover that the kind Rivers siblings are her real family, Jane shares the inheritance equally with them. 
2.7. Ending
St. John proposes to Jane and asks her to accompany him to India to undertake missionary work. Just as Jane is about to accept his proposal, she hears Mr. Rochester's voice calling for her. Concerned about Mr. Rochester, Jane rejects St. John and returns to Thornfield Hall. There, she finds the estate lying in ruins. 
At a local inn, Jane learns that after she left, Mrs. Fairfax retired and Adèle was sent away to school. Not long after, Mr. Rochester's wife Bertha set the house on fire before jumping to her death. In the fire, Mr. Rochester lost his eyesight and a hand while attempting to save the servants and his wife. Mr. Rochester is now living in a house in the woods called Ferndean Manor. 
Jane goes to Ferndean Manor to see Mr. Rochester, who is now blind, crippled, and isolated. Nevertheless, she assures him that she still loves him. Mr. Rochester is overjoyed to be reunited with her and proposes to her again. The two of them marry, after which, Jane nurses Mr. Rochester back to health. Two years later, Mr. Rochester begins to regain vision in one eye, allowing him to see their newborn son. 
3. Characters
Jane Eyre – A poor, plain and obscure orphan girl who possesses a strong will and kind heart. She faces many hardships in her life but never compromises her morals. Brave and rebellious, she speaks her mind and does not give in to those who try to trample on her. Although she does not like Mr. Rochester at first, she slowly falls in love with him. Her love for Mr. Rochester is based on who he is, not his wealth or appearance. 
Mr. Edward Rochester – The master of Thornfield Hall and Jane's employer. He is a wealthy, intelligent, and aloof man who falls for Jane because she is his intellectual equal. Despite his charm, he is a manipulative person who flirts with Blanche Ingram just to make Jane jealous. He also keeps the secret of his locked away wife from Jane, almost causing her to commit bigamy. In the end, he repents and becomes a heroic figure, putting his life in danger to save his servants and wife in a fire. Jane forgives him and the two marry. 
St. John Rivers – The clergyman who takes Jane in at Moor House. He is Jane's secondary love interest in the story. Unlike Mr. Rochester who is impulsive and passionate, St. John is cold, austere, and completely devoted to his religious duties. When St. John proposes to Jane and asks her to accompany him to India as a missionary, she rejects him as she realizes that doing so would mean sacrificing love for a life of duty. 
Mrs. Reed – Jane's cruel aunt. She abuses Jane before sending her away to a harsh charity school. Her resentment of Jane stems from how Mr. Reed favored her over his own children. 
Mr. Reed – Jane's maternal uncle. He was the only member of the Reed family who was kind to Jane and took her in when her parents died. While he was dying, he made his wife promise that she would raise Jane as her own child. 
John Reed — Jane's spoiled cousin who bullies her. As an adult, John becomes an alcoholic and gambler, eventually committing suicide. 
Georgiana Reed – John and Eliza Reed's sister. She is pretty but spoiled and shallow, caring only about her desires. In the past, she planned to elope with her lover, Lord Edwin Vere but was prevented from doing so by her sister Eliza. 
Eliza Reed – John and Georgiana Reed's sister. Plain in appearance, she is jealous of her sister's beauty and foils her plan to elope with her lover. In contrast to Georgiana, she represses all her desires and lives without feeling or compassion. 
Bessie Lee – A servant at Gateshead Hall who was Jane's only friend when she was staying there. She sings Jane songs and tells her stories, as well as comforts her after her punishment in the red room. 
Mr. Lloyd — The gentle apothecary who cares for Jane after she faints in the red room and later helps prove her innocence when Mr. Brocklehurst accuses her of lying. 
Mr. Brocklehurst – A religious fanatic who does not practice what he preaches. He deprives the girls at the Lowood Institution of adequate food, clothes, and heating while pampering his children. 
Helen Burns – Jane's best friend at Lowood. She embodies the Christian principle of turning the other cheek and forgiving her enemies, no matter how cruelly they treat her. While Jane rejects her tolerance of injustice, she does absorb Helen's belief in forgiving one's enemies and attempts to reconcile with her abusive aunt, Mrs. Reed. 
Miss Temple – The kind-hearted superintendent of Lowood who tries to help the students as much as possible. She gives them extra bread and cheese to supplement their poor meals and listens to Jane when she was wrongly accused by Mr. Brocklehurst. 
Miss Scatcherd – A cruel teacher at Lowood who gives Helen a lashing for her poor posture and dirty nails. 
Mrs. Alice Fairfax – The housekeeper at Thornfield Hall. A meticulous and organized person, she keeps the house in order for her employer, Mr. Rochester. 
John Eyre – Jane's paternal uncle. Although they have never met, he leaves his entire fortune to Jane when he dies.
Grace Poole – A servant who Mr. Rochester hires to look after his confined and mentally ill wife, Bertha. She often gets drunk, allowing Bertha to escape and wreak havoc around the house. 
Adèle Varens – Mr. Rochester's ward. She is the illegitimate child of a French opera dancer, Céline Varens, who had a romantic relationship with Mr. Rochester in the past. 
Céline Varens – Mr. Rochester's former lover. Mr. Rochester takes her daughter in after she runs off to Italy with another man. 
Bertha Mason – Mr. Rochester's first wife and Mr. Mason's sister. She used to be a beautiful Creole woman from a wealthy family in the West Indies. She suffers from hereditary insanity and becomes mentally unstable and violent after Mr. Rochester marries her. Unable to handle her, Mr. Rochester locks her away on the third storey of his house. 
Mr. Richard Mason – Bertha Mason's brother. Bertha attacks him when he visits her at Thornfield Hall. He later attends Jane and Mr. Rochester's wedding with his solicitor, Mr. Briggs, to prevent their marriage. 
Mr. Briggs – A solicitor from London who helps Mr. Mason stop Mr. Rochester's marriage to Jane. He also helps Jane receive her inheritance from her uncle. 
Blanche Ingram – A beautiful socialite who vies with Jane for Mr. Rochester's affection. She is snobbish, shallow, and only interested in Mr. Rochester for his wealth. 
Diana Rivers – St. John and Mary Rivers's sister, a kind and independent woman who works as a governess to support herself. 
Mary Rivers – St. John and Diana Rivers' sister, she also works as a governess because of her family's poor financial situation. 
Hannah Rivers – A servant at Moor House. When Jane first arrives there, she refuses to let her in as she thinks that Jane is a beggar. 
Rosamond Oliver – A beautiful woman who St. John is in love with but will not marry as he knows that she will not make a good missionary wife. She later marries a wealthy man named Mr. Granby. 
Mr. Oliver – Rosamond Oliver's father. He is the richest man in Morton and uses his wealth to help the town's residents by supporting St. John's school. 
John and Mary – A married couple that works for Mr. Rochester at Ferndean Manor. They used to work for him at Thornfield Hall. 
Pilot – Mr. Rochester's loyal dog. He is a large, black and white Newfoundland that accompanies Mr. Rochester when Jane first meets him. Jane realizes that the man she helped was Mr. Rochester when she sees Pilot at Thornfield Hall. 
Robert Leaven – The coachman at Gateshead Hall. Bessie, Jane's only friend at Gateshead later marries him.
Alice Wood – An orphan girl employed by Rosamond Oliver to help Jane run a school for poor girls at Morton.
Miss Gryce – Jane's roommate and fellow teacher at Lowood. 
Miss Miller — A teacher at Lowood. She greets Jane when she first arrives there. 
Madame Pierrot – A French teacher at Lowood. 
Miss Smith – A sewing instructor at Lowood. 
4. Themes 
4.1. Passion
Jane Eyre emphasizes the importance of passion in finding fulfillment but also shows the dangers of unfettered and destructive passion. As a child, Jane is denied love by her relatives, the Reeds. However, she consoles herself with her passion for knowledge and reading. When she befriends Helen Burns, Helen advises her not to hold grudges against those who have wronged her as these strong feelings of hatred will only make her unhappy. 
Later on, after Jane falls in love with Mr. Rochester, she is distraught upon discovering his apparent plans to marry Blanche Ingram. She tells Mr. Rochester that she has to leave Thornfield if he marries Blanche. Jane insists that to see her love for him denied right in front of her would be "to have my morsel of bread snatched from my lips, and my drop of living water dashed from my cup". In other words, her passion for Mr. Rochester is as essential to her as food and water. 
In contrast to the impulsive and fiery Mr. Rochester, Jane's second love interest, St. John Rivers is cold, stoic, and concerned only with fulfilling his religious duties. Jane rejects his proposal to go with him to India as his missionary wife because she knows that she cannot find happiness in a passionless marriage. 
While passion is essential to being human, the story of Jane Eyre warns about its destructive extremes. When Mr. Rochester was younger, he took many mistresses, leading a life of debauchery that does not bring him fulfillment. When he falls for Jane, his excessive passion leads him to hide the secret of his imprisoned and mentally ill first wife from her. His dishonest behavior and attempt to commit bigamy causes Jane to leave him. 
4.2. Gender 
In 19th century England, there were not many professions open for women and thus, women were mostly expected to marry to attain financial security. Through the eyes of the protagonist, Jane Eyre shows the reader what it was like to live as a woman back then. Although Jane is educated, she can only take up a position as a teacher or governess. Law, medicine, and business were mostly restricted to men at the time, and menial work like being a housekeeper or servant would not suit Jane's intellectual nature. As a governess, Jane is looked down on by members of the upper class despite being just as educated and sophisticated as them. 
Apart from her lack of career opportunities, Jane must resist patriarchal figures who try to deny her dignity, including Mr. Brocklehurst, Mr. Rochester, and St. John Rivers. She defends herself from Mr. Brocklehurst's false accusation, leaves Mr. Rochester for lying to her, and rejects St. John Rivers for trying to use her to fulfill his religious duty. In the end, she only marries Mr. Rochester when he repents for his past mistakes and the two of them become equals.
4.3. Religion
Various characters in Jane Eyre embody different ways of practicing religion. Mr. Brocklehurst represents a harsh and hypocritical form of Christianity that emphasizes punishing others for their sins while indulging oneself. In contrast, Helen Burns believes in a more compassionate form of Christianity that allows her to forgive her enemies and tolerate injustice without lashing out.  
St. John Rivers is cold and ascetic in the way he practices religion. As he puts religious duty above all else, St. John represses his love for Rosamond Oliver as he believes that she would not make a good missionary wife. Instead, he proposes to Jane, thinking that she would agree to go to India with him as a missionary. However, Jane Eyre, despite her respect for Christian values, cannot be fulfilled by a life of pious duty without passion. Hence, she rejects St. John's proposal.  
5. Writing Style 
Jane Eyre is written in an evocative first-person perspective that puts the reader in the shoes of the titular heroine. The story is not merely a narration of events, but an attempt by Jane to speak up for herself, reclaim her dignity and vindicate herself in the face of oppression. One of the first fictional female autobiographies, Jane Eyre showcases a powerful female voice through its narrator. 
The style used in the novel is also highly descriptive. Jane is an observant protagonist who notes down small details in the landscape, as well as the appearance and manner of other characters. These details make the writing feel more immediate, concrete, and real. The sentences in Jane Eyre are often long and separated by semicolons in order to encompass the detailed observations of the protagonist. 
6. Influence on pop culture and Legacy 
6.1. Influence on Literature
The story of Jane Eyre holds similarities with Daphne Du Maurier's Rebecca (1938), a classic gothic novel about a young woman who marries a wealthy widower only to live in the shadow of his first wife. Du Maurier was known to admire the Brontës' work and wrote a biography of Charlotte's brother, Branwell. Other than Du Maurier's Rebecca, Elizabeth Barrett Browning's Aurora Leigh (1856), Elizabeth Stoddard's The Morgesons (1862), and Hannah Crafts' The Bondwoman's Narrative (1850) has been identified as being inspired by Jane Eyre. 
More recently, Lyndsay Faye's 2016 novel Jane Steele reimagined Jane Eyre as a Victorian female serial killer. 
Apart from its iconic protagonist, Jane Eyre is well-known for the character of Bertha Mason who popularized the trope of the "madwoman in the attic". While Bertha is presented as a villain, she has been re-interpreted more sympathetically in recent times. Since she is unable to give her perspective in the novel, some critics believe that she, as a marginalized Creole woman, has been silenced to maintain the hegemony of Jane's white, middle-class female voice. In 1966, the novelist Jean Rhys published Wide Sargasso Sea, a retelling of Bertha's story. Rhys wanted to give Creole women like Bertha a voice, and explain how she came to become so mentally unstable and violent. 
To mark Charlotte Brontë's 200th anniversary in 2016, the novelist Tracy Chevalier edited an anthology of short stories inspired by the famous line, "Reader, I married him" from Jane Eyre. Reader, I Married Him: Stories inspired by Jane Eyre was published by Borough Press and features the works of 21 women writers. 
6.2. Influence on Film
Jane Eyre has received many film adaptations over the years. The latest Jane Eyre film was released in 2011 and starred Mia Wasikowska as Jane and Michael Fassbender as Mr. Rochester. In 1996, there was another film adaptation, starring Charlotte Gainsbourg as Jane and William Hurt as Mr. Rochester. The director, Franco Zeffirelli chose Haddon Hall, an 11th-century country house in Derbyshire as the filming location. Subsequent adaptations in 2006 and 2011 continued using Haddon Hall as the setting for the fictional Thornfield Hall in Jane Eyre. 
7. Quotes from Jane Eyre
"Prejudices, it is well known, are most difficult to eradicate from the heart whose soil has never been loosened or fertilised by education: they grow there, firm as weeds among stones."

Jane Eyre
"I am no bird; and no net ensnares me: I am a free human being with an independent will."

Jane Eyre
"It is not violence that best overcomes hate–nor vengeance that most certainly heals injury."

Helen Burns
"What necessity is there to dwell on the Past, when the Present is so much surer–the Future so much brighter?"

Mr. Rochester
"If all the world hated you and believed you wicked, while your own conscience approved of you and absolved you from guilt, you would not be without friends."

Helen Burns
---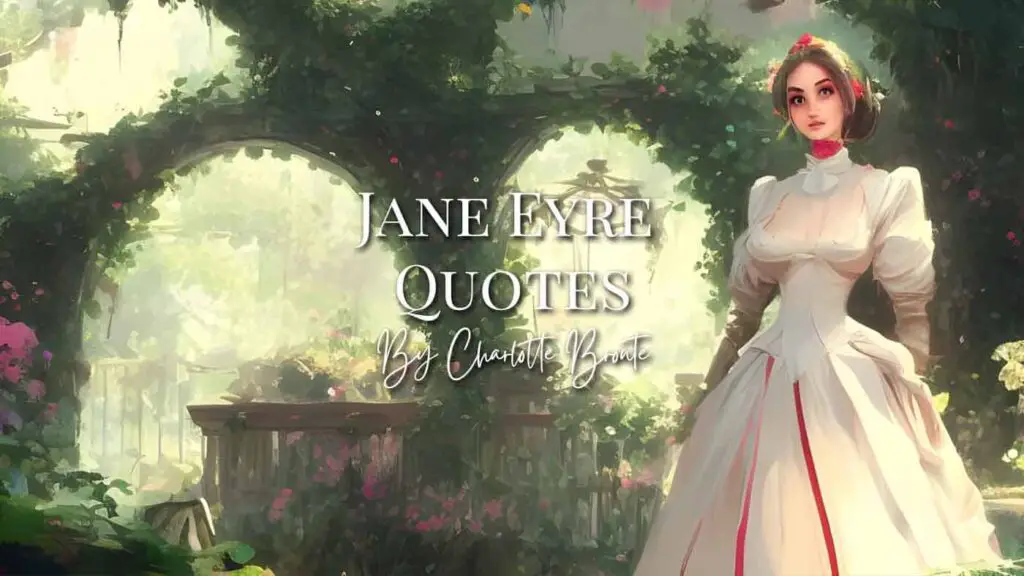 Recommended: Jane Eyre Quotes by Charlotte Brontë
8. Notable Book Covers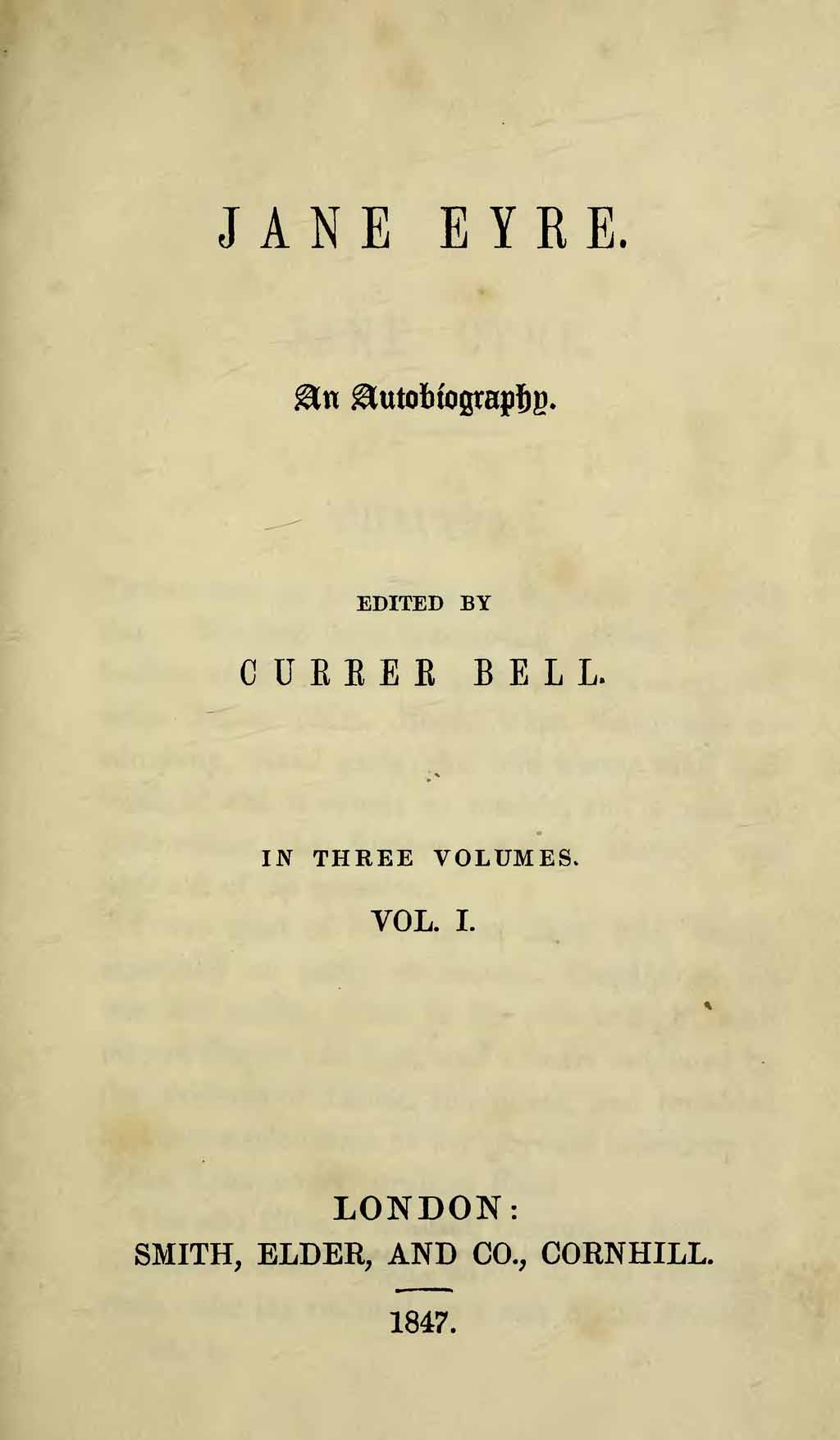 9. Frequently Asked Questions about Jane Eyre
What is the terrible secret in Jane Eyre?
Mr. Rochester hides from Jane that he is already married and imprisons his first wife, Bertha Mason, in a chamber on the third storey of his house. Bertha is mentally unstable and violent, so he employs a servant, Grace Poole, to guard her. Whenever Grace gets drunk, Bertha escapes and causes strange happenings in Thornfield Hall. Mr. Rochester and the housekeeper, Mrs. Fairfax blame these happenings on Grace to hide Bertha's confinement. 
Does Jane Eyre have a child?
Jane gives birth to a son at the end of the novel, after marrying Mr. Rochester. She also adopts Adèle, who is Mr. Rochester's ward. 
What is the red room in Jane Eyre?
The red room is the room where Jane's maternal uncle, Mr. Reed died. She is afraid of this room as she believes that it is haunted. Mrs. Reed locks her in the red room to punish her for defending herself against her bullying cousin, John Reed. 
What does Creole mean in Jane Eyre?
Creole peoples are ethnic groups that resulted from the white settlers of the Caribbean islands and other colonies having children with the Indigenous American or African natives. However, Creole may also refer to any descendants of European settlers in the Caribbean colonies, including those without Indigenous American or African lineage. 
Bertha, Mr. Rochester's first wife is a Creole woman from the West Indies (Caribbean islands). Bertha's ethnicity is not explicitly stated in Jane Eyre, but many readers interpret her as being of mixed race as she is described as having "dark hair" and a "discolored face". Mr. Rochester also said that Bertha's family wanted her to marry him as he was of a "good race", suggesting that Bertha and her family are not completely of European lineage.