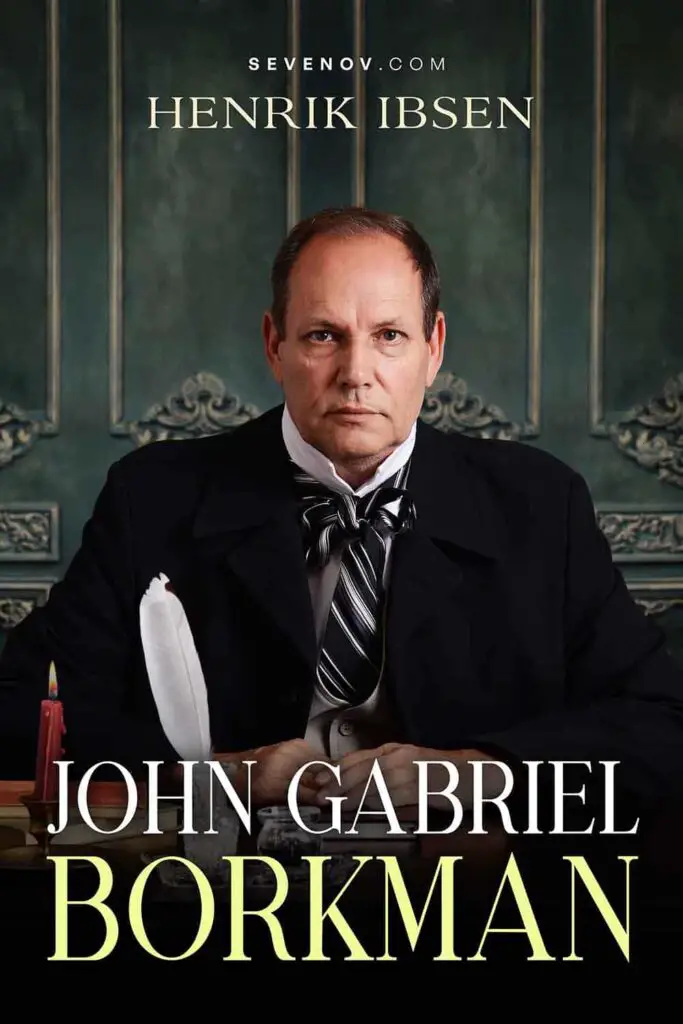 John Gabriel Borkman by Henrik Ibsen
Author: Henrik Ibsen
Published: 1896
Genre: Realistic 
John Gabriel Borkman is the second last play by Norwegian playwright Henrik Ibsen, and it tells the story of a bank manager who has lost his reputation. His relentless pursuit of financial gain left a path of destruction behind him, as his family was forced to pick up the pieces after his downfall. The wasted lives of the older generation are contrasted with the hope that the youth can break free from the past shadows. 
After Little Eyolf and The Master Builder, John Gabriel Borkman returns to the naturalistic style of his earlier plays. However, a deep sense of the unreal pervades the last act, foreshadowing the dreamlike atmosphere of his last play, When We Dead Awaken. 
1. Synopsis
Once a successful bank manager, John Gabriel Borkman, was imprisoned for fraud. His downfall brought dishonor to the illustrious Borkman family, which subsequently fell into ruin. Eight years after his release, his wife plots their family's comeback as she fights with her twin sister over her son's future. Meanwhile, Borkman paces about his upstairs room, obsessed with rising in the world again and restoring his name. Borkman's fantasies of recovering his wealth and power are encouraged by his friend, a low-level clerk who himself holds illusions of literary greatness. 
2. Characters
John Gabriel Borkman
Borkman is a bank manager who was imprisoned for squandering his investors' money. After his release, he dreams of making a comeback.
Mrs. Gunhild Borkman
Borkman's wife. She wants her son, Erhart, to restore the family name after Borkman's disgrace. 
Ella Rentheim
Mrs. Borkman's twin sister. She brought up Erhart and wants to adopt him as her son to keep him away from his mother's influence. 
Erhart Borkman
The Borkmans' son. He wants nothing to do with his mother's dream of reviving their fortunes and desires a new life away from his complicated family.
Vilhelm Foldal
Vilhelm is a subordinate clerk who is a friend of Borkman's. He wrote a tragedy in his youth and thinks of himself as a born poet. 
Frida Foldal
Foldal's daughter. 
Mrs. Fanny Wilton
Fanny is a divorcee who eventually runs away with Erhart. 
Malene
A housekeeper.