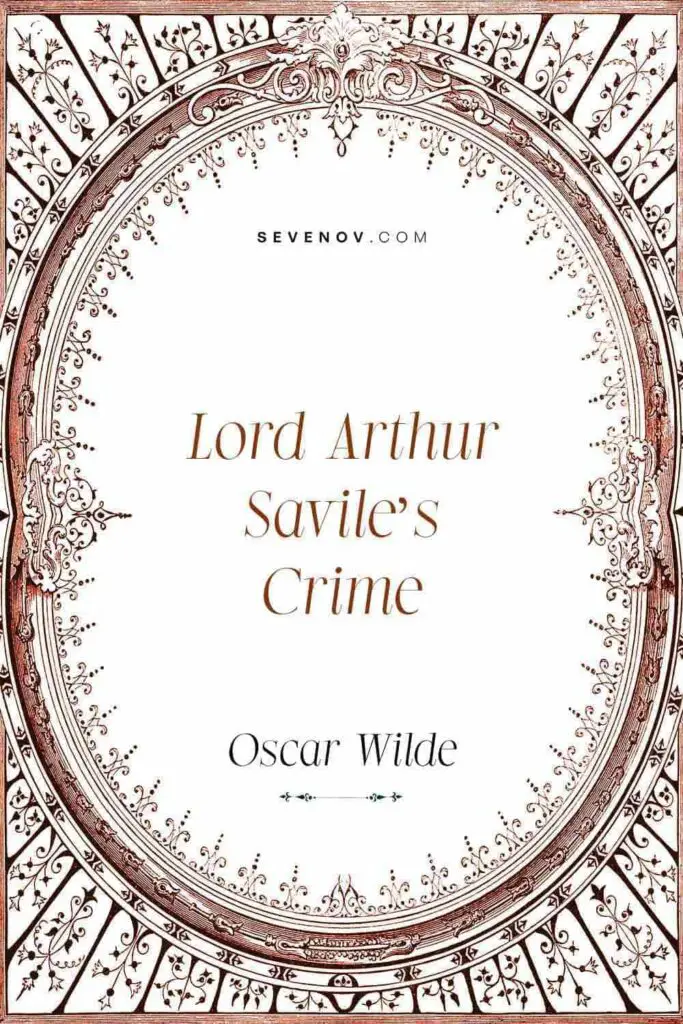 Lord Arthur Savile's Crime by Oscar Wilde 
Author: Oscar Wilde 
Published: 1887 
Genre: Short Story
Lord Arthur Savile's Crime is a short story written by Oscar Wilde, first published in 1887, then anthologized in his collection Lord Arthur Savile's Crime and Other Stories in 1891. 
1. Lord Arthur Savile's Crime Synopsis
A young British aristocrat, Lord Arthur Savile, is getting married soon. Lord Arthur is informed by renowned palm reader Mr. Podgers that he is destined to kill somebody. Mr. Podgers is a man who has a talent for learning people's secrets just by looking at their hands. Lord Arthur truly believes in the prophecy and determines that he cannot proceed with the wedding until he has murdered someone because he worries about the pressure it will put on his marriage. However, carrying out the act proved to be more challenging than expected.
2. Lord Arthur Savile's Crime Summary
2.1. The Palm Reader and The Prophecy
At a party hosted by Lady Windermere, the hostess introduces Mr. Septimus Podgers to all her guests. Mr. Podgers is a chiromantist who says he can reliably foresee people's destinies by analyzing the palms of their hands. Many visitors are surprised by Podgers' accurate claims, especially when he spills humiliating details of others' secrets.
Podgers is terrified when he examines Arthur's hand. He finally remarks that Arthur is an endearing young man, that he will soon embark on a voyage and will soon lose a distant relative. Later, Arthur confronts Podgers and demands what more he saw in his palm. He also offered to give him £100 for the information. Lord Arthur is instructed to see Podgers at his place of business the following day. 
Lord Arthur departs from Podgers' home after learning the upsetting news that he will commit murder. Because he is about to wed Sybil Merton, he finds this news incredibly upsetting. He believes his marriage would suffer if he carried on living with the knowledge that he might kill someone. 
He concludes that the only way out is to murder someone before getting married. Lord Arthur decides to kill his distant aunt, Lady Clementina Beauchamp because he has no enemies. Lord Arthur devises a scheme to covertly poison Lady Clementina to escape incarceration for his crime.
2.2. The Attempted Murders 
Lord Arthur gives Lady Clementina a poison capsule he claims is needed to kill a large dog exhibiting rabies symptoms. He informs her that it also treats heartburn. He also advises her to wait until she experiences her subsequent heartburn before taking the capsule. Lord Arthur departs for Italy after apologizing to Sybil Merton for having to put off their wedding. 
After a few weeks, Lord Arthur learns that Lady Clementina has passed away and that he has been given most of her possessions, including her London mansion. Lord Arthur returns to England with the idea that he can now get married.
Lord Arthur's future spouse, Sybil Merton, discovers the unused poison pill while sorting through the inheritance. It turns out Lord Arthur's aunt passed away due to natural causes, which means he now needs a new victim. Lord Arthur must once more postpone his wedding after realizing that he was not the cause of Lady Clementina's demise. 
Because he has failed to poison his aunt, Lord Arthur chooses to use dynamite to kill his uncle, the Dean of Chichester, and a clock collector. To acquire the weapon, Arthur first approaches a Russian communist he met at one of Lady Windemere's parties. Following that, an exiled German explosives specialist is introduced to Lord Arthur by the Russian. The German displays a time bomb to Lord Arthur that looks like a clock, with a statue of Liberty trampling on a monster and a small bit of dynamite within. 
The Dean receives the clock in an anonymous package. Lord Arthur assumes that his second murder attempt has likewise failed when he doesn't find any mention of the Dean's death in the press. He subsequently learns what happened to the bomb he sent by reading a letter his cousin, the Dean's daughter, addressed to his mother.  
The bomb detonates, but it is a harmless explosion that just causes the Statue of Liberty to tumble off the top of the clock and produce a puff of smoke. However, the Dean is unharmed when the bomb detonates, and Reggie, the Dean's son, plays joyfully with it. When they figure out how the clock operates, they put in small amounts of gunpowder and set it off again.
2.3. The Aftermath 
Lord Arthur worries about the prospect of postponing his nuptials. But by chance, he notices Podgers peering over the side of a bridge. He tosses the man into the river. For several days, Lord Arthur frets that Podgers might be discovered unharmed, but he ultimately discovers a newspaper article stating that the chiromantist most likely killed himself. The next day, Lord Arthur marries Sybil Merton. 
A few years pass by, and one day, Lady Windermere visits Lord Arthur and Sybil. In addition to claiming that she has lost interest in chiromancy and now much prefers telepathy, Lady Windermere claims that Mr. Podgers, a former partner who frequently borrowed money from her, was, in fact, a con artist. 
She is shocked to learn that Lord Arthur still adheres to chiromancy, but he swears that it is the source of all his happiness.
3. Characters
Arthur Savile – A man who gets easily roped into superstition by a famous palm reader. Arthur is told that he is fated to commit a murder, so he hatches a plan to fulfill the prophecy. 
Mr. Podgers – A renowned fortune teller who can make uncannily accurate predictions. At a party, he is the one who fortells Arthur's damning crime. 
Sybil Merton – Arthur's betrothed, whom Arthur delays his marriage with in favour of his own misdeed.  
4. Themes 
4.1. Morality, Fate, and Ethics 
The case of Lord Arthur Saville, in particular, / particularly exhibits an appalling lack of morals and guilt. Behind the pretense of faith and purity, such a lack of regret and absence of consequences even after a murder are concealed. In a sense, he realizes that there is no other option than to commit murder in order to continue living a pure and unadulterated life after marriage because he is aware of his own fate. 
Without a doubt, murder is wrong, but Wilde raises the intriguing issue of predestination and its implications. Saville, convinced of his own fate, does something that might be construed as being either just or, at the very least, humane. Additionally, Wilde includes the crucial component of lying.
The fact that a lie was used to justify murder and the will to live out one's destiny raises the issue of who is really at fault. It's intriguing that Wilde gives Saville a peaceful ending, complete with a family, rather than punishing him for the murder. Mr. Podgers, on the other hand, remains a murder victim with no meaningful sign of justice.
7. Quotes from Lord Arthur Savile's Crime
"The world is a stage, but the play is badly cast." 
"We live in an age of unbelief." 
"No one cares about distant relatives nowadays. They went out of fashion years ago."