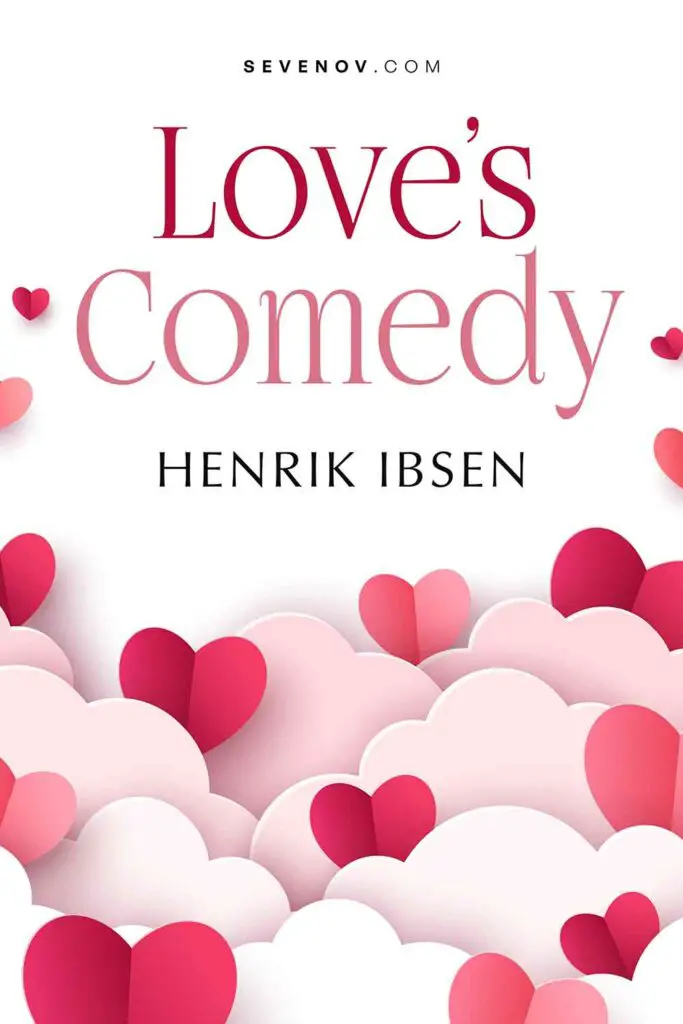 Love's Comedy by Henrik Ibsen
Author: Henrik Ibsen
Published: 1862
Genre: Comedy
Love's Comedy (Kjærlighedens Komedie) is a play by the Norwegian playwright Henrik Ibsen. It was first published in 1862 but not performed until 1873 when it premiered at the Christiania Theatre. This delay may have resulted from the play being branded 'immoral' in the press and stirring up controversy over its perceived denigration of love and marriage. 
The play is a satire on love and marriage that explores the conflict between ideals and reality. 
The comedy of the title comes from the startling paradox that a successful marriage cannot be built on love, and an enduring love can only be found outside of marriage. Ibsen called Love's Comedy a continuation of his poem, "On the Heights," which delved into similar themes. Both works were based on his relationship with his wife, Suzannah Thoreson. 
Love's Comedy signals a shift in Ibsen's career from plays based on historical or mythological sources to modern, realistic plays. Although the play is written in verse, it takes place in a contemporary setting. Like Ibsen's later realistic plays, it critiques the narrow-minded bourgeois society and draws its drama from everyday life. 
In 1866, Ibsen released a revised edition of the play, adapting the language for Danish readers. 
1. Synopsis of Love's Comedy
Falk, a poet, and Lind, an aspiring missionary, are two students staying at the country house of Mrs. Halm. They fall in love with Mrs. Halm's two daughters, Svanhild and Anna. As the love between the two couples develops, they are forced to choose between a life of convention or following their dreams. 
2. Story Summary
Falk and Lind are two students living with a widow, Mrs. Halm, at her country house. Falk is a poet, and Lind holds dreams of becoming a missionary. Mrs. Halm has two daughters, Svanhild and Anna, who attract the romantic attention of Falk and Lind, respectively. Lind proposes to Anna, who accepts him. On the other hand, Svanhild rejects Falk's proposal, as she believes he can continue writing poetry without using her as a muse. She thinks that, unlike Lind, Falk does not need to put himself at risk for his ideals. 
When Anna's friends try to persuade Lind not to leave as a missionary but stay and lead a comfortable life with his wife, Falk is outraged. He reproaches them, saying their marriages have nothing to do with love. For reminding society that their ideals do not match reality, Falk is ostracized. Svanhild is impressed by his courage and agrees to run away with him.
Strawman, a clergyman, and Stiver, a clerk, attempt to stop Falk from running away with Svanhild. However, Falk ignores their arguments of respectability and security. Finally, the wealthy merchant Guldstad comes to woo Svanhild. He suggests that Svanhild and Falk's impetuous love cannot survive for long and promises to give Svanhild a financially secure marriage. 
Rather than stay with Falk and see their love fade with time, Svanhild decides to marry Guldstad. Falk leaves and spends the rest of his life writing poems about pure love. Meanwhile, Svanhild becomes a housewife and mourns her lost passion, which now survives only in her memory.  
3. Characters
Mrs. Halm
Widow of a government official.
Anna and Svanhild
Mrs. Halm's daughters.
Falk
A poet.
Lind
An aspiring missionary.
Guldstad
A wholesale merchant.
Stiver
A law clerk.
Miss Jay
Stiver's fiancee.
Strawman
A clergyman.
Mrs. Strawman
Strawman's wife.