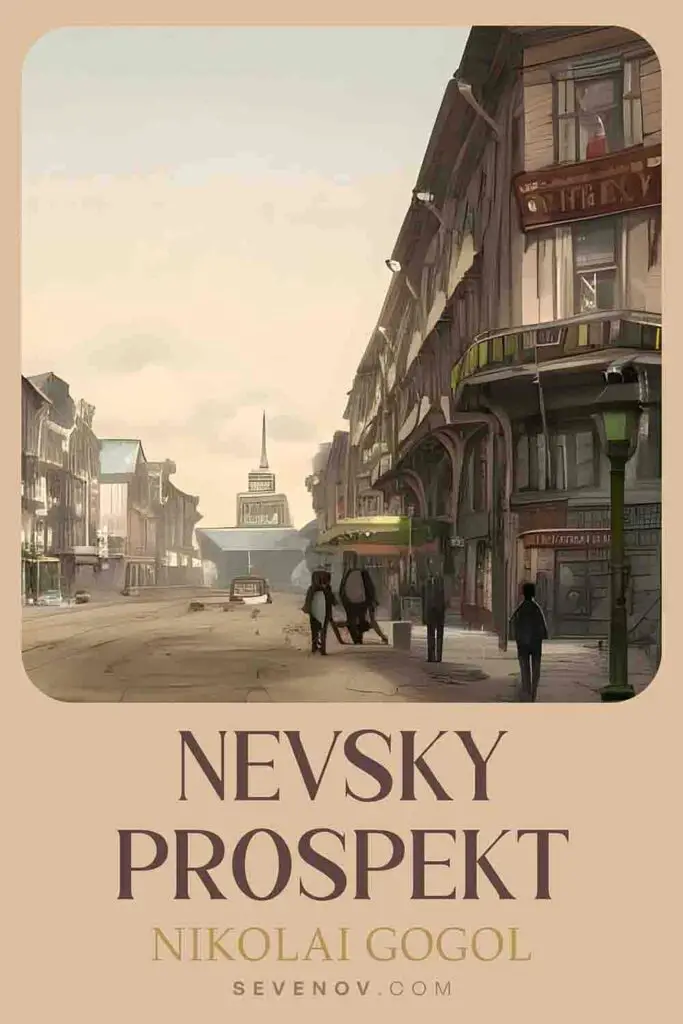 Nevsky Prospekt by Nikolai Gogol
Author: Nikolai Gogol 
Published: 1835
Genre: Short Story
"Nevsky Prospekt" (Невский Проспект, translit. Nevskiy Prospekt), also known as "Nevsky Prospect," is a short story by Nikolai Gogol. It was first published in 1835 in his short story collection Arabesques. "Nevsky Prospekt" is the main street of St. Petersburg, and many of the city's important landmarks are found along it. The lively avenue has been used as a backdrop for several of Gogol's other works, including "Diary of a Madman," "The Nose," and "The Portrait." 
1. Synopsis
Two men spot two beautiful women, a brunette and a blonde, on Nevsky Prospekt and follow them home. Piskaryov, a romantic young artist, is enchanted by the brunette's beauty and timidly follows her, hoping to find out where she lives. When he arrives at her lodging, his illusions are shattered by reality. Piskaryov's brutish friend, Lieutenant Pirogov, is attracted to the lovely blonde and boldly trails her home. He finds out the woman is married but is not discouraged from seducing her. 
2. Story Summary
The story opens with a lengthy description of Nevsky Prospekt and the types of people there at different times of the day. 
Piskaryov, an idealistic young artist, is walking along Nevsky Prospekt with his friend, Lieutenant Pirogov when he spots a beautiful brunette. Lieutenant Pirogov is attracted to the blonde woman walking behind the brunette and encourages Piskaryov to follow the brunette while he pursues the blonde. 
Timidly, Piskaryov follows the brunette woman, sure that he could not win her favor. He merely desires to find out where the beauty lives, thinking she has flown down from heaven and will soon fly away again. When Piskaryov arrives at the brunette's lodging, he discovers that she is a prostitute and feels disillusioned. He flees home, where he fantasizes that the brunette could have been a virtuous woman if she had not been flung into the abyss of depravity. 
A liveried lackey enters Piskaryov's room, telling him that the brunette he met earlier that day wants to see him. The lackey takes him to a party, where he meets the brunette, who appears as a well-dressed and elegant lady. When Piskaryov wakes, he realizes that the lackey and the party were all dreams. He soon develops insomnia and winds up needing opium to sleep. Eventually, he dreams that the brunette is his wife and returns to the brothel to propose to her. She mocks him, and in despair, Piskaryov kills himself at home.
In contrast to the romantic Piskaryov, Lieutenant Pirogov boldly trails the beautiful blonde home, confident that she will fall for him. He finds out that she is married to a German tinsmith but attempts to seduce her anyway. Pirogov is caught by the blonde's husband and flogged. Initially, Pirogov is enraged and vows to take revenge on the tinsmith, but he is appeased after eating pastries, reading a newspaper, and dancing away the evening. 
As the story ends, the narrator warns, "Nevsky Prospekt deceives at all hours of the day, but the worst time of all is at night… when the devil himself is abroad, kindling the street-lamps with one purpose only: to show everything in a false light."