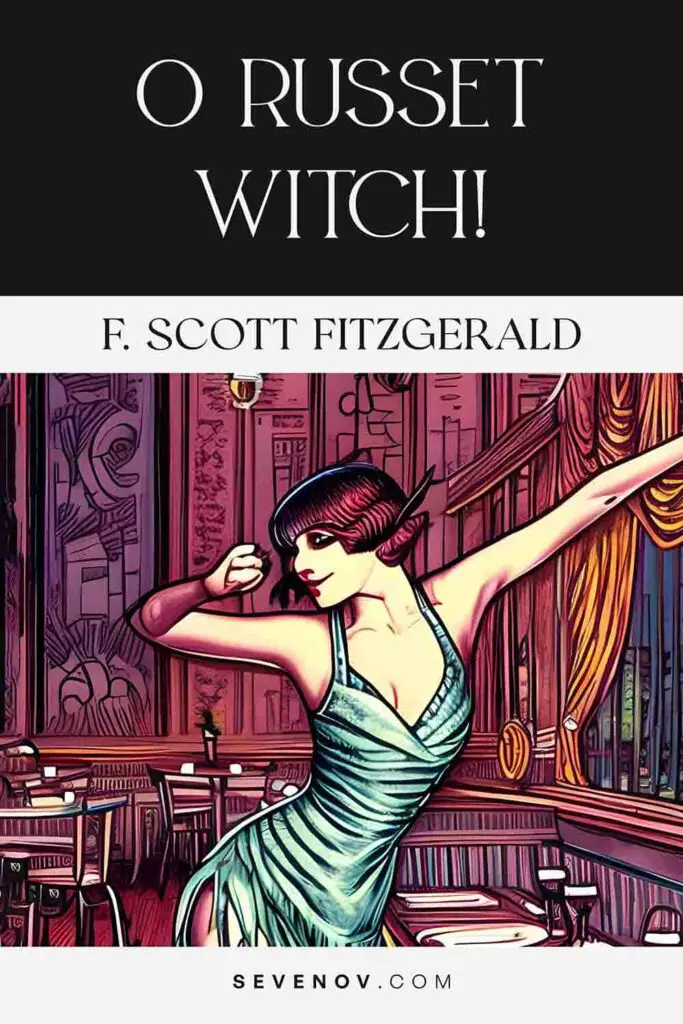 O Russet Witch! by F. Scott Fitzgerald
Author: F. Scott Fitzgerald 
Published: Metropolitan Magazine (February 1921)
Genre: Short Stories
"O Russet Witch!" is a short story by F. Scott Fitzgerald, published in Metropolitan Magazine on February 1921. It was later published in Tales of the Jazz Age in 1922.
1. O Russet Witch! Synopsis
In "O Russet Witch," we follow the story of Merlin Grainger, an average man who leads a life of moderate satisfaction in terms of wealth, attractiveness, and happiness. His contentment is disrupted when he becomes infatuated with a stunningly beautiful neighbor. Described as "dazzling and light," she possesses features that evoke feelings of tenderness and desire. Despite his routine of solitary meals and mundane existence, Merlin finally gathers the courage to talk to Caroline.
2. O Russet Witch! Summary
Chapter 1
The story revolves around Merlin Grainger, an employee at the Moonlight Quill Bookshop. The bookshop is a romantic and radical store filled with exotic and intriguing literature. Merlin's life revolves around his job and relationship with Caroline, a young and enchanting woman he sees only in the evenings.
Each day after work, Merlin eats alone and spends his evenings watching Caroline from his window across the street. They engage in a playful game of throwing books at the bookshop's overhead lamp, culminating in an energetic book-throwing frenzy.
Later, Caroline visits the bookshop and leaves abruptly to keep an appointment at the Ritz. The bookshop is in disarray, but Merlin decides to clean up and restore it, fearing that he might have to pay for the damages. The mysterious Mr. Moonlight Quill, the store owner, leaves a cryptic warning about Caroline's behavior.
Merlin then invites Miss Masters, another coworker, to dinner. Despite Miss Masters' charm, Merlin cannot help but think of Caroline as incomparable. The story ends with Merlin pondering the future and the uncertainty of Caroline's return to the bookshop.
Chapter 2
The Moonlight Quill Bookshop suffers a disaster when Caroline, a woman Merlin is infatuated with, playfully throws books at the overhead lamp, causing it to crash and damage many books. In response, the shop owner, Mr. Moonlight Quill, converts the shop into a second-hand bookshop to avoid replacing the damaged stock.
Merlin's life also takes a downturn as he becomes apathetic and lets his appearance and living conditions deteriorate. One night, he proposes to Olive Masters, his co-worker, out of loyalty and listlessness. Olive accepts, and they plan their future together, moving into an apartment and later a cottage in the suburbs.
However, one night at a restaurant, Merlin sees Caroline with a group of people, including some Frenchmen. Caroline starts dancing on a table, causing a commotion in the restaurant. Olive, feeling jealous and upset, drags Merlin away from the scene, and they leave the restaurant abruptly.
The next day, Olive tells Merlin they should move their wedding date to May 1st. The chapter ends with uncertainty about the outcome of their relationship, as the reader wonders how Merlin's lingering feelings for Caroline and his dissatisfaction with his life may impact their future together.
Chapter 3
Merlin Grainger is married to Olive. They have been together for several years, and after the birth of their son Arthur, Merlin receives a promotion and partial ownership in the bookshop where he works. One day, he unexpectedly encounters his former love interest, Caroline, who is now an elegant and charming woman.
Caroline's presence causes a commotion on Fifth Avenue, with many men vying for her attention. The crowd around her grows, and the situation becomes chaotic. Meanwhile, Olive sees Caroline and becomes upset. She quickly leaves the scene, taking their son with her without speaking to Merlin.
Chapter 4
The chapter follows Merlin Grainger's life as he ages thirty-five to sixty-five. During this period, he experiences a gradual withdrawal from life and a decline in vitality. At thirty-five, he is still relatively unchanged, but at fifty-five, he becomes the owner of a bookshop and exhibits signs of old age. At sixty-five, he is doddering and forgetful.
One day, a chauffeur visits Merlin's bookshop looking for a specific detective story called "Silver Bones" that his employer, a young man, wants to purchase. The young man's grandmother, Caroline, arrives and scolds him for smoking, revealing that he stands to lose a substantial inheritance if she catches him smoking. Despite her old age, Caroline maintains an air of self-assurance and superiority over others.
When Merlin recognizes Caroline, he realizes that she is a woman he once admired and had danced with. Caroline had been a famous and notorious character in New York, but she had eventually married and secured her wealth.
Merlin comes to terms with his aging and uneventful life, recognizing his mistakes and missed opportunities. The story ends with Merlin going to bed, accepting that he has wasted his life and that there is nothing left for him but heaven, where he will join others who wasted their lives on Earth.
3. Theme
Overall, "O Russet Witch!" explores themes of infatuation, missed opportunities, and the passage of time, as it follows Merlin's life from youthful enthusiasm to old age and acceptance.
"O Russet Witch!" highlights the contrast between the excitement and charm of Caroline's life and the ordinary and uneventful existence of Merlin and Olive. It also shows the impact of past relationships on the present and explores the complexity of emotions such encounters can evoke.