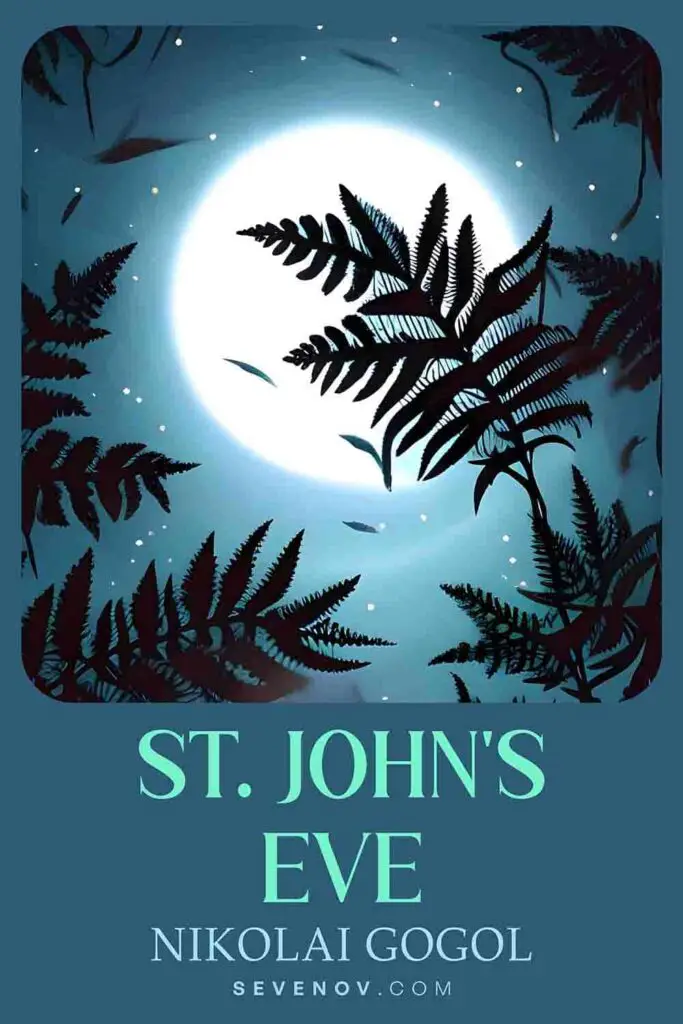 St. John's Eve by Nikolai Gogol
Author: Nikolai Gogol
Published: 1830
Genre: Short Story
"St. John's Eve," also known as "The Eve of Ivan Kupala," (Вечер накануне Ивана Купала translit. Večer nakanune Ivana Kupala) is a short story by Nikolai Gogol. It was first published in 1830 in the literary magazine Otechestvennye Zapiski. The story tells the tale of a Ukrainian peasant who goes to extreme lengths to reunite with his beloved. It borrows heavily from Ukrainian culture, especially in its descriptions of food and festivals. 
1. Synopsis
In an old village not far from Dikanka, a Cossack named Korzh lived with his daughter, Pidorka, and his worker, Petro. Pidorka and Petro fall in love but are separated by Korzh, who banishes Petro from their home. Heartbroken, Petro meets a stranger who promises to help him obtain the treasure which would allow him to win Pidorka's hand in marriage. However, he has to pay a terrible price to retrieve the treasure. 
2. Story Summary
"St. John's Eve" starts with the narrator reading a book written by Thoma Grigorievich, the sacristan of Dikanka's church, when Thoma snatches the book from his hands and insists on telling the story himself. 
Thoma's grandfather lived in a village not far away from Dikanka. In this village, there lived a Cossack named Korzh, his daughter, Pidorka, and his worker, Petro. Pidorka and Petro fall in love, but when Korzh discovers their relationship, he almost whips Petro. Korzh is stopped by his son Ivas, who pleads with him not to whip the worker. Instead, Korzh tells Petro never to return to their house. 
Petro is devastated and would do anything to reunite with Pidorka. He meets a stranger in the village tavern named Basavriuk, who is thought to be the devil by the villagers. Basavriuk tells Petro that tomorrow is St. John's Day, and the fern will blossom only tonight, so they should meet at midnight in the Bear's Ravine. Petro arrives at the Bear's ravine, and Basavriuk tells him to pick a fern blossom. 
When Petro picks the fern, a witch appears and orders him to throw it away. The fern falls into the earth and disappears. Basavriuk gives Petro a spade and instructs him to dig. Petro digs, and his spade soon hits an iron coffer containing the treasure. The more he digs, the more the coffer sinks into the earth. The witch reveals that he cannot retrieve the treasure until he sheds human blood. She presents Ivas to Petro and tells him to behead the child. Initially, Petro is reluctant, but the witch tempts him into beheading Ivas. 
Afterward, Petro falls asleep for two days, and when he wakes, he sees the gold but cannot remember where it came from. He wins Korzh's approval with the gold and marries Pidorka. After their marriage, Petro becomes increasingly insane, troubled by what he has forgotten. Pidorka seeks the witch's help to cure her husband, and she makes him recall what he did to obtain the gold. Petro hurls an ax at the witch, and she disappears. Ivas appears in the middle of the cottage covered in blood, and Petro vanishes, leaving only a heap of ashes behind. 
Basavriuk returns to the village following this incident, and Pidorka leaves for a pilgrimage. Once, when the village elders were assembled in the tavern, their party was ruined when a roast lamb came alive. Another time, a church elder drank with Thoma's grandfather when a chalice came alive and bowed to him. Even though the village was blessed with holy water, it remained haunted by the devil, so the villagers eventually abandoned it.