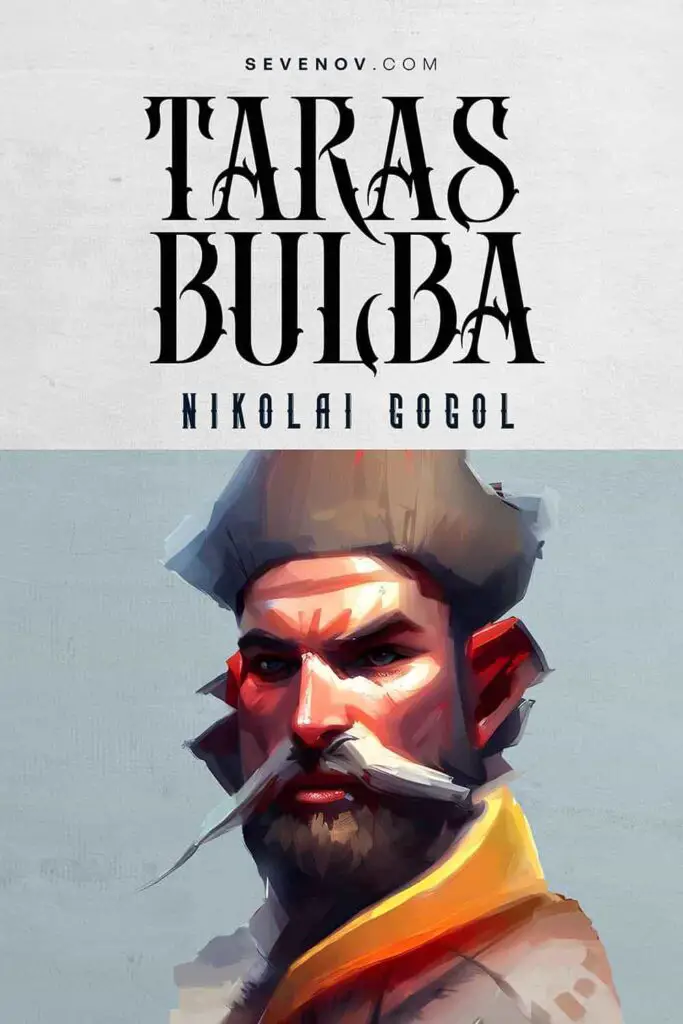 Taras Bulba by Nikolai Gogol
Author: Nikolai Gogol
Published: 1835
Genre: Drama, Historical 
Taras Bulba is a novella by Nikolai Gogol. The titular hero is a Zaporozhian Cossack who goes to war against Poland with his two sons, Ostap and Andriy. First published in 1835, Taras Bulba was revised and republished in 1842. 
The main character Taras Bulba could be based on several historical figures. He may be modeled on an ancestor of  Nicholas Miklouho-Maclay, Cossack Ataman Okhrim Makukha from Starodub, who killed his son Nazar for defecting to Poland in the Khmelnytsky Uprising. Nicholas Miklouho-Maclay's uncle, Grigory Illich Miklouho-Maclay, was a fellow student of Gogol in Nizhyn Gymnasium and likely shared this story with him. Another possible source of Gogol's story is Sava Chaly, a Cossack captain whose execution was ordered by his father for betraying the Ukrainians.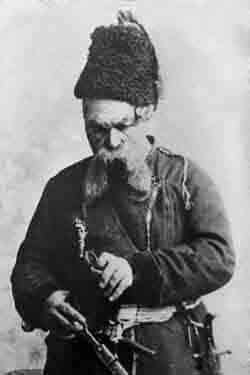 Unlike Gogol's later works, Taras Bulba was written in a romantic style. It emphasizes the heroism of the Cossacks, who are portrayed as an indomitable race of warriors. Gogol was not known as a historian; Taras Bulba is a romanticized account of Cossack's life and is not meant to be historically accurate. The work was part of the broader National Romanticism movement, which aimed to legitimize the state by emphasizing a common ethnicity and culture. 
1. Synopsis
Taras Bulba is a Zaporozhian Cossack whose two sons, Ostap and Andriy, have returned from an Orthodox seminary in Kiev. With his sons, Taras Bulba goes to war against the Polish, who rule all of Ukraine west of the Dnieper River. However, when one of his sons unexpectedly turns traitor, Taras is outraged and ends up choosing national loyalty over familial love.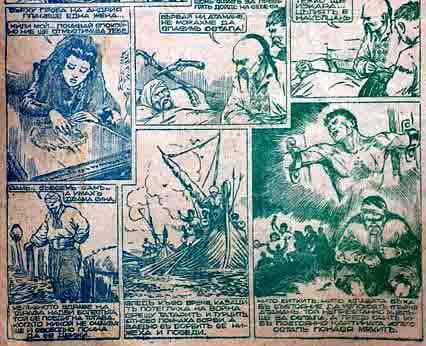 2. Story Summary
1842 edition
Taras Bulba is an old Cossack who lives beyond the Zaporozhe or the falls of the Dnieper River. He has a fierce and headstrong temperament, like many members of his race. His two sons, Ostap and Andriy, return from an Orthodox seminary in Kiev. Ostap, the older son, is the more boisterous of the two, while Andriy is an introvert. While studying in Kiev, Andriy fell in love with the daughter of a Polish noble. However, she left the city with her father, causing them to be separated. Soon, Bulba decides to take his sons to war against Poland. His wife is reluctant to part with her husband and children but is forced to accept his decision. 
Bulba, Andriy, and Ostap arrive at the Cossack camp at the Setch. Bulba tries to rally the Cossacks to fight the Turks but is informed that the Cossacks have signed a peace treaty with the Sultan. Later, a group of Cossacks arrives at the camp, claiming they were defeated and persecuted by the Poles, who the Jews aided. In retaliation, the Cossacks throw Jewish merchants into the Dnieper River. Yankel, a Jewish merchant, is saved by the intervention of Bulba. 
The Cossacks begin a military campaign against the Poles. They besiege the city of Dubno, cutting it off from food supplies. One night, Andriy is awoken by a Tartar woman who is the servant of the Polish girl he was in love with. She tells him that all are starving inside the city walls. Andriy takes some loaves with him for his starving lover and her mother, then enters the city through a secret passage. Moved by love and shocked by what he sees, Andriy decides to turn his back on his Cossack heritage and go over to the Polish side. 
Meanwhile, Polish reinforcements arrive and relieve the siege, resulting in several battles with the Cossacks. Bulba learns of Andriy's betrayal from Yankel and is outraged. When he sees Andriy ride out of the city in Polish garb, he orders his men to draw him to the woods. Bulba chastises Andriy and then shoots him dead.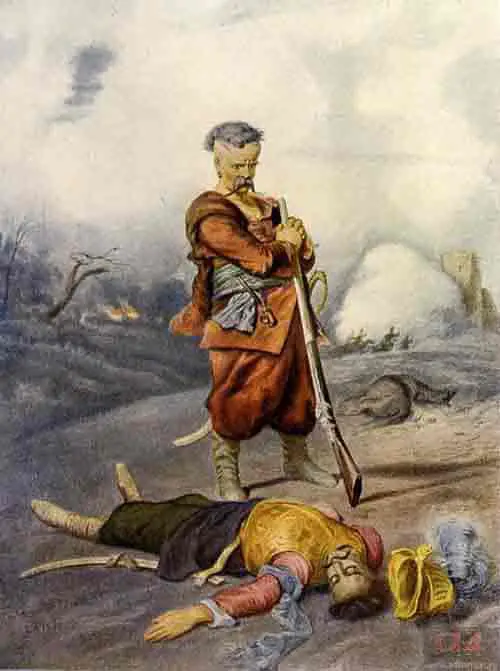 While fighting the Poles, Ostap is taken prisoner, and Bulba is knocked out. Yankel takes Bulba to Warsaw, where Ostap is imprisoned. Disguised as a German Count, Bulba goes to see Ostap in prison. Bulba accidentally reveals himself as a Cossack but manages to escape with a huge bribe. The next day, he attends Ostap's execution. Despite being tortured, Ostap endures the ordeal without making a sound. 
Bulba returns home, where the Cossack Hetman is planning to sign a truce with the Poles. Being against the decision, Bulba leaves to continue the fight with his regiment. In the end, Bulba and his men are trapped in a ruined fortress, where they fight to the last man. Bulba is nailed to a tree and set on fire but urges his men to carry on with the war and makes a prophecy that a Tsar will rise from Russian soil to conquer the world. 
Changes from the 1835 edition
The 1842 edition of Taras Bulba added three new chapters and incorporated Russian nationalist themes. Instead of depicting the Cossacks as a distinct ethnicity, the 1842 edition portrays them as Russian heroes. It also used phrases that stirred up Russian patriotic fervor like 'Russian faith,' 'Russian land,' and 'Russian might.' Some have attributed these changes to the need to toe the official Tsarist line, while others believe they reflect Gogol's changing political views.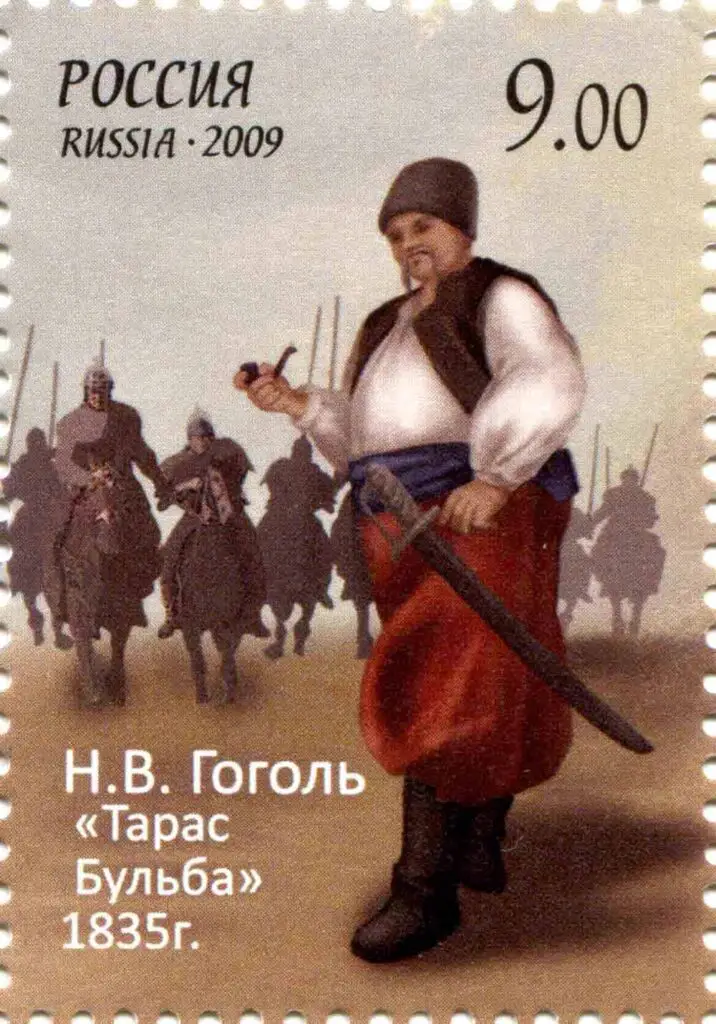 3. Characters
Taras Bulba
Bulba is an old Cossack warrior who loves the simplicity and freedom of the Cossack way of life. He has a fierce character and displays fearlessness in combat. Not content with a peaceful domestic life, he goes to war against Poland, taking with him his two sons
Ostap
Ostap is Bulba's older son, a brave and adventurous young man.
Andriy
Andriy is Bulba's younger son, an introvert. He is in love with a Polish girl.
Bulba's wife
She is reluctant to be separated from her husband and children.
Yankel
Yankel is a Jew who is saved by Bulba.
The Polish Girl
The daughter of a Polish nobleman and Andriy's lover
The Tartar Woman
She is the servant of the Polish girl.
4. Ethnic Depictions
Taras Bulba has been noted for its virulent anti-Polish sentiment and anti-semitism. 
4.1. Anti-Polish sentiment
After the November Uprising (1830-1831), a Polish rebellion against the Russian Empire, the Polish became the target of state-endorsed discrimination throughout Russia. Following this national sentiment, many Russian writers depicted the Polish unfavorably in their work.  Historian Vilho Harle describes Taras Bulba as part of the anti-Polish propaganda effort. 
During his stay in Rome, Gogol became fascinated with the Catholic Church, drawn in by the aesthetic beauty of its churches and mass. He also befriended many Polish émigres. However, he later became disillusioned with Catholicism and returned to the Orthodox Church.
In the story, the Catholic Polish are depicted as obsessed with external beauty and contrasted with the Orthodox Cossacks, who prefer a simple and natural aesthetic. The Polish in Taras Bulba are not simply evil but are corruptors of the Cossacks and Russians. When Andriy is led into the Polish city of Dubno, he is impressed with the grandeur of its Catholic Church and the mansion of his lover's father. His story shows the Catholic Polish leading a Cossack hero astray with their extravagant lifestyle. 
4.2. Anti-semitism
In Taras Bulba, the Cossacks carry out a pogrom against Jewish merchants, but the narrator does not condemn their actions. Yankel, a Jew who Bulba saves, represents common stereotypes of Jews as exploitative, cowardly, and materialistic. Felix Dreizin and David Guaspari, in their The Russian Soul and the Jew: Essays in Literary Ethnocentrism, discuss anti-Semitism, highlighting Gogol's attachment to "anti-Jewish prejudices prevalent in Russian and Ukrainian culture." 
5. Notable Book Covers of Taras Bulba