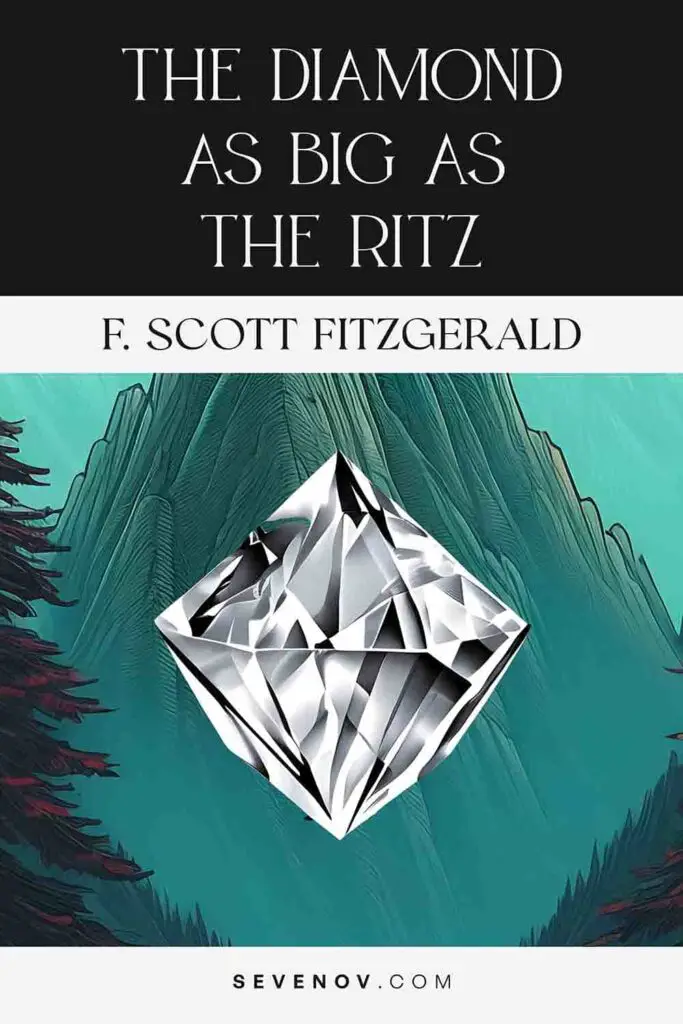 The Diamond as Big as the Ritz by F. Scott Fitzgerald
Author: Francis Scott Fitzgerald 
Published: The Smart Set (Jun 1922), Tales of the Jazz Age (1922)
Genre: Short Stories
"The Diamond as Big as the Ritz" is a novella written by F. Scott Fitzgerald in 1922 and was published in The Smart Set and Tales of the Jazz Age in the same year. One of Fitzgerald's most acclaimed short stories, this dramatic tale of wealth, greed, and history takes place in Montana. It is supposed that the setting was inspired by Fitzgerald's time at White Sulphur Springs in Montana in 1915. 
1. Synopsis
In "The Diamond as Big as the Ritz," Fitzgerald introduces the ugly side of the wealthy through a diamond mogul family, the Washingtons. When John T. Unger is enrolled in a private boarding school in Boston, his paths cross with Percy Washington, a quiet boy whose family's wealth holds a dark history. A story that compels readers to face America's ugly past and the individuals who profited from it, Fitzgerald spins a tale that has readers glued to the pages. 
2. Story Summary
2.1. Boston
We are introduced to the story's protagonist, John T. Unger, who comes from a fairly wealthy family in Hades. He attends a boarding school in Boston where many wealthy students are enrolled, and he spends his summer visiting his friends. 
2.2. Percy Washington
When John reaches his sophomore year, a new student named Percy Washington becomes John's roommate. Percy is extremely quiet and only talks to John out of all students. When summer arrives, Percy extends an invitation to John, asking him to visit his house. John accepts but finds it odd that Percy is so vague about the location of his home, only revealing that it is located in the West.
While on the trip to Percy's house, Percy gloats about his family's wealth and how his father "has a diamond bigger than the Ritz-Carlton Hotel." John soon realizes they are in Montana, which is pretty isolated. 
2.3. The Washingtons
John soon learns the history behind the Washingtons' immense wealth. Percy's grandfather, Fitz-Norman Culpepper Washington, was a colonel in the Civil War. After the war ended, he brought his slaves along and headed to Montana. As luck would have it, the plot of land he purchased had a diamond mine and an enormous diamond, the one that Percy boasted about.
Fitz was worried that if the public knew about the supply of diamonds available, its value would depreciate, and he would lose his opportunity to make a fortune. The greedy Fitz concocts a lie, bluffing his slaves that the South had won the Civil War, meaning they were enslaved for life. This lie ensured he had a steady supply of workers to mine the diamonds, who could not tell anyone about it. 
The drastic measures did not stop there, with Fitz going as far as to murder his alcoholic brother, who he was worried would slip their secret when drunk. Anyone who visited the estate or happened to chance upon it could be imprisoned, killed, or said to have died from illness. 
2.4. Danger
During his visit, John develops feelings for Percy's sister, Kismine. She reveals to John that he too will be killed. As luck would have it, a prisoner of the Washingtons managed to escape and informed the authorities. Airplanes bomb the estate, and Percy and his parents decide to blow up their prize diamond rather than let anyone else have it. John, Kismine, and Percy's other sister Jasmine manage to escape but realize they are broke.  
3. Characters
John T. Unger
Our protagonist hails from an affluent background and finds value and standing in one's level of wealth. However, as he learns about the dark history behind the Washingtons' wealth, he begins to question the morals behind the pursuit of wealth. 
Kismine Washington
Percy's sister. Ginevra King is the inspiration for this character.
4. Themes
"In The Diamond as Big as the Ritz," we are introduced to many wealthy characters who value the luxuries their wealth affords them. Nevertheless, Fitzgerald makes us question whether the ends always justify the means through the eyes of John T. Unger. We see John confronted with this question when he learns of the ugly truth behind Percy's family and their wealth. The story serves as a warning of how one may easily disregard right and wrong to obtain wealth.
5. Writing Style
Fitzgerald uses many hyperboles and adjectives, possibly to reflect the extravagant wealth of his characters. This writing style is symbolic of how the characters appear dazzling and attractive on the surface due to their wealth, but what lies underneath are morally corrupt individuals. 
6. Influence on Entertainment and Literature
6.1. Influence on Entertainment
"The Diamond as Big as the Ritz" was adapted into a radio play in 1945, and a teleplay in 1955
6.2 Influence on Literature
"The Diamond as Big as the Ritz" has been compared to Ayn Rand's work Atlas Shrugged, published thirty years later. 
7. Quotes from The Diamond as Big as the Ritz
"At any rate, let us love for a while, for a year or so, you and me. That's a form of divine drunkenness that we can all try. There are only diamonds in the whole world, diamonds and perhaps the shabby gift of disillusion."
8. Frequently Asked Questions about The Diamond as Big as the Ritz
How big is Washington's prized diamond that Percy boasts about?
The prized diamond is the size of a mountain.
What is the message of The Diamond as Big as the Ritz?
The story shows us that only when one is poor are one truly liberated. It also warns us against losing one's morals in the search for wealth.