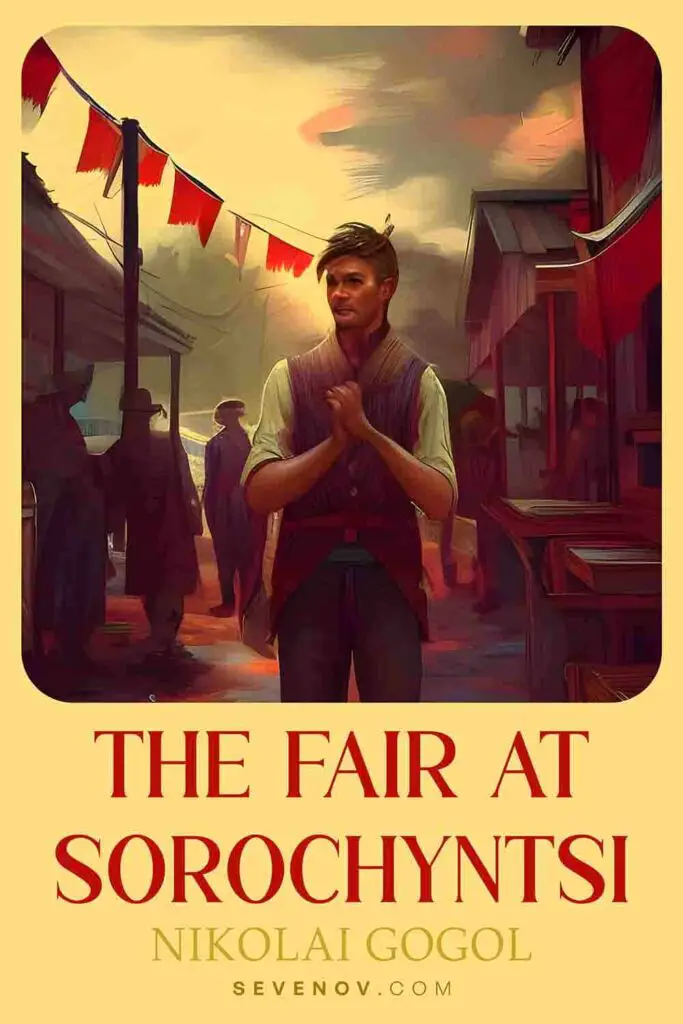 The Fair at Sorochyntsi by Nikolai Gogol
Author:  Nikolai Gogol
Published: Evenings on a Farm Near Dikanka (1832)
Genre: Short Stories
"The Fair at Sorochyntsi" is a short story written by Nikolai Gogol, a Ukrainian story writer, and playwright, in 1831. It was published as the first story in his compilation of short stories titled Evenings on a Farm Near Dikanka. Gogol's short story was later adapted into an opera production by Modest Mussorgsky. "The Fair at Sorochyntsi" is set in 1800 Ukraine in a small village called Sorochyntsi, the same town where Gogol was born. 
1. Synopsis
"The Fair at Sorochyntsi" follows a family of three to a fair in a small Ukrainian village named Sorochyntsi. Their relatively peaceful and uneventful life takes a turn when a young cossack male requests the young daughter's hand in marriage, and a demon enters the mix. Gogol blends the absurd, humor, and romance in this macabre tale. 
2. Story Summary
2.1. Travel to the Fair
"The Fair at Sorochyntsi" opens with the narrator describing the environment of Ukraine in 1800, emphasizing the country's beauty. We are introduced to the story's main characters, a family with the father, Solopy Cherevik, his wife, Khavronya Nikiforovna, and their daughter, Paraska. Their main aim of attending the fair is to sell some goods and their aged horse. 
2.2. Paraska's Suitor and The Demon
At the fair, it is not long before Paraska catches the eye of a cossack man named Grytsko. Grytsko is drawn to Paraska's beauty and attempts to strike up a conversation and get to know her. Grytsko's frivolous and flirtatious attitude aggravates Solopy, who tries to chase the young man away. Grytsko then introduces himself as the son of one of Solopy's friends and asks for Paraska's hand in marriage. 
Solopy's impression of Grytsko improves once he learns of his identity and agrees to the marriage proposal. However, Khavronya is unconvinced and unwilling to let Paraska marry Grytsko. Seeing that Solopy's hands are tied, Grytsko resorts to employing the help of a gypsy to come up with a plan to obtain Paraska's hand in marriage. 
Khavronya has an extramarital relationship with a priest's son named Afanasy Ivanovich. A few days after the fair, Khavronya is having a tryst with Afanasy at her house. When they hear footsteps approaching from outside, Khavronya quickly herds the young man up into the rafters to hide before opening the door to receive the visitors. They turn out to be Solopy and his friends. One person, in particular, Tsibulya, is a close friend of Solopy. 
Tsibulya relates a horrific urban legend of a 'red jacket' to Khavronya, telling her how the red jacket belongs to a demon who was chased out of hell. The demon gave the jacket to a Jew, requesting that he hold it for temporary safekeeping. However, the Jew went against the demon's instructions and sold the jacket, greatly angering the demon. Enraged, the demon conjured numerous pig heads to appear at the windows of the Jew's house, mortifying him. 
Coincidentally, Afanasy chooses this exact moment to shift his position due to discomfort and lets out a grunt which startles the already on-edge party. Tsibulya continues her story after recollecting herself. She explains how this mythical red jacket has been said to be cursed and brings bad luck to those who own it. The jacket continued to be circulated, being passed to unsuspecting victims.
However, one individual reacts differently, and instead of passing on the jacket, he hacks at it with an ax. The jacket is torn into multiple pieces, and the demon who owns it is forced to collect the remnants of the jacket until the present day.
2.3 Ending
Just as Tsibulya's story ends, a pig's head appears by the window, which scares the group. Solopy is so frightened by the urban legend coming to life that he immediately dashes out of the house, yelling 'devil!' Khavronya quickly follows suit and clings to her husband as they escape. This comical sight amuses their friends. 
The following day, the excitement has died down, and Solopy and Khavronya attempt to downplay their embarrassment from the previous day's events. Solopy takes their old horse to the fair to try and sell it once again, as the first attempt was unsuccessful. When Solopy arrives at the fair and advertises his horse for sale, someone approaches him and asks a strange question: what is Solopy selling? Solopy is puzzled and wonders whether the person knows what a horse is.
Just then, Solopy yanks on the horse's harness and this causes the horse to jerk forward and hit Solopy in the face. When Solopy recovers from the impact, he is stunned to find his horse gone and only a shred of red fabric in its place. In an absurd turn of events, Solopy is accused of stealing his horse and being held captive along with Tsibulya. 
At this point, Grytsko comes along and makes a deal with Solopy. Grytsko will help to secure Solopy's release, and in return, Solopy promises Paraska's hand in marriage to him. Solopy agrees, and the wedding proceeds not long after. It is then revealed that the fabled 'demon' is, in actuality, the gypsy that Grytsko employed the help of earlier in the story. 
3. Characters
Solopy Cherevik
He is a fairly gullible man who is responsible for his family.
Khavronya Nikiforovna
A fierce wife to Solopy, she is having an affair with the priest's son. 
Grytsko
A young and witty cossack man, he falls in love with Paraska, Solopy's daughter. Grytsko is a quick-witted individual who is not afraid to resort to his means to get what he wants.