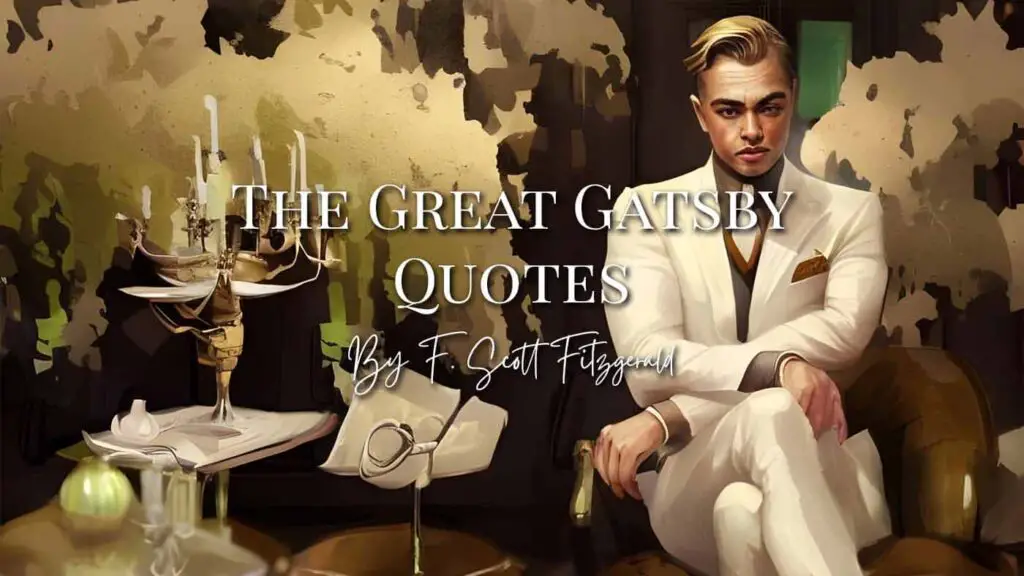 43 Best The Great Gatsby Quotes by F. Scott Fitzgerald
Here are some of the best The Great Gatsby quotes by F. Scott Fitzgerald. Written by F. Scott Fitzgerald and published in 1925, The Great Gatsby has captured the hearts and minds of generations of readers. Set in the roaring twenties in New York, the novel tells the story of Jay Gatsby, a mysterious millionaire who throws extravagant parties to win back his lost love, Daisy Buchanan.
The novel is a powerful commentary on the decadence and excess of the wealthy elite and the emptiness and disillusionment beneath the surface. It is a story of love, obsession, ambition, betrayal, and the American Dream gone awry. The characters are richly drawn with complex motivations that keep readers engaged throughout the story. The novel paints a vivid portrait of the Jazz Age, with its flappers, speakeasies, and bootleggers, and captures the spirit of an era with its colorful characters and evocative descriptions.
One of the most striking aspects of The Great Gatsby is its language. Fitzgerald's prose is lyrical, with a beauty and elegance rare in modern literature. His use of symbolism and imagery is masterful, and his descriptions of the parties at Gatsby's mansion are some of the most memorable passages in the novel.
The Great Gatsby Quotes by F. Scott Fitzgerald 
1
…and for a moment I thought I loved her. But I am slow-thinking and full of interior rules that act as brakes on my desires.
2
All I kept thinking about, over and over, was 'You can't live forever; you can't live forever.'
3
"All the bright precious things fade so fast, and they don't come back."
4
And I like large parties. They're so intimate. At small parties there isn't any privacy.
5
Angry, and half in love with her, and tremendously sorry, I turned away.
6
Everyone suspects himself of at least one of the cardinal virtues, and this is mine: I am one of the few honest people that I have ever known.
7
He knew that when he kissed this girl, and forever wed his unutterable visions to her perishable breath, his mind would never romp again like the mind of God.
8
He looked at her the way all women want to be looked at by a man.
9
His dream must have seemed so close that he could hardly fail to grasp it. He did not know that it was already behind him.
10
Human sympathy has its limits.
11
I felt a haunting loneliness sometimes, and felt it in others–young clerks in the dusk, wasting the most poignant moments of night and life.
12
I hope she'll be a fool—that's the best thing a girl can be in this world, a beautiful little fool.
13
I love her and that's the beginning and end of everything.
14
I was alone again in the unquiet darkness.
15
I was within and without, simultaneously enchanted and repelled by the inexhaustible variety of life.
16
I wasn't actually in love, but I felt a sort of tender curiosity.
17
I'm p-paralyzed with happiness.
18
I've been drunk for about a week now, and I thought it might sober me up to sit in a library.
19
If personality is an unbroken series of successful gestures, then there was something gorgeous about him.
20
It occurred to me that there was no difference between men, in intelligence or race, so profound as the difference between the sick and the well.
21
It takes two to make an accident.
22
It was one of those rare smiles with a quality of eternal reassurance in it, that you may come across four or five times in life.
23
It was the kind of voice that the ear follows up and down, as if each speech is an arrangement of notes that will never be played again.
24
It's a great advantage not to drink among hard drinking people.
25
Let us learn to show our friendship for a man when he is alive and not after he is dead.
26
Life is much more successfully looked at from a single window.
27
Life starts all over again when it gets crisp in the fall.
28
No amount of fire or freshness can challenge what a man will store up in his ghostly heart.
29
Once in a while I go off on a spree and make a fool of myself, but I always come back, and in my heart I love her all the time.
30
Reserving judgements is a matter of infinite hope.
31
She was feeling the pressure of the world outside and she wanted to see him and feel his presence beside her and be reassured that she was doing the right thing after all.
32
So I walked away and left him standing there in the moonlight – watching over nothing.
33
So we beat on, boats against the current, borne back ceaselessly into the past.
34
The exhilarating ripple of her voice was a wild tonic in the rain.
35
The loneliest moment in someone's life is when they are watching their whole world fall apart, and all they can do is stare blankly.
36
The rich get richer and the poor get – children.
37
Then he kissed her. At his lips' touch she blossomed for him like a flower and the incarnation was complete.
38
There are only the pursued, the pursuing, the busy and the tired.
39
There is no confusion like the confusion of a simple mind.
40
They conducted themselves according to the rules of behavior associated with an amusement park.
41
'They're a rotten crowd', I shouted across the lawn. 'You're worth the whole damn bunch put together.'
42
Whenever you feel like criticising anyone, just remember that all of the people in the world haven't had the advantages that you've had.
43
You see I usually find myself among strangers because I drift here and there trying to forget the sad things that happened to me.
You Might Be Interested…