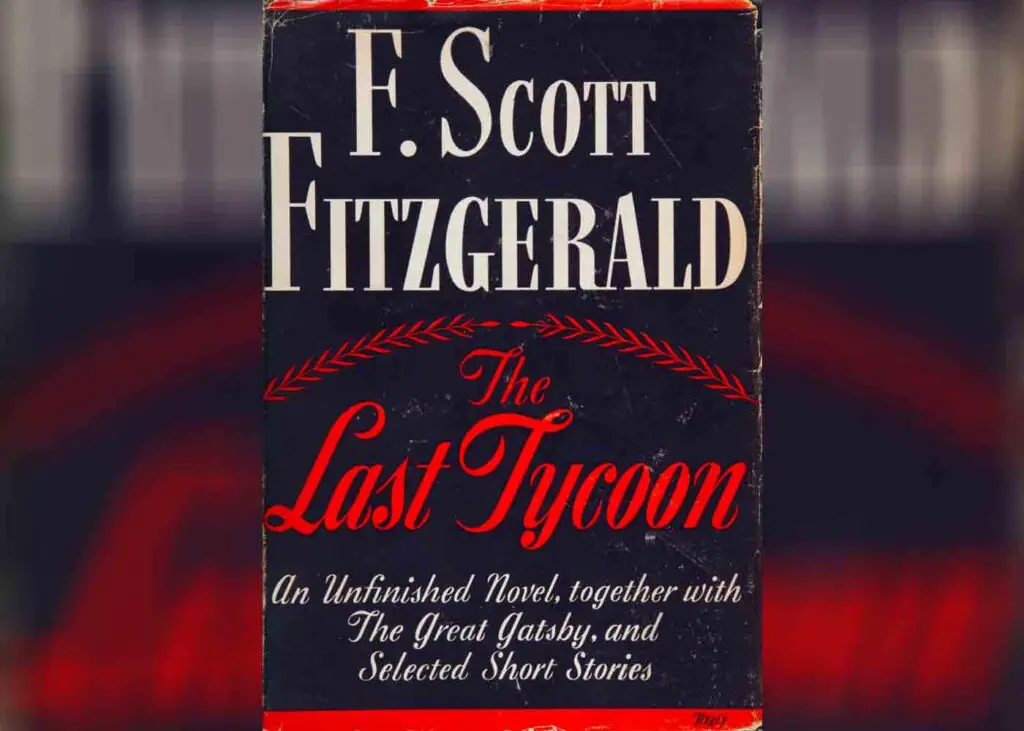 The Last Tycoon by F. Scott Fitzgerald
Author: F. Scott Fitzgerald
Published: 1941
Genre: Drama, Romance, Tragedy
The Last Tycoon follows Monroe Stahr, a character inspired by Irving Thalberg, on how he climbs to the top of Hollywood's film scene and his rivalry with Pay Brady, a character inspired by MGM studio head Louis B. Mayer. F. Scott Fitzgerald came up with the title for this unfinished novel. Fitzgerald's friend and fellow writer Edmund Wilson collected and edited the notes for the novel and released it posthumously in 1941.
1. Synopsis
The Last Tycoon, set in the 1930s, follows Hollywood studio head Monroe Stahr, who is unmistakably modeled after Irving Thalberg (in charge of production at MGM), a man Fitzgerald is roughly acquainted with. Monroe is a Hollywood producer engaged in a protracted battle for his life and trying to find love and success in a competitive industry.
2. Story Summary
2.1. The Letter
The story opens with Cecelia Brady, the daughter of well-known Hollywood producer Pat Brady, getting ready to board a flight back to Los Angeles. At the airport, she is shocked to run into author Wylie White, her father's acquaintance. A failing producer identified as Mr. Schwartz is with White. They are forced to land in Nashville, Tennessee, due to problems with the aircraft. The trio decides to take an impromptu excursion to the previous president Andrew Jackson's historic estate, but they discover it is closed when they get there. Then, while Mr. Schwartz is sound asleep, Wylie begins to flirt with Cecelia.
When Schwartz wakes up, he lets them know he has changed his mind and will stay behind.  Schwartz asks Wylie to deliver a message to his friends, and Wylie agrees. The day after Wylie and Cecelia departed Nashville, they discovered that Schwartz had killed himself.
2.2. Monroe Starh 
Cecelia understands that the note Schwarz handed Wylie was intended for Monroe Stahr, her father's business associate. Cecilia has a long-standing infatuation for Stahr. To pick up her father, Brady, for a birthday party, Cecelia goes to her father's movie studio. Cecelia, Brady, and the others hide in Stahr's office due to an unexpected mild earthquake. The set is flooded as a water pipe bursts. Stahr sees two women clinging to a statue's head desperately; one resembles his late wife.
The following day, Stahr asks his secretary to help him find the two women as he is looking for the one who resembles his late wife. His secretary gives him one of the woman's phone numbers, and he promptly sets up a meeting. To Stahr's disappointment, she is not the one he's seeking. The woman presses Stahr to meet her friend, Kathleen Moore, in her apartment after he gives her a lift home. Stahr realizes that Kathleen Moore is the spitting image of his wife. 
2.3. Kathleen Moore
Kathleen rejects all of Stahr's advances until she unexpectedly runs into him at a party. Stahr takes Kathleen to the construction site of his new home in Santa Monica. Stahr and Kathleen end up having sex despite Kathleen's apparent reluctance to be with him. Afterward, Kathleen admits in a letter to Stahr that she had already been engaged to another man. Despite falling in love with Stahr, she has decided to wed her fiance. 
2.4. Unrest in the Studio
Stahr catches wind of a communist working in the film studio who wishes to organize a labor union. Stahr requests Cecilia to help him meet the man in question. Stahr meets the man over dinner, where he becomes intoxicated and ends up in a physical altercation with the man.  He receives care from Cecelia, and the two become closer. However, Brady, who is Stahr's business partner and Cecelia's father, grows more dissatisfied with him and has long desired to get rid of him. 
Brady is extremely unhappy about Cecilia's attraction to Stahr. Brady tries to blackmail Stahr into quitting the company after learning of his and Kathleen's affair. 
2.5. Ending
When Brady cannot accomplish his objective through blackmail, he hires a professional killer without thinking twice. Stahr makes it out alive and hires a killer to assassinate Brady as payback. Stahr's conscience begins to bother him, unlike Brady's. However, while on his flight, he considers calling off the assassination order, but his jet crashes while returning to New York City. The hired assassin completes his task without interference, leaving Cecelia without her father and lover—the two most important men in her life. 
3. Characters
Monroe Stahr
Stahr is a dedicated studio head who devoted his life to making high-caliber movies, regardless of their profitability. He cares about every facet of the studio and the well-being of his staff. He is nearly burnt out at age 35, which contributes to losing control of the studio and his life.
Cecilia Brady
Cecilia is Pat Brady's daughter and the narrator of the story. She develops an unrequited love for Stahr, staying by his side and helping him with matters regarding the film studio.
Pat Brady
Stahr's business partner. He dislikes Stahr and even goes as far as to have him killed.
Kathleen Moore
Stahr's love interest as she looks like his ex-wife.
4. Background
When Fitzgerald passed away at age 44, the book was incomplete and in a preliminary draft. Fitzgerald's close friend Edmund Wilson, a literary critic and author, compiled the novel's notes and revised it before it was published. The Last Tycoon, the title by which the incomplete book is best known, was released in 1941.
5. Influence on Film and Entertainment
From 1957 to 2015, there have been seven film and theater adaptations of The Last Tycoon. The most recent and notable one would be HBO's series adaptation of the novel, starring Matt Bomer as Monroe Stahr and Lily Collins as Cecilia Brady. 
6. Quotes from The Last Tycoon
"They were smiling at each other as if this was the beginning of the world."
"These lights, this brightness, these clusters of human hope, of wild desire—I shall take these lights in my fingers. I shall make them bright, and whether they shine or not, it is in these fingers that they shall succeed or fail."
7. Notable Book Covers of The Last Tycoon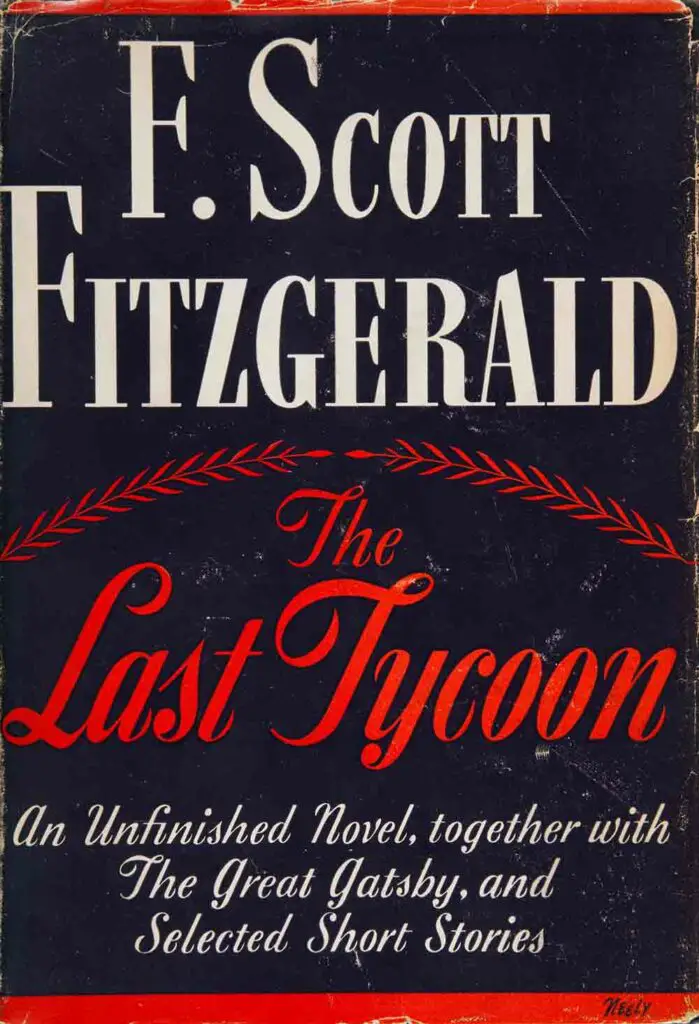 8. Frequently Asked Questions about The Last Tycoon
Is The Last Tycoon based on a real story?
No, it is not inspired by a real story, and the characters are not real. However, the novel captures a facet of the film industry. 
Is there a film adaptation of The Last Tycoon?
HBO has adapted the novel into a series starring Matt Bomer and Lily Collins. However, there will not be a second season.