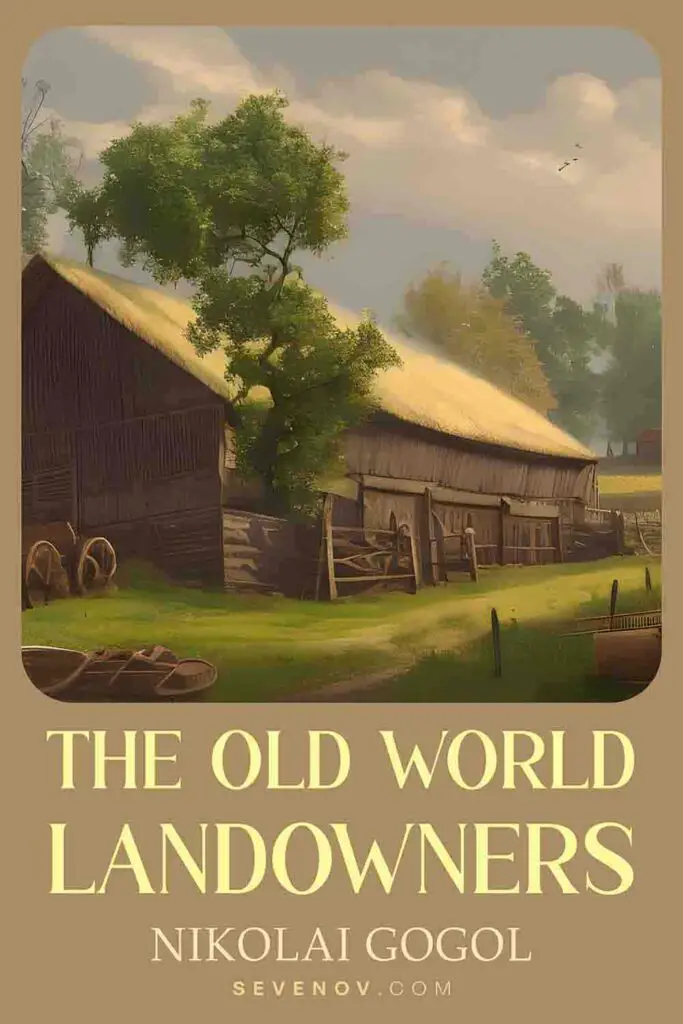 The Old World Landowners by Nikolai Gogol
Author: Nikolai Gogol
Published: 1835
Genre: Short Story
"The Old World Landowners" (Старосветские помещики, translit. Starosvyetskiye pomeshchiki), also known as "Old-Fashioned Farmers," is a short story by Nikolai Gogol. It was published in 1835 in his short story collection, Mirgorod. The story retells the legend of Baucis and Philemon from Ovid's Metamorphosis, transporting it to the idyllic Slavic countryside. 
1. Synopsis 
Afanasy and Pulkheriya are two elderly landowners who live peacefully in a quiet village. The married couple shares a sincere love, spending their days cracking jokes and treating their guests. One day, Pulkheriya's gray cat goes missing and returns as a feral creature. The cat flees the house shortly after, and Pulkheriya becomes disturbed, believing this to be an omen of her impending death. Pulkheriya's condition deteriorates, and she soon dies, leaving her husband behind. Alone, Afanasy is haunted by memories of his wife and struggles to carry on.
2. Story Summary
In "The Old World Landowners," Afanasy and his wife Pulkheriya are two landowners who live in a small village in Little Russia. They lead a calm and simple life, vastly different from other Little Russians who go to St. Petersburg to climb up the social ladder as clerks and merchants. Since they are childless, they lavish all their love on each other. Pulkheriya enjoys guessing what her husband wants to eat, offering him one food or another, while Afanasy likes to tease her, telling her stories about fire or war to frighten her.
Afanasy and Pulkheriya are friendly to their guests and love treating them. Afanasy listens with amusement to the guests' stories about life in the outside world. Pulkheriya gets the guests to eat more and share the techniques behind her delicious preserves and flavored vodkas.
Pulkheriya owns a gray cat, which Afanasy makes fun of. The cat goes missing and returns as a feral creature. Although Pulkheriya lets it back into the house and feeds it, the cat flees and never returns. She becomes troubled, thinking that this incident is an omen of her impending death. As Pulkheriya falls ill, she worries that no one will look after her husband when she is gone. Thus, she threatens her housekeeper Yadovka, saying that God's punishment will befall her family if she does not take care of Afanasy. 
After Pulkheriya's death, Afanasy suffers a mental breakdown as memories of his wife haunt him. His health worsens, and he dies after he imagines hearing Pulkheriya calling him from outside. A distant relative who is a lieutenant inherits Afanasy and Pulkheriya's estate. The estate was under mismanagement, causing the peasants to leave in search of a better life.