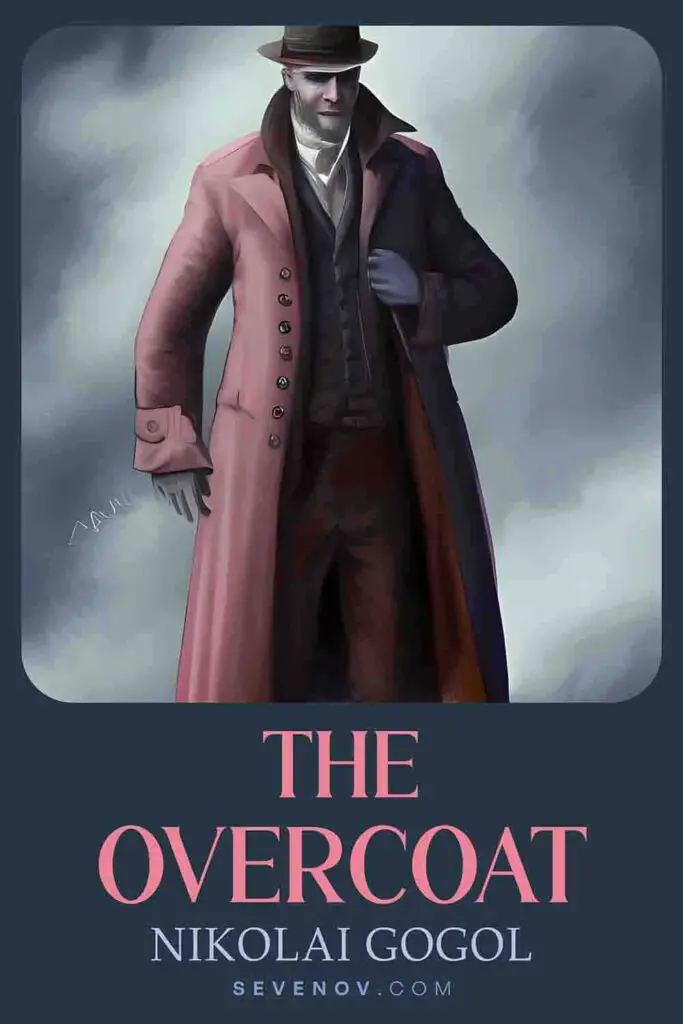 The Overcoat by Nikolai Gogol
Author: Nikolai Gogol
Published: 1842
Genre: Short Story
"The Overcoat" (Шине́ль, translit. Shinyél'), also known as "The Mantle" or "The Cloak," is a short story by Nikolai Gogol published in 1842. "The Overcoat" tells the tale of an impoverished titular councilor, Akakiy Akakievitch, who becomes obsessed with buying a new overcoat. The story has had a massive impact on Russian literature. "We all came out from under Gogol's Overcoat" is a quote that has often been attributed to either Dostoevsky or Turgenev. Russian novelist Vladimir Nabokov called it "the greatest Russian short story ever written."
Typical of Gogol's style, "The Overcoat" blends comedy and tragedy, mocking the pathetic state of the main character while encouraging readers to empathize with him. The story has been noted for its realism but also incorporates supernatural elements. 
1. Synopsis
Middle-aged, balding, and poor titular councilor Akakiy Akakievitch is teased relentlessly by his co-workers. Moreover, his low salary makes him vulnerable to the winter cold, against which he has little protection when he walks to his workplace in his thin overcoat. When he takes his threadbare overcoat to his tailor, he is told that the coat is beyond repair and he needs to buy a new one. The dream of the new overcoat soon takes over Akakiy's life. Eventually, he scrimps and saves enough to afford it. Akakiy's magnificent new overcoat raises his position overnight, but the loss of it leads to tragedy. 
2. Story Summary
Akakiy Akakievitch Bashmachkin is an impoverished titular councilor in St. Petersburg. He works as a copyist in a government department and is wholly devoted to his job despite the low salary. Middle-aged, timid, and balding, Akakiy is often picked on by his coworkers and treated condescendingly by his superiors. 
In St. Petersburg, the winter cold is a menace to poor government officials like Akakiy. They are forced to walk to the various government departments as quickly as possible, as their thin coats give them little protection. Noticing that his coat has become threadbare on the back and shoulders, Akakiy takes it to his tailor, Petrovich. 
Petrovich tells Akakiy that the coat is beyond repair and he has to buy a new one. Akakiy is initially intimidated by the cost of a new overcoat but eventually decides to cut his expenses for one year to save money. During this time, he frequently discusses the design of the new overcoat with Petrovich. Soon, the dream of owning a new overcoat takes over Akakiy's life, such that he thinks of nothing else. 
Finally, with his holiday bonus, Akakiy acquires enough to pay for the new overcoat. Petrovitch and Akakiy pick the best materials, and the end product is impressive. When Akakiy arrives at his workplace in his new overcoat, it quickly becomes the talk of the department. His coworkers congratulate him, and one of his superiors throws a party in honor of the new coat. 
After the party, Akakiy walks home later than usual. On his way home, two thugs confront him, rob him of his overcoat, and kick him down. Distraught, Akakiy tries to seek help from the District Chief of Police to find his stolen overcoat, but the chief is indifferent to his suffering. Following the advice of another clerk in his department, Akakiy goes to see a 'prominent personage.'
This 'prominent personage' is a recently promoted general who is chiefly concerned with flaunting his power. The general keeps Akakiy waiting, then reprimands Akakiy for bringing such a trivial matter to him. Flustered, Akakiy makes an incautious remark and offends the general, who raises his voice to the point that Akakiy nearly faints in fright. Akakiy is carried out of the general's office and returns home. 
Soon afterward, Akakiy falls into a deadly fever. In his last moments, Akakiy is delirious, and his thoughts hover around only one thing – his new overcoat. After Akakiy's death, his ghost is seen haunting areas of St. Petersburg, snatching overcoats from passers-by. His ghost takes revenge on the general by snatching his coat and frightening him. After this, Akakiy is satisfied, and his ghost is never seen again. The narrator ends the story by describing another ghost haunting the streets of St. Petersburg. This ghost matches the description of one of the thugs who robbed Akakiy.  
3. Characters
Akakiy Akakievitch Bashmachkin – An impoverished copyist who works in a government department. He becomes obsessed with buying a badly needed new overcoat. 
Petrovitch – Akakiy's tailor, a former serf who drinks heavily. He insists that Akakiy buy a new overcoat as his old one is irreparable. 
Petrovitch's wife – A plain woman who wears a cap and a dress. 
Bearded individuals – The robbers who steal Akakiy's new overcoat.
Akakiy's Landlady – She advises Akakiy to see the district chief of police so that the authorities can search for his stolen overcoat.
District Police Chief – He is of no help to Akakiy in finding his stolen overcoat. 
Employee with Advice – A coworker of Akakiy's who advises him to see a 'prominent personage.'
The Prominent Personage – A recently promoted general who enjoys showing off his power. He chastises Akakiy for not going through the proper government channels in seeking help. 
Physician – He Is called when Akakiy develops a deadly fever. He tells the landlady to order a coffin. 
4. Themes
4.1. Materialism
"The Overcoat" satirizes a materialistic society where objects can distinguish a nobody from someone worthy of respect. At the story's start, Akakiy is a poor, timid copyist who is constantly harassed by his coworkers and treated condescendingly by his superiors. After he acquires a new overcoat, the way his coworkers and superiors treat him changes overnight. They congratulate him and even invite him to a party in honor of his new overcoat. The drastic shift in the attitude of Akakiy's coworkers is almost comical and highlights their shallow character. 
The story also depicts a life dominated by materialism as futile. Akakiy becomes obsessed with the new overcoat as it gives him a sense of purpose. He deprives himself of material comforts for a long time to afford the overcoat, and it becomes the only thing he thinks of.
When he finally obtains the new overcoat, his joy is short-lived. Robbed of his overcoat, Akakiy loses his purpose in life and succumbs to illness. As he dies, he thinks not of his family or friends but of the overcoat, showing that he lacks human connections in life, his important attachment being his beloved overcoat. Akakiy's story highlights that material attachments are fleeting and not a solid basis for building one's life. 
Nevertheless, the story also shows the great importance that material goods hold, especially for the poor. Akakiy's new overcoat protects him from the cold, which would otherwise make it difficult for him to walk to and fro his workplace. It also allows him to attain his peers' respect and friendship, which means he gets to socialize outside work.
When Akakiy walks to his superior's party in his new overcoat, he realizes that he has not gone out in the evening for years, likely due to his lack of money and the occasion to do so. He notices the sights of the city in the evening for the first time, pausing before the picture of a handsome woman in a shop window. The new overcoat expands his range of activity and makes him more conscious of material pleasures. 
The overcoat gives Akakiy newfound self-esteem, allowing him to become more than a bureaucratic tool. Before he started saving for the overcoat, Akakiy lived to work. He was wholly devoted to his job and thought of little else. After acquiring the overcoat, Akakiy has something else to be proud of and gains the confidence to attend a party despite his introverted nature. He also tries to pursue a woman in the street without knowing why. The overcoat has given him the confidence to go after women, though he is not conscious of his desires. 
4.2. Bureaucracy 
The story portrays the dehumanizing nature of a bureaucracy, where a person's worth is defined by rank. The narrator refers to Akakiy as a titular councilor before giving his name, showing how Akakiy's rank defines him as a person. Akakiy works in the government service, characterized by a strict hierarchy.
Due to his low rank, Akakiy is looked down on by his superiors and teased mercilessly by his young coworkers. One of his coworkers, a newcomer, follows the other officials in mocking Akakiy, but he is taken aback when Akakiy protests, "Leave me alone! Why do you insult me?" Despite their refined facade, the coworker suddenly realizes how inhumane he and the other officials were to Akakiy. This incident highlights how people in a bureaucracy often forget the humanity of those who are of lower rank and conform to the group's behavior, even if it is cruel. 
Furthermore, the bureaucracy depicted in the story is one where official rules precede sympathy, and the desire for power overwhelms common sense. When Akakiy seeks help from the authorities to find his stolen overcoat, they are unsympathetic to his plight. Instead, they show off their power by bullying him and ordering him to go through the proper procedures to find his overcoat.
The prominent personage Akakiy sees is obsessed with increasing his power. To do this, he requires his inferiors to follow a complicated and inefficient procedure to meet him, putting on grand and imposing manners. At the same time, he cannot communicate effectively with his inferiors, afraid of seeming too familiar and eroding his power. 
4.3. Alienation
Akakiy is isolated from society because of his inability to communicate with others. He is unable to tell Petrovitch clearly why he wants to repair his coat instead of buying a new one and often speaks in incomplete sentences. When his coworkers congratulate him on his new overcoat, the timid Akakiy is unsure how to respond to their attention and friendship. After his coat is stolen, he is tongue-tied in front of the prominent personage and accidentally offends him. Akakiy's death highlights the extreme loneliness of his life. On his deathbed, he is alone and dreams not of his family and friends but only of the overcoat. When he passes away, the city goes on as though he never existed. 
4.4. Monotony 
Akakiy is a clerk who has done the same job for years – copying government documents. When one of his superiors offers him a slightly more complicated task, Akakiy panics and asks to be given something to copy instead. His work of copying is monotonous and underscores the insignificance of his life. Akakiy never creates anything original; he only copies the work of others, a job that another person can easily do.
Although copying may seem boring, Akakiy enjoys it greatly and even takes his work home. His behavior suggests that he finds comfort in repetition and is afraid to venture out of his comfort zone. His unwillingness to seek new experiences and test himself leaves him spiritually undeveloped. He is unaware of his feelings and, upon his death, has no attachment to anything apart from his overcoat. 
5. Influence and Legacy
5.1. Influence on literature
Gogol's influence on Dostoevsky is well-known. Dostoevsky's early works are said to have "passed under the sign of Gogol." In his first novel, Poor Folk, the poor, lonely, shy civil servant Devushkin is similar to Akakiy from "The Overcoat." In the story, Devushkin is offended when his distant relative Dobroselova sends him a copy of Gogol's "The Overcoat," as the main character lives a miserable life that mirrors his own. 
In Dostoevsky's Notes from Underground, the main character is a retired civil servant alienated from his society. Unlike Akakiy, "the Underground Man," as he is known, is keenly aware of his melancholy and describes it articulately. In the first segment of the novel's second part, the Underground Man becomes obsessed with avenging himself on an officer who once insulted him in a pub.
Although he often runs into the officer in the street, the officer is unaware of his presence. Hence, the Underground Man borrows money to buy an expensive overcoat and bumps into the officer to assert his equality. Unexpectedly, the officer does not seem to notice the new overcoat. Like in Gogol's story, an overcoat serves as a status symbol but ultimately proves to be a futile attachment. 
Dostoevsky's novella, The Double, repeats many motifs from Gogol's works, including "The Overcoat." Its protagonist, Golyadkin, is a titular councilor who encounters a man who looks exactly like him but has the charm and social skills that he lacks. Vladimir Nabokov called The Double a parody of "The Overcoat." 
Adaptations
"The Overcoat" has received numerous film adaptations in the Soviet Union and elsewhere. Its first Russian adaptation was a 1926 silent film directed by Grigori Kozintsev and Leonid Trauberg. Charlie Chaplin was invited to play the lead role, but the US government threatened to refuse him entry back to the country if he took up the offer due to the concern that the film would contain Soviet propaganda. 
The Oscar-winning short film, The Bespoke Overcoat (1955), is based on Gogol's story. Directed by Jack Clayton, the film shifts the story to London's East End, and its protagonists are poor Jews working in the clothing trade. 
"The Overcoat" has also received adaptations in radio, ballet, and theater.