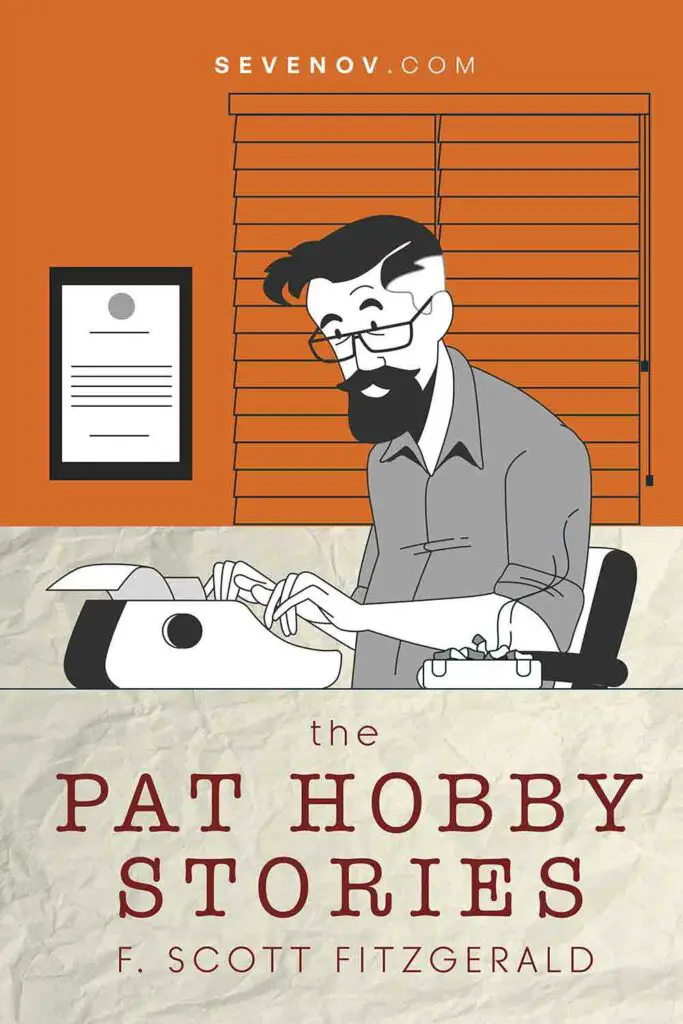 The Pat Hobby Stories by F. Scott Fitzgerald
Author: F. Scott Fitzgerald
Published: 1962 (compiled)
Genre: Short Stories Collection
The Pat Hobby Stories contains 17 short stories that F. Scott Fitzgerald had written between 1940 to 1941 that were first published in Esquire magazine by Arnold Gingrich. They were later compiled into a single volume in 1962. The Pat Hobby Stories' final five episodes in Esquire were released after Fitzgerald passed away in 1940.
1. Synopsis
The Pat Hobby Stories follow a Hollywood screenwriter who was once a "good man for structure" in the silent film era but has since been reduced to little more than a useless alcoholic loitering about the studio's premises. In most stories, he has run out of cash and is attempting to con someone's money or a much-desired screen credit, but his schemes frequently fail and result in greater humiliation. Fitzgerald depicts Pat Hobby with self-deprecating comedy and nostalgia, taking inspiration from his time in Hollywood.
2. Story Summary
2.1. Pat Hobby's Christmas Wish
Hobby and his new assistant have been made to work during Christmas break by the studio executive Harry Gooddorf. Their resentment prompts them to concoct a blackmail plan. Once Gooddorf makes Hobby a producer, Hobby has delusions of regaining his status and mon. Still, their corroborating evidence – a memo linking Gooddorf to director William Desmond Taylor's murder – is just a cipher of him expressing his grief. 
2.2. A Man in the Way
Hobby, who has writer's block, wanders into what he believes to be an empty office only to meet a young writer named Priscilla Smith. Priscilla introduces Hobby to a story idea about an artist in wartime Europe who is forbidden from removing his paintings from a museum for safekeeping. Hobby dismisses her story, but when his stories fall flat during a pitch meeting with business executives, he pushes Priscillia's story and takes credit for it.
Thrilled, Hobby asks Priscilla out on a date but is declined. After ending the call, she turns to her on-off lover Jack Berners. Berners is a businessman who had purchased Hobby's stolen story, and she starts telling him about the original narrative she is working on.
2.3. 'Boil Some Water – Lots of It'
While Hobby is eating lunch at the commissary, he observes a movie extra attempting to occupy an executive table where Hobby himself wishes he could sit. The rude actor berates the executives and insists on being seated. This strife prompts Hobby to hit the movie extra with a tray. Momentarily pleased with himself for being so assertive, Hobby learns that the man he has attacked is actually a respected author who was playing a practical joke on the executives.
2.4. Teamed with Genius
When eccentric English playwright René Wilcox becomes Hobby's partner for a project, Hobby becomes frustrated because of the lack of cooperation. In a last-ditch effort, Hobby steals what he believes to be Wilcox's original screenplay draft and hastily makes changes to make it appear like a collaborative effort. Executives receive the script and immediately recognize it as a version they previously rejected. When Wilcox's own finalized script is praised, he decides against firing Hobby and asks to work with him once more so that he can use him as a reference for a future film about a pitiful man.
2.5. Pat Hobby and Orson Welles
Due to the excitement in Hollywood over Orson Welles' arrival, security is stricter, which irritates Hobby and makes him start to dislike Welles. Hobby runs into studio president Harold Marcus and convinces Marcus to give him a studio pass while implying that working with Welles is over-sensationalized and pricey. Later, when Hobby asks the studio wigmaker for a loan, Hobby reluctantly agrees to have a fake beard put on to play up his similarity to Welles in exchange for the favor. Harold Marcus, who recalls Hobby's earlier warning about Welles, mistakes Hobby for Welles and suffers a heart attack.
2.6. Pat Hobby's Secret
Mr. Banizon, a studio boss, hires Hobby to find a writer and retrieve a crucial plot point that Banizon has overlooked so that the screenplay can proceed without needing to pay the writer again. Hobby locates the writer in a bar. After a night of heavy drinking with the writer, Hobby obtains the necessary information. When the writer discovers the ruse, a brawl breaks out, and the bouncer unintentionally kills him. Despite being compelled to appear as a witness, Hobby cowardly asserts that he has no memory of the altercation. Hobby discovers that he has also forgotten about the secret when meeting Bainzon.
2.7. Pat Hobby, Putative Father
A few distinguished visitors request that Hobby give them a studio tour. He meets a nobleman from India and his adoptive son, who thinks Hobby might be his biological father. A confused Hobby leads the two onto a set and, as a result, ruins a shoot. Grateful for the tour Hobby has given, the duo offers Hobby a monthly stipend, as long as there's no armed conflict involving England, which would affect their finances. To celebrate his good fortune, Hobby indulges in alcohol, but the following day he discovers a newspaper article about England declaring war.
2.8. The Homes of the Stars
An affluent tourist pair mistakes Hobby as a guide for celebrity mansions. Although Hobby tries to play along, the pair insists on being driven to Shirley Temple's house. As the couple looks around the empty house Hobby claims to be Temple's, Hobby realizes Mr. Marcus, his producer, is the home's owner.
2.9. Pat Hobby Does His Bit
Hobby unintentionally ruins a shot one day by crossing in front of a rolling camera. He learns the following day that he must perform in the movie to justify his appearance in the film. He needs to be driven over by a car in one scene, but just before it happens, he passes out. When he wakes up, he finds himself alone on the set. The security guard told Hobby that the actor driving the automobile had crashed, and they all forgot about Hobby in the commotion. Hobby takes delight in the way he played his part, even unintentionally.
2.10. Pat Hobby's Preview
Hobby intends to attend a movie premiere he co-authored after discovering he would be removed from the screen credit. He invites a beautiful young woman to attend the premiere with him. The premiere is sold out, and he can't get his tickets but is offered his co-author's tickets as his co-author doesn't want to attend the event. Sadly, Hobby is denied entry to the premiere as the tickets he received were for a burlesque performance. To make matters worse, Hobby is informed that the movie is a failure and that he can keep his screen credit.
2.11. No Harm Trying
At the studio, Hobby runs into several people, including a stunning young actress, an unemployed director, an erratic CEO, and a callboy with original narrative ideas. He forms a team with these people and attempts to sell their concept for a movie. The team submits their proposal to Mr. LeVigne after working with Hobby's ex-wife to write the script. Mr. LeVigne flatly rejects them and points out their glaring flaws, including the actress's inability to speak English. The callboy is given the opportunity to work as a writer, and Hobby is given another month of employment – but he still doesn't get the assignment he wants.
2.12. A Patriotic Short
Hobby is writing a script about General Fitzhugh Lee, a famous American general. He daydreams about his heyday as a well-paid writer in between episodes of writer's block. As Hobby remembers the President of the United States visiting the studio and later visiting Hobby's neighborhood and complimenting his swimming pool, his memories get progressively more fantastical. As he returns to reality, he loathes what he has now become. After being ignored by a colleague in the hallway, Hobby turns his annoyance into the script's dialogue.
2.13. On the Trail of Pat Hobby
Despite quitting his employment, Hobby still explores the studio out of habit. He is reluctant when asked to help develop a title for a movie. Eventually, he provides a title while intoxicated. 
2.14. Fun in an Artist's Studio
A European Princess who visits the studio expresses interest in Hobby and requests that he be lent to her so that he can model for a painting. Hobby reads the request as a sign of love. He is disappointed when he discovers that the Princess is solely interested in creating art. The Princess is drawn to Hobby's disappointment since it is the perfect expression that she is looking for. 
2.15. Two Old-Timers
After arguing while intoxicated on the street, Phil Macedon, an elderly actor, and Hobby are both arrested by the police. The police sergeant claims to enjoy watching Macedon's movies, but his illusions are dashed when Hobby shares a humiliating anecdote about the actor.
2.16. Mightier Than the Sword
A director appoints Hobby to take the place of a fired writer. Unfortunately, the director fires Hobby out of wrath after a disagreement. Later, Hobby and the writer run into one another and comment on how difficult life is for authors at a studio.
2.17. Pat Hobby's College Days
Hobby's secretary travels throughout Los Angeles, searching for a location to help Hobby discard some unidentified goods. She phones Hobby to voice her complaint, but he ignores her since he needs to speak to a college faculty member about a potential college-themed movie. A security guard brings in Hobby's secretary after spotting her on campus carrying a sizable bag of empty liquor bottles left over from Hobby's most recent studio jobs. Before his film proposal gets rejected, Hobby leaves because his reputation has been damaged.
3. Characters
Pat Hobby
A forty-nine-year-old scriptwriter who is well past his prime. He is a highly unlucky fellow who cannot fully grasp success regardless of the means he uses. He is a caricature that reflects Fitzgerald in the more tragic and challenging years of his life, living in Hollywood, where he finds literary success far out of his reach. 
4. Writing Style
Fitzgerald is renowned for his narrative style, themes that tackle heavy topics, distinguished characterization, and use of symbols and pictures that are easily understood yet do not lack depth. 
5. Influence on Film
In 1987, Tales from the Hollywood Hills: Pat Hobby Teamed with Genius, a television adaptation of the Pat Hobby Stories, was released. Robert C. Thompson directed the TV movie, which starred Christopher Lloyd as Pat Hobby. The cast featured a young Colin Firth as Rene Wilcox, Dennis Franz as Louie, and Joseph Campanella as Jack Berners.
6. Notable Book Covers of The Pat Hobby Stories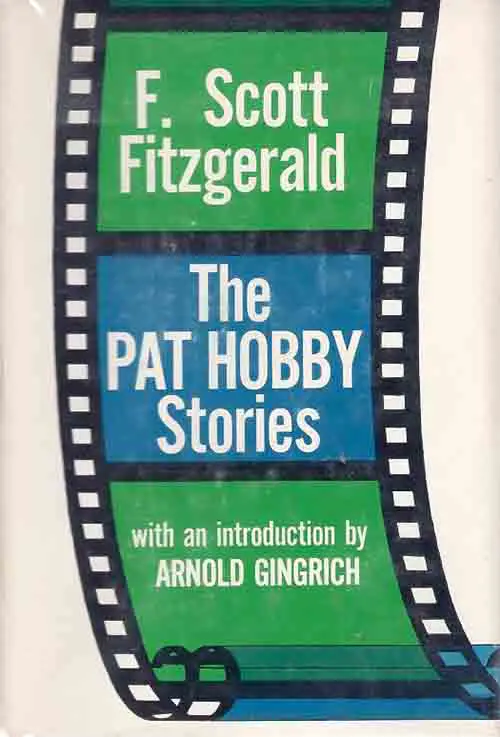 7. Frequently Asked Questions about The Pat Hobby Stories
Is Pat Hobby inspired by Fitzgerald himself?
 Fitzgerald wrote Pat Hobby as an exaggerated reflection of himself, in the period where he could not achieve literary success and his screenplay The Vegetable failed. 
Why does Pat Hobby keep encountering failure?
Pat Hobby is a mixture of unlucky and dishonest, resulting in his efforts to improve his career or life being thwarted.