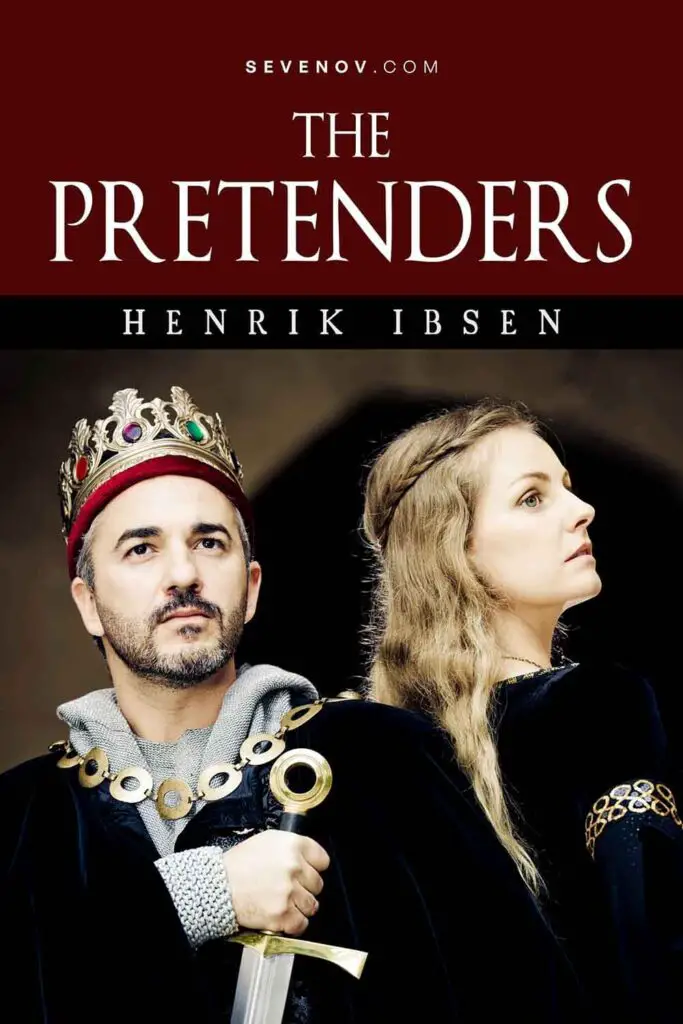 The Pretenders by Henrik Isben
Author: Henrik Ibsen
Published: 1863
Genre: Historical 
The Pretenders (Kongs-Emnerne) is a play by the Norwegian playwright Henrik Ibsen. It was published in 1863 and premiered at the Christiania Theater on 19 January 1864. Ibsen staged the play himself, and it was the last he was to direct. It was also the last of his plays to deal with Norway's national identity. 
The play is a prose drama in five acts set in thirteenth-century Norway. It depicts the rivalry between Norwegian King Håkon Håkonsson and his father-in-law Skule Bårdsson. Håkon Håkonsson, also known as Håkon the Old reigned from 1217 to 1263. He was born into an era of civil war but managed to end the internal conflict when he defeated and killed Skule Bårdsson, who had proclaimed himself king. 
The Pretenders has been interpreted as reflecting the rivalry of Ibsen and his fellow writer, Bjørnstjerne Bjørnson, who succeeded Ibsen as director of Norske Theater in 1857. 
In the play, Skule Bårdsson discovers his long-lost son, Jatgeir, who becomes a loyal follower of his. Ibsen identified with Jatgeir, saying, "I am rather like the bard Jatgeir. I can never bring myself to strip completely. I have the feeling that, where personal relationships are concerned, I can only give false expression to what I feel deep down inside, and that is why I prefer to shut it up within me."
1. Synopsis of The Pretenders
Earl Skule Bårdsson is the ambitious father-in-law of king Håkon Håkonsson. Although Håkon is the rightful heir, Skule believes he was merely fortunate and did not deserve the throne. Encouraged by Nikolas the Bishop, Skule decides to proclaim himself king, starting a civil war as he vies with Håkon for control over Norway. Their power struggle tests the loyalty of Margaret; as Skule's daughter and Håkon's wife, she must either accept the death warrant on her father or turn against her husband. 
2. Characters
Håkon Håkonsson – King-elect of Norway
Inga of Varteig – Håkon's mother
Earl Skule Bårdsson – Norwegian nobleman and future father-in-law of Håkon
Lady Ragnhild – Skule's wife
Sigrid – Skule's sister
Margaret – Skule's daughter and Håkon's future wife
Guthorm Ingesson
Sigurd Ribbung
Nikolas Arnesson – Bishop of Oslo
Dagfinn the Peasant – Håkon's Marshal
Ivar Bodde – Haakon's Chaplain
Vegard Vaeradal – One of his bodyguards
Gregorius Jonsson – A nobleman
Paul Flida – A nobleman
Ingebjorg – Wife of Anders Skialdarband
Peter – Her son, a young priest
Sira Viljam – House chaplain to Bishop Nikolas
Master Sigard of Brabant – A physician
Jatgeir – An Icelandic poet
Baard Bratte – A chieftain from near Trondheim