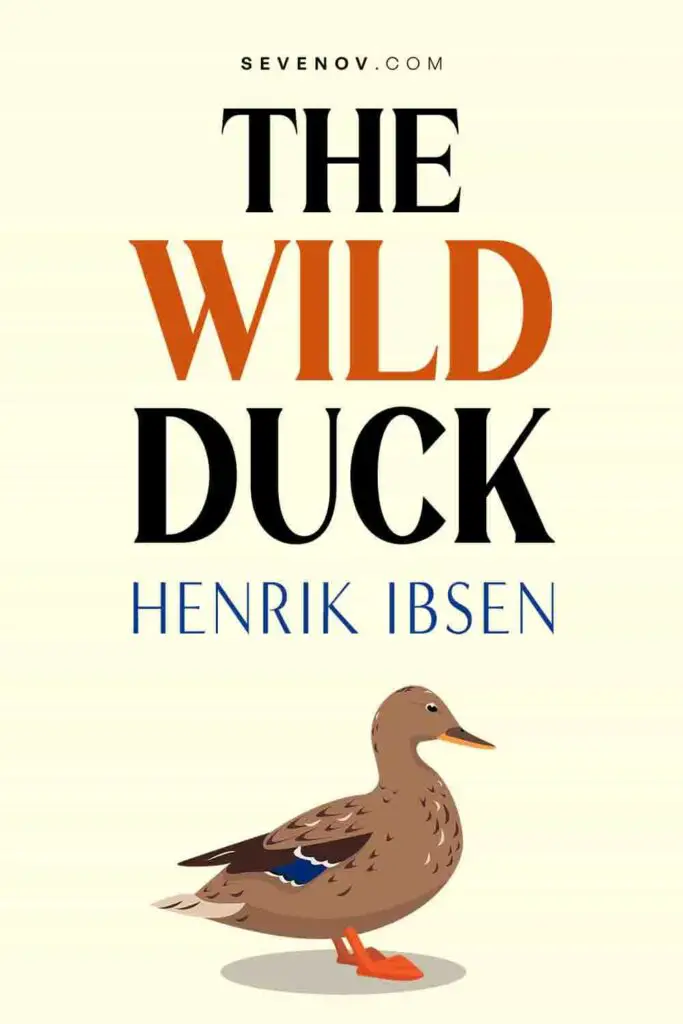 The Wild Duck by Henrik Ibsen
Author: Henrik Ibsen
Published: 1884
Genre: Realistic
The Wild Duck (Vildanden) is a play by the Norwegian playwright Henrik Ibsen. It was published in 1884 and premiered in January 1885 at Den Nationale Scene, Bergen, Norway.
The plot follows an idealist as he tries to free his friend from the lies that have poisoned his life. However, he finds that the truth is sometimes too much for the human heart to bear. 
Unlike Ibsen's earlier plays, The Wild Duck focuses on conflict within individuals rather than conflict between the individual and society. It marks a new introspective stage in Ibsen's career and comes after a series of plays centered on social issues, such as A Doll's House (1879), Ghosts (1881), and An Enemy of the People (1882). 
While Ibsen was writing this play, Norway was in political turmoil. From his voluntary exile in Rome, Ibsen was concerned that "the strength of an intimate, personal play such as The Wild Duck might drown in the political debate over the introduction of parliamentarism in Norway." Nevertheless, The Wild Duck has been recognized as one of Ibsen's greatest works and a notable contribution to the genre of tragicomedy. 
1. Synopsis
Gregers Werle is an idealist who believes he must tell the truth at all costs. His best friend, Hjalmar Ekdal, lives in blissful ignorance, unaware of the lies behind his marriage. When Gregers discovers his father's role in deceiving Hjalmar, he feels obligated to open his friend's eyes, but his good intentions lead to disaster. 
2. Story Summary
Act I
The play opens at Werle's house. Werle, a wealthy works owner and merchant, is hosting a dinner party for his son, Gregers, who has just returned home. Against his father's wishes, Gregers brought his best friend, Hjalmar, to the party. A long time ago, Werle and Hjalmar's father, Old Ekdal, were involved in the timber trade. However, when their firm was caught felling trees on state property, Ekdal took the blame and was sentenced to penal servitude. Since then, the Ekdals, a once illustrious military family, have fallen into poverty. 
Reunited with his old friend, Hjalmar tells Gregers that Werle had helped him set up his photography business. Werle also made it possible for him to be married by helping him meet Gina Hansen, a former servant of the Werle household.  
After Hjalmar leaves, Gregers has an intense confrontation with his father. He subtly accuses Werle of framing Ekdal for his crime. In response, Werle says he has been helping Old Ekdal since his release by giving him copying work. 
Gregers reveals he knows Werle was once interested in Gina. His mother had told him about it before she died. Gregers implies that Werle set Gina up with Hjalmar when he no longer wants her. 
Werle denies Greger's accusations and tells him he plans to marry his friend, Mrs. Sörby. Unwilling to help his father create the illusion of a harmonious family for Mrs. Sörby's benefit, Gregers leaves the house. 
Act II
The second act takes place in Hjalmar's studio. Old Ekdal returns home with more copying work from Werle. Not long after, Hjalmar comes back from Werle's dinner party. He is enthusiastically greeted by his daughter, Hedvig, and his wife, Gina. 
Gregers enters, and Hjalmar introduces him to his family. Hjalmar tells Gregers that Hedvig is going blind due to a hereditary condition. This revelation startles Gregers since his father is also losing his eyesight. 
Old Ekdal shows Gregers the attic, connected to the studio by a pair of sliding doors in the rear wall. Here, he keeps poultry, rabbits, and pigeons for hunting. Hedvig's pet, a wild duck, is also kept in the attic. This wild duck was shot by Werle in the wing and got rescued by his dog. Werle brought the duck back home and ordered the servant Petterson to kill it. Instead, Petterson gave it to Old Ekdal. 
Gregers is intrigued by the wild duck and says he wants to be like the clever dog that rescued it. He then asks Hjalmar if he has a room to let. Hjalmar happily accepts his friend as a tenant, and Gregers promises to move in the next day. 
Act III
The scene is once again in Hjalmar's studio. Gina is preparing dinner, and Old Ekdal goes into the attic to build a new runway for the wild duck. Hjalmar goes in to help his father. 
Gregers enters. He chats with Hedvig, who tells him about everything that's stored in the attic. Since leaving school, she has spent much of her time there with her wild duck.
Gunshots are heard, and Hjalmar comes into the studio. He explains that he and his father were hunting inside the attic. Hjalmar shares that he mostly leaves the photography business to Gina so that he can concentrate on his invention. Convinced of his talent, Hjalmar dreams of inventing something that would revolutionize photography. However, he is unable to give any details about his invention. 
The Ekdals' neighbors, Dr. Relling and Mr. Molvik, arrive for dinner. Afterward, Werle comes to have a private word with his son. Werle suspects Gregers is plotting something against him. Gregers admits he has taken lodging with the Ekdals so he can open Hjalmar's eyes. Gregers wants to tell Hjalmar the truth about how Werle deceived him and ruined his family. Moreover, he suspects that Gina had an affair with Werle, which she hid from Hjalmar all these years. 
Gregers could have warned Old Ekdal of his father's plans to pin the blame on him back then. However, he failed to do so as he was afraid of his father. His inaction left him with a guilty conscience. Realizing that he cannot change his son's mind, Werle leaves. Gregers then asks Hjalmar to come for a long walk with him so they can talk. 
Act IV
Hjalmar returns from his walk with Gregers and appears downcast. To his family's surprise, he insists on running the photography business by himself from now on. He then says he wants to wring the wild duck's neck, but he will refrain from doing so for Hedvig's sake. 
After Hedvig leaves to go for her usual walk, Hjalmar questions Gina about her past relationship with Werle. Gina admits that something had happened between them because "[Werle] never gave up till he had his way." Her admission drives Hjalmar into despair. 
Gregers enters and is shocked to see such a depressing atmosphere. He expected Hjalmar to forgive his wife and share a new life of truth and understanding with her. Dr. Relling comes in and quickly realizes what has happened. He urges Gregers to leave Hedvig out of his conflict with Gina. 
Mrs. Sörby visits the Ekdals to announce that she is going away to the Höidal works with Werle. Gregers reveals that Mrs. Sörby is going to marry Werle, and Relling reacts with bitterness. It seems Relling had romantic feelings for her. 
Mrs. Sörby explains that she needs to take care of Werle as he is going blind. Werle's blindness affirms Hjalmar's worst fears about Hedvig not being his child. He disowns Hedvig and leaves the house despite her pleas for him to stay. Gregers suggests that Hedvig shoot her beloved wild duck to prove her love for her father. Desperate to win back her father's love, Hedvig says she will ask her grandfather to shoot the duck. 
Act V
As Gina and Hedvig wait for Hjalmar to return, Dr. Relling enters. He informs them that Hjalmar is staying downstairs with him and Molvik. 
Hjalmar returns looking haggard and gloomy. He declares he is leaving the house for good and starts packing up his things. Nonetheless, upon realizing how difficult it would be to move out, he asks Gina if he could stay in the living room for a couple of days. Once again, he rejects Hedvig as his child. Distraught, Hedvig takes the pistol from the shelf and steals it into the attic. 
Hjalmar confides in Gregers, voicing his suspicion that Hedvig never loved him. He believes Hedvig wants to be taken in by her biological father, Werle, who can provide her with a better life. A pistol shot is heard in the attic. Hjalmar rushes into the attic and screams – Hedvig has shot herself to prove her love for him. 
As the play closes, Gregers has an exchange with Relling. Gregers claims that Hedvig's death brought out what was noble in Hjalmar, but Relling thinks Hjalmar is incapable of change. With a trail of destruction behind him, Gregers leaves to fulfill his destiny of being "thirteenth at table."  
3. Characters
Gregers Werle – An idealist who believes in telling the truth at all costs. 
Werle – Gregers' father, a wealthy works owner and merchant. 
Hjalmar Ekdal – Gregers' best friend, a photographer, and wannabe inventor. 
Old Ekdal – Hjalmar's father, a former Lieutenant who has an interest in hunting. 
Gina Hansen – Hjalmar's wife, a former servant in Werle's household. 
Hedvig – Hjalmar and Gina's daughter. 
Dr. Relling – The Ekdals' neighbor, a physician. 
Molvik – The Ekdals' neighbor, a priest, and tutor. 
Mrs. Sörby – A widow who is about to marry Werle. 
Graaberg – Werle's book-keeper
Petterson – A servant of Werle's
Jenson – A hired waiter
A fat guest, a thin-haired guest, a near-sighted guest, six other guests, and several hired waiters. 
4. Themes 
4.1. "The claim of the ideal" vs. "the saving-lie"
The primary conflict in the play is the tussle between the idealist, Gregers, and the cynic, Relling, over Hjalmar's soul. 
The protagonist, Gregers, touts the 'claim of the ideal': the belief that one must face the truth at all costs to live a genuine life. He is intrigued by the wild duck because it has relinquished freedom and truth for comfort. After being injured, the duck is confined in a small attic, which is a pale imitation of its natural habitat. Although the duck is pampered, Gregers thinks it has drowned spiritually, causing him to refer to the attic as the 'ocean's depths.'
The wild duck reminds him of his friend, Hjalmar Ekdal, who lives in blissful ignorance, unaware of the lies that have seeped into his home. Gregers sees it as his mission to open Hjalmar's eyes, even if the truth will deprive Hjalmar of his contented existence. He knows his actions will give Hjalmar pain, but he thinks the noble spirit of forgiveness and sacrifice can overcome this pain. 
Relling, on the other hand, believes that people need to lie to themselves to live. Otherwise, they would collapse under the weight of despair and self-contempt. To him, ideals and lies are the same things. While Gregers sees himself as the advocate of truth, Relling thinks he is just as deluded as Hjalmar since he relies on ideals to live. In Act Five, Relling chastises Gregers for telling Hjalmar the truth, saying, "Take the saving-lie from the average man and you take away his happiness, too."
Other than curing physical illnesses, Relling acts as a 'spiritual doctor' by prescribing 'saving-lies' to people in need of them. It was he who gave Hjalmar the dream of becoming an inventor. When he suspects that Gregers is going to rob Hjalmar of his 'saving-lie,' he grows hostile towards him, as he thinks that Hjalmar will be harmed. Unlike Gregers, Relling does not believe facing the truth will bring out the nobility in people. 
4.2. The Nature of Truth
The Wild Duck implies that truth is not merely a statement of fact but a state of mind. Gregers believes that he is speaking the truth when he exposes Hjalmar to the unpleasant facts of his past. However, his motivation is selfish and insincere; he wishes to appease his guilty conscience by 'enlightening' Hjalmar. Despite being warned that his actions will cause harm, he goes ahead with telling Hjalmar about his wife's affair with Werle. 
In contrast, Gina lies to Hjalmar about her past with Werle and encourages his delusions of being a breadwinner and inventor. However, her devotion to him is true; she takes care of his photography business and diligently carries out the household duties. It is because of her hard work that Hjalmar gets to enjoy a pleasant life. 
In most of Ibsen's realistic plays, the protagonist undergoes a moral awakening after uncovering the lies of the past. However, in The Wild Duck, no such awakening happens for Hjalmar. Even after discovering the truth, he does not gain any moral insight but only wallows in self-pity. 
Ibsen's view of 'truth' is more skeptical in this play, but he is not rejecting truth altogether. Rather, he is "questioning the absolute value of a painful truth." (Reinert, 1956).    
5. Symbols
5.1. The Wild Duck 
The play's central symbol is the wild duck; a wild bird turned domesticated pet. It represents a person who has sacrificed truth and freedom for a life of comfort. In this sense, it is a double of Hjalmar Ekdal, a man who relies on illusions of being an inventor and breadwinner to live. To maintain these illusions, he confines himself to his family's small attic house, an isolated environment where he is shielded from harsh realities. Although he is contented, his friend, Gregers, believes his life is inauthentic. 
The wild duck also serves as a representation of Hedvig. Hedvig pities the wild duck, telling Gregers in Act Three that "it's so sad for her; she has no one belonging to her, poor thing." 
Mirroring the fate of the wild duck, she loses her home and family after her father discovers her parentage. When Hjalmar disowns her, Hedvig is devastated; she thinks he should love her more if she is all alone, like the wild duck. 
While the duck is domesticated, it is favored by the Ekdals for its 'wildness.' Old Ekdal and Hjalmar hunt the other animals in the attic but leave the wild duck unharmed. Moreover, the wild duck is pampered – allowed to sleep in a basket of straw and prayed for by Hedvig.
The 'wildness' of the duck is emphasized by the Ekdals whenever they brag about it to Gregers. Nevertheless, the duck is only 'wild' in name. Unlike real wild birds, the wild duck does not live in the forest and cannot survive on its own. The reason why the Ekdals favor the wild duck may be that it represents their unconscious desire for freedom. However, since Werle has ruined the Ekdals, they can only obtain an illusion of freedom and 'wildness' as embodied in the wild duck. 
5.2. Photography
Hjalmar, or rather his wife, Gina, runs a photography business. Gina is said to be skilled at photo retouching, and this represents how she distorts reality to make it seem more pleasant than it is. 
Furthermore, photography is a medium that can capture a moment in time forever. Similarly, the Ekdals cling to their glorious past, capturing it in their attic. They fill their attic with animals and trees, such that it reminds them of the vast forests at Höidal, where Old Ekdal used to hunt. Boon (2015) observes that the Ekdals' attic is "reminiscent of a dark room where time and reality are suspended." 
5.3. Sight and Blindness
In The Wild Duck, physical blindness represents a state of being blind to the truth. 
At the end of Act One, as Gregers leaves the dinner party, he says, "Look Father – your friends are playing Blind Man's Buff with Mrs. Sörby." This implies that Werle's future wife, Mrs. Sörby,  is blind to his moral failings (assuming that she is the one being blindfolded).
In Act Four, Mrs. Sörby reveals that Werle is going blind. Hjalmar reacts with amazement saying, "He's going blind too, is he?" In this question, he is expressing his suspicion that Hedvig is Werle's child, not his. His question prompts Gina to defensively remark that 'So many do,' unintentionally alluding to the many people who live in their delusions, blind to the truth. 
Apart from the physical state of blindness, light and darkness carry symbolic meaning in The Wild Duck. When Gregers moves into the Ekdals' house as a tenant, the first thing he does is light the fireplace in his room. Instead of lighting up the room, he ends up filling it with smoke. This scene mirrors how he spreads confusion and darkness in the Ekdals' home in his misguided quest for truth. 
In Act Four, Hjalmar returns home after Gregers reveals his family's past. Gina lights a lamp, representing how the truth has now entered their home. When Gregers comes in, she removes the lamp shade, lighting up the room even more. Ironically, the more light there is, the less Hjalmar sees. He only sees his wife's infidelity and his daughter's illegitimacy. However, he is blind to their devotion to him, causing him to reject them. 
6. Frequently Asked Questions About The Wild Duck
What does 'thirteenth at table' mean in The Wild Duck?
This phrase first appears in Act One, when Werle asks Gregers if he noticed that they were 'thirteen at table.' He then says, "in the ordinary way, we were always twelve." At Werle's dinner party, there were thirteen people. However, the impoverished Hjalmar is ignored by Werle and the other wealthy guests. Hence, Hjalmar is the unwelcome and unnoticed thirteenth guest who does not belong in Werle's upper-class society. 
13 is an unlucky number in some cultures, associated with Judas at the Last Supper as he is believed to be the thirteenth to sit at the table. There is also a Norse legend surrounding the number thirteen. Once when twelve gods sat down for a feast, Loki, the god of disorder, turned up as the uninvited thirteenth guest. His arrival caused the death of one of the gods and led to a series of disasters. 
At the end of the play, Gregers leaves the Ekdals' house, saying that he will fulfill his destiny of being 'thirteenth at table.' This statement likely alludes to how he brought misfortune to the Ekdals. As an unwelcome intruder, he destroyed their family in his well-intentioned attempt to open Hjalmar's eyes to the truth.