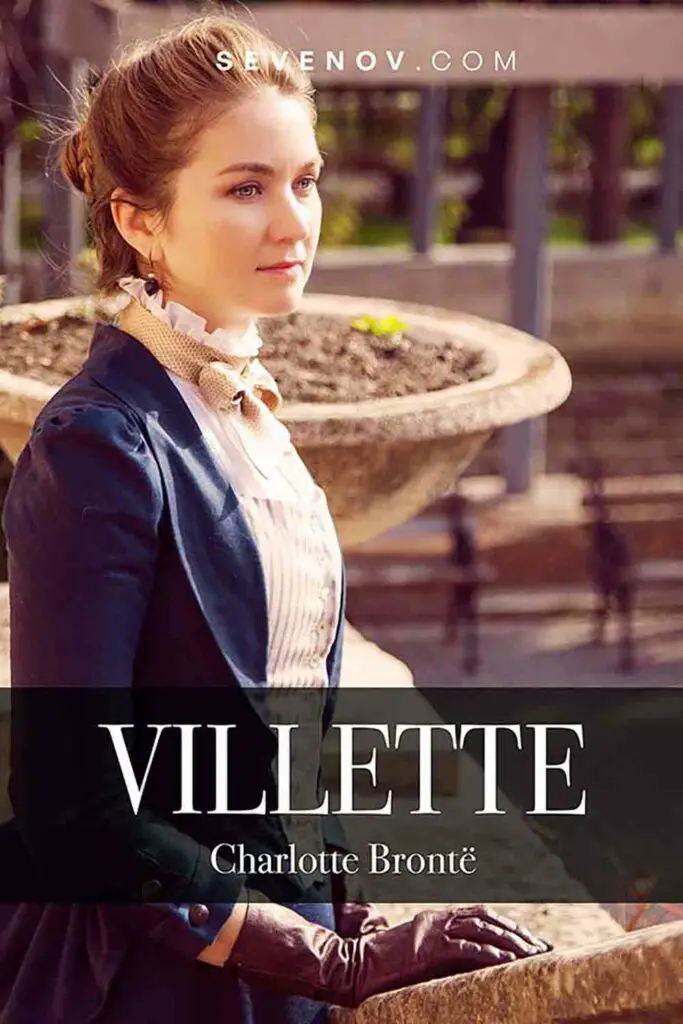 Villette by Charlotte Brontë
Author: Charlotte Brontë
Published: 1853
Genre: Coming-of-age, Gothic, Romance
Villette is an 1853 novel by Charlotte Brontë. The protagonist, Lucy Snowe, is an Englishwoman who travels to the fictional French-speaking town of Villette to teach at a girls' boarding school after a family tragedy. There, she gets romantically involved with a professor, M. Paul Emanuel, and tries to make her way in the world. Villette was the fourth and last novel Charlotte Brontë wrote. It was preceded by The Professor (published posthumously in 1857), Jane Eyre (1847), and Shirley (1849). Like Charlotte's other novels, Villette was first published under her androgynous pen name, Currer Bell.  
1. Synopsis
After a family tragedy, Lucy Snowe leaves England for the French-speaking town of Villette where she takes up a post as an English teacher at Mme. Beck's school for girls. Despite knowing little French, she thrives there and falls for her colleague, an irritable and hot-tempered professor named M. Paul Emanuel. As their love blossoms, the scheming headmistress, Mme. Beck conspires to keep them apart. 
Charlotte Brontë wrote Villette based on her own experiences teaching at the Pensionnat Heger, a school in Brussels, Belgium. While she was there, she became emotionally attached to a professor, Constantin Heger, who she used as the inspiration for the character of M. Paul Emanuel. In addition, the town of Villette was modeled on Brussels and the kingdom of Labassecour, where Villette is located, resembles Belgium. 
2. Story Summary
2.1. England
The narrator Lucy Snowe lives with her godmother, Mrs. Bretton in the town of Bretton, England. Mrs. Bretton's household also includes her son, John Graham Bretton (who the family calls Graham), and a guest, Paulina "Polly" Home. Polly grows attached to Graham but soon has to leave when her father calls for her from abroad. Lucy also leaves the Brettons not long after Polly's departure. 
While not much is revealed about what happened, Lucy tells the reader that a tragedy has left her without family, money, and a home. The Brettons have also encountered financial difficulties so she is unable to seek help from them. As a result, she takes up a position as a caregiver for an elderly lady named Miss Marchmont, who is crippled and cannot leave her room. One night during a heavy storm, Miss Marchmont becomes enlivened and tells Lucy the tragic love story of her youth. 
The next morning, Lucy finds Miss Marchmont dead and is deeply affected as she has come to sympathize with the invalid woman's suffering. Although Lucy receives her wages from Miss Marchmont's heir, she is once again left without employment and housing. 
2.2. From London to Labassecour
Unsure of what to do, Lucy leaves for London. Having heard from an old friend that English governesses are in demand abroad, she boards The Vivid, a ship sailing to the kingdom of Labassecour. Onboard The Vivid, she meets Ginevra Fanshawe, a young woman who is heading to a boarding school in the Labassecourran town of Villette. Lucy learns from Ginerva that this boarding school is run by a lady named Mme. Beck, who is looking to employ an English governess for her children. Lucy also learns that Ginevra is being financially supported by her uncle, M. de Bassompierre. 
Hence, Lucy makes her way to Villette and visits Mme. Beck's school looking for a job. Mme. Beck is skeptical of Lucy's abilities but is persuaded to hire her by one of the teachers, M. Paul Emanuel. One day, Mme. Beck asks Lucy to teach an English class as the English teacher, Mr. Wilson, is late. Impressed by Lucy's stern teaching style, Mme. Beck gives her a raise and hires her as an English teacher at her school. 
Meanwhile, Ginevra, now a student at Mme. Beck's school, meets a man named M. Isidore and attracts his romantic attention. She accepts gifts from him even though she is not looking for a serious relationship. 
2.3. Dr. John and Paul Emanuel
Lucy meets an English doctor, Dr. John when he comes to attend to Mme. Beck's daughter, Fifine, who has broken her arm. Dr. John is revealed to be both Graham and M. Isidore. Lucy and Graham recognize each other and develop a close friendship. Lucy grows interested in Graham romantically but he does not reciprocate her feelings. 
Graham and Lucy meet their old friend, Polly at the theater. Polly's father is a Count who has now inherited the title 'de Bassompierre', so Polly's name has become Paulina Mary Home de Bassompierre. Polly and Graham rekindle their past friendship, gradually falling in love. 
At the same time, Lucy gets to know Paul Emanuel. He forces her to take part in a play when the student playing the male lead falls sick, locking Lucy in an attic to make her learn her part. During the holidays, Lucy is left behind to take care of a handicapped girl, Marie Broc, while the other teachers and students return home. Lonely and depressed, Lucy goes to a Catholic church to confess her sorrows to a priest, Père Silas. 
Later on, Lucy meets Paul Emanuel again at an art gallery. Paul Emanuel chastises her for looking at a sensual painting of Cleopatra and not enjoying the care of Marie Broc. Lucy rebukes him by asking if he would enjoy taking care of Marie but Paul brushes her off. 
During a class, Paul Emanuel passes Lucy a letter from Graham. After class, when Lucy reads the letter in the attic, she sees the ghost of a nun and dashes out of the attic terrified. 
Eventually, Lucy realizes that Polly's father, M. Home de Bassompierre, is Ginevra's wealthy uncle. She also notices that Polly and Graham have grown close, and decides to bury her feelings for Graham by burying the letters she received from him under a tree. While burying the letters, she sees the nun's ghost again but is no longer afraid. She approaches the ghost and it retreats. The nun's ghost is later revealed to be the disguise of Ginevra's lover, Count de Hamal, who elopes with her. 
After giving up on Graham, Lucy falls in love with Paul Emanuel despite his many flaws. She learns that Paul Emanuel has been supporting his dead fiancée's family financially and is a charitable person. Paul, a devout Catholic, tries to convert the Protestant Lucy to his faith but comes to admire her religious conviction when she refuses to convert. 
2.4. Ending
Mme. Walravens, the grandmother of Paul Emanuel's dead fiancée, has an estate in Guadalupe that she inherited as a dowry. This estate has recently been cleared of debt, so she needs someone to go over and run it to make it profitable. Mme. Beck is a distant relative of Mme. Walravens and believes that Mme. Walravens will leave her this estate as an inheritance if she finds someone who will help it prosper. Père Silas is interested in this estate for money reasons as well. 
Knowing of Paul's devotion to his late fiancée's family and his former tutor Père Silas, Mme. Beck, Mme. Walravens and Père Silas plead with him to go over and manage the Guadalupe estate. Under their influence, Paul agrees to sacrifice three years of his life to run this estate. 
Lucy is distraught at the prospect of being separated from Paul, but he promises to marry her when he returns. He also sets up a new school for Lucy to run as the headmistress. Finally, Paul sails for Guadalupe, and the couple part ways. Lucy successfully builds up her school and continues receiving letters from Paul. Three years later, Paul boards a ship to come back to Labassecour. However, it is implied that he died in a shipwreck during a heavy storm. 
3. Characters
Lucy Snowe – The unreliable narrator of the story, a reserved and philosophical young woman. She hides her true self to avoid getting hurt and does not open up to others easily, including the reader. Throughout the story, she struggles to balance reason and passion, as well as find her place in life.   
M. Paul Emanuel – An intellectual but hot-tempered, despotic, and vain professor of literature and music. He is Mme. Beck's cousin and Lucy's main love interest in the story. Although Lucy does not get along with him at first, she comes to appreciate his kind heart when she learns more about his past. 
John 'Graham' Bretton/Dr. John/M. Isidore – The son of Lucy's godmother and Lucy's secondary love interest. He is a young, friendly, and handsome doctor in the town of Villette. Polly and Lucy know him as Graham, the other townspeople call him Dr. John and Ginerva refers to him as M. Isidore. Lucy falls in love with him but gives up when she realizes his feelings for Polly. 
Polly Home (later known as Paulina Mary Home de Bassompierre) – A distant relative of the Brettons who used to stay with Lucy, Mrs. Bretton, and John Graham in their youth. She is a sweet, pure, and kind-hearted girl of seventeen. 
Mrs. Bretton – Lucy's godmother and John Graham's mother. She is a strong and independent woman who cares deeply for her only son. 
Miss Marchmont – A wealthy elderly woman who hires Lucy to be her nurse and companion. She has been crippled and ill for many years. 
Mrs. Barrett – A former servant of Lucy's family who advises her to go abroad to find employment as a governess. 
Mme. Beck – The headmistress of the school where Lucy teaches English and M. Paul Emanuel's cousin. She is a calculating and materialistic woman who spies on her students and teachers. 
Ginevra Fanshawe – She is a passenger who Lucy meets onboard The Vivid and a student at Mme. Beck's boarding school. A selfish and shallow young woman, she loses the romantic interest of John Graham and eventually elopes with another man, Count de Hamal. 
Desiree – Mme. Beck's eldest daughter. An unruly and mischievous girl. 
Fifine – Mme. Beck's second daughter. She is a cheerful and honest girl. 
Georgette – Mme. Beck's youngest daughter. Dr. John makes several visits to Mme. Beck's home to treat Georgette's fever. Mme. Beck tries to flirt with him during these visits as she is interested in marrying him. 
M. de Bassompierre – Polly's father and Ginevra's uncle. He becomes wealthy after inheriting his family's title and estates. 
Count de Hamal – Ginevra's lover. He is a worldly, vain, and handsome young man who elopes with her at the end of the story. 
Marie Broc – A disabled girl who Lucy cares for during the school holidays. 
Père Silas – A Catholic priest who is Lucy's confessor and Paul Emanuel's former tutor. He saves Lucy when she collapses in front of a building and later conspires with Mme. Beck to force Paul Emanuel to leave for Guadalupe. 
Trinette – The governess of Mme. Beck's children after Lucy becomes an English teacher. 
Justine Marie – Paul Emanuel's dead fiancée who became a nun as her family did not allow her and Paul to be together. She died young and her family fell on hard times afterward. 
Justine Marie Sauveur – Paul Emanuel's ward and Justine Marie's niece. 
Madame Walravens – Justine Marie's grandmother. She is financially supported by Paul Emanuel even though she vehemently opposed his marriage to Justine when she was alive. 
Rosine Matou – A portress at Mme. Beck's school. She is a fickle, vain, and pretty young woman. 
Zelie St. Pierre – A teacher at Mme. Beck's boarding school who tries to befriend Lucy. However, her materialistic character causes Lucy to reject her. 
Goton – A servant in Mme. Beck's household. 
4. Themes
4.1. Identity and Gender
Villette is a story of a young woman trying to define her identity in a world that confines women to a limited set of roles. As an unmarried woman and an orphan, the protagonist, Lucy Snowe is someone who lacks ties to society that could help her define herself.
Described as being "inoffensive as a shadow" and "a nobody", she struggles to come up with a clear answer when her friend Ginevra asks her who she is. Instead, she merely answers that she is a "rising character". Indeed, in the first few chapters, she rises from a penniless, homeless orphan to an elderly woman's caregiver to a governess and finally gets a respectable position as an English teacher at Mme. Beck's school. 
To assert her identity, Lucy has to maintain her independence and also reject the roles that others try to impose on her. Instead of getting married after losing her family, she climbs up the social ladder throughout her career. Through hard work and circumstance, Lucy is able to rise in society without having to depend on a man. This is in contrast to other female characters such as Ginevra and Polly who depend on male family members and partners to attain a place in society. 
Although Lucy develops romantic feelings for her old friend, John Graham, she is frustrated by his attempts to place her into a conventional social role. She says, "I was not disposed to gratify Dr. John: not at all. With a now welcome force, I realized his entire misappreciation of my character and nature. He always wanted to give me a role not mine. Nature and I opposed him." 
In the chapter where Lucy visits an art gallery, she dismisses both the painting of a scantily-clad Cleopatra and the painting catalog depicting the life stages of the ideal Catholic woman. She calls the sensual but materialistic and lazy Cleopatra an "indolent gypsy-giantess" and the pious and repressed Catholic women "insincere, ill-humored, bloodless, brainless nonentities". Neither feminine archetype appeals to Lucy, so she has to define herself independently of these common roles accepted by society. 
4.2. Reason vs Passion
Throughout the story, Lucy Snowe struggles to balance reason and passion. When she realizes her romantic feelings for her friend, John Graham, she buries his letters to suppress them as she knows that these feelings will never be returned. She also writes two sets of letters to John, one to pour out her own emotions and the other to be read by John. Furthermore, while she is aware that John may not be as perfect as he seems, she ignores his faults because of her overwhelming passion for him. 
Although her use of reason protects her from being hurt by her passions, her emotional repression results in loneliness so extreme that she, a devout Protestant, feels compelled to confess her sorrows to a Catholic priest. Lucy's fear of the nun's ghost can also be read as a fear of her repressed desires. Like the ghostly nun who comes back from the dead, Lucy's repressed desires do not remain buried but continue to haunt her until she gains the courage to face them. 
4.3. Unrequited Love
In Villette, the heroine Lucy Snowe experiences unrequited love for two men – John Graham and Paul Emanuel. Unlike the heroines of most romance novels, Lucy ends up with neither of her love interests. John Graham marries Polly and Paul Emanuel is strongly implied to have perished in a shipwreck on the voyage back to marry Lucy. 
While the ambiguous ending may leave some readers disappointed, it also drives home the message that not everyone will find love. The ending also echoes the author's own experiences. Charlotte Brontë was believed to have fallen in unrequited love with her professor, Constantin Héger, and her publisher George Smith. The novelist Phyllis Bentley, in her introduction to The Professor, wrote that it is precisely Charlotte's experiences of unrequited love that "makes the poignancy, the ardor and the intensity of all her four novels — in each of which this feeling is the crux of the story." 
5. Writing Style 
Villette is written from the first-person perspective of Lucy Snowe, an unreliable narrator who often withholds information from the reader. Lucy does not go into detail about what happened to her before or after the novel, leaving these events up to the reader's imagination. She also denies her feelings for John, even when all her actions reveal that she is in love with him. In a major plot twist, she fails to inform the reader that she has recognized Dr. John as John Graham Bretton. 
Not only does Lucy leave out important information, she sometimes adopts a distant, condescending attitude towards the reader. She accuses the reader of holding "sneaking suspicions" about her feelings towards John and she dismisses these suspicions with "utmost scorn". In the chapter where Lucy is forced to stay back in school during the vacation to take care of a disabled student, she pours out her loneliness and despair to the readers. Following this emotional outburst, she accuses the reader of judging her feelings and tells them bluntly that if they were in her position, they might have felt the same way. 
This distant, unreliable first-person narration makes the reader feel the same disorientation and alienation that Lucy experiences when she loses her family and moves to a foreign country. Lucy's attempts to hide her true self also emphasize her vulnerability. She is someone who needs to protect herself both from the judgment of others and her own feelings. It is this vulnerability that allows the reader to sympathize with her despite her cold attitude towards them. 
6. Influence on Pop Culture and Legacy 
The author and poet Virginia Woolf was known to be an admirer of Villette. She said of Charlotte Brontë's Villette, "It is her finest novel. All her force, and it is the more tremendous for being constricted, goes into the assertion, 'I love. I hate. I suffer.'" 
George Eliot, another renowned writer, was also impressed with Villette's emotional power, saying, "Villette is a still more wonderful book than Jane Eyre. There is something almost preternatural in its power." 
Villette was adapted into a television series in 1970, directed by Moira Armstrong and written by Lennox Phillips. It starred Judy Parfitt as Lucy Snowe, Bryan Marshall as Dr. John Graham Bretton, and Peter Jeffrey as Paul Emanuel. It received another television adaptation in 2009, which was directed by Tracey Neale and starred Anna Maxwell Martin as Lucy Snowe. 
In 1999, Villette was adapted into a radio series for BBC Radio 4 directed by Catherine Bailey and written by James Friel. It starred Catherine McCormack as Lucy Snowe, Joseph Fiennes as Dr. John Graham Bretton, and James Laurenson as M. Paul Emanuel. This radio series went on to win a Sony Award, also known as the Radio Academy Award, the most prestigious award in the British radio industry. 
7. Quotes from Villette
"Peril, loneliness, an uncertain future, are not oppressive evils, so long as the frame is healthy and the faculties are employed; so long, especially, as Liberty lends us her wings, and Hope guides us by her star."

Lucy Snowe
"I like to see flowers growing, but when they are gathered, they cease to please. I look on them as things rootless and perishable; their likeness to life makes me sad. I never offer flowers to those I love; I never wish to receive them from hands dear to me."

Lucy Snowe
"I believe in some blending of hope and sunshine sweetening the worst lots. I believe that this life is not all; neither the beginning nor the end. I believe while I tremble; I trust while I weep."

Lucy Snowe
"I seemed to hold two lives—the life of thought, and that of reality; and, provided the former was nourished with a sufficiency of the strange necromantic joys of fancy, the privileges of the latter might remain limited to daily bread, hourly work, and a roof of shelter."

Lucy Snowe
"Wise people say it is folly to think anybody perfect; and as to likes and dislikes, we should be friendly to all, and worship none."

Lucy Snowe 
---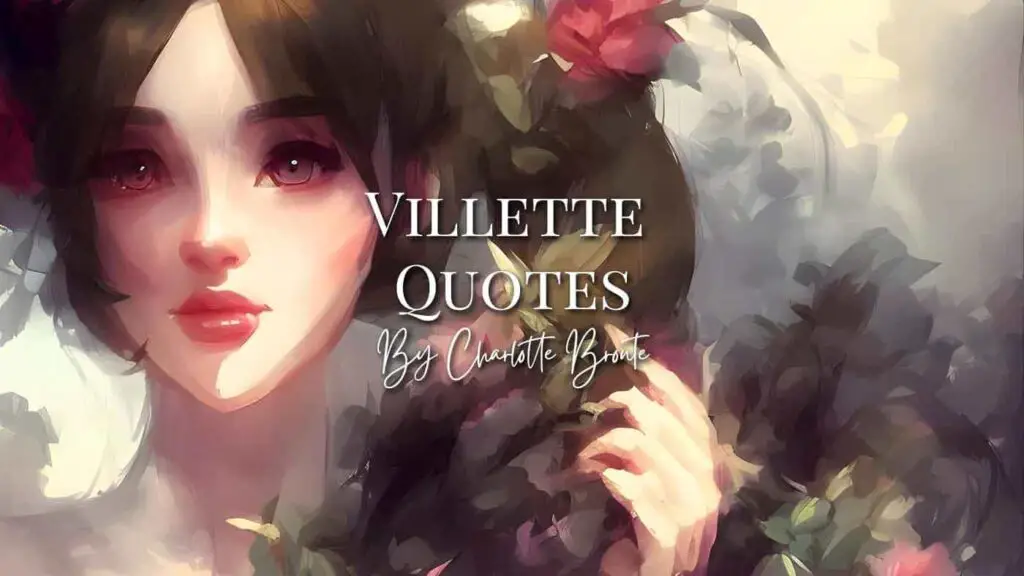 Recommended: Villette Quotes by Charlotte Brontë
8. Notable Book Covers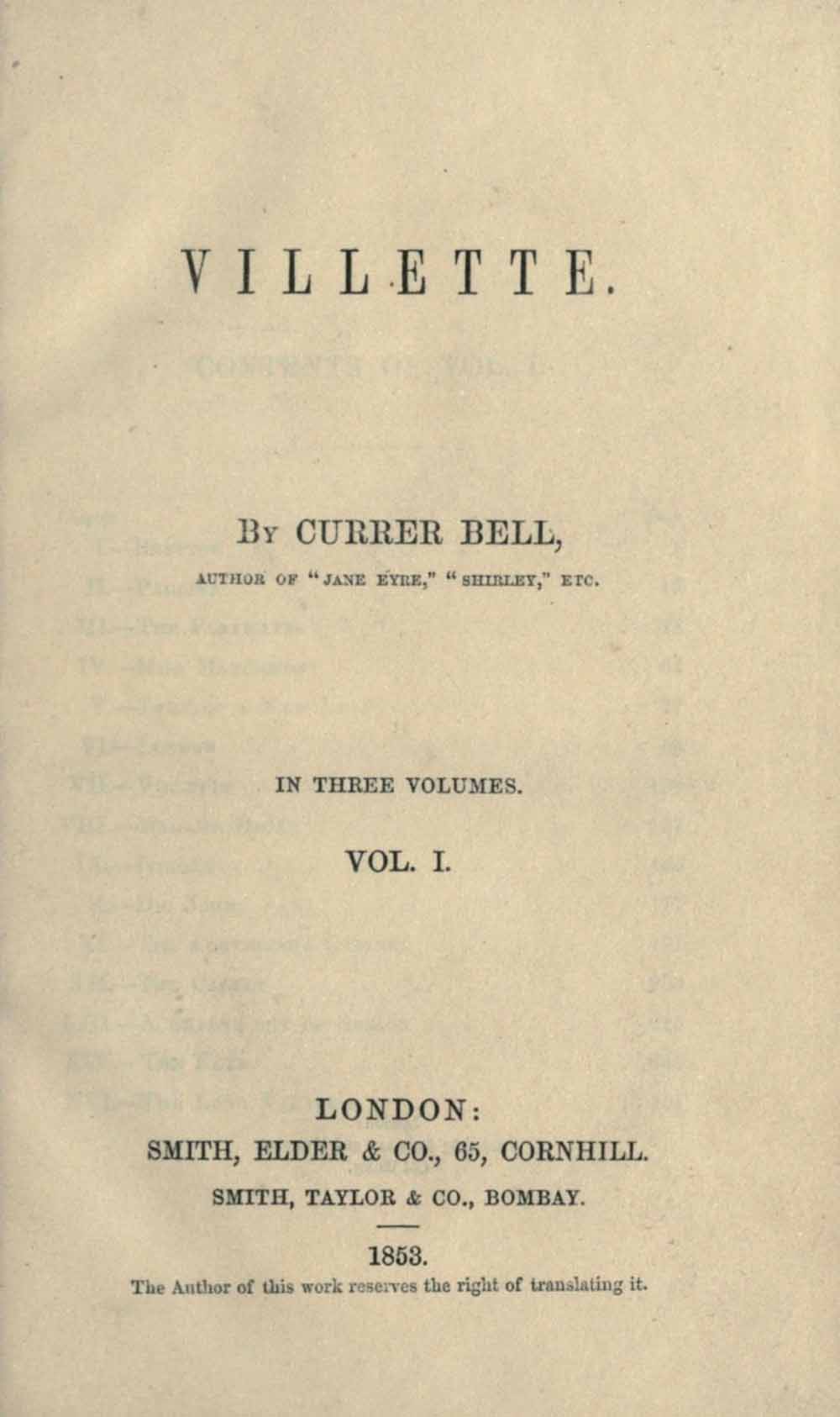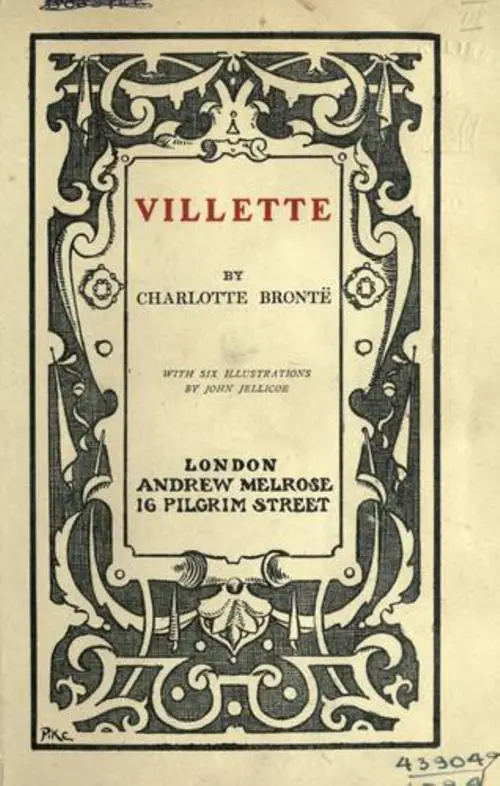 9. Frequently Asked Questions about Villette
Who is the nun in Villette?
The ghost of a nun appears several times to the protagonist, Lucy Snowe. Initially, she believes the ghost is of a nun who was buried alive for a sin against her vow of chastity. However, she later learns that the ghostly nun was Count de Hamal in disguise. He had dressed up as a nun to sneak into Mme. Beck's girls' school and meet his lover, Ginevra Fanshawe, who was a student there. 
Is Villette a French name?
Villette is the name of the fictional French-speaking town where most of the story takes place. Villette is also a French female name that means 'small town'. 
How does Villette end?
The ending of Villette is left ambiguous. As Lucy waits for Paul Emanuel on the shore, she sees a storm brewing and a wreck sailing in from the west. She also tells the reader, "That storm roared frenzied, for seven days. It did not cease till the Atlantic was strewn with wrecks." However, it is not made clear if Paul Emanuel perished in a shipwreck or not. Lucy only writes that she wishes to "leave sunny imaginations hope" and "let them picture union and a happy succeeding life".