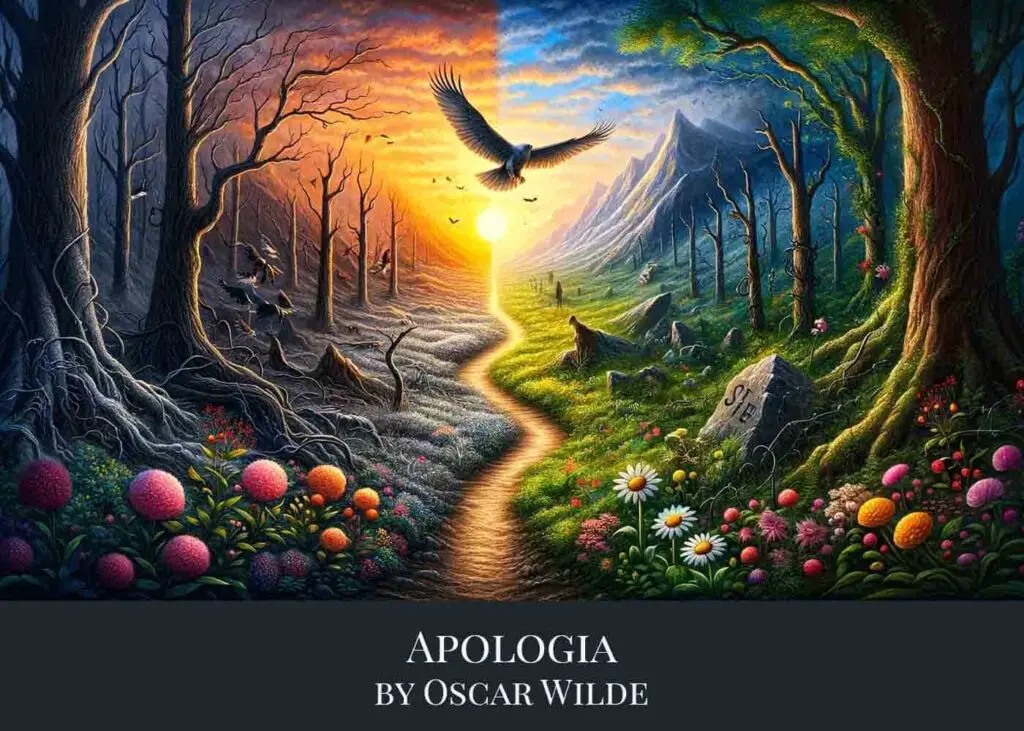 Apologia by Oscar Wilde
"Apologia" is a captivating poem by Irish author and poet Oscar Wilde included in Poems, a poetry collection that showcases Wilde's lyrical brilliance and emotional depth. In "Apologia," Wilde delves into themes of love, ambition, and the human condition, weaving a poignant narrative that reflects the struggles and triumphs of the human spirit. For those interested in exploring more of Wilde's poetic masterpieces, the online book Poems is available at PageVio.
1. Apologia
Is it thy will that I should wax and wane,
   Barter my cloth of gold for hodden grey,
And at thy pleasure weave that web of pain
   Whose brightest threads are each a wasted day?
Is it thy will—Love that I love so well—
   That my Soul's House should be a tortured spot
Wherein, like evil paramours, must dwell
   The quenchless flame, the worm that dieth not?
Nay, if it be thy will I shall endure,
   And sell ambition at the common mart,
And let dull failure be my vestiture,
   And sorrow dig its grave within my heart.
Perchance it may be better so—at least
   I have not made my heart a heart of stone,
Nor starved my boyhood of its goodly feast,
   Nor walked where Beauty is a thing unknown.
Many a man hath done so; sought to fence
   In straitened bonds the soul that should be free,
Trodden the dusty road of common sense,
   While all the forest sang of liberty,
Not marking how the spotted hawk in flight
   Passed on wide pinion through the lofty air,
To where some steep untrodden mountain height
   Caught the last tresses of the Sun God's hair.
Or how the little flower he trod upon,
   The daisy, that white-feathered shield of gold,
Followed with wistful eyes the wandering sun
   Content if once its leaves were aureoled.
But surely it is something to have been
   The best belovèd for a little while,
To have walked hand in hand with Love, and seen
   His purple wings flit once across thy smile.
Ay! though the gorgèd asp of passion feed
   On my boy's heart, yet have I burst the bars,
Stood face to face with Beauty, known indeed
   The Love which moves the Sun and all the stars!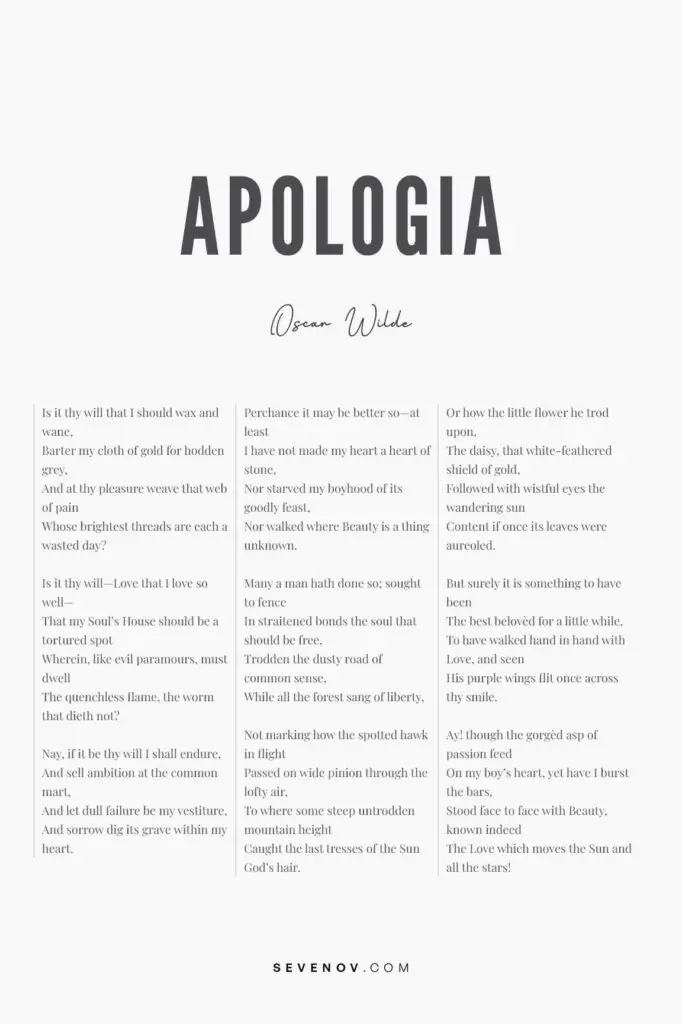 Size: 8″ x 12″ (2:3 ratio)
Format: PDF
Copyright information: For personal use only
Note: Actual poster background color is white. For the sample poster, the background is made gray for illustration purpose.
2. Apologia Analysis
"Apologia," rich in metaphor and emotion, explores themes of love, freedom, ambition, and the natural world. Here's a breakdown of its meaning:
Struggle with Love's Demands
The speaker begins by questioning whether it's the will of his beloved ("Love that I love so well") that he should suffer and change ("wax and wane"). He wonders if he must trade his vibrant life ("cloth of gold") for a duller existence ("hodden grey") and endure pain ("weave that web of pain").
Tortured Soul
The speaker feels his soul is tortured, likened to a place where "evil paramours" dwell, represented by the "quenchless flame" and the "worm that dieth not." This metaphor suggests a constant, internal torment.
Resignation and Sacrifice
Despite the pain, the speaker is willing to endure it ("Nay, if it be thy will I shall endure"), sacrificing his ambitions and accepting failure and sorrow. This shows a deep commitment or resignation to his beloved's will.
Refusal to Harden the Heart
The speaker reflects that, despite everything, he hasn't hardened his heart or turned away from beauty and joy. He has lived fully and experienced love, even if it's fleeting ("The best belovèd for a little while").
Contrast with Others' Choices
The poem contrasts the speaker's choices with others who have limited themselves, living a constrained life ("straitened bonds"), ignoring the beauty and freedom around them (like the "spotted hawk in flight" or the "little flower").
Value of Experience
The final stanza speaks to the value of having experienced love and beauty, even if it leads to pain ("the gorgèd asp of passion"). The speaker feels enriched by these experiences, having "stood face to face with Beauty" and known a profound love ("The Love which moves the Sun and all the stars").
In summary, the poem grapples with the complexities of love and life choices. It reflects on the pain and sacrifices made for love, contrasts this with a life devoid of such deep experiences, and ultimately finds value in having loved and appreciated beauty, even at great personal cost.
3. Conclusion
We trust you'll appreciate Oscar Wilde's "Apologia." Additionally, you might find interest in exploring this list of poems by Oscar Wilde.