Silentium Amoris by Oscar Wilde
"Silentium Amoris" is a moving and introspective poem by writer, playwright, and poet Oscar Wilde, which delves into the depths of unspoken love and the complexities of inner emotions. It is part of Wilde's poetry collection Poems. For those interested in exploring more of Wilde's captivating poetry, Poems online book is available at PageVio.
1. Silentium Amoris
As often-times the too resplendent sun
   Hurries the pallid and reluctant moon
Back to her sombre cave, ere she hath won
   A single ballad from the nightingale,
   So doth thy Beauty make my lips to fail,
And all my sweetest singing out of tune.
And as at dawn across the level mead
   On wings impetuous some wind will come,
And with its too harsh kisses break the reed
   Which was its only instrument of song,
   So my too stormy passions work me wrong,
And for excess of Love my Love is dumb.
But surely unto Thee mine eyes did show
   Why I am silent, and my lute unstrung;
Else it were better we should part, and go,
   Thou to some lips of sweeter melody,
   And I to nurse the barren memory
Of unkissed kisses, and songs never sung.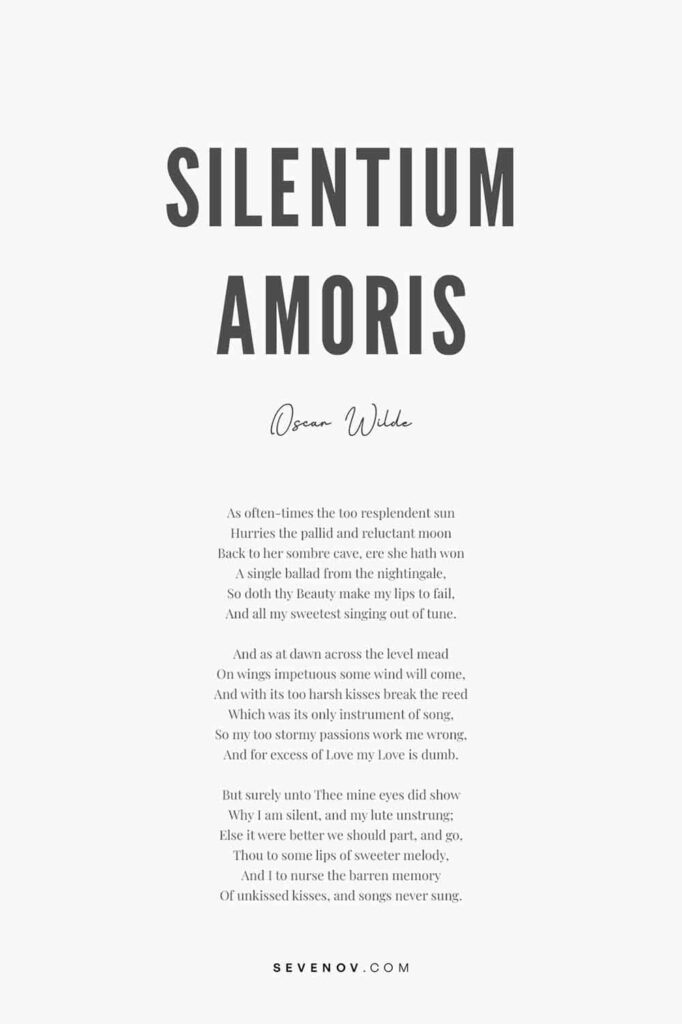 Download Silentium Amoris Poster
Size: 8″ x 12″ (2:3 ratio)
Format: PDF
Copyright information: For personal use only
Note: Actual poster background color is white. For the sample poster, the background is made gray for illustration purpose.
2. Silentium Amoris Analysis
This poem explores themes of love, beauty, and the conflict between intense emotion and expression. Let's break down its three stanzas for a clearer understanding:
First Stanza
The speaker begins with a natural imagery, comparing the overwhelming brilliance of the sun to the beauty of the person he loves. Just as the sun makes the moon retreat before it can fully appreciate the nightingale's song, the speaker's beloved's beauty causes the poet to become speechless, unable to sing his own 'sweetest singing'. This imagery suggests that the speaker feels overpowered by his beloved's beauty, leading to a loss of his own expressive power.
Second Stanza
The poem continues with another natural analogy. Here, a strong wind is compared to the speaker's stormy passions. Just as the wind, in its intensity, breaks the reed that could have produced music, the speaker's intense emotions (their 'too stormy passions') are so overwhelming that they render the speaker mute ('for excess of Love my Love is dumb'). This suggests a conflict between the depth of the speaker's feelings and his ability to articulate them.
Third Stanza
In the final stanza, the speaker addresses his beloved directly, explaining the reason behind his silence and lack of musical expression ('lute unstrung'). The speaker suggests that his feelings are so profound that they can't be expressed adequately through words or music. The poem concludes with a melancholic note, contemplating a separation where his beloved finds someone who can better express their love, while the speaker is left with the memories of unexpressed love ('unkissed kisses, and songs never sung').
Overall, the poem is a poignant meditation on the complexities of expressing deep love and the ways in which profound emotions can sometimes silence rather than inspire expression.
3. Conclusion
We hope you enjoy Oscar Wilde's "Silentium Amoris." You may also be intrigued to discover more of his works in this list of Oscar Wilde's poems.