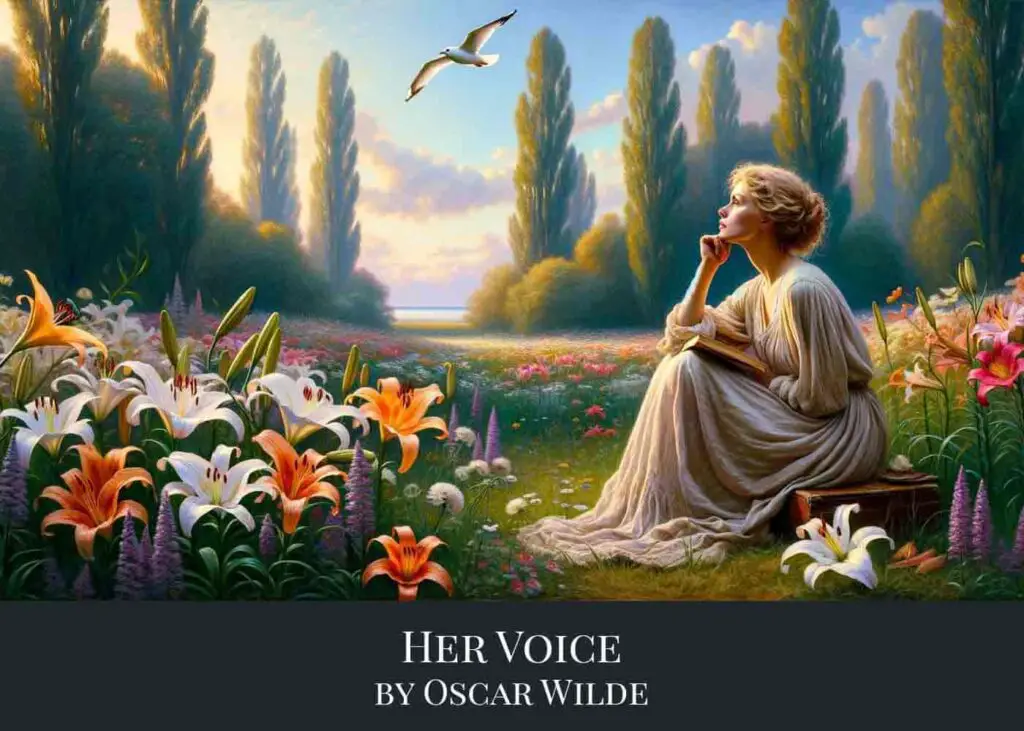 Her Voice by Oscar Wilde
"Her Voice" by Irish writer and poet Oscar Wilde serves as a counterpart to his briefer work, "My Voice." It is widely believed that the speaker in "My Voice" is speaking to the protagonist of "Her Voice." Together, these poems present two facets of a singular narrative and are best appreciated when read in tandem. This poem reflects on the transient nature of human relationships, contrasting past vows of eternal love with the current acceptance of love's impermanence and the separate paths of the individuals involved. "Her Voice" is featured in Wilde's poetry collection Poems. For those interested in delving deeper into Wilde's lyrical universe, Poems is available online at PageVio. 
1. Her Voice
The wild bee reels from bough to bough
   With his furry coat and his gauzy wing,
Now in a lily-cup, and now
   Setting a jacinth bell a-swing,
         In his wandering;
Sit closer love: it was here I trow
         I made that vow,
Swore that two lives should be like one
   As long as the sea-gull loved the sea,
As long as the sunflower sought the sun,—
   It shall be, I said, for eternity
         'Twixt you and me!
Dear friend, those times are over and done;
         Love's web is spun.
Look upward where the poplar trees
   Sway and sway in the summer air,
Here in the valley never a breeze
   Scatters the thistledown, but there
         Great winds blow fair
From the mighty murmuring mystical seas,
         And the wave-lashed leas.
Look upward where the white gull screams,
   What does it see that we do not see?
Is that a star? or the lamp that gleams
   On some outward voyaging argosy,—
         Ah! can it be
We have lived our lives in a land of dreams!
         How sad it seems.
Sweet, there is nothing left to say
   But this, that love is never lost,
Keen winter stabs the breasts of May
   Whose crimson roses burst his frost,
         Ships tempest-tossed
Will find a harbour in some bay,
         And so we may.
And there is nothing left to do
   But to kiss once again, and part,
Nay, there is nothing we should rue,
   I have my beauty,—you your Art,
         Nay, do not start,
One world was not enough for two
         Like me and you.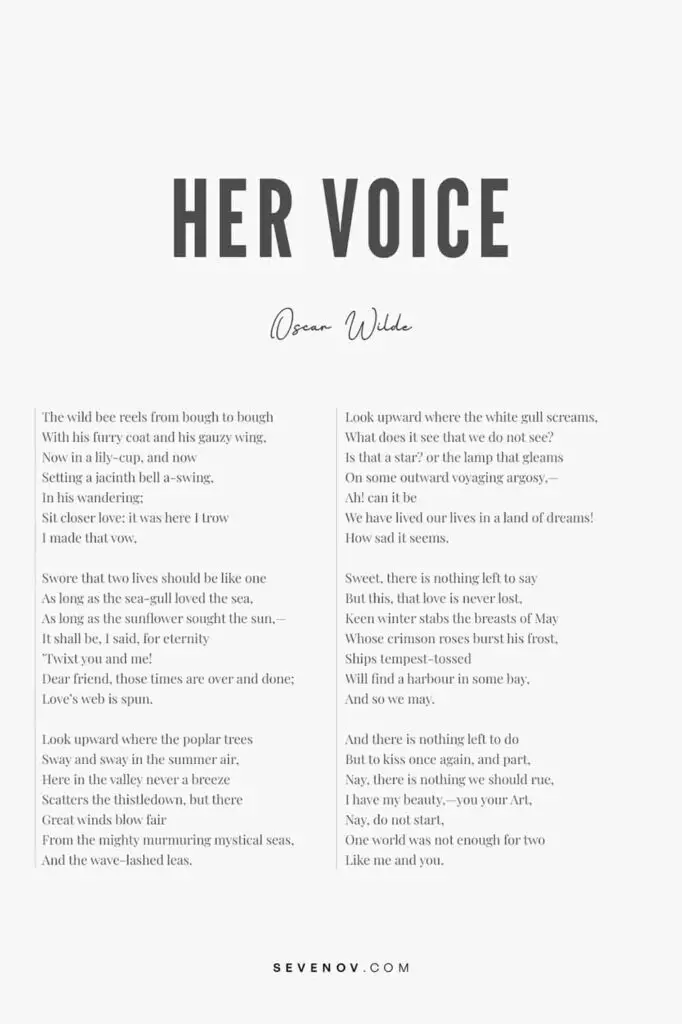 Size: 8″ x 12″ (2:3 ratio)
Format: PDF
Copyright information: For personal use only
Note: Actual poster background color is white. For the sample poster, the background is made gray for illustration purpose.
2. Her Voice Analysis
Oscar Wilde's poem "Her Voice" explores themes of love, the passage of time, and the interplay between nature and human emotions. The poem is structured as a series of reflections, spoken to her beloved, intertwining observations of nature with musings on their relationship.
First Stanza
The poem opens with a vivid description of a wild bee moving from flower to flower. This serves as a metaphor for the wandering, ever-changing nature of life and love. The speaker then recalls a vow made in the past to their loved one, suggesting a moment of commitment or a significant promise in their relationship.
Second Stanza
Here, the speaker reflects on the permanence they once believed their love would have, using natural metaphors like the seagull's love for the sea and the sunflower's orientation towards the sun. However, the tone shifts towards the end of the stanza, indicating that this period of unity and unchanging love has passed, perhaps signifying an end in the relationship.
Third Stanza
The speaker invites her companion to observe the poplar trees and the seas, drawing a contrast between the stillness in the valley and the dynamic movement of the trees and seas. This could symbolize the contrast between their current state of tranquility (or stagnation) and the more dynamic, perhaps tumultuous, past of their relationship.
Fourth Stanza
The speaker points out a gull and wonders what it sees, possibly symbolizing perspective and the unknown. This stanza suggests a sense of longing or regret, pondering on the unrealized dreams or the illusory nature of her past life and love.
Fifth Stanza
The speaker reflects on the resilience of love, despite changes and hardships, much like how nature endures through seasons. They imply that even if love changes or faces challenges (like the winter and tempests), it can still find a way to survive and find a safe harbor.
Final Stanza
The poem concludes with a resignation to the current state of affairs. The speaker acknowledges that there's nothing left but to cherish a final moment of closeness and accept the inevitable parting. The mention of "my beauty" and "your Art" suggests that both individuals have their own paths and identities, which might have contributed to their separation. The last lines poignantly note that a single world was not enough for both of them, implying that their dreams and realities could not coexist in harmony.
Overall, Wilde's poem is a melancholic yet beautiful meditation on the nature of love, the inevitability of change, and the bittersweet realization that even the deepest of bonds can evolve and sometimes lead to separation.
3. Conclusion
We believe you enjoy Oscar Wilde's 'Her Voice.' You may be intrigued to delve into this list of poems by Oscar Wilde.