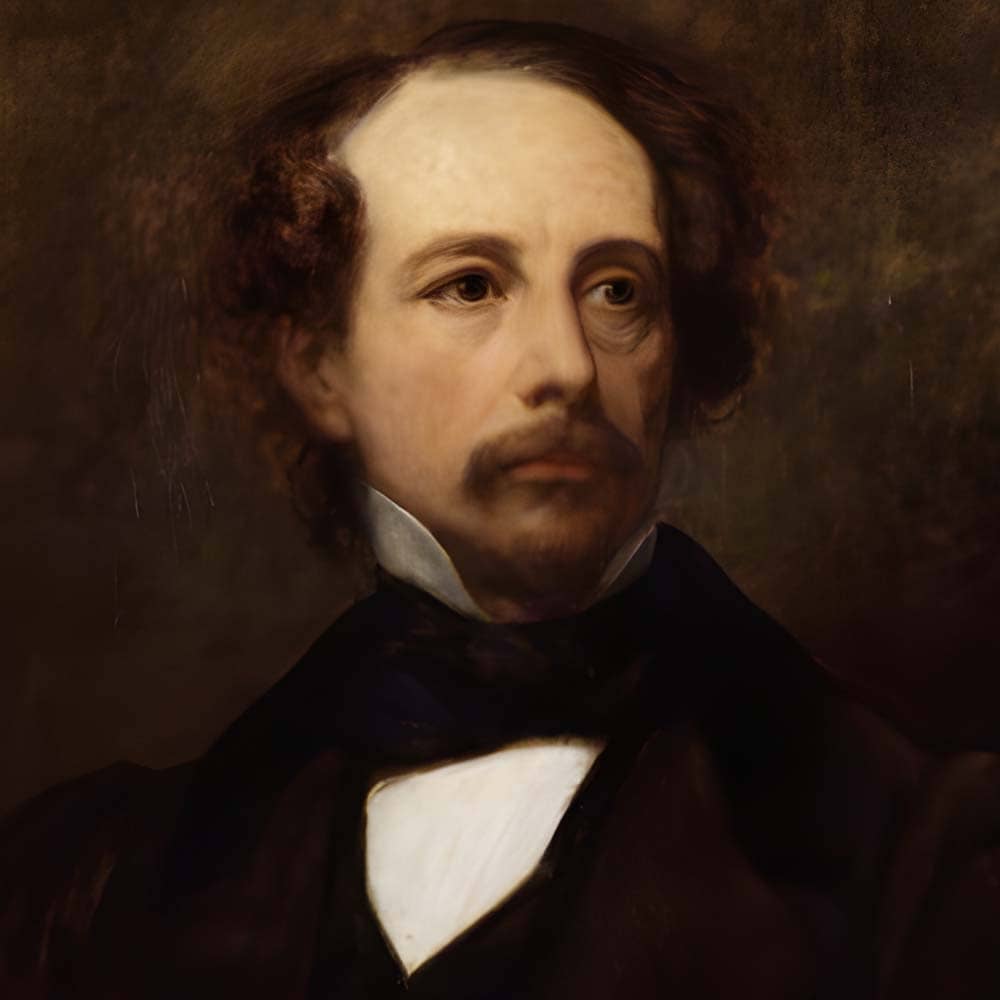 Charles Dickens
Born: 7 February 1812
Died: 9 June 1870
Nationality: British
Notable Works: The Pickwick Papers, Oliver Twist, Nicholas Nickleby, A Christmas Carol, David Copperfield, Bleak House, Little Dorrit, A Tale of Two Cities, Great Expectations
Full Name: Charles John Huffam Dickens
Charles Dickens had a joyful and unrestricted upbringing. He was the second child out of eight, born to John and Elizabeth Dickens in Portsmouth, England, where his father was employed in the Navy Pay Office. After three years, the family temporarily moved to Fitzrovia in London before finally settling in Kent.
1. Charles Dickens Biography
1.1. Early Life of Charles Dickens
While his father held a stable job, the family had the means to provide Charles with an education. He started off attending a dame school, which was a type of elementary school typically run by older female teachers from their own homes. Later, he enrolled at William Giles's school in Chatham. Even as a young child, Dickens had an insatiable appetite for reading and would often scour his father's library for books by Tobias Smollet and Henry Fielding. These authors specialized in episodic adventure novels featuring clever or tragic protagonists, such as the orphaned Tom Jones. Dickens was captivated by their well-crafted plots and the clear moral boundaries they presented. Additionally, he found great inspiration in Arabian Nights, a collection of stories from the Middle East that had been translated into English in the early 18th century. He delved into these tales repeatedly, immersing himself in the various genres they encompassed, from tragedy to comedy, as they depicted scenes of love and daring escapades.
Dickens experienced a significant change in his life, much like many of his characters. When his father fell into a mountain of debt, he was sent to the Marshalsea debtors' prison in Southwark in 1824. This unfortunate circumstance led to the entire family joining their father in prison, a customary practice during that time. However, young Charles, who was just 12 years old, and his older sister Fanny were not allowed to stay with their parents. Instead, Charles had to find lodging in Camden Town with a family friend named Elizabeth Roylance. Interestingly, Elizabeth later served as the inspiration for the character Mrs. Pipchin in Dickens' novel "Dombey and Son" (1846-1848). Following this, Charles found himself living in the attic room of Archibald Russell, a cheerful and overweight man who would later become the inspiration for the character Mr. Garland in The Old Curiosity Shop (1840-1841). Although Fanny and Charles were eventually granted access to Marshalsea, the prison environment had a lasting impact on Dickens, as he later incorporated it into his novel Little Dorrit (1855-1857).
1.2. Poverty
Dickens faced a challenging situation when he had to abandon his studies due to a lack of financial support. To make ends meet, he found employment at a bootblacking warehouse in Charing Cross and later on Chandos Street, where workers were displayed to passersby. This bitter experience left a lasting impact on Dickens, fueling his passion for social reform. In his highly autobiographical novel, David Copperfield (1850), he delved into various issues close to his heart, such as the deplorable conditions endured by prisoners, the suffering of the poor and homeless, and the plight of London's prostitutes. Fortunately, a stroke of good luck came when Dickens's father inherited £450, allowing him to pay off his debts. The family was able to return home, but Charles was deeply distressed as his mother did not immediately call for him to come back. Reflecting on this painful memory, he wrote, "I never afterwards forgot, I never shall forget, I never can forget, that my mother was warm for my being sent back [to work]."
1.3. Career
With the Dickens family finally free from financial troubles, Dickens was able to resume his studies for three years. He joined the Wellington House Academy until 1827, where he furthered his education. However, his path took a different turn when he left the academy to become a junior clerk in a Gray's Inn law office. It was during this time that he gained extensive knowledge of the legal system, a system that unjustly punished the poor while protecting the wealthy. In response, Dickens cleverly ridiculed its cruelty in not one, but three novels – Nicholas Nickleby (1839), Dombey and Son (1848), and Bleak House (1853). However, disillusioned by the law, Dickens sought a new direction in life. He had already gained a reputation among his friends and colleagues as a talented mimic, and he had even acted in some of London's minor theaters. Initially, he was drawn towards pursuing a career on the stage. However, after postponing a scheduled audition with a professional actor-manager, Dickens made a fateful decision and continued his journey as a writer. It was when his story "A Dinner at Poplar Walk" was accepted for publication in the Monthly Magazine that Dickens's career as a writer truly began to flourish.
Changes in Victorian society, characterized by increased levels of literacy and the advancement of mechanization in the printing industry, created a surge in demand for newspapers and journals, consequently leading to a high demand for proficient writers. Charles Dickens, aided by his uncle William Barrow, secured a position at The Mirror of Parliament, where he covered parliamentary debates. Furthermore, during this period, he also started reporting on election campaigns for The Morning Chronicle.
1.4. The Pickwick Papers
Invigorated and inspired by his new job, he embarked on a writing journey, creating a series of captivating stories, insightful observations, and vivid character sketches. These literary gems found their way into various periodicals, collectively known as Sketches by Boz, a moniker that reflected Dickens's own nickname. In 1836, he joined forces with the esteemed London publishers, Chapman and Hall, to create a collection of illustrated stories. However, tragedy struck when the original illustrator passed away. Undeterred, Dickens proposed a shift in focus, placing greater emphasis on the text rather than the images. The first installment of this transformed series, titled The Pickwick Papers, hit the shelves in March 1836, selling a modest 500 copies. But as word spread and readers became enthralled, the final episode published the following year skyrocketed to an astounding 40,000 copies sold.
1.5. Connections
Dickens's career in journalism connected him with influential individuals in London. One such person was George Hogarth, the editor of the Chronicle, who took the young writer under his wing. Dickens was thrilled to visit the Hogarth family in their Fulham home, where he had the opportunity to meet his future wife, Catherine Hogarth, and her sisters. As Dickens's status and popularity grew, he became a part of the bachelor set that regularly gathered at the home of novelist William Harrison Ainsworth. Notable members of this group included Benjamin Disraeli and John Macrone, who would later become Dickens's first publisher. In November 1836, Dickens took on the editorship of Bentley's Miscellany, a monthly magazine. It was within the pages of this publication that he published his renowned story, Oliver Twist, in serial form over a span of two years. Each installment of the story was brought to life by the talented artist George Cruikshank, who was just one of many skilled artists Dickens collaborated with throughout his career.
1.6. Foreign Excursions and A Christmas Carol
Dickens's prolific writing career saw him produce approximately one novel each year, a testament to his remarkable creativity. His talent, combined with his astute business sense, propelled his commercial success. This was evident when he took control of his work, reclaiming the publishing rights from John Macrone and Richard Bentley. As his fame grew, however, Dickens's personal life began to unravel. He became increasingly critical of his wife, Catherine, expressing dissatisfaction with her lack of energy and intellectual spark. Disturbingly, he started making inappropriate advances towards young women in public, further straining his relationships. Additionally, he found solace away from home, embarking on reading tours and various other expeditions.
Dickens embarked on a series of foreign excursions, including trips to the US and Canada. One of his objectives was to influence the reform of copyright law, as his own work had been widely pirated. However, his journeys to the US also exposed him to the injustices of slavery and poverty, which greatly influenced his views on social justice and the pressing need for reform. Upon returning to England, Dickens visited the Field Lane Ragged School, an institution established to aid London's impoverished and illiterate street children. This experience motivated him to tackle the issues of poverty and inequality in his writing. His next novel, A Christmas Carol, achieved this goal and quickly gained immense popularity. Within just five days of its publication in December 1843, the first edition completely sold out.
1.7. Bleak House, Hard Times, A Tale of Two Cities
As Dickens entered middle age, his work took on a more serious tone. In 1853, he produced Bleak House, a satire of the iniquitous legal system. A year later, he followed this with Hard Times, in which he criticized the harsh philosophy of utilitarianism. This philosophy measured the moral value of an action solely by its utility, and was responsible for the poor conditions endured by people in workplaces across the country. At the end of the decade, he published his most somber novel, A Tale of Two Cities (1859). This work of historical fiction is set in London and Paris during the years of the French Revolution.
1.8. Later Years
In 1856, Charles Dickens fulfilled a lifelong dream by purchasing Gad's Hill Place, a magnificent country estate in Kent that had captivated him since his childhood. During this period, he confided in his close friend and later biographer, John Forster, about the challenges he had long faced in his marriage to Catherine. Complicating matters further was his intense attraction towards the talented actress Ellen Ternan, whom he first encountered on stage at The Haymarket Theatre. When Dickens collaborated with his friend Wilkie Collins to produce the play "The Frozen Deep," he not only cast Ternan but also brought her mother and sister into the production. Despite their significant age difference of 27 years, Charles and Ellen embarked on a passionate affair, resulting in his formal separation from Catherine in 1858.
From that point until his passing, Dickens built a life with Ellen, discreetly establishing households for her under assumed names and residing with her in France. However, he hesitated to accompany her on a second tour of the United States, fearing the negative attention such defiance of societal norms would attract.
In the final decade of his life, Charles Dickens created a literary legacy with notable works such as Great Expectations, Our Mutual Friend, and The Mystery of Edwin Drood, although the latter remained unfinished upon his passing. In 1865, while traveling to Folkestone with Ternan and her mother, Dickens was involved in a tragic train crash that claimed the lives of 10 individuals. This incident had a profound impact on his health, causing a loss of voice for over two weeks. By 1868, Dickens started experiencing episodes of dizziness and paralysis. Unfortunately, he suffered a stroke that year and even collapsed during a reading tour in Preston in 1869.
Dickens passed away on June 8, 1870 at Gad's Hill Place after suffering another stroke. In his will, he displayed his generosity by leaving substantial amounts of money to his family, as well as his close colleague, John Forster. Remarkably, he even bequeathed a sum of nearly £20 to each of his servants. Although he had initially requested to be buried at Rochester Cathedral, the nation insisted that the final resting place of "England's most beloved author" should be none other than Poet's Corner in Westminster Abbey. At his intimate funeral, a group of 12 family members and close friends gathered to bid their final farewell.
2. Charles Dickens Bibliography
2.1. Charles Dickens' Novels
The Pickwick Papers (1837)
Oliver Twist (1838)
Nicholas Nickleby (1839)
The Old Curiosity Shop (1841)
Barnaby Rudge (1841)
A Christmas Carol (1843)
Martin Chuzzlewit (1844)
The Chimes (1844)
The Cricket on the Hearth (1845)
The Battle of Life (1846)
Dombey and Son (1848)
The Haunted Man and the Ghost's Bargain (1848)
David Copperfield (1850)
Bleak House (1853)
Hard Times (1854)
Little Dorrit (1857)
A Tale of Two Cities (!859)
Great Expectations (!861)
Our Mutual Friend (!865)
The Mystery of Edwin Drood (1870)
Check out free Charles Dickens books at PageVio.