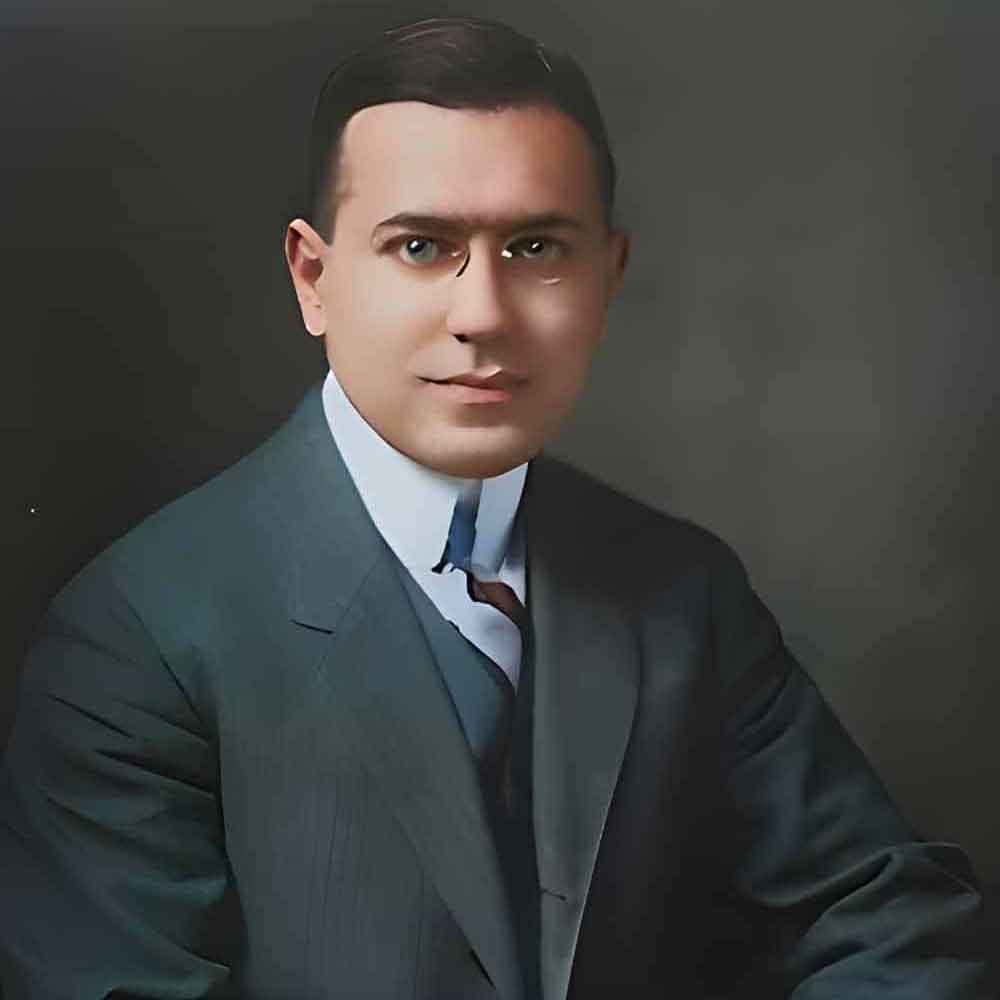 Earl Derr Biggers
Born: 26 Aug 1884
Died: 5 Apr 1933
Nationality: American
Notable Works: Charlie Chan Series, Seven Keys to Baldpate
Earl Derr Biggers is an American novelist and playwright best known for his Charlie Chan Series. The novels feature the titular Charlie Chan, an American Chinese Detective who solves a different mystery in each story. The Charlie Chan Series was such a hit that film adaptations were eventually released in the United States and China. Biggers went on to write various other novels and short stories, but up to today, his Charlie Chan Series is still the most well-loved. 
1. Earl Derr Biggers' Biography
1.1. Early Life to Adulthood
Earl Der Biggers was born in Warren, Ohio, to Robert J. Biggers and Emma E. Biggers in 1884. He studied at Harvard University before becoming a journalist under The Plain Dealer and, subsequently, the Boston Traveller. From the beginning, Biggers saw many of his works adapted into films.
1.2. Beginning of his Literary Career
Biggers made his literary debut with the novel Seven Keys to Baldpate in 1913, which was soon adapted into a play by George M. Cohan. Interestingly, Cohan went on to star in the book's 1917 and 1935 film adaptations. In later years, Seven Keys to Baldpate was adapted into various other versions with alternate titles, such as House of the Long Shadows and Haunted Honeymoon. Despite the title change, these adaptations stayed true to the original plot. 
1.3. The Charlie Chan Series
The true pinnacle of Biggers' literary career was none other than his infamous Charlie Chan Series, which featured the titular detective, Charlie Chan. In Biggers' novels, Charlie Chan was an American Chinese detective based in Honolulu, Hawaii, and was based on a real Hawaiian detective, Chang Apana. The main inspiration for Charlie Chan arose from Biggers' disdain toward the generally racist and negative portrayals and sentiments of the Chinese people during the early 1900s. 
During a visit to Hawaii in 1919, Biggers read a newspaper article that featured Chang Apana and Lee Fook, two Hawaiian law authority figures. This newspaper article and Biggers' experience seeing the rampant anti-Chinese and Yellow Peril sentiments in California inspired him to develop an Asian character that challenged these stereotypes. 
Charlie Chan's debut came in Biggers' novel, The House Without a Key, in 1925. In the story, he was described with fairly effeminate features and characteristics. However, Charlie Chan was still not a central character at this time. As explained by literary critic Sandra Hawley, this portrayal of Charlie Chan differed significantly from the threatening and aggressive stereotype of Chinese people at the time. A character that fits this stereotype was the well-known Fu Manchu, who was often demonized. 
While Biggers shed a more positive light on the Chinese with Charlie Chan, he also sought to highlight their more positive stereotypes, such as impassivity and stoicism. 
Charlie Chan was well-received by the Chinese community, especially in China, where the film adaptations gained positive responses. Chinese film companies soon followed suit and made their adaptations of Biggers' character. Many Chinese actors played Charlie Chan in these adaptations, but strangely, a Swedish actor named Warner Oland was the most well-loved cast for Charlie Chan. 
1.4. Final Years
For the remaining of his life, Biggers lived in San Marino, California, before dying of a cardiac arrest in Pasadena, California. Biggers was only forty-eight when he passed on. 
2. Bibliography
Earl Derr Biggers' Books
The Charlie Chan Series:
The House Without a Key (1925)
The Chinese Parrot (1926)
Behind That Curtain (1928)
The Black Camel (1929)
Charlie Chan Carries On (1930)
Keeper of the Keys (1932)
Other Fiction:
Seven Keys to Baldpate (1913)
Love Insurance (1914); film version: One Night in the Tropics (1940)
Inside the Lines (1915) 
The Agony Column (1916) 
Fifty Candles (1921)
Earl Derr Biggers Tells Ten Stories (short stories, 1933)
3. Quotes by Earl Derr Biggers
"Every man must wear out at least one pair of fools shoes."

Earl Derr Biggers
"When the jig is up, there is no need for additional dancing."

Earl Derr Biggers