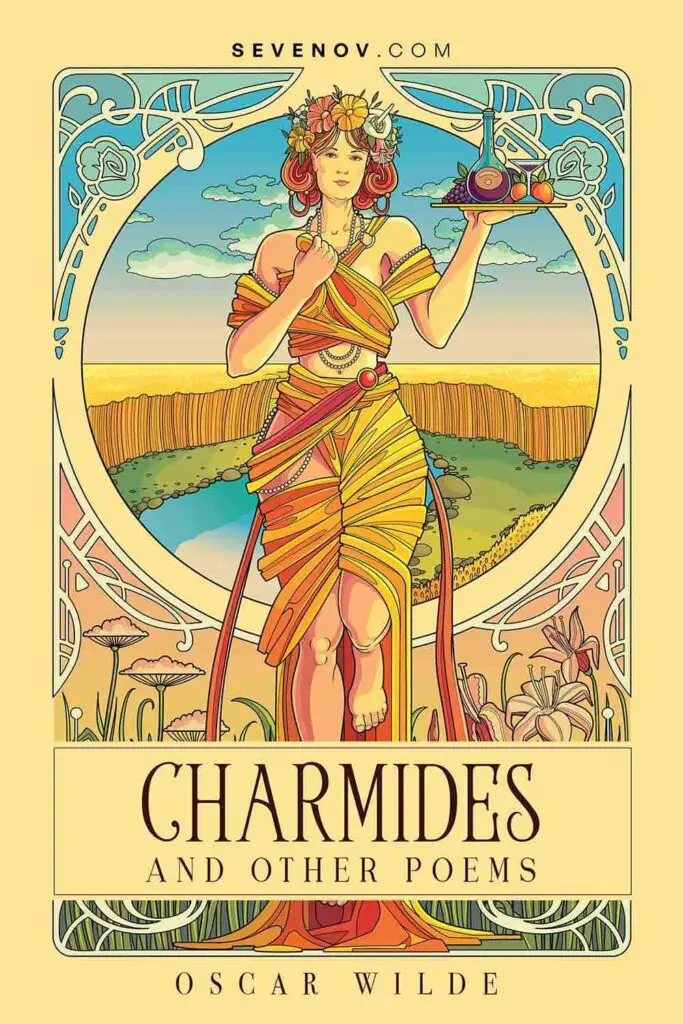 Charmides by Oscar Wilde
Author: Oscar Wilde
Published: 1881
Genre: Poetry
Irish playwright, poet, and author Oscar Wilde ventured into the world of epic poetry with his longest and highly controversial work, "Charmides". Published in his 1881 collection Poems, it stirred a whirlpool of opinions from both his contemporaries and subsequent generations.
1. Charmides Introduction
"Charmides" plunges into the world of ancient Greece, narrating the odyssey of a young man's transgressive desires and interactions with mythical deities. The tale commences with Charmides' return from Syracuse. He stealthily observes the rituals at Athena's shrine and, when night bestows its veil, intimately interacts with the temple's virginal statue. His journey continues to the coast, but it takes a divine twist when he encounters Athena herself. Overwhelmed, he leaps towards the goddess but meets his watery demise instead.
However, the story doesn't end here. His body reaches the Attic shore, where it is found by dryads. One infatuated dryad, mistaking him for a sea deity, dreams of an aquatic life with him. This illusion shatters when the goddess Artemis ends her life with a swift arrow. The twist of fate arrives when Venus, the goddess of love, prays to Proserpine. This results in Charmides reawakening in the grim world of Hades where he and the nymph find love in its most unexpected form.
2. Charmides Summary
Section One
Charmides, a Grecian lad, returns home with figs and wine from Sicily. While standing on his ship's prow, he gazes at the night's stormy sea. At dawn, he sees a shining spear, hoists sail, and sails toward it. He eventually reaches a sandy bay, adorns himself, and goes to a temple where he witnesses offerings and rituals. Later, he encounters a mysterious, saffron-clad figure in the temple, whom he passionately embraces.
Despite the warnings and omens, he indulges in a forbidden love with the figure, who is revealed to be the goddess Athena in disguise. The lad eventually meets a tragic fate as he leaps into the sea in pursuit of Athena, and the goddess punishes him. 
Section Two
Charmides' drowned body is brought back to the Grecian shore by a Triton-god. Mermaids tend to the boy, making him look peaceful and serene. As the body approaches Athens, it's taken by a powerful wave and laid on a beach. The scene then shifts to a meadow, illustrating its beauty and tranquility. Other mythological creatures and scenes are described, depicting the landscape's enchantment.
When the boy's body is brought to this meadow, the dryads are initially frightened, thinking the sea-god Poseidon is behind this. Only one dryad is brave enough to approach the boy. She stays beside him, expressing her affection and longing for him to awaken, unaware he's dead. She fantasizes about the love they could share, both in her woodland home and under the sea. 
However, as the day turns to evening, the dryad becomes increasingly desperate for the boy to wake up. She fears her mistress's wrath if she finds her with the boy. Just as she pleads for him to awaken, the surrounding environment reacts violently to the presence of an approaching god. A horn sounds, a dog bays, and a dart is released. The narrative ends on a cliffhanger, with the nymph's desperate pleas hanging in the air and danger imminent.
Section Three
In a somber, moonless realm called Acheron, devoid of the joys of the living world, young Charmides sits by a shadowy well. He absentmindedly plucks flowers and drops them into the water, lost in a dreamlike state. As he looks into the water, a mysterious presence approaches. A hand touches his, and lips brush his cheeks. He turns to see the source and becomes consumed by passion, their lips meeting in a fiery embrace. The intensity of their connection is so powerful it feels as if all of existence is narrowed down to this single moment.
Size: 8″ x 12″ (2:3 ratio)
Format: PDF
Copyright information: For personal use only
Note: Actual poster background color is white. For the sample poster, the background is made gray for illustration purpose.
3. Publication History and Reception
Oscar Wilde penned "Charmides" between 1878 and 1879. The poem was initially released in a limited 1881 edition, financed by Wilde himself. Subsequent editions, influenced by the public's reaction, saw the removal of stanzas, only to be restored in 1908 by Robert Ross.
The poem's debut was met with almost universal disapproval from contemporary reviewers. However, time has lent its various interpretations. It's been referred to as a "comic masterpiece", echoing the shock Manet's "Olympia" and "Le Déjeuner sur l'herbe" elicited. Some view it as the epitome of Decadent poetry, highlighting its decorative essence devoid of logical progression.
4. Conclusion
"Charmides" is not just a tale of desire and mythology. It's a tapestry where Oscar Wilde weaves his unique poetic voice, showcasing his ability to craft a narrative that is simultaneously disturbing, beautiful, and enigmatic. It's a testament to Wilde's talent, revealing his adeptness at exploring the depths of human emotion, all while challenging societal norms and perceptions. If you wish to delve deeper into Oscar Wilde's captivating verses, we have the full version of "Charmides" available online for your reading pleasure. Additionally, you might find it worthwhile to explore other Oscar Wilde's poetry.