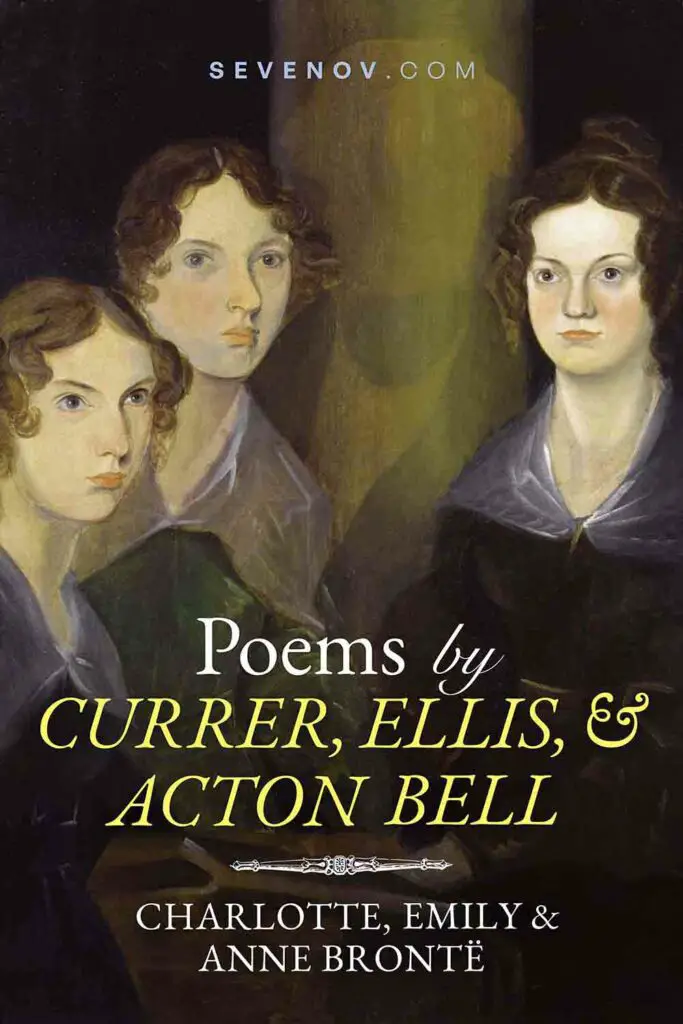 Poems by Currer, Ellis and Acton Bell by Charlotte, Emily, and Anne Brontë
Authors: Charlotte, Emily, and Anne Brontë
Published: 1846
Genre: Poetry
Poems by Currer, Ellis and Acton Bell is a volume of poetry by the literary sisters, Charlotte, Emily, and Anne Brontë. Released in 1846, it was their first published work. As their society was prejudiced against women writers, the Brontë sisters wrote under androgynous pen names: Charlotte was Currer Bell, Emily was Ellis Bell and Anne was Acton Bell. 
In her 'Biographical Notice of Ellis and Acton Bell', Charlotte described how she discovered a manuscript of Emily's poems in the autumn of 1845. Impressed by the 'terse, vigorous and genuine' quality of Emily's verse, Charlotte insisted that these poems be published. Initially, Emily was upset at Charlotte's invasion of her privacy and refused. However, when Anne brought out her poems, Emily relented and was persuaded to publish her poems together with those of her sisters. 
After being rejected by other publishers, the poetry volume was accepted by Aylott and Jones at the writer's expense. The volume was not a commercial success, selling only two copies in its first year. 
Nevertheless, Charlotte, Emily, and Anne were not discouraged. The publication of this poetry volume raised their confidence and paved the way for the publication of their prose works. 
In this poetry volume, Charlotte contributed 19 poems, while Emily and Anne contributed 21 each. These poems cover timeless themes of love, death, self-exploration, and religion. 
Some of the poems are reworkings of earlier compositions set within the imaginary worlds of Angria and Gondal that the Brontë siblings created as children. References to these worlds were omitted to suit a fresh readership.