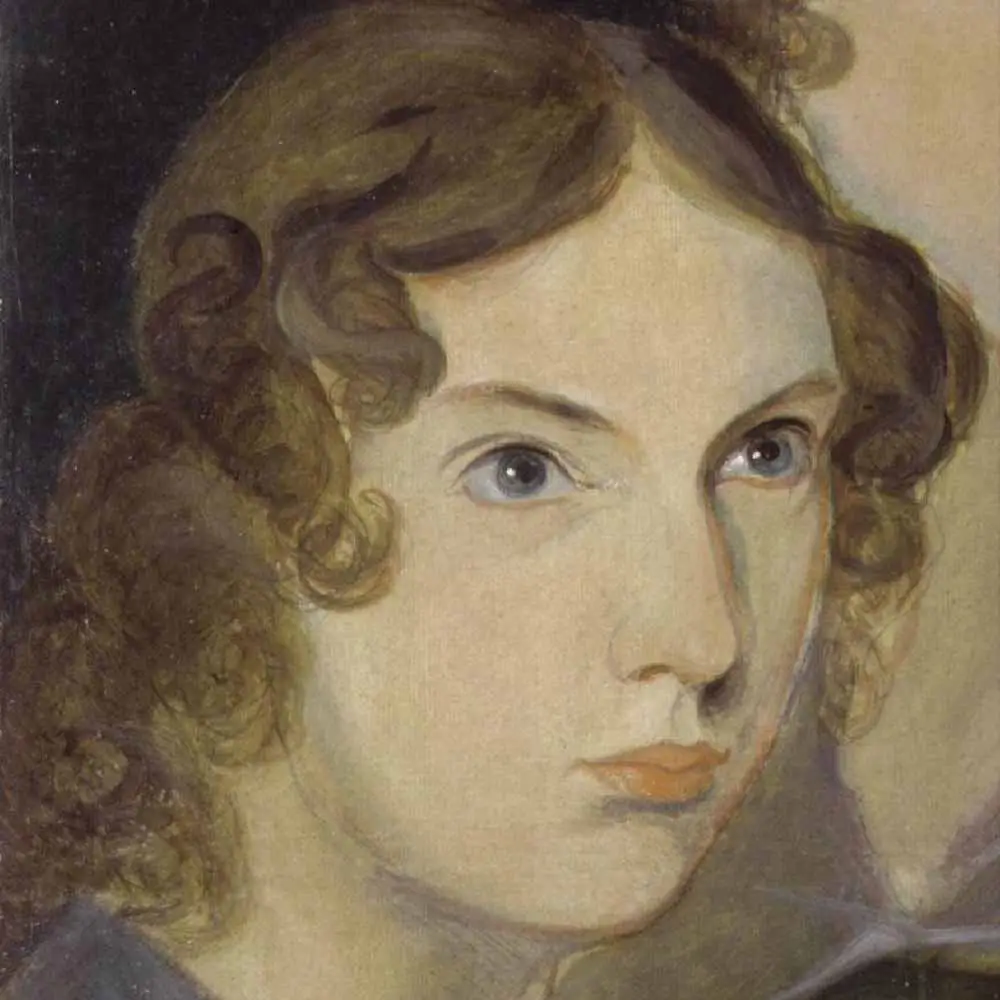 Anne Brontë
Born: 17 January 1820 
Died: 28 May 1849
Nationality: English
Notable works: Agnes Grey (1847), The Tenant of Wildfell Hall (1848)
Pen name: Acton Bell 
Anne Brontë was an English novelist and poet best known for her two novels, Agnes Grey and The Tenant of Wildfell Hall. She was the youngest of the three Brontë sisters, who were a renowned literary family. Her work was published under the androgynous pen name Acton Bell. At the age of 29, she died of tuberculosis. After her death, her sister Charlotte prevented the republication of The Tenant of Wildfell Hall, which may be why Anne is not as widely known today as her two older sisters. Nevertheless, her works are now acknowledged as classics of English literature. 
1. Anne Brontë's Biography
1.1. Early Life
Anne Brontë was born on 17 January 1820 to Patrick Brontë, an Irish Anglican clergyman, and his wife, Maria Branwell. The Brontë family initially lived in Thornton, on the outskirts of Bradford, West Riding of Yorkshire. In April 1820, they moved to the nearby village of Haworth when Patrick Brontë was appointed the perpetual curate of St. Michaels and All Angels' Church.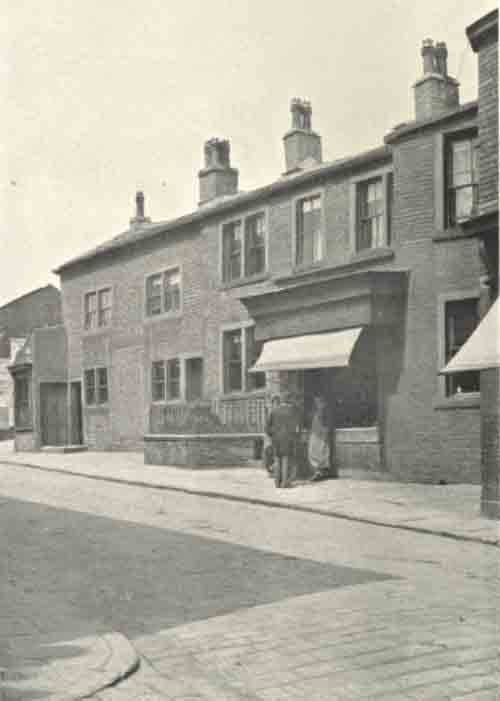 The youngest of six children, Anne had four older sisters, Maria, Elizabeth, Charlotte, and Emily as well as an older brother, Branwell. In September 1821, their mother Maria Branwell passed away from cancer when Anne was barely more than a year old. Afterward, the Brontë children were looked after by their aunt, Elizabeth Branwell. Anne was reportedly the favorite of Aunt Elizabeth; the two shared a room and the devout Elizabeth greatly influenced Anne's religious beliefs. 
As children, Anne and her siblings read voraciously and received art and piano lessons. They were educated at home after the deaths of the two oldest sisters, Maria and Elizabeth who contracted tuberculosis while attending the Clergy Daughters' School at Cowan Bridge.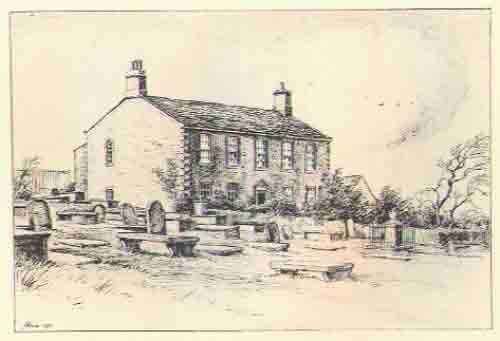 Anne and Emily were especially close. The two of them wrote many stories and poems about an imaginary world called Gondal. Gondal was formed after Anne and Emily broke away from the imaginary kingdom of Angria, created by their older siblings, Charlotte and Branwell. The collaboration between Anne and Emily on their Gondal stories and poems continued into adulthood.
When Anne was 15, she was enrolled in the Roe Head School where her sister Charlotte was a teacher. She studied there from 1835 to 1837. A quiet and hard-working student, she applied herself diligently and acquired the education she would need to support herself. In 1836, she won a Good Conduct medal. At the age of 17, Anne fell seriously ill and went through a religious crisis.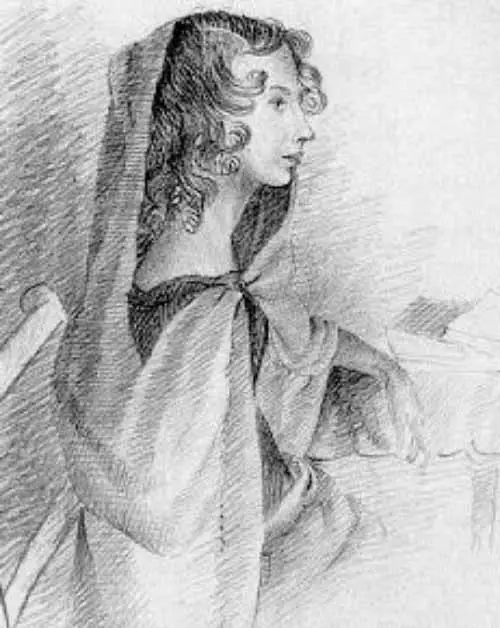 Deeply religious, Anne suffered from intense fears of hell and damnation that disturbed her sleep and caused her to become depressed. During her illness at Roe Head, a Moravian minister attended to her and Charlotte persuaded their father to send her home. Later in her life, Anne was able to find comfort in her ideology of 'universal salvation', which says that all sinners will be saved by God. She continued to mull over religious issues in poems such as "A Word to the Calvinists", "A Word to the 'Elect'", "To Cowper", "Self-Communion", "Hymn" and "The Doubter's Prayer".
1.2. Adulthood
At the age of 19, Anne Brontë began to look for a teaching position. As a poor and unmarried woman, she needed to support herself. In April 1839, she acquired a position as a governess in the Ingham family at Blake Hall, Mirfield. The Inghams had five children, Cunliffe, 6, Mary, 5, and three younger girls still in the nursery. The Ingham children were unruly and Anne did not have much success in educating them. Mr. and Mrs. Ingham also forbade Anne from punishing their children. Dissatisfied with their children's educational progress, Anne's employers dismissed her and she returned home on Christmas 1839. 
Upon her return, she met William Weightman, a curate in their father's parish who often visited the Brontë parsonage. Weightman was 25 years old and had obtained a two-year licentiate in theology from the University of Durham. During her acquaintance with Weightman, Anne wrote some poems which suggest that she fell in love with him, including "A Fragment" and "Self-Congratulation". Her feelings for him are also suggested in anecdotes told by her sister Charlotte to her friend Ellen Nussey. 
In May 1840, Anne found a position as a governess in the Robinson family at Thorp Green, a country house near the city of York. The Robinsons had four children who were to be her pupils:  Lydia, 15, Elizabeth "Bessy", 13, Mary, 12, and Edmund, 8. Although Anne missed her family, she excelled in her work and her employers were satisfied with her. She only saw her family five to six weeks a year, during the Christmas and June holidays. The rest of the year was spent working at Thorp Green or accompanying the Robinson family on their annual trips to the seaside town of Scarborough. 
In September 1842, William Weightman died from cholera. Soon after in November that year, Anne's beloved aunt, Elizabeth Branwell passed away from bowel obstruction. 
In 1843, Anne Brontë found a position as a tutor for her brother, Branwell, in the Robinson family. He was to tutor the Robinsons' son, Edmund, who was growing too old to be in Anne's care. Branwell carried on a secret affair with Mrs. Lydia Robinson, which may have prompted Anne to resign in June 1845. In July that year, Branwell was dismissed as the affair was discovered. 
After resigning from her position at the Robinsons', Anne went on a trip to York with her sister Emily. During the trip, they role-played various characters from the imaginary world of Gondal they created as children. Emily wrote in her diary that she and Anne had written some new material on Gondal and that they were just as delighted by characters from Gondal as they had been in their childhood. Anne also took Emily to see the York Minster, the Cathedral of York, which is one of the largest in Northern England.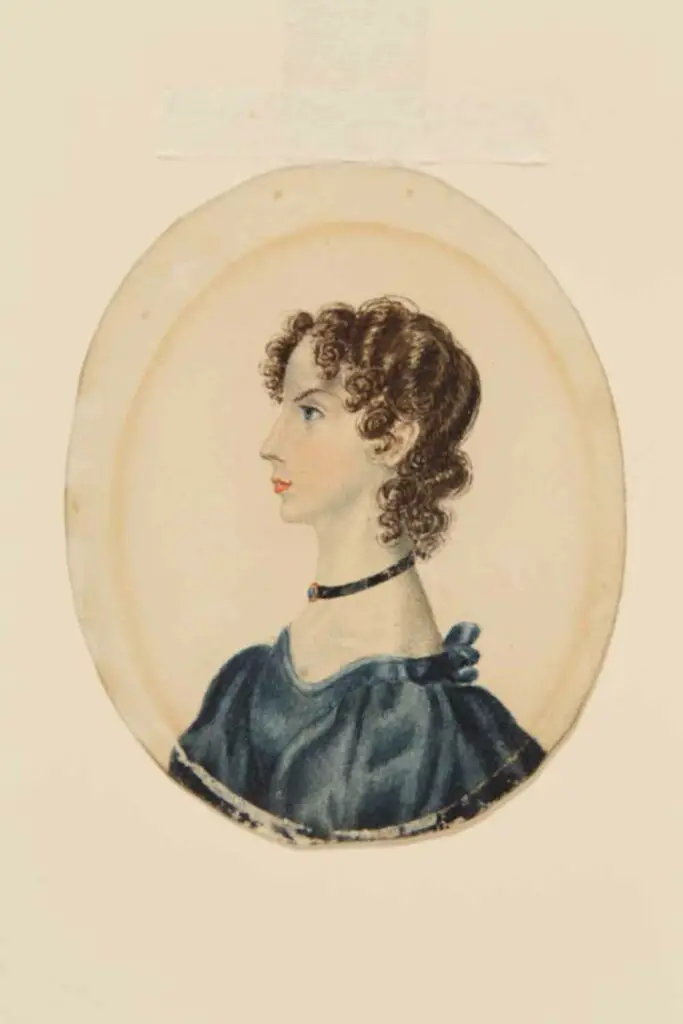 Even though she had left Thorp Green, Anne Brontë remained close to Bessy and Mary Robinson. The two of them came to Haworth to visit Anne in December 1848. Charlotte wrote that "they seemed overjoyed to see Anne; when I went into the room they were clinging round her like two children." 
1.3. Literary Career
1.3.1. Career as a Poet
In the summer of 1845, the Brontë siblings were all at home and unemployed. Charlotte found a book of Emily's poems and wanted to publish them to earn some income. Emily initially refused to publish her poems but she relented after Anne showed them her own poems. In 1846, the Brontë sisters published a book of poems titled, Poems by Currer, Ellis, and Acton Bell. These androgynous pen names were chosen to conceal their gender and avoid being subjected to prejudice against women writers. Anne Brontë would continue using the pen name Acton Bell for all her subsequent work.
The poetry collection was a commercial flop, selling only two copies in its first year of publication. Nevertheless, Anne found some success with her later poems. Her poem, "The Narrow Way" was published by the Leeds Intelligencer and Fraser's Magazine in December 1848. Fraser's Magazine also published her poem "The Three Guides". 
1.3.2. Agnes Grey
In December 1847, Anne Brontë published her first novel, Agnes Grey. Agnes Grey was published by Thomas Cautley Newby in a triple volume with Emily Brontë's Wuthering Heights taking up the first two volumes. The story of Agnes Grey revolves around the life of the titular governess as she deals with spoiled children and unreasonable employers while trying to find her place in the world. Anne wrote Agnes Grey based on her own experiences working as a governess for the Ingham and Robinson families. Her purpose in writing Agnes Grey was not merely to entertain but to expose the harsh conditions endured by governesses and the cruelty of the upper class. 
The heroine, Agnes Grey, shares many similarities with Anne Brontë. Like Anne, Agnes is the youngest daughter of a clergyman and was raised on rugged hills. At a young age, Agnes takes up a post as a governess to prove her abilities to her family members who treat her like a child. This mirrors Anne's experience of leaving her family to work for the Inghams at the tender age of 19. Both Anne and Agnes are fired by their first employers who are dissatisfied with their work. Therefore, it is not surprising that Agnes Grey has been read as an autobiographical novel.  
One of the most shocking scenes in the book is when Agnes crushes a nest of baby birds with a large stone to spare them from being tortured by her cruel pupil, Tom Bloomfield. Charlotte Brontë's friend, Elizabeth Gaskell, asked her if this scene happened in real life. Charlotte replied that "None but those who had been in the position of a governess could ever realise that dark side of "respectable" human nature; under no great temptation to crime, but daily giving way to selfishness and ill-temper, till its conduct toward those dependent on it sometimes amounts to a tyranny of which one would rather be the victim than the inflicter."
1.3.3. The Tenant of Wildfell Hall
Anne Brontë's second novel, The Tenant of Wildfell Hall was published in June 1848. The novel tells the story of Helen Huntingdon, a woman who leaves her abusive alcoholic husband to protect her son from his influence. She then builds a successful career as an artist and marries another man.
The Tenant of Wildfell Hall was a highly controversial book when it was first released, as it challenged the moral and legal conventions of Victorian England. Before the passing of the Married Women's Property Act in 1870, married women in England had no legal right to sue for divorce, control their own money or obtain custody of their children. Hence, by leaving her husband without an official divorce and taking her son with her, Helen was defying the laws and social norms of her time. 
Contemporary critics attacked The Tenant of Wildfell Hall for its disturbing subject matter. The American journal Literary World said that the author had, "a morbid love for the coarse". In addition, Sharpe´s London Magazine published a report by a reader who thought: "the book was so revolting that it ought not to be reviewed". 
When defending her work from critics, Anne Brontë wrote that she "wished to tell the truth" and "to reveal the snares and pitfalls of life to the young and thoughtless traveler". She also wrote that "When we have to do with vice and vicious characters, I maintain it is better to depict them as they really are than as they would wish to appear."
The Tenant of Wildfell Hall was prevented from being re-published by Charlotte Brontë after Anne's death until 1854. It is not clear why Charlotte suppressed The Tenant of Wildfell Hall but she did write to her publisher George Smith in 1850, saying, "'Wildfell Hall' it hardly appears to me desirable to preserve. The choice of subject in that work is a mistake – it was too little consonant with the character – tastes and ideas of the gentle, retiring inexperienced writer."
This suppression may have led to The Tenant of Wildfell Hall being less well-known than other books by the Brontë sisters. Despite this, the book is recognized today as a powerful feminist novel. May Sinclair, a famous British writer and suffragist, wrote in 1913 that "the slamming of Helen Huntingdon's bedroom door against her husband reverberated throughout Victorian England."
1.4. Visit to London 
In July 1848, Anne and Charlotte Brontë went to London to visit Charlotte's publisher George Smith. The motive of the visit was to dispel rumors that the "Bell brothers" were one author writing under different names. This rumor was spread by Anne and Emily's unscrupulous publisher Thomas Cautley Newby, who wanted to sell Anne's novel, The Tenant of Wildfell Hall, as Currer Bell's (Charlotte Brontë) work to an American publisher. After the success of Jane Eyre, a rival American publisher had made an agreement with George Smith to be the first to receive a new work by Currer Bell. Hence, this American publisher was upset and demanded an explanation from Smith.  
During their visit, George Smith brought Anne and Charlotte to the Royal Italian Opera House where they saw Rossini's opera, The Barber of Seville. Anne also requested to go to the St. Stephen Walbrook Church. This church was known at the time for its preacher, the Reverend George Croly, whose views on salvation were similar to Anne's. 
1.5. Death 
In September 1848, Anne's brother, Branwell, passed away from what was likely chronic bronchitis or tuberculosis, exacerbated by his addiction to alcohol and opium. Not long after, Emily, Anne's closest sibling, passed away in December that year from tuberculosis. The grief of losing Branwell and Emily affected Anne deeply and compromised her health. She soon fell ill and was diagnosed with consumption (tuberculosis). As her health failed, she wrote her last poem, "A dreadful darkness closes in". Despite taking the medicines she was given, she grew frailer and thinner over the next few months. 
In May 1849, Anne went to Scarborough accompanied by Charlotte and Charlotte's friend, Ellen Nussey. They hoped that the climate and change of environment would help Anne recover. During their trip, they stopped overnight at York, where Anne was taken to see the York Minster, which she loved. 
Anne Brontë died in Scarborough on 28 May 1849, her last words to Charlotte being, "take courage". Charlotte buried her in Scarborough. It was not practical to move her body back to Haworth and burying her there was also a sentimental decision. Anne loved Scarborough, having visited the town while working for the Robinsons as a governess and once again with her sister Emily after resigning from this position. 
1.6. Legacy
Although Anne Brontë's work is not as widely known as that of her sisters, she has increasingly gained recognition from modern critics. Critics have appreciated the thoughtful way Anne incorporated feminist themes into her writing and her unflinching realism. 
In 1924, Irish novelist and poet George Moore said that "if Anne Brontë had lived ten years longer, she would have taken a place beside Jane Austen, perhaps even a higher place." He also claimed that her first novel, Agnes Grey was "the most perfect prose narrative in English literature." 
One of Anne Brontë's biographers, Elizabeth Langland, wrote that "hers was an outstanding contribution in the debate over laws, education, employment and ideology of womanhood". 
In 2015, Ann Dinsdale, the principal curator of the Brontë Society released a documentary titled Anne Brontë: The Final Journey that described Helen Huntingdon from The Tenant of Wildfell Hall as a "radical feminist character". 
Several writers have written biographies of Anne Brontë, hoping to shed light on the life and work of the most underappreciated Brontë sister. Among them are W.T. Hale (1929), Winifred Gérin (1959), Elizabeth Langland (1989), Edward Chitham (1991), and Nick Holland (2017). 
In 2008, Mary Ann Shaffer and Annie Barrows wrote a novel, The Guernsey Literary and Peel Pie Society that references Anne Brontë's life and work. The novel's protagonist, Juliet Ashton, wrote and published a biography of Anne Brontë, who she admires for her progressive ideas and literary talent. The Guernsey Literary and Peel Pie Society received a film adaptation in 2018, starring Lily James as Juliet Ashton. 
2. Bibliography
2.1. Anne Brontë's Books
Agnes Grey (1847)
The Tenant of Wildfell Hall (1848)
2.2. Anne Brontë's Poems
Collections:
Poems by Currer, Ellis, and Acton Bell (1846)
Other poems: 
A dreadful darkness closes in
My God! O let me call Thee mine!
Oh, They have Robbed Me of The Hope
Parting Address From Z.Z. To A.E.
We know where deepest lies the snow (song)
Come to the banquet—triumph in your songs! (song)
3. Quotes from Anne Brontë
"Let it not be imagined, however, that I consider myself competent to reform the errors and abuses of society, but only that I would fain contribute my humble quota towards so good an aim, and if I can gain the public ear at all, I would rather whisper a few wholesome truths therein than much soft nonsense."

from the preface of The Tenant of Wildfell Hall
"in my own mind, I am satisfied that if a book is a good one, it is so whatever the sex of the author may be."

from the preface of The Tenant of Wildfell Hall
"It is foolish to wish for beauty. Sensible people never either desire it for themselves or care about it in others. If the mind be but well cultivated, and the heart well disposed, no one ever cares for the exterior."

from Agnes Grey
"The end of Religion is not to teach us how to die, but how to live…."

from Agnes Grey
"If you would have your son to walk honorably through the world, you must not attempt to clear the stones from his path, but teach him to walk firmly over them – not insist upon leading him by the hand, but let him learn to go alone."

from The Tenant of Wildfell Hall
---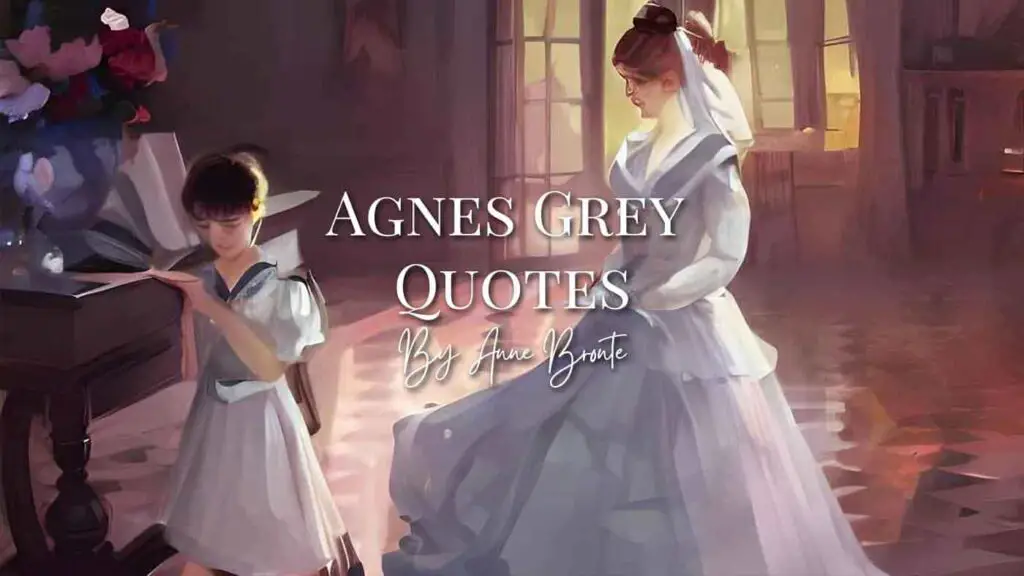 Recommended: Best Agnes Grey Quotes by Anne Brontë
4. Books about Anne Brontë for further reading
Gérin, Winifred. (1959). Anne Brontë, A Biography, Thomas Nelson and Sons Ltd. 
Hale, Will T. (1929). Anne Brontë: Her life and writings. 
Langland, Elizabeth. (1989). Anne Brontë: The Other One. Rowman and Littlefield. 
Chitham, Edward. (1991). A Life of Anne Brontë. Wiley. 
Holland, Nick. (2017). In Search of Anne Brontë. The History Press.