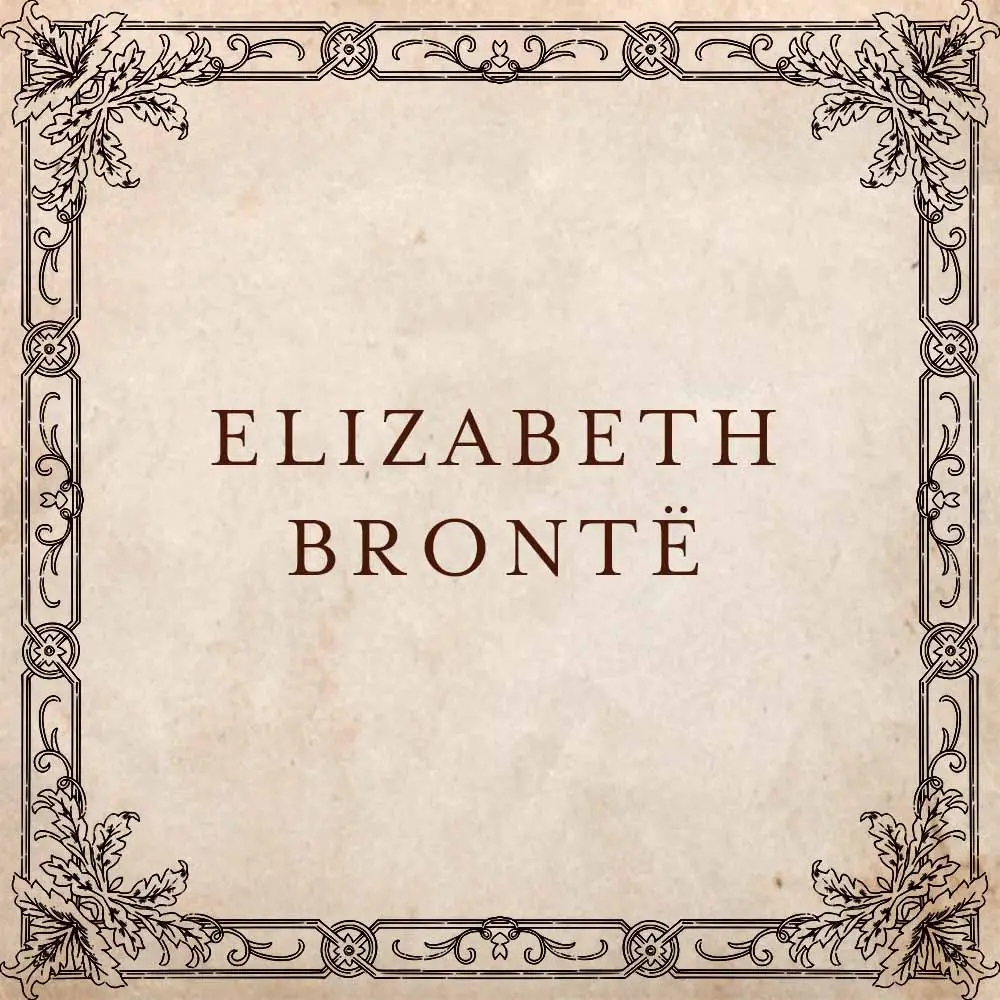 Elizabeth Brontë
Born: 8 February 1815
Died: 15 June 1825
Elizabeth Brontë was the second child of Patrick Brontë and Maria Branwell. She was the elder sister of the writers Charlotte, Emily, and Anne Brontë, and the painter and poet Branwell Brontë. She was also the younger sister of Maria Brontë. In June 1825, she died of tuberculosis, aged 10. 
Biography
On 8 February 1815, Elizabeth Brontë was born in Hartshead, Yorkshire, a small village where her father was the Church of England curate. She was named after her aunt, Elizabeth Branwell, who helped the family move to Thornton. This aunt would remain in Thornton to take care of the Brontë children after their mother's death in 1821.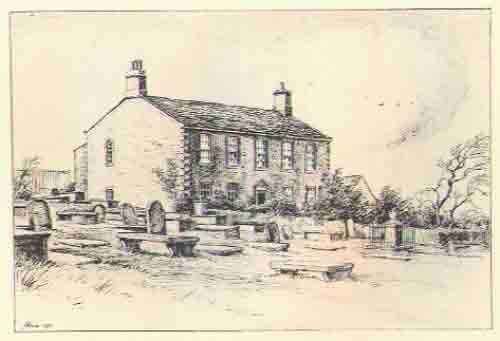 Elizabeth Brontë had a practical personality, valuing tidiness and order. Her father described her as a child with "sound common sense". Patrick Brontë knew that his children were very reserved and once tried to get them to open up to him by asking them questions from behind a mask. When he asked Elizabeth what the best mode of education was for a woman, she replied, "that which would make her rule the house well." 
She was also a kind and nurturing child who looked out for her younger siblings. Nancy Garrs, a family servant, said that Elizabeth would lead her younger sisters by the hand on walks across the moors. Her sister, Charlotte described her and Maria as "wonders of talent and kindness."
In 1823, Elizabeth Brontë and her older sister Maria were sent to the fashionable girls' boarding school Crofton Hall at Wakefield. Fees were high and Patrick Brontë could not afford to send all his daughters to Crofton Hall. As such, he pulled Elizabeth and Maria out of Crofton Hall and enrolled them in the Clergy Daughters' School at Cowan Bridge in July 1824. Charlotte and Emily joined them two months later. The fees at Cowan Bridge were more affordable and the school had been recommended by respected members of the Yorkshire clergy. Moreover, the director and founder of the school, Reverend William Carus Wilson, was a clergyman Patrick Brontë looked up to.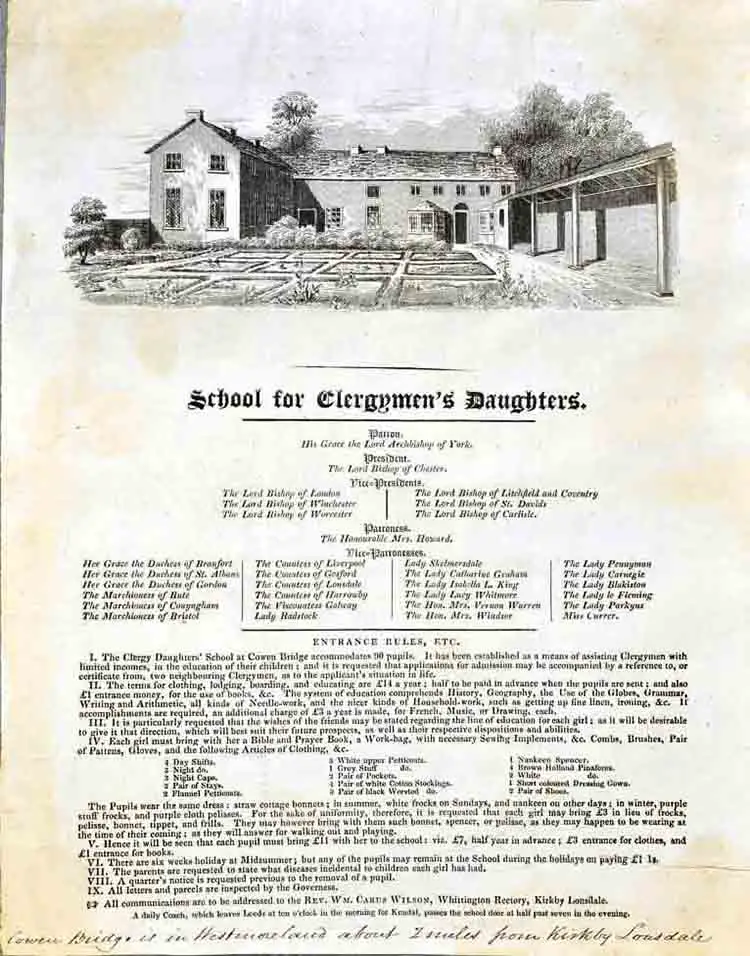 When the girls were admitted into Cowan Bridge, they were assessed to determine the occupation they would be trained for. Maria, Charlotte, and Emily were listed as future governesses while Elizabeth was listed as a future housekeeper. Hence, unlike her sisters, Elizabeth did not receive lessons in French, music, and drawing, which her father would have had to pay an extra £3 for each year. 
Conditions at Cowan Bridge, while not necessarily worse than other boarding schools at the time, were very poor by modern standards. The students were given insufficient and spoiled food, with the cook being described as "careless, dirty, and wasteful". Their breakfast oatmeal porridge was frequently sent up burnt, making it inedible. 
On Sundays, the girls had to walk more than two miles to attend the Sunday service at the church where Reverend Wilson preached. This walk was "a bitter cold one in winter, especially to children whose thin blood flowed languidly in consequence of their half-starved condition." 
Not only did Elizabeth Brontë have to endure these harsh conditions, but she also cut her head severely while attending Cowan Bridge. Miss Evans, the superintendent of the school recalls, "the second, Elizabeth, is the only one of the family of whom I have a vivid recollection, from her meeting with a somewhat alarming accident, in consequence of which I had her for some days and nights in my bed-room, not only for the sake of greater quiet, but that I might watch over her myself. Her head was severely cut, but she bore all the consequent suffering with exemplary patience, and by it won much upon my esteem."
Death of Elizabeth Brontë
In the spring of 1825, there was a typhoid outbreak at the school. In February, Maria was diagnosed with tuberculosis and returned home, where she died on May 6. Elizabeth could have contracted typhus which masked symptoms of tuberculosis in her. Her health declined, and she was sent home on May 31. After two weeks, Elizabeth Brontë passed away from tuberculosis on June 15.