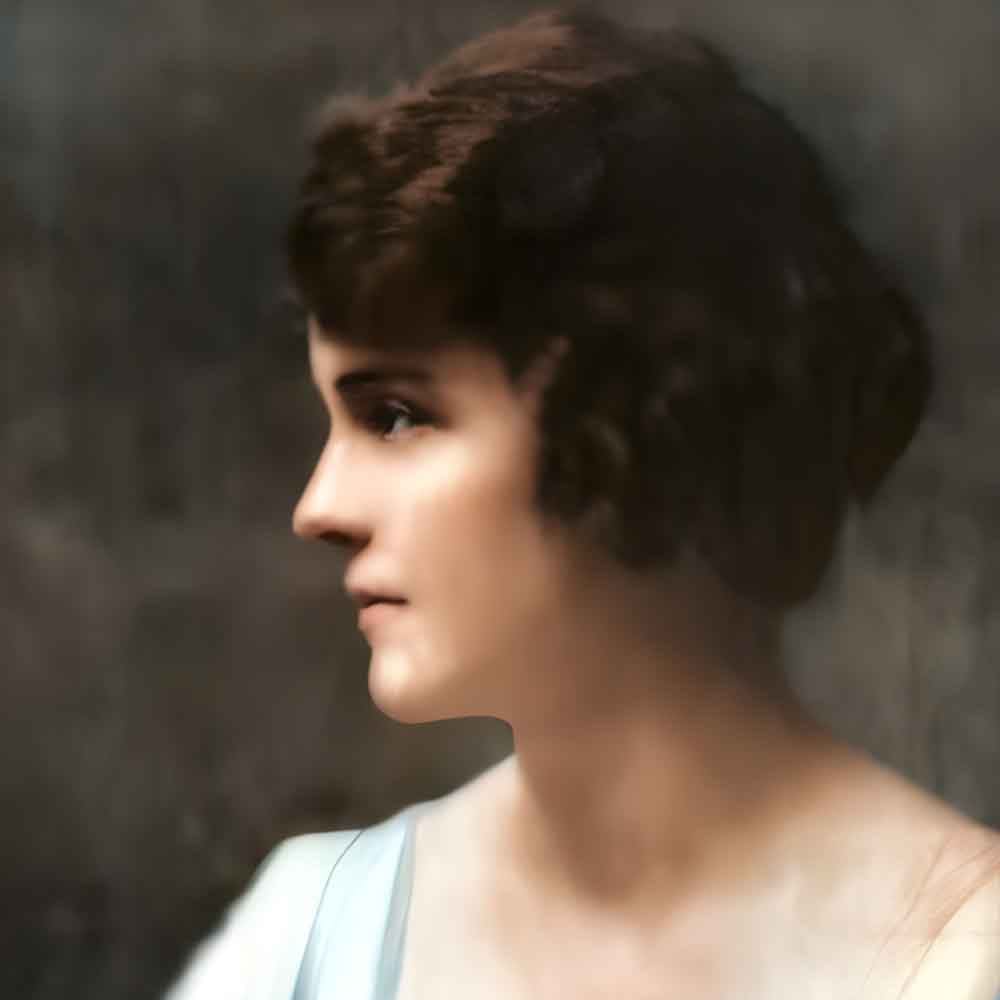 Ginevra King Pirie
Born: 30 November 1898
Died: 13 December 1980 (82 years old)
Nationality: American
Ginevra King Pirie was not only a popular socialite, but she was also the heiress of a wealthy family in Chicago. King is famous for being F. Scott Fitzgerald's first love and the muse for many of his female characters, such as Daisy Buchanan in The Great Gatsby. Their social standing and wealth difference eventually drew a rift between her and Fitzgerald. This rift, in turn, developed into a common trope in Fitzgerald's books, where he often featured star-crossed lovers that could not overcome the differences in their socioeconomic class. 
King eventually moved on to marry William Mitchell and, later, John T. Pirie. She had three children with Mitchell and passed away in her family's estate in Charleston at 82. 
1. Ginevra King Pirie's Biography
1.1. Early Life and Education
Ginevra King's father was Charles Garfield King, a successful financier who married King's mother, Ginevra Fuller. King and her mother were named after the Ginevra de' Benci by Leonardo da Vinci. By the standards of the 1920s and 30s, King's family would be considered part of the Old Rich, and they associated themselves with other families of similar backgrounds. With her social standing and charm, King was regarded as part of the 'Big Four' debutantes in World War I. 
King was the embodiment of the carefree rich girl. She understood that she was privileged and that it was an advantage to her. King lived most of her childhood and teenage years playing golf, horseback riding, and attending social gatherings without worrying about her future or her family's finances. She kept a close social circle of equally elite and wealthy friends. One of these girls, Edith Cummings, was a professional golfer and subsequently the inspiration for Jordan Baker in The Great Gatsby.  
King was competitive in sports such as basketball, golf, and tennis, but not as much in her academics. She attended Westover School in Middlebury, Connecticut. Westover School was known for cultivating women who were the cream of the crop. Noblesse oblige was a core value that the school emphasized, where their students were expected to live up to the social responsibilities using the privilege their social status granted them. Other notable members of the school included Isabel Stillman Rockefeller, Margaret Livingston Bush, and Mary Eleanor Bush. King spent most of her time in Westover school hanging out with her close-knit quartet, attending parties, or simply talking. 
2.2. King and Fitzgerald's Romance
King and Fitzgerald had a mutual attraction when they met in St. Paul, Minnesota, in 1915 during a sledding party. Their relationship was famous for the sheer number of letters the two regularly exchanged, along with several photographs. However, Ginevra King did not treat the letters from Fitzgerald with much respect, often reading out the writer's heartfelt words to her classmates to amuse them and herself. It is reported that the contents of their letters became rather steamy over time, leading to King sleeping with the letters next to her in hopes of the scenarios playing out in her dreams. 
 The first hurdle to their relationship presented itself when Fitzgerald asked King to be his prom date while he was studying at Princeton, only for King's mother to deny the request due to Fitzgerald's lack of social status. 
In March 1916, Fitzgerald sent King a short story called "The Perfect Hour," which was a reimagining of him and King having a happy ending. King was touched by Fitzgerald's penmanship and gesture and sent him a short story of her own. It featured King herself stuck in a marriage of convenience, and she and Fitzgerald eventually elope after he becomes rich. 
Many critics noted that King's story has stark similarities to The Great Gatsby, which Fitzgerald would later write in 1925.
However, King and Fitzgerald's romance did not mean she cut off her ties with other suitors. She continued to see some of them simultaneously. In 1916, she was expelled from Westover for fraternizing with some guys from her window. Westover's headmistress, Mary Robbins Hillard, degraded King, calling her a "bold, bad hussy" and an "adventuress." While her father's legal involvement reversed her expulsion, she was withdrawn from Westover and finished schooling at a private school in New York instead. 
Fitzgerald came to visit King at her estate in Lake Forest. However, Lake Forest was known to be a White Anglo-Saxon Protestant community that was "off-limits to Black and Jewish people." It was an unwritten rule that the area was reserved only for the Old Rich. Fitzgerald's middle-class background and Irish Catholic descent made him an unwelcome visitor who 'spoilt' the sanctity of the community's demographic. 
King's father despised Fitzgerald for trying to earn King's affection, even telling him that "poor boys shouldn't think of marrying rich girls," a phrase used in movie adaptations of The Great Gatsby. King met Fitzgerald for the second last time in November 1916, when she came to a Princeton-Yale football game. King later revealed that she was nervous because she was meeting a suitor right after greeting Fitzgerald, who had no idea of his rival.
When January 1917 came about, King officially ended her romance with Fitzgerald due to his poor financial standing. Fitzgerald reported that King broke off their relationship without a trace of sensitivity or compassion. The breakup prompted the heartbroken Fitzgerald to enlist as a soldier, where he hoped that the war would fulfill his suicidal tendencies. 
2.3. Marriages
While Fitzgerald was in Montgomery, Alabama as an officer, he persisted in attempting to rekindle his romance with King. King eventually married William Mitchell, a polo player from an equally wealthy family in 1918 and informed Fitzgerald of her marriage abruptly via letter. With little consideration for Fitzgerald's feelings, King gushed about how much she liked Mitchell in her letter to the writer. Nevertheless, her marriage to Mitchell was one of convenience and monetary benefit. King had three children with Mitchell, and their marriage was not joyous due to Mitchell's unfaithfulness.
Ginevra King eventually divorced Mitchell and married John T. Pirie, whose family owned the Carson Pirie Scott & Company. King met Pirie during a North Shore fox hunt. Pirie had fallen from his horse during the hunt, and King, who had been just behind, tended to him until medical help arrived. 
2.4. Remaining Years
King and Fitzgerald's last meeting took place in 1938, in Hollywood, California. Fitzgerald's alcoholism ruined the meeting. He responded rudely to King when she asked him which characters were inspired by her. He retorted, "Which bitch do you think you are?" King was highly disappointed with how Fitzgerald had turned out, leaving him behind for good.
After Fitzgerald died in 1940, Ginevra King received copies of the letters she sent Fitzgerald from his daughter, Scottie Fitzgerald. King read through them and reflected on them, stating that she was incredibly self-absorbed in them.
King set up the Ladies Guild of the American Cancer Society and later passed away at 82 in 1980. 
3. Influence on Literature
3.1. Influence on F. Scott Fitzgerald's writing
Ginevra King is known to have influenced many of the female love interests in Fitzgerald's books. Having been Fitzgerald's first love, her cold abandonment of the author rendered him heartbroken for a long time. He modeled his characters after her to cope with the heartache. 
Her elusiveness and high social standing formed the archetype that was a favorite of Fitzgerald's: the wealthy upper-class girl that his protagonist, a middle-class boy just like Fitzgerald himself, desired strongly. For Fitzgerald, King embodied the American Dream, much like how Daisy Buchanan was a representation of the American Dream for Gatsby in The Great Gatsby. 
The characters that King inspired in Fitzgerald's novels and short stories are as follows:
Isabelle Borgé (This Side of Paradise)
Kismine Washington ("The Diamond as Big as the Ritz")
Judy Jones ("Winter Dreams")
Paula Legendre ("The Rich Boy")
Daisy Buchanan (The Great Gatsby)
Josephine Perry (The Basil and Josephine Stories)
Other works that King has inspired or been featured in include a biography of her and Fitzgerald's relationship titled, The Perfect Hour by James L. W. West III, which coincidentally takes after the same name as Fitzgerald's short story to King. There has even been a musical, The Pursuit of Persephone, based on King and Fitzgerald's relationship.
3.2. Diary Entries
Ginevra King's diary played an essential role in helping literary scholars better understand the course of her relationship with F. Scott Fitzgerald. They contained King's emotions and thoughts toward the writer and their relationship, which were seldom expressed when she was with Fitzgerald himself. One such diary entry was King stating that she was "madly in love" with Fitzgerald. 
4. Ginevra King Pirie's Photograph
The July 1918 issue of Town & Country Magazine featured a 20-year-old Ginevra King. Town & Country Magazine's content was geared toward the American lifestyle and the upper class in general. The photo description stated her parents' names and that her estates were in Chicago and Lake Forest. It also explains how King's debut into society was delayed due to World War I and that she spent that period in war relief. It makes mention of King's position in the Junior League and motor corps, her athleticism being a known trait. Lastly, it mentioned how King and her family would be at Rye Beach for a few months.  
<image: https://upload.wikimedia.org/wikipedia/commons/thumb/9/9b/Ginevra_King.jpg/440px-Ginevra_King.jpg>
5. Frequently Asked Questions about Ginevra King
Did Ginevra King influence F. Scott Fitzgerald's writing?
Yes, King had a very strong influence on the female characters in Fitzgerald's novels. He has publicly admitted that King was the muse for characters such as Daisy Buchanan from The Great Gatsby and Isabelle Borgé from This Side of Paradise. 
Why did Ginevra King get expelled?
The school expelled King for fraternizing with boys, which was looked down upon in that era.
Did Ginevra King and F. Scott Fitzgerald often exchange letters?
Yes, King and Fitzgerald are known to have exchanged over 130 letters. Their letters have been beneficial to Fitzgerald scholars in understanding the earlier days of his life and how their romance shaped the writer's works. 
Why did F. Scott Fitzgerald like Ginevra King so much?
Fitzgerald found King so desirable because of what she represented to him. King's wealthy background was something that many Americans, including Fitzgerald himself, desired.
6. Articles about Ginevra King Pirie for Further Reading
Written by Smith, Dinitia. (2003). Love Notes Drenched In Moonlight; Hints of Future Novels In Letters to Fitzgerald. The New York Times.
Written by Noden, Merrell. (2003). Fitzgerald's first love. Princeton University.
Written by Unknown. (2013). Ginevra King: Not Just Gatsby's Girl. History Center of Forest-Lake Bluff