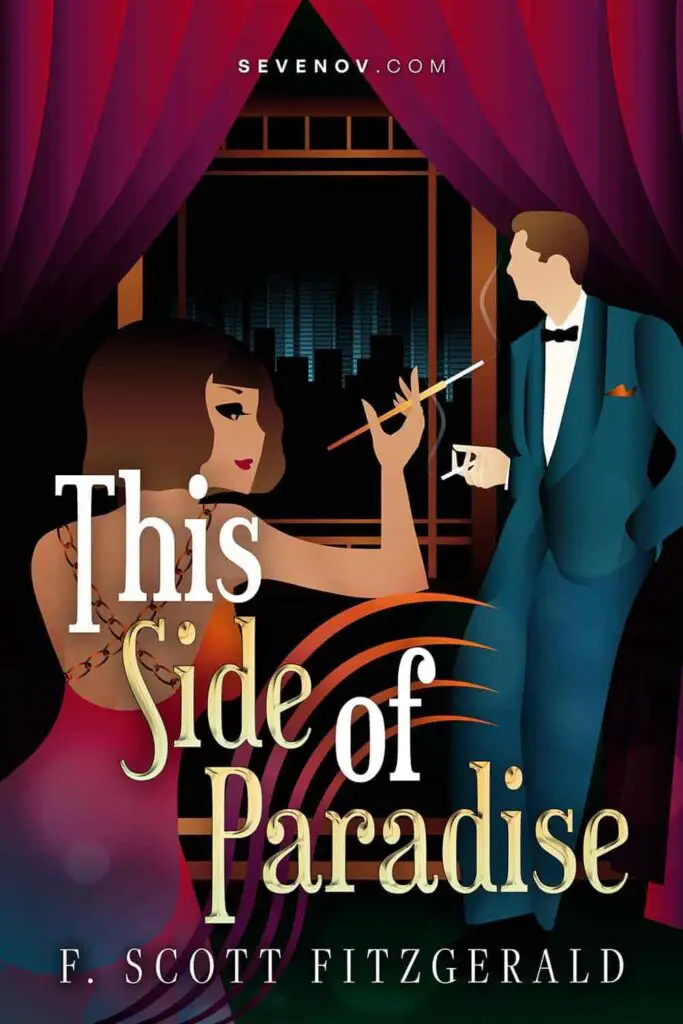 This Side of Paradise by F. Scott Fitzgerald
Author: F. Scott Fitzgerald
Published: 1920
Genre: Drama, Historical Fiction, Romance, Tragedy
F. Scott Fitzgerald's debut, This Side of Paradise, was released in 1920. The book explores the morals and lives of reckless American youth at the Jazz Age's beginning. Fitzgerald was the first author to call attention to this group of youth who lived through the Jazz Age. They consisted of younger Americans who had been teenagers during World War I and were mostly untouched by the war's psychic and lived experience. They were a great contrast to the elder Lost Generation to which Fitzgerald and Ernest Hemingway belonged. This Side of Paradise aims to focus readers' attention on the recreational activities of the generation's youth and fan the flames of debate on their seeming immoral.
1. Synopsis of This Side of Paradise
This Side of Paradise's protagonist, Amory Blaine, is a charming and handsome Princeton University student from a middle-class background. He enjoys reading and has several relationships with flappers. This Side of Paradise's title is derived from a phrase in Rupert Brooke's poem "Tiare Tahiti," where the novel delves into the idea of love that has been corrupted by greed and climbing the social ladder. 
Amory grows up with a massive ego and a limited understanding of the world, caring more about how others perceive him than actually learning anything of value. Amory discovers that there is more to life than what his mother has taught him once he is old enough to earn his keep. Nevertheless, overcoming his years of self-importance proves an uphill task. As Amory descends into a life of debauchery and alcoholism, he comes face to face with the value of one's beliefs in a time where following one's desires and temptations are commonplace. 
2. Story Summary
2.1. Amory, Son of Beatrice
In This Side of Paradise's beginning, we are introduced to Amory Blaine and his enrollment into Princeton University. It starts with a brief introduction to Beatrice, his mother, who is described as a wealthy and attractive girl from Lake Geneva, Wisconsin. Due to her family's fortune, she could afford a prestigious education and visits to Europe. She is a sophisticated and alluring woman who, weary of life in the upper class, married Stephen Blaine, who lacked social taste. Amory stays with his aunt and uncle in Minneapolis for two years when Beatrice has a nervous breakdown. 
Amory stands out from his peers. He's well-educated, speaks French well, and conducts himself like an adult. When he is thirteen, he is invited by Myra St. Claire, his classmate, to her party. Amory shows up fashionably late, slightly ruining the party. The two make their way together to the stately Minnehaha Club, where Amory plays up his romantic charms and inspires Myra to kiss him – an act that ironically repulses the young boy.
Eventually, Amory departs for St. Regis in New England to enroll and meet the school's monsignor, Monsignor Darcy, with whom he instantly develops an affinity. Amory has difficulty settling in socially and academically at St. Regis; other students see him as arrogant, and his teachers think he lacks discipline despite being highly intelligent. However, he eventually blends in. 
2.2. Princeton
Amory enrolls at Princeton University, where he meets Kerry and Burne Holiday, who will be his housemates. Together, they get to know their new surroundings and schoolmates. He also becomes friends with Jesse Ferrenby, Alec Connage, and Dick Humbird. Amory first signs up for football to become more popular in the class, but an injury prevents him from playing despite a strong start. After that, he starts working for The Daily Princetonian, the university's news publication. Despite their efforts, he and Kerry realize they are still not among the top-class students. After giving up, they resolve just to have fun for the rest of the year.
Soon, Amory becomes friends with Tom D'Invilliers, a voracious reader, over their shared love of books. Amory is introduced to numerous new authors by Tom, and Amory also familiarizes Tom with the university's social scene. Amory pays little attention to the start of World War I in Europe and instead focuses on his accomplishments at the newspaper and the Triangle Club, the musical theater company he has joined. During a school trip hosted by the Triangle Club, Amory is introduced to the social scene of the 1920s.
Amory then meets Isabelle, a young and beautiful debutante, at the Minnehaha Club in Minnesota. The two instantly fall in love. They continue their passionate exchange of love letters after Amory returns to Princeton. Amory has developed into somewhat of an elite figure on campus due to his contribution to the newspaper. He is accepted into the Cottage, one of the most exclusive clubs in college, for his social skills. 
Amory considers the spring of his sophomore year the best period of his life, especially the weekend trip to the seaside he took with Alec Connage, Dick Humbird, Jesse Ferrenby, and Kerry. They arrive with no money and make do by sleeping outside and paying ludicrously little for good meals while acting boisterously and inebriated. Even after learning that Dick Humbird is not a member of the old upper class and hails from "new money," Amory still views Dick's demeanor – the way he moves, speaks, and behaves – as the model of social grace.
The raucous times continue as Tom and Amory discuss how much the Princeton party scene has ironically made Tom conservative. Amory attends a party in New York, and when he gets back, he discovers that Dick Humbird died in an automobile accident. After this sobering event, Isabelle shows up to accompany Amory to the prom. They adore each other immensely, and Amory pays Isabelle's family a visit at their Long Island house.
2.3. The Devil
On one of Amory and Isabelle's liaisons, Amory's shirt-stud hurts Isabelle's neck and leaves a mark. A brief fight ensues, in which Isabelle accuses Amory of being entirely egotistical. He rapidly learns they do not love each other and departs for good. 
Amory returns to school early for a make-up exam after failing a course the semester before. If Amory fails, he will be disqualified from working for the newspaper and achieving success on campus. However, this does not motivate Amory to study, and he fails. Amory is hit with an epiphany that pursuing social achievement has forced him to conform overly. Failing the exam has made him regain "The Fundamental Amory."
Misfortune soon arrives with the death of Amory's father. During the funeral, Amory lacks emotion as his true concern lies in his family's dwindling finances. Amory pays a visit to Monsignor Darcy in New York after returning to the East. Darcy convinces Amory that he has given himself a second opportunity at life, and Amory feels rejuvenated. Amory begins withdrawing from campus life, even writing a critical poem about those who remain. His friend Kerry also withdraws to enlist with the Lafayette Escadrille, earning Amory's admiration.  
During one of his travels to New York, Amory hallucinates and believes he sees a man he calls "the devil," In a somewhat hallucinogenic nightmare, he runs away and thinks the devil is pursuing him or that he is pursuing the devil. Collapsing to the ground, Amory cries out that he wants "someone stupid," "someone good," and visualizes Dick Humbird's face. Amory is still troubled by the incident when he returns to Princeton, where surprisingly, Tom can see Amory's hallucination of "the devil." They discuss Amory's hallucination throughout the night. 
2.4. Leaving Princeton
In January of Amory's senior year, he discovers that Burne Holiday (Kerry's brother) is the driving force behind several juniors considering quitting their clubs. Burne rekindles Amory's intellectual flame, which had nearly extinguished, and makes him see how idle he has become. Burne has a reputation for organizing mischief despite having a serious demeanor. They quickly form a close bond. Alec is troubled by Amory's altered behavior due to his friendship with Burne, but Amory begs him to tolerate it as long as he behaves normally in private.
Monsignor Darcy requests Amory to see Clara, a destitute, widowed relative of his, in Philadelphia as a postscript to a letter. Though Amory is a little disappointed that Clara is not the picture of poverty and misery he had expected, he nonetheless falls in love with her. She admits that she likes Amory but does not know what love feels like. Clara eventually chooses to be with someone else, but Amory is not upset as he understands her decision. Men begin enlisting as the war spreads to America. Burne declares himself a pacifist and departs for Pennsylvania. Amory and the others leave for the battlefield while searching for someone accountable for the bloodshed.
2.5. Two Letters
Through two letters and a brief narration, Amory's time as a soldier is told to us. Monsignor Darcy penned the first letter in January 1918. Darcy expresses furiously over the war's brutality and makes historical comparisons. He remarks that he has aged and hints at his wishes to be Amory's father, complimenting Amory's attitude as a soldier. In addition to including a poem and expressing his concern that one of them might not survive the battle, Darcy also states that he believes Amory to be a kind of reincarnation of himself.
The second letter from Brest, Germany, in January 1919, is from Amory to Tom. Amory suggests living in Manhattan with Tom and Alec and contemplates running for office. Amory casually mentions Beatrice's passing while lamenting that she donated half of her estate to the church. He reveals Burne's disappearance and the deaths of Kerry and Jesse. Additionally, Amory displays worries about getting obese or falling in love. He desires to live a "contemplative, emotionless life" when he returns.
2.6. Rosalind
Alec's sister, Rosalind, is having her debut into debutante society. Amory stumbles upon her dressing room, and the two engage in professional socialite conversation before sharing a passionate kiss. Rosalind brags about her expulsion from school and her flings with men. He wants to kiss her again before he leaves, but Rosalind declines, claiming she has 'won' the upper hand. Rosalind's mother instructs her on how to attract a wealthy spouse, but she chooses Amory. 
The following months illustrate their passionate relationship and Amory's financial attempts to provide for her. Unfortunately, Rosalind eventually leaves Amory under her mother's pressure. She also realizes that she wants financial security.
2.7. Spiral
Amory slowly spirals into alcoholism. He distracts himself with various parties, never revealing his heartbroken state, eventually quitting his job. Things turn for the worse when Alec moves out, leaving Tom and Amory with more rent to share. 
The Prohibition soon comes into effect, ending Amory's alcoholic phase and prompting him to read enthusiastically as a distraction. Amory comes across an article that Tom has written, and he criticizes Tom's work, saying he is overly cynical. A dejected Tom explains that he is doubtful of their ability to achieve literary success. A period of time passes, and the two part ways, with Amory heading to Washington. 
2.8. Eleanor
Amory was in Maryland's countryside when he heard Eleanor reciting poems and joined her. The two quickly bonded as Amory is drawn to her free spirit. Unfortunately, Eleanor is betrothed to a man who does not match her level of intellect. The night before Amory's departure, they go for a horse ride, during which Eleanor gallops toward a cliff but jumps off without Amory, all to prove a point he made wrong. Despite their separation, they keep in contact and reminisce about their love in the years that follow. 
2.9. A Near Scandal
Amory reunites with Alec in Atlantic City and stays with him and a few other girls at Alec's hotel. The party awakens to find house detectives pounding on their door, having been tipped off about a couple who engaged in pre-marital sex (this was illegal at the time). Amory takes the blame to protect Alec and is let off with a warning. 
When Amory returns to New York, he discovers news of Rosalind's engagement and resolves that he has lost her for good. The bad news does not stop there as he soon learns that Monsignor Darcy has passed away.
2.10. Ending
As This Side of Paradise nears the end, Amory begins to reflect on his own life and his beliefs regarding social class. Amory aspires to disappear into far-flung exotic countries. He laments how Burne Holiday, Mr. Darcy, and his lovers have left him. He decides to be someone reliable after attending Darcy's funeral.
On a walk around Princeton, a wealthy man lets Amory hitch a ride and has a chat with him. Amory shares Socialist ideas about the economy that the man disagrees with, but he respects Amory's character and introduces himself as Mr. Ferrenby, Jesse's father, before leaving.
Amory comes across a Civil War cemetery and recounts his lost loved ones. This Side of Paradise ends with Amory coming to terms with the changing times and his own changing identity. 
3. Characters
Amory Blaine – Amory is a Midwesterner from Princeton who subsequently served in World War I. He had a string of unsuccessful relationships. Fitzgerald and his unsuccessful relationships serve as inspiration for this Amory. Amory is named after Fitzgerald's football idol at Princeton, Hobart Amory Bake,
Isabelle Borgé – Isabelle is Amory's first love and an affluent but superficial debutante. Ginevra King, an heiress with whom Fitzgerald had a lifelong obsession, is the character's inspiration. Fitzgerald met King over Christmas break in his sophomore year at Princeton, just like Isabelle and Amory did, and their relationship ended similarly.
Rosalind Connage – Rosalind is a vicious and self-centered flapper who ends up being Amory's second love. Fitzgerald's wife, Zelda Sayre, served as the inspiration for Rosalind's character. Sayre first broke off her relationship with Fitzgerald because of his lack of job prospects and inability to support her standard of living as an idle Southern belle, mirroring Rosalind's materialistic relationship with Amory.
Eleanor Savage – Her last name is a fitting description of Amory's impression of her and her character. She is a breath of fresh air to Amory and possibly the most intellectually level with Amory out of all his lovers. 
Dick Humbird – Dick is a Princeton classmate of Amory's. Amory sees in Dick all the best traits of his generation even though Dick's wealth comes from new money.
'Tom' Park D'Invilliers – Tom is Amory's intellectually gifted friend who succumbs to Princeton's traditional social scene. For a period, Amory resides in New York with him.
Burne Holiday – Burne is a close buddy of Amory's at Princeton and the younger brother of Kerry. This resolute young man at Princeton criticizes the exclusive social clubs and later converts to pacifism, refusing to take up arms. Amory is motivated to search outside the normative social context for self-understanding by his rejection of convention.
4. Themes
4.1. Social Class and Wealth
Like many of Fitzgerald's other works, the theme of social class and money is a common trope that sets the background for many vital scenes in This Side of Paradise. Amory has a complex relationship with money; although hailing from an Old Money family, he occasionally finds himself lacking money. Since he has been lavished with wealth since infancy, he has terrible money management and awareness.
Amory decides against leading a "normal" life centered on monetary success and material prosperity in favor of upholding his values, influenced by the rhetoric of his socialist friend Burne Holiday. At the end of This Side of Paradise, he understands that material possessions can never buy him happiness or true love.
4.2 Love and Relationships
In This Side of Paradise, Amory understands love as passionate and transient through his relationship with his mother. Amory uses his charm and good looks to draw women to him. Amory longs for someone to accept him as he is entirely, but he struggles to let go of his ego. Amory is constantly brokenhearted since he can't seem to learn from his romantic missteps. But it is through these heartbreaks that Amory matures.
4.3 Identity
Labeled as a "romantic egoist," Amory is obsessed with his appearance and how others perceive him. Being raised to feel superior and exceptional has given him the impression that success is easily achieved. Nevertheless, Amory's egotism conceals a lack of self-assurance and anxiety about his place in the world. With others, he puts up a facade to appear superior. 
His personal and professional lives suffer as a result. He accepts pretense and suppresses his feelings. He also lacks empathy for other people, and because he doesn't recognize the identities of his partners, his romantic relationships frequently fail. However, he is aware of the drawbacks of his egotism and works to overcome them.
5. Writing Style
Many critics regarded This Side of Paradise as having poor form and construction. They emphasized that the book had "nearly every defect and deficiency that a novel may possibly have," and it quickly became apparent that Fitzgerald's writing style needed improvement. His critics acknowledged that he could write amusingly but paid little regard to form and construction. After reading and considering these critiques of This Side of Paradise, Fitzgerald set out to write his second book, The Beautiful and Damned, with a more robust prose structure and experiment with a different kind of fiction.
6. Influence on Literature and Culture
Fitzgerald was the first author to bring the so-called Jazz Age generation into the public spotlight with his first book, This Side of Paradise. Fitzgerald drew the nation's focus to their kids and daughters' hedonistic antics while frolicking in the back seat of a Bearcat roadster and sparked a public discussion over the perceived immorality of their behavior. His works quickly gained popularity among college students due to this thematic concentration, and the media portrayed him as the representative of the uprising of young people.
7. Quotes from This Side of Paradise
"I don't want to repeat my innocence. I want the pleasure of losing it again."

Amory Blaine
"They slipped briskly into an intimacy from which they never recovered."
"It was always the becoming he dreamed of, never the being."
---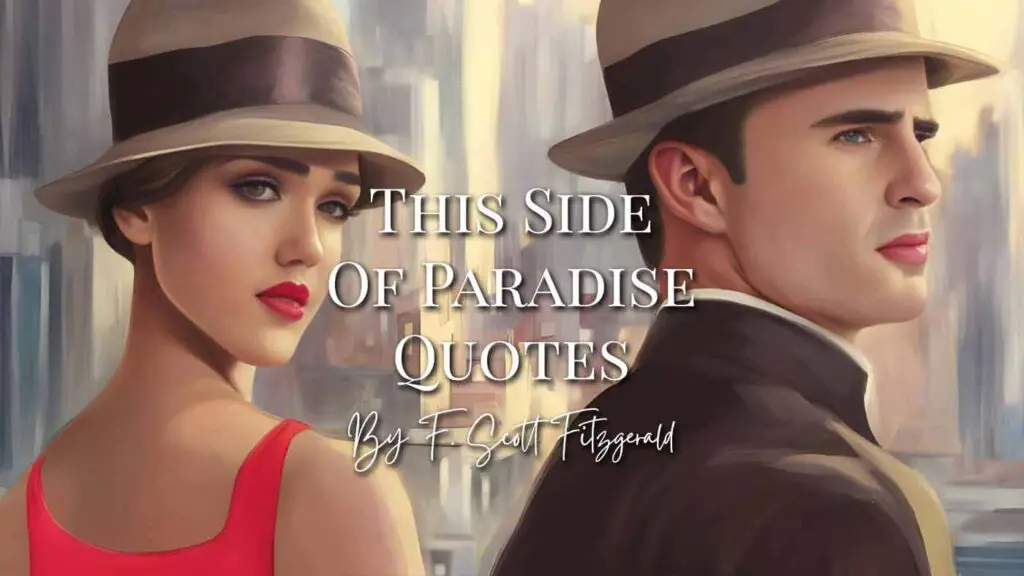 Recommended: This Side of Paradise Quotes by F. Scott Fitzgerald
8. Notable Book Covers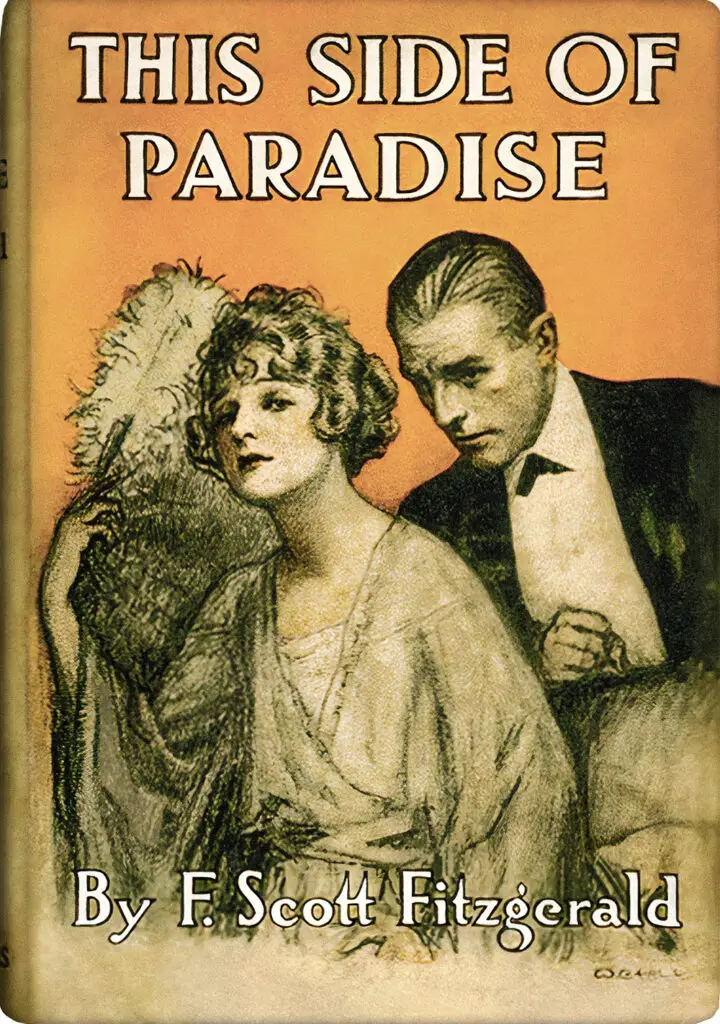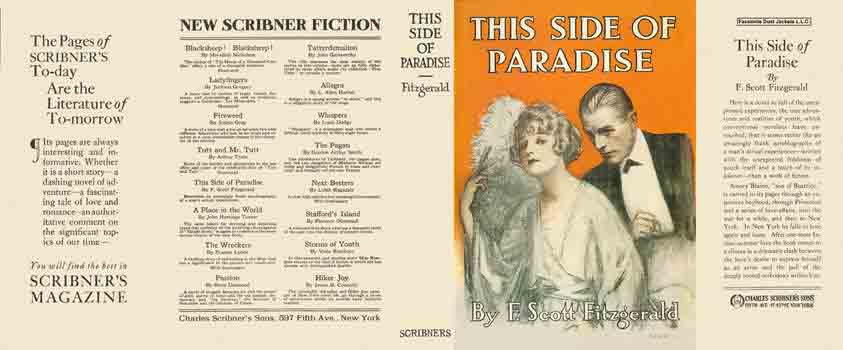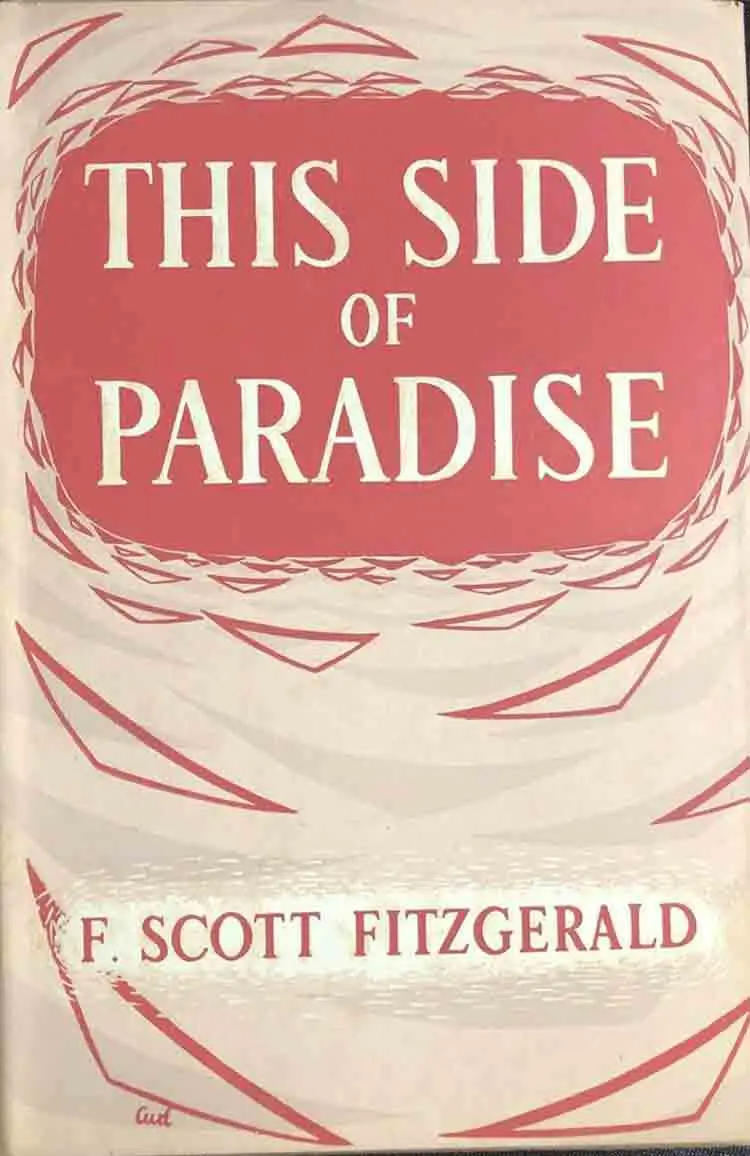 9. Frequently Asked Questions about This Side of Paradise
What is the message behind This Side of Paradise?
This Side of Paradise explores the emotions of disillusionment and disappointment we face as we mature, and even those we admire are human.
What made This Side of Paradise so popular?
This Side of Paradise's success was mainly due to Fitzgerald's revealing portrayal of a new age in American history, rather than just his lyrical and beautiful prose.