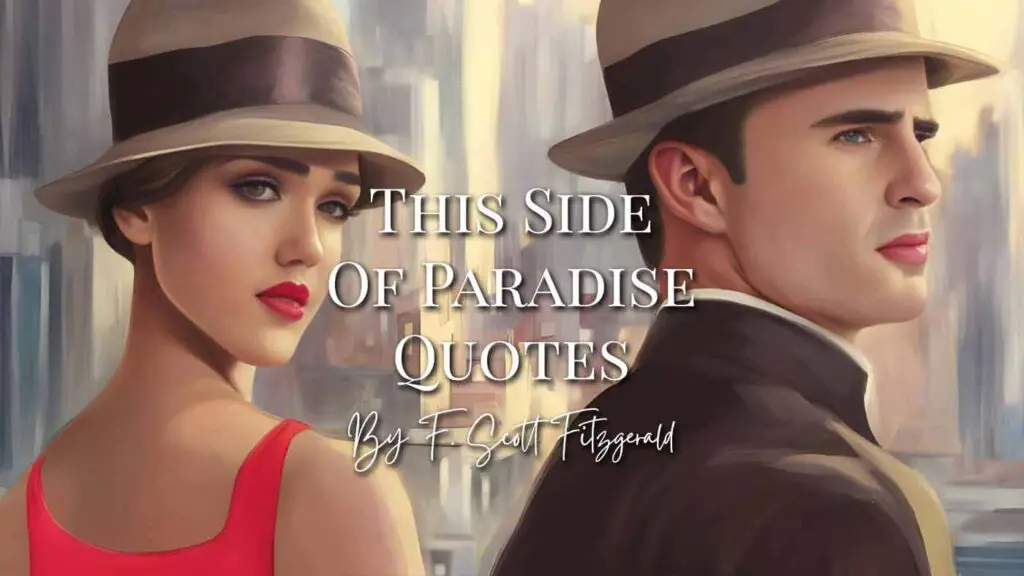 37 Best This Side of Paradise Quotes by F. Scott Fitzgerald
Here are some of the best This Side of Paradise quotes by F. Scott Fitzgerald. This Side of Paradise by F. Scott Fitzgerald is a novel that was published in 1920 and marked the beginning of the author's literary career. It became an instant hit, catapulting him to stardom in the literary world. 
This Side of Paradise is a coming-of-age story that follows the life of Amory Blaine, a young man from a wealthy family, as he navigates the ups and downs of youth, love, and life in the early 20th century. The story is set in the aftermath of World War I, a time of great social upheaval and change. Amory is passionate about literature and wants to find his place in the world.
As he navigates through various phases of his life – from his days at Princeton University to his stint in the army during the war, he discovers that life is not as simple as he once thought. Amory must confront his insecurities, face the harsh realities of the world around him, and come to terms with his mortality. 
This Side of Paradise is also notable for its themes of love and loss. Amory's relationships with women are the novel's central focus, revealing much about his character and worldview. As he falls in love and experiences heartbreak, Amory learns important lessons about himself and life. Fitzgerald's exploration of these themes is both nuanced and powerful, making the novel a must-read for anyone interested in the complexities of human relationships. 
In addition to its literary merit, This Side of Paradise is also significant for its historical context. Fitzgerald captures the disillusionment and restlessness that many young people felt in the aftermath of World War I and the burgeoning consumer culture that was taking hold. The novel offers a glimpse into the social and cultural landscape of the early 20th century, and it is a valuable resource for anyone interested in that period of history.
This Side of Paradise Quotes by F. Scott Fitzgerald 
1
At fifteen you had the radiance of early morning, at twenty you will begin to have the melancholy brilliance of the moon, and when you are my age you will give out, as I do, the genial golden warmth of 4 p.m.
2
Beauty and love pass, I know… Oh, there's sadness, too. I suppose all great happiness is a little sad. Beauty means the scent of roses and then the death of roses.
3
Don't let yourself feel worthless: often through life you will really be at your worst when you seem to think best of yourself; and don't worry about losing your "personality," as you persist in calling it.
4
Experience is the name so many people give to their mistakes.
5
Given a decent start any girl can beat a man nowadays.
6
Good luck to you and bad luck to your theories.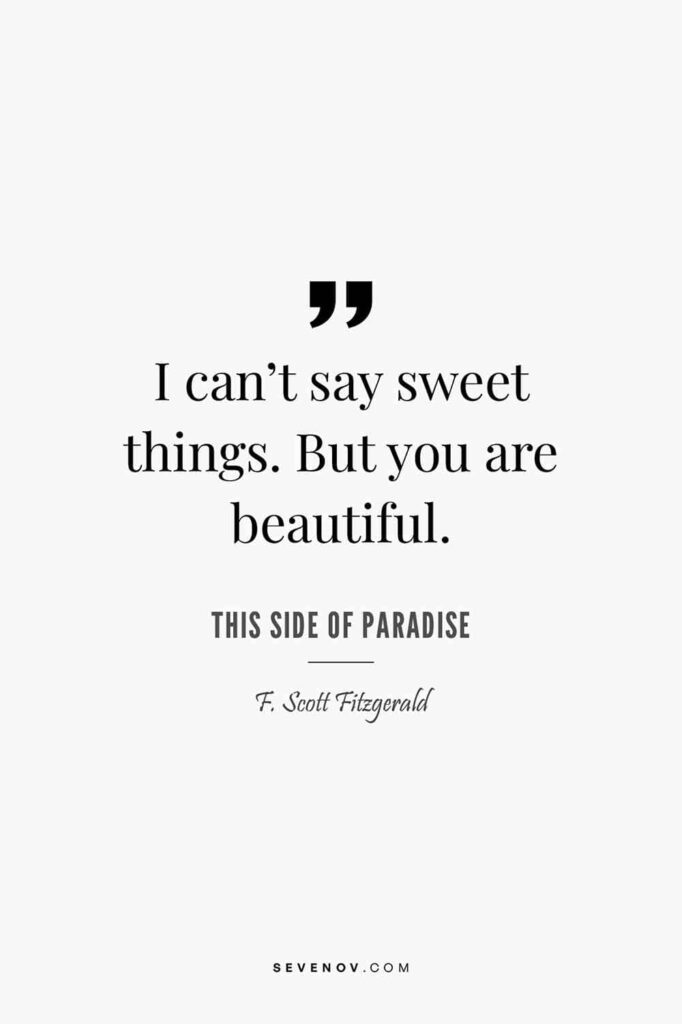 7
He found something that he wanted, had always wanted and always would want — not to be admired, as he had feared; not to be loved, as he had made himself believe; but to be necessary to people, to be indispensable…'very few things matter and nothing matters very much.
8
He was a slave to his own moods.
9
He's sensitive and I don't want him to break his heart over somebody who doesn't care about him.
10
No one person in the world is necessary to you or to me.
11
I can't say sweet things. But you are beautiful.
12
I can't tell you just how wonderful she is. I don't want you to know. I don't want any one to know.
13
I don't want to repeat my innocence. I want the pleasure of losing it again.
14
"I know myself," he cried, "but that is all."
15
I may turn out an intellectual, but I'll never write anything but mediocre poetry.
16
I'm a romantic; a sentimental person thinks things will last, a romantic person hopes against hope that they won't.
17
I'm a slave to my emotions, to my likes, to my hatred of boredom, to most of my desires.
18
I'm not sentimental–I'm as romantic as you are. The idea, you know, is that the sentimental person thinks things will last–the romantic person has a desperate confidence that they won't.
19
If we could only learn to look on evil as evil, whether it's clothed in filth or monotony or magnificence.
20
It is not life that's complicated, it's the struggle to guide and control life.
21
It was always the becoming he dreamed of, never the being.
22
It's just that I feel so sad these wonderful nights. I sort of feel they're never coming again, and I'm not really getting all I could out of them.
23
Man in his hunger for faith will feed his mind with the nearest and most convenient food.
24
She was gone, definitely, finally gone. Until now he had half unconsciously cherished the hope deep in his heart that some day she would need him and send for him.
25
Sometimes I wish I'd been an Englishman; American life is so damned dumb and stupid and healthy.
26
Summer is only the unfulfilled promise of spring, a charlatan in place of the warm balmy nights I dream of in April. It's a sad season of life without growth…It has no day.
27
There is a moment—Oh, just before the first kiss, a whispered word—something that makes it worth while.
28
They slipped briskly into an intimacy from which they never recovered.
29
Those days are over. I have to be won all over again every time you see me.
30
Was it the infinite sadness of her eyes that drew him or the mirror of himself that he found in the gorgeous clarity of her mind?
31
We want to believe. Young students try to believe in older authors, constituents try to believe in their Congressmen, countries try to believe in their statesmen, but they can't. Too many voices, too much scattered, illogical ill-considered criticism.
32
You don't know what a trial it is to be—like me. I've got to keep my face like steel in the street to keep men from winking at me.
33
You know I'm old in some ways-in others-well, I'm just a little girl. I like sunshine and pretty things and cheerfulness-and I dread responsibility.
34
'You'll find another.' God! Banish the thought. Why don't you tell me that 'if the girl had been worth having she'd have waited for you'? No, sir, the girl really worth having won't wait for anybody.
35
You're a slave, a bound helpless slave to one thing in this world, your imagination.
36
You're not sorry to go, of course. With people like us our home is where we are not… No one person in the world is necessary to you or to me.
37
Youth is like having a big plate of candy. Sentimentalists think they want to be in the pure, simple state they were in before they ate the candy. They don't. They just want the fun of eating it all over again.
You Might Be Interested…