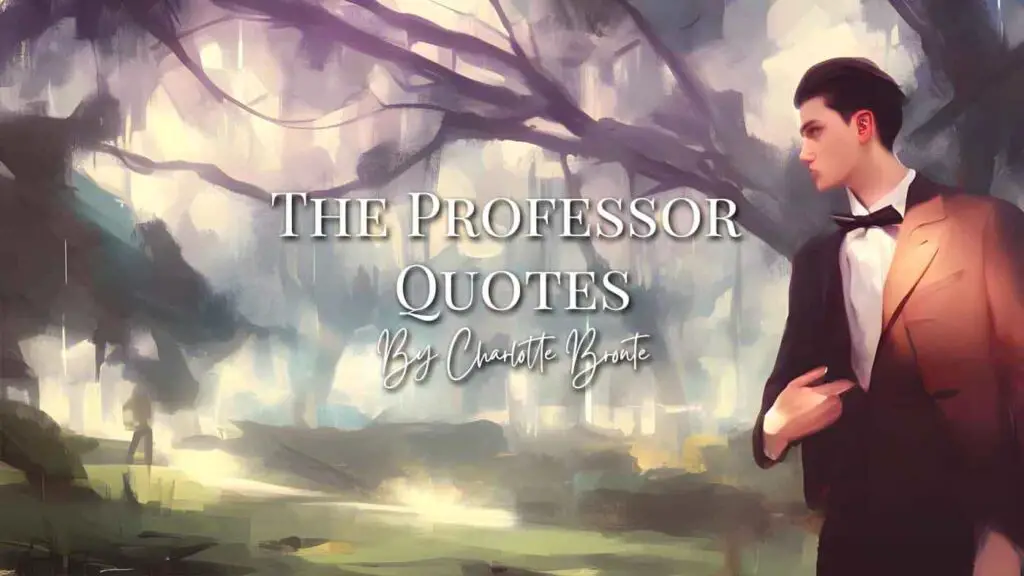 11 Best The Professor Quotes by Charlotte Brontë 
Charlotte Brontë is a renowned author who has written some of the most beloved novels in English literature, such as Jane Eyre and Villette. However, many people are unaware that she wrote a novel titled The Professor, published posthumously in 1857.
The Professor tells the story of William Crimsworth, an Englishman who moves to Brussels and becomes a teacher at a girls' school. While there, he falls in love with one of his students, Frances Evans Henri. Through his experiences in the story, Crimsworth learns about the complexities of human relationships. The novel explores themes such as religion, gender roles, and nationalism.
Despite its initial rejection by publishers, The Professor eventually found its way to print after Brontë's death. Although The Professor did not receive much critical acclaim when it was first published, it is now considered an important work in Charlotte Brontë's oeuvre. It provides insight into her views on education and prevalent social issues during her time.
Here are some of the best The Professor quotes by Charlotte Brontë:
Quotes from The Professor by Charlotte Brontë 
1
A man is master of himself to a certain point, but not beyond it.
2
Better to be without logic than without feeling.
3
He that is low need fear no fall.
4
Human beings — human children especially — seldom deny themselves the pleasure of exercising a power which they are conscious of possessing, even though that power consist only in a capacity to make others wretched.
5
I verily believe all that is desirable on earth–wealth, reputation, love–will for ever to you be the ripe grapes on the high trellis: you'll look up at them; they will tantalize in you the lust of the eye; but they are out of reach: you have not the address to fetch a ladder, and you'll go away calling them sour.
6
I'm a universal patriot…my country is the world.
7
No man likes to acknowledge that he has made a mistake in the choice of his profession, and every man, worthy of the name, will row long against wind and tide before he allows himself to cry out, 'I am baffled!' and submits to be floated passively back to land.
8
Novelists should never allow themselves to weary of the study of real life.
9
That to begin with; let respect be the foundation, affection the first floor, love the superstructure.
10
What animal magnetism drew thee and me together—I know not.
11
You know full well as I do the value of sisters' affections: There is nothing like it in this world.
You Might Be Interested…