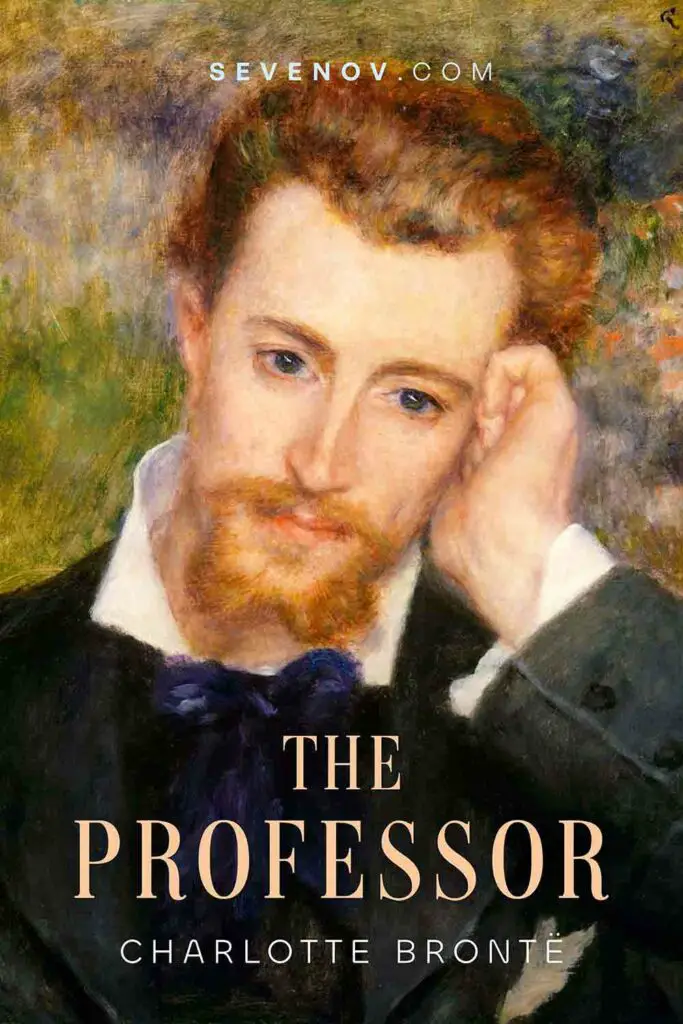 The Professor by Charlotte Brontë
Author: Charlotte Brontë
Published: 1857 (post-humously)
Genre: Coming-of-age, Romance
The Professor is a novel written by Charlotte Brontë. It was the first novel she wrote but was rejected by many publishers during her lifetime. In 1857, the novel was published posthumously with the help of Charlotte's widower, Arthur Bell Nicholls, who made a few revisions to the text and wrote a preface. 
1. Synopsis
William Crimsworth is an Englishman who travels to Brussels to teach at a boarding school. There, he builds a successful career and falls in love with a student-teacher, Frances. However, the jealous headmistress tries to separate them. The plot of The Professor was inspired by Charlotte Brontë's experiences studying and teaching in Brussels at the Pensionnat Héger. She created the character of Crimsworth based on a professor she was obsessed with, Constantin Héger, who was married to the school's headmistress. 
2. Story Summary 
The Professor is told from the first-person perspective of William Crimsworth, a young man trying to make his way in the world. It opens with a letter to his friend Charles, in which he describes how he rejected his uncles' suggestion of entering the clergy and met his older brother Edward. Edward, a wealthy millowner and tradesman, hires William as a clerk but treats him tyrannically as he is envious of his education and intellect. Mr. Hunsden, a fellow tradesman, takes pity on William and helps him find a teaching job in Brussels at a boys' boarding school. 
The boys' school is run by the gentle headmaster Monsieur Pelet, who becomes a close friend of William. William excels in his new job and is soon offered additional employment at the neighboring girls' school run by the headmistress, Mademoiselle Reuter. He accepts the offer and starts teaching English at the girls' school in the afternoons. William is attracted to Mademoiselle Reuter at first, but he loses interest in her when he discovers that she has been deceiving him with Monsieur Pelet. She did not tell him that she was already engaged to Monsieur Pelet and toyed with his feelings. 
William meets a new student-teacher, Frances, who teaches lace mending at the girls' school. He becomes interested in her as she is intelligent and shows promise in learning English. Slowly, he falls in love with her. Jealous of the attention Frances receives from William, Mademoiselle Reuter dismisses Frances and hides her address from him. While trying to captivate William, Reuter meanwhile unintentionally develops feelings for him. After a long and unsuccessful search for Frances' address, William finds her in a graveyard and the two of them are reunited. Unwilling to live with the manipulative headmistress any longer, William leaves his job and sets out to find alternative employment. 
He eventually finds work as an English professor at a university. Afterward, he proposes to Frances and the two of them get married. They start a school of their own and save up enough money to move back to England. They settle down in the English countryside and raise their son, Victor. 
3. Characters
William Crimsworth – A reserved, intelligent, and educated young man who was raised by his maternal uncles after being orphaned as a child. He rejects their offer of a clergyman post and tries to follow in his father's footsteps by becoming a tradesman. After being mistreated by his brother at his trade company, he decides to leave for Brussels to become an English teacher. 
Lord Tynedale / Hon. John Seacombe – William's aristocratic uncles who raised him after his parents passed away. They try to persuade him to become a clergyman and marry one of his cousins, all of whom he greatly dislikes. 
Charles – William's old friend from Eton College. He receives a letter from William but does not reply as he has already left for the colonies. 
Edward Crimsworth – William's domineering brother who is ten years older than him. He is a successful tradesman and mill owner who is both handsome and married. Envious of William's education and intellect, he treats him poorly after hiring him as a clerk. 
Mr. Hunsden – A fellow tradesman who is acquainted with Edward. He sympathizes with William and gives him the recommendation to help him find work as a teacher abroad. At the end of the story, he becomes a neighbor and friend of William and Frances.
Monsieur Francois Pelet – The friendly and gentle headmaster of the boys' school where William teaches and Mademoiselle Reuter's fiancé. He befriends William but later cuts off their friendship when he realizes that Mademoiselle Reuter is in love with William. 
Mademoiselle Zoraïde Reuter – The headmistress of the girls' school where William finds extra employment teaching English in the afternoons. She is a calculating and shrewd woman who controls her employees through a network of spies. After falling for William, she tries to keep him and Frances apart. 
Mlle. Frances Evans Henri – A student-teacher at Mademoiselle Reuter's girls' school. She is a student in William's English class and a lace-mending teacher. A half-English and half-Swiss orphan, she was raised by her aunt. She is a hard-working student who hopes to improve her language skills and rise up in society. 
Madame Reuter – Mademoiselle Reuter's mother.
Madame Pelet – Monsieur Pelet's mother.
Eulalie, Hortense, and Caroline – Three pretty but air-headed students at Mademoiselle Reuter's girls' school.
Sylvie – A submissive and passive student who William tries to befriend. 
Jules Vanderkelkov – A student at Monsieur Pelet's school. 
Victor Crimsworth – Son of William and Frances Crimsworth. 
4. Quotes from The Professor
"That to begin with; let respect be the foundation, affection the first floor, love the superstructure."

Monsieur Pelet
"I verily believe all that is desirable on earth – wealth, reputation, love – will for ever to you be the ripe grapes on the high trellis: you'll look up at them; they will tantalize in you the lust of the eye; but they are out of reach: you have not the address to fetch a ladder, and you'll go away calling them sour."

Mr. Hunsden
"No man likes to acknowledge that he has made a mistake in the choice of his profession, and every man, worthy of the name, will row long against wind and tide before he allows himself to cry out, 'I am baffled!' and submits to be floated passively back to land."

William Crimsworth
"A man is master of himself to a certain point, but not beyond it."

William Crimsworth
"Human beings — human children especially — seldom deny themselves the pleasure of exercising a power which they are conscious of possessing, even though that power consist only in a capacity to make others wretched."

William Crimsworth
---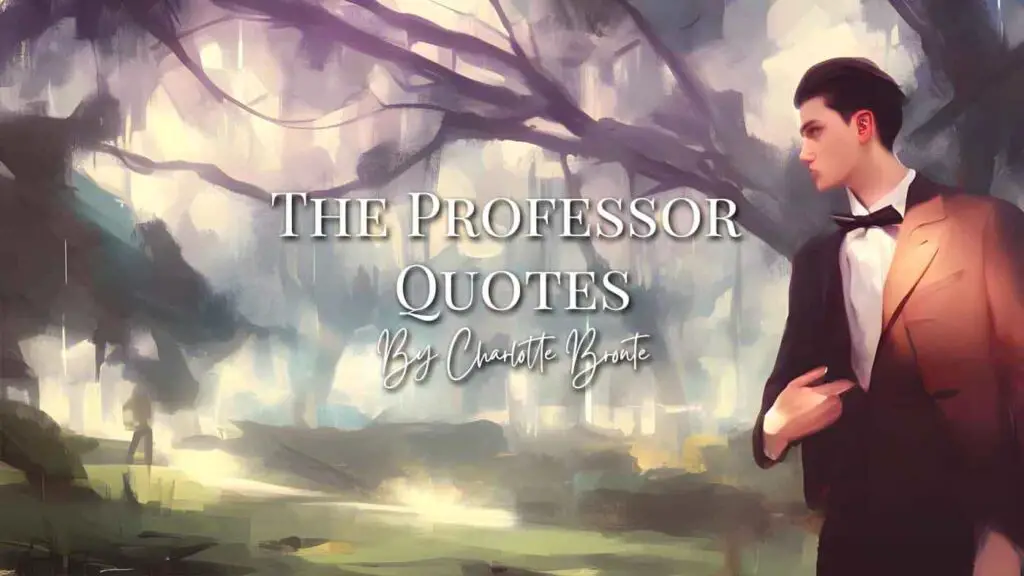 Recommended: The Professor Quotes by Charlotte Brontë
5. Notable Book Covers