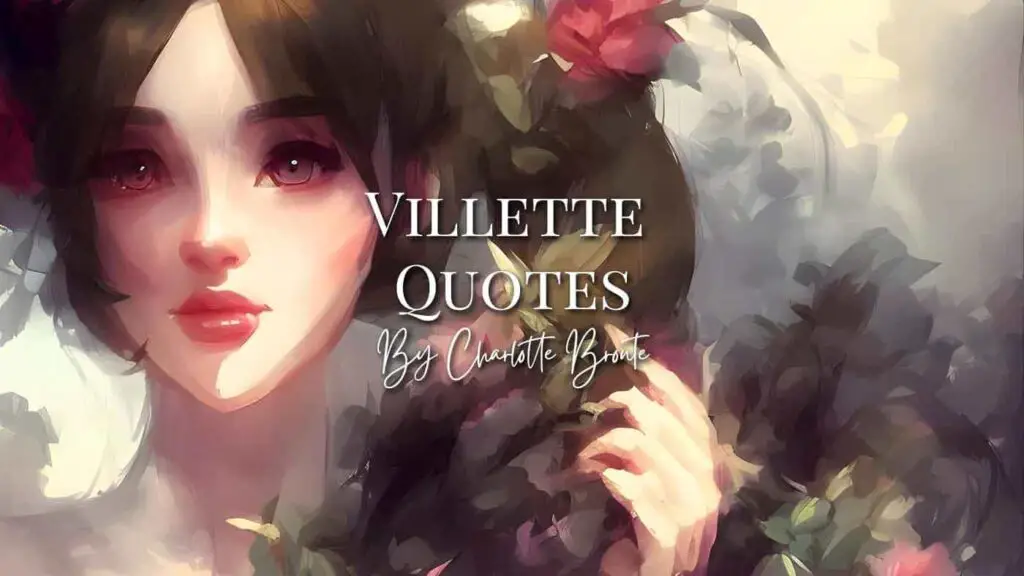 22 Best Villette Quotes
Villette is a novel published in 1853 and written by Charlotte Brontë, one of English literature's most celebrated and influential writers. The book is set in the fictional town of Villette, which is based on Brussels, Belgium. It tells the story of Lucy Snowe, a young woman who moves to Villette to teach at an all-girls school. Throughout the novel, Lucy struggles with her feelings for two men – Dr. John Graham Bretton and M. Paul Emanuel. The novel explores themes such as isolation, gender roles, and independence.
Charlotte Brontë's writing style in Villette is both beautiful and immersive. She masterfully depicts Lucy's isolation and loneliness as she navigates life in a foreign country. Brontë's vivid descriptions create a sense of place, allowing readers to feel like they are with Lucy in Villette. 
Here are some of the best Villette quotes by Charlotte Brontë:
Villette Quotes by Charlotte Brontë 
1
But afterwards, is there nothing more for me in life – no true home – nothing to be dearer to me than myself?
2
Great pains were taken to hide chains with flowers.
3
Her eyes were the eyes of one who can remember; one whose childhood does not fade like a dream, nor whose youth vanish like a sunbeam.
4
His mind was indeed my library, and whenever it was opened to me, I entered bliss.
5 
I believe in some blending of hope and sunshine sweetening the worst lots. I believe that this life is not all; neither the beginning nor the end. I believe while I tremble; I trust while I weep.
6
I doubt if I have made the best use of all my calamities. Soft, amiable natures they would have refined to saintliness; of strong, evil spirits they would have made demons; as for me, I have only been a woe-struck and selfish woman.
7
I knew I was catching at straws; but in the wide and weltering deep where I found myself, I would have caught at cobwebs.
8
I like to see flowers growing, but when they are gathered, they cease to please. I look on them as things rootless and perishable; their likeness to life makes me sad. I never offer flowers to those I love; I never wish to receive them from hands dear to me.
9
If life be a war, it seemed my destiny to conduct it single-handed.
10
Life is so constructed, that the event does not, cannot, will not, match the expectation.
11
Lucy, take my love. One day share my life. Be my dearest, first on earth.
12
No mockery in this world ever sounds to me so hollow as that of being told to cultivate happiness. What does such advice mean? Happiness is not a potato, to be planted in mould, and tilled with manure. Happiness is a glory shining far down upon us out of Heaven. She is a divine dew which the soul, on certain of its summer mornings, feels dropping upon it from the amaranth bloom and golden fruitage of Paradise.
13
Peril, loneliness, an uncertain future, are not oppressive evils, so long as the frame is healthy and the faculties are employed; so long, especially, as Liberty lends us her wings, and Hope guides us by her star.
14
Picture me then idle, basking, plump, and happy, stretched on a cushioned deck, warmed with constant sunshine, rocked by breezes indolently soft.
15
Silence is of different kinds, and breathes different meanings.
16
The cool peace and dewy sweetness of the night filled me with a mood of hope: not hope on any definite point, but a general sense of encouragement and heart-ease.
17
The negation of severe suffering was the nearest approach to happiness I expected to know. Besides, I seemed to hold two lives – the life of thought, and that of reality.
18
There is, in lovers, a certain infatuation of egotism; they will have a witness of their happiness, cost that witness what it may.
19
To see and know the worst is to take from Fear her main advantage.
20
Unfeeling thing that I was, the sensibilities of the maternal heart were Greek and Hebrew to me.
21
While I loved, and while I was loved, what an existence I enjoyed!
22
Wise people say it is folly to think anybody perfect; and as to likes and dislikes, we should be friendly to all, and worship none.
You Might Be Interested…