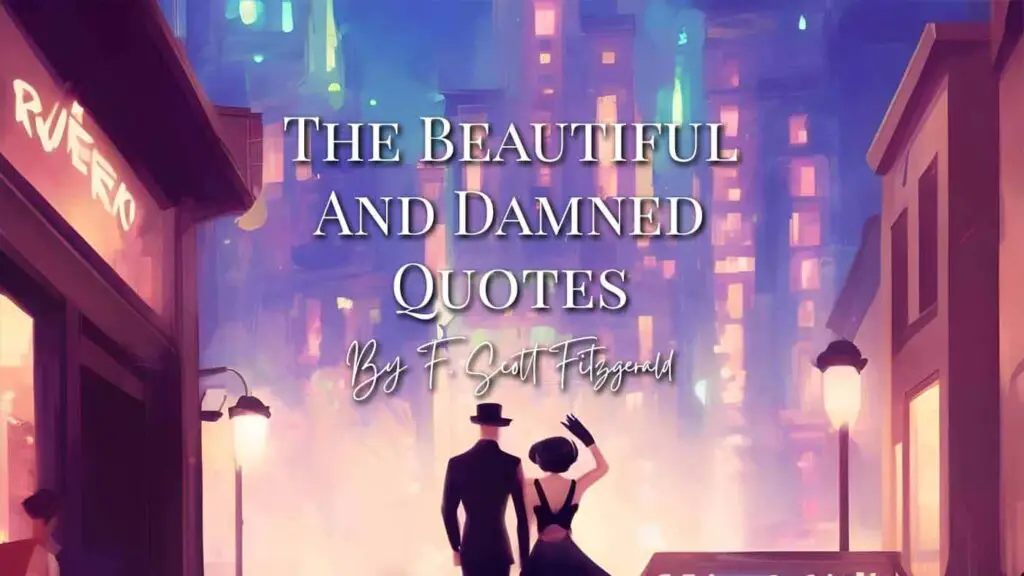 39 Best The Beautiful and Damned Quotes by F. Scott Fitzgerald
Here are some of the best The Beautiful and Damned quotes by F. Scott Fitzgerald. The Beautiful and Damned is a novel by F. Scott Fitzgerald, an American author known for his literary works in the early 20th century. The story depicts the life of Anthony Patch, a young man heir to a large fortune. He falls in love with Gloria Gilbert, a beautiful woman who shares his passion for living life to the fullest.
Anthony and Gloria are both beautiful and privileged but also flawed characters struggling with addiction, infidelity, and ultimately self-destruction. The story follows their lives as they navigate the ups and downs of love, wealth, and society's expectations. Fitzgerald's writing style is descriptive and poignant as he captures the essence of their disintegrating relationship.
The Beautiful and Damned offers readers a glimpse into the glamorous lifestyle of the rich during that era while exposing its dark underbelly. The novel takes place during the early years of the 20th century when America was going through significant changes in politics, economics, and culture. This period is known as the Jazz Age or Roaring Twenties when people enjoyed newfound wealth and freedom after World War I. Fitzgerald captures this era's spirit with vivid descriptions of parties, flappers' fashion trends, and fast-paced lifestyles.
The Beautiful and Damned Quotes by F. Scott Fitzgerald 
1
A sense of responsibility would spoil her. She's too pretty.
2
A woman should be able to kiss a man beautifully and romantically without any desire to be either his wife or his mistress.
3
All I think of ever is that I love you.
4
Beautiful things grow to a certain height and then they fail and fade off, breathing out memories as they decay.
5
Beauty is only to be admired, only to be loved – to be harvested carefully and then flung at a chosen lover like a gift of roses. It seems to me, so far as I can judge clearly at all, that my beauty would be used like that…
6
Experience is not worth the getting. It's not a thing that happens pleasantly to a passive you–it's a wall that an active you runs up against.
7
Don't say 'wife.' I'm your mistress. Wife's such an ugly word. Your 'permanent mistress' is so much more tangible and desirable…
8
He wanted to appear suddenly to her in novel and heroic colors. He wanted to stir her from that casualness she showed toward everything except herself."
9
Here's to alcohol, the rose colored glasses of life.
10
His mind tired–tired with nothing, tired with everything, with the world's weight he had never chosen to bear.
11
How I feel is that if I wanted anything I'd take it. That's what I've always thought all my life. But it happens that I want you, and so I just haven't room for any other desires.
12
I don't care about truth. I want some happiness.
13
I don't want just words. If that's all you have for me, you'd better go.
14
I had traded the fight against love for the fight against loneliness, the fight against life for the fight against death.
15
I learned a little of beauty– enough to know that it had nothing to do with truth…
16
I shall go on shining as a brilliantly meaningless figure in a meaningless world.
17
Intelligence is a mere instrument of circumstances.
18
Is kissing you generally considered a joyful affair?
19
It seemed that the only lover she had ever wanted was a lover in a dream.
20
It was too late – everything was too late. For years now he had dreamed the world away, basing his decisions upon emotions unstable as water.
21
January, the Monday of months….
22
Life is so damned hard, so damned hard… It just hurts people and hurts people, until finally it hurts them so that they can't be hurt ever any more. That's the last and worst thing it does.
23
Life plays the same lovely and agonizing joke on all of us.
24
People invariably chose inimitable people to imitate.
25
She wanted to exist only as a conscious flower, prolonging and preserving herself.
26
She wanted what most women want, but she wanted it much more fiercely and passionately.
27
She was beautiful– but especially she was without mercy. He must own that strength that could send him away.
28
She was dazzling– alight; it was agony to comprehend her beauty in a glance.
29
The failure and the success both believe in their hearts that they have accurately balanced points of view, the success because he's succeeded, and the failure because he's failed.
30
The fire blazing in her dark and injured heart seemed to glow around her like a flame.
31
Then I grew up, and the beauty of succulent illusions fell away from me.
32
There was a kindliness about intoxication – there was that indescribable gloss and glamour it gave, like the memories of ephemeral and faded evenings.
33
There was nothing, it seemed, that grew stale so soon as pleasure.
34
There's no beauty without poignancy and there's no poignancy without the feeling that it's going, men, names, books, houses–bound for dust–mortal–
35
Things are sweeter when they're lost. I know–because once I wanted something and got it. It was the only thing I ever wanted badly, Dot, and when I got it it turned to dust in my hand.
36
To create souls in men, to create fine happiness and fine despair she must remain deeply proud – proud to be inviolate, proud also to be melting, to be passionate and possessed.
37
He says unloved women have no biographies—they have histories.
38
We all have souls of different ages.
39
Wine gave a sort of gallantry to their own failure.
You Might Be Interested…