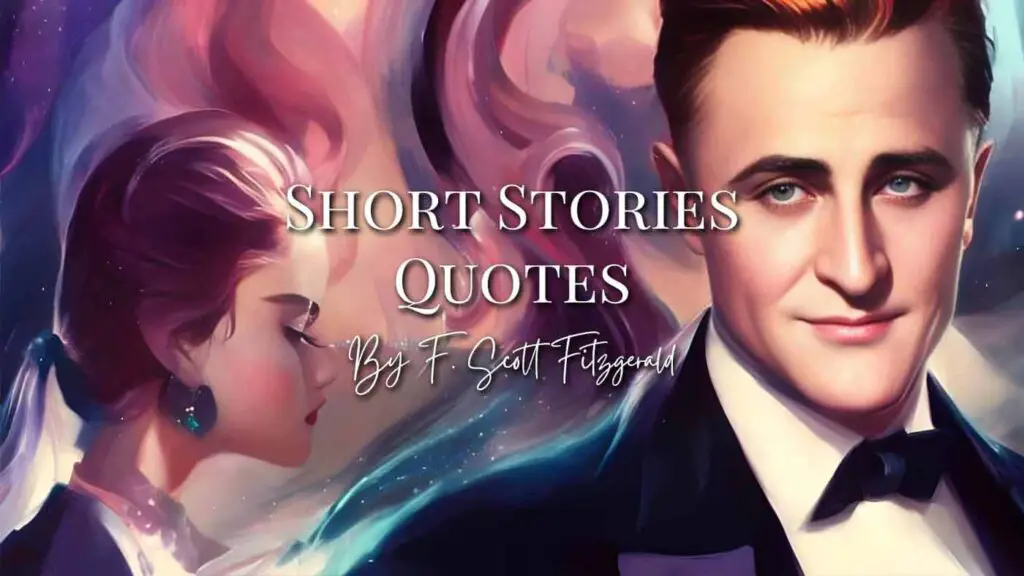 Best Short Stories Quotes by F. Scott Fitzgerald
Here are some of the best short stories quotes by F. Scott Fitzgerald. F. Scott Fitzgerald is a name that has become synonymous with the roaring twenties in America, and his works have been hailed as some of the most remarkable literary contributions of the era. Many people may know Fitzgerald as the author of The Great Gatsby but may not know that he was also a prolific writer of short stories. He wrote over 160 short stories throughout his career. These works are often overlooked in favor of his novels, but they are no less important in showcasing his writing talent.
Fitzgerald's short stories are imbued with the same sense of nostalgia and longing that permeates his longer works. They often explore love, loss, and the desire for something more out of life. Despite their brevity, these stories pack an emotional punch that leaves readers thinking long after reading. In addition to their emotional depth, Fitzgerald's short stories are also notable for their use of language and structure. He had a way of crafting poetic and precise sentences, conveying complex ideas through simple yet elegant prose. 
One of Fitzgerald's most famous short stories is "The Curious Case of Benjamin Button." This story tells the tale of a man born as an old man and ages in reverse. It has been adapted into a movie in 2008 starring Brad Pitt, cementing its place in popular culture. Another notable Fitzgerald short story is "Babylon Revisited," which tells the story of a man who returns to Paris to look for his daughter after losing everything in the stock market crash of 1929. The story explores themes of regret, redemption, and the destructive nature of alcoholism.
Short Stories Quotes by F. Scott Fitzgerald
Porcelain and Pink Quote
You are mysterious. I love you. You're beautiful, intelligent, and virtuous, and that's the rarest known combination.
Read Porcelain and Pink free at PageVio
Head and Shoulders Quote
…I won't kiss you. It might get to be a habit and I can't get rid of habits.
Read Head and Shoulders free at PageVio
Benediction Quotes
A man has to have something living to cling to.
I wanted to know you moved and breathed in the same world with me.
Real help comes from a stronger person whom you respect. And their sympathy is all the bigger because it's impersonal.
So we'll just let things take their course, and never be sorry.
…till then I'll be here just waiting and hoping for every long dream of you to come true.
Youth shouldn't be sacrificed to age.
Read Benediction free at PageVio
Bernice Bobs Her Hair Quote
People over forty can seldom be permanently convinced of anything. At eighteen our convictions are hills from which we look; at forty-five they are caves in which we hide.
Read Bernice Bobs Her Hair free at PageVio
The Ice Palace Quote
You've a place in my heart no one else ever could have…
Read The Ice Palace free at PageVio
May Day Quote
Love is fragile — she was thinking — but perhaps the pieces are saved, the things that hovered on lips, that might have been said. The new love-words, the tenderness learned, and treasured up for the next lover.
O Russet Witch! Quote
He knew now that he had always been a fool.
Read O Russet Witch! free at PageVio
The Curious Case Of Benjamin Button Quotes
But just think how it would be if every one else looked at things as you do – what would the world be like?
I hope you feel things you never felt before. I hope you meet people with a different point of view. I hope you live a life you're proud of. If you find that you're not, I hope you have the strength to start all over again.
I like men of your age . . . young boys are so idiotic. They tell me how much champagne they drink at college, and how much money they lose playing cards. Men of your age know how to appreciate women.
I might have enjoyed the company of a woman or two… Or three but that had never stopped me from loving you.
You are meant to lose the people you love. How else would you know how important they are to you?
Your life is defined by opportunities…even the ones you miss.
You're just the romantic age," she continued- "fifty. Twenty-five is too worldly wise; thirty is apt to be pale from overwork; forty is the age of long stories that take a whole cigar to tell; sixty is- oh, sixty is too near seventy; but fifty is the mellow age. I love fifty.
Read The Curious Case Of Benjamin Button free at PageVio
Winter Dreams Quote
Long ago, there was something in me, but now that thing is gone. Now that thing is gone, that thing is gone. I cannot cry. I cannot care. That thing will come back no more.
Read Winter Dreams free at PageVio
The Sensible Thing Quote
There are all kinds of love in the world, but never the same love twice.
Read The Sensible Thing free at PageVio
Presumption Quote
There's something between us- a sort of pull. Something you always do to me and I to you.
Read Presumption free at PageVio
The Freshest Boy Quote
It isn't given to us to know those rare moments when people are wide open and the lightest touch can wither or heal. A moment too late and we can never reach them any more in this world.
Read The Freshest Boy free at PageVio
Basil And Cleopatra Quote
You see, if she was just anybody I could get over it, no matter how much I loved her. But she isn't.
Read Basil And Cleopatra free at PageVio
At Your Age Quote
He drew her very tenderly close and their lips met like starved hearts.
Almost painfully he took his eyes from her.
Read At Your Age free at PageVio
A Nice Quiet Place Quote
Suddenly she realized that what she was regretting was not the lost past but the lost future, not what had not been but what would never be.
Read A Nice Quiet Place free at PageVio
Babylon Revisited Quote
Don't ever phone if you can possibly come yourself. Don't ever leave if you can stay.
Family quarrels are bitter things. They don't go according to any rules. They're not like aches or wounds; they're more like splits in the skin that won't heal because there's not enough material.
I didn't realize it, but the days came along one after another, and then two years were gone, and everything was gone, and I was gone.
Read Babylon Revisited free at PageVio
A New Leaf Quote
Her heart sank into her shoes as she realized at last how much she wanted him. No matter what his past was, no matter what he had done.
Read A New Leaf free at PageVio
Emotional Bankruptcy Quote
…one day when I was feeling lonely your father came to take me driving, and from that day I never had a single doubt. Love isn't like it is in books.
Read Emotional Bankruptcy free at PageVio
What A Handsome Pair! Quote
Some day I'll probably love other women – or maybe there'll never be anything but you.
Read What A Handsome Pair! free at PageVio
Crazy Sunday Quote
The odd thing is that I'm in love with you anyhow.
Read Crazy Sunday free at PageVio
One Interne Quote
You want everything but my tears.
Read One Interne free at PageVio
More Than Just A House Quotes
I'm not used to being loved. I wouldn't know what to do; I never got the trick of it.
Touch my cheek. I want to be touched; I want to be held. And I'm glad it's you; but you've got to go slow; you've got to be careful. I'm afraid I'm the kind of person that's forever. I'll live with you and die for you, but I never knew what halfway meant…
Read More Than Just A House free at PageVio
Three Hours Between Planes Quote
Wouldn't it be awful if we fell in love again?
Read Three Hours Between Planes free at PageVio
Quotes from Various Short Stories by F. Scott Fitzgerald
I want to know you moved and breathed in the same world with me.
When a girl feels that she's perfectly groomed and dressed she can forget that part of her. That's charm.
I want leisure to read—an immense amount.
I'm not used to being loved. I wouldn't know what to do; I never got the trick of it.
I don't think he was ever happy unless someone was in love with him, responding to him like filings to a magnet, helping him to explain himself, promising him something.
We are all queer fish, queerer behind our faces and voices than we want any one to know or than we know ourselves.
A returned battalion of the National Guard paraded through the streets with open ranks for their dead and then stepped down out of romance forever and sold you things over the counters of local stores.
You Might Be Interested…