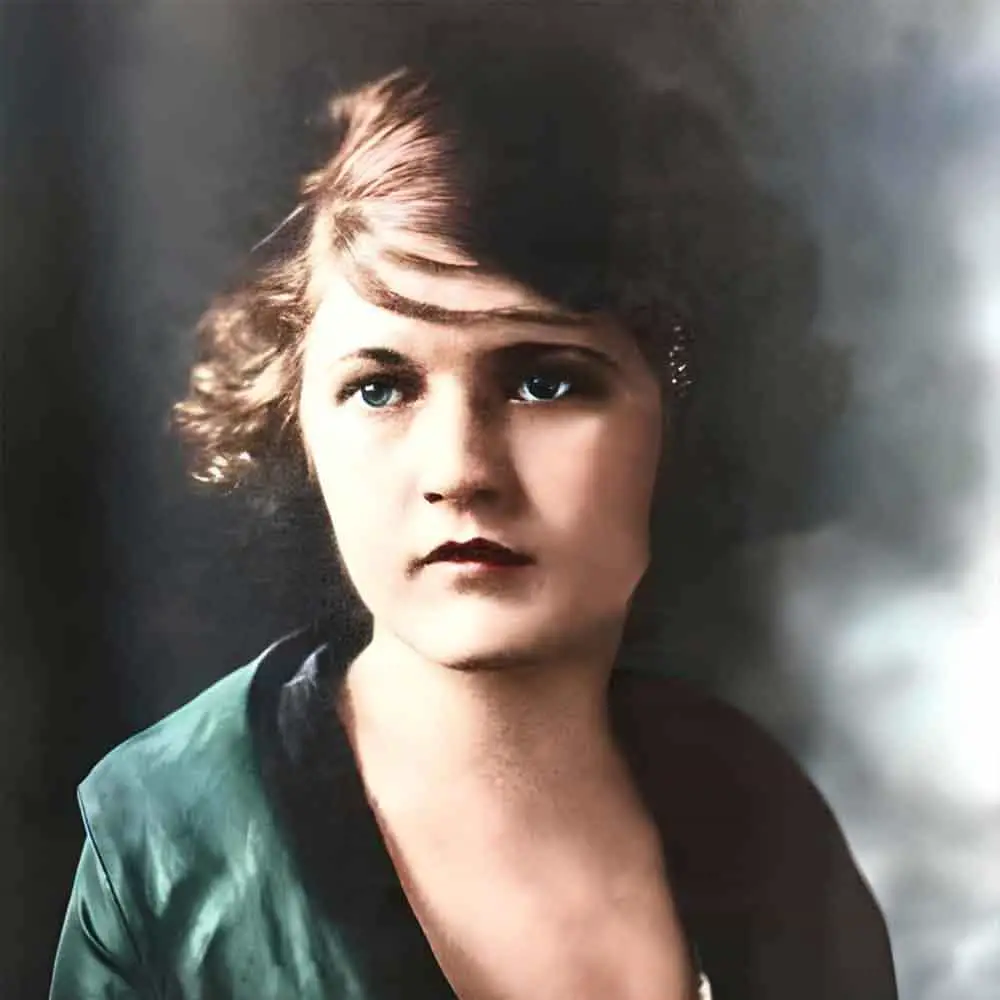 Zelda Fitzgerald – Trailblazing the Roaring 20s
Born: 24 July 1900
Died: 10 March 1948
Nationality: American
Notable Works: Save me the Waltz
Widely known as The First American Flapper, Zelda Sayre Fitzgerald paved the way for the women of the 1920s, who would eventually come to adopt the label 'Flappers' as well. Glittering skirts grazing the knee, luminescent pearls at their neck framed by bobbed hair, they rebranded the definition of being a woman in their era. More than just appearance-wise, Zelda led by example in rebelling against every stereotype and expectation placed upon women at the time. From singlehood to her marriage to great American writer F. Scott Fitzgerald, there was never a dull moment in Zelda's life, filled with love, pain, and struggle. 
1. Zelda Fitzgerald's Biography
1.1. Boys and Swimming
A showgirl and dancer at heart, Zelda Sayre was an avid ballet dancer who loved being the center of attention. She had a fondness for ballet and the outdoors. Like most children, Zelda could not stand to sit still or be cooped up at home for long. 
Zelda enrolled at Sidney Lanier High School in 1914. She was intelligent, but her efforts in school failed to match her wits. Her ballet training continued throughout high school while maintaining her image as a social butterfly. Known for indulging in alcohol and tobacco and fraternizing with boys, she was an icon in the local teenage scene. A local newspaper even went as far as describing her only interests to be "boys and swimming."
Zelda's love for attention led to some rather extreme antics, such as her choice to wear a skin-colored swimsuit to spark rumors that she skinny-dipped. Even though the reputation Zelda created for herself would very well lead to social ostracism for other women, we must not forget Zelda's background and social standing. Her father, Anthony Dickinson Sayre, was an Alabama Supreme Court justice, and many other family members occupied positions of high standing in both government and private sectors.
From here, we can see what inspired Scott to form the character of Daisy Buchanan. Like the Buchanans in The Great Gatsby, Zelda's family was very much part of the Old Rich. This social status, in a way, allowed society to turn a blind eye to her activities, as she had her family's standing and name to protect her. Just like Zelda, Daisy was "safe and proud above the hot struggles of the poor" and able to "retreat back into [her] money."
The protection that her wealth and social status provided her no doubt preserved her image from what would be considered scandalous behavior at the time. However, as the years drew nearer to the Jazz Age, women like Zelda would be far and many as they broke out of the mold society set for women. 
2.2. Zelda and Fitzgerald's Iconic Romance
While no one can deny Zelda Sayre's reputation as an icon of the 1920s, her relationship and subsequent marriage with F. Scott Fitzgerald was very much the talk of the 20s and even today in the literary community. Their relationship can be described as a beautiful car wreck from which no one could look away. Zelda and Scott's relationship embodied the rise and fall of the Jazz Age, from extravagant parties and Scott's literary stardom to their slow but steady decline into alcoholism and mental illness. 
2.2.1. The Socialite and the Soldier
F. Scott Fitzgerald, the future novelist, and Zelda Sayre first crossed paths in July 1918, when Scott was stationed at Camp Sheridan, Montgomery. Scott began calling her every day and visiting her when he could. He told her about his ambitions and even gave her a chapter from a book he was working on. He was so smitten with Zelda Sayre that he rewrote Rosalind Connage's character in This Side of Paradise to mirror her. "All criticism of Rosalind ends in her beauty," he said, telling Zelda that "the heroine does resemble you in more ways than four." 
Many of Scott's characters and dialogue are direct excerpts from Zelda's letters to the writer himself. This borderline plagiarism of Zelda's writing and even her diary entries could be identified in Scott's works by their "spontaneous turn of phrase and lyrical style" and propensity to employ dashes like Emily Dickinson's poetry. 
Zelda Sayre was desirable, and both she and Scott knew this. Scott was not the first male taken by Zelda's charms, hoping to be the lucky one to put a ring on her. Nevertheless, luck was on Scott's side, and the popular socialite also fell for him. Nancy Milford, Zelda's autobiographer, once stated the reason for their mutual attraction was that they recognized the same sense of self-importance in one another. With the number of suitors on her tail, Zelda likely preferred someone whose heart was not so easily won over.
Despite Scott's deployment to Camp Mills, Long Island, Zelda was soon reunited with her lover, upon which they consummated their relationship in what her future husband termed "sexual recklessness." By 1920, they formalized their relationship despite Zelda's friends and family strongly disapproving of the couple due to status and religious differences. Zelda was aware that Scott was incapable of financially supporting himself, much less the both of them. In a society and time where male figures determined a woman's standing, Zelda knew that she could not marry Scott until he had made something out of his literary career. 
2.2.2. A Cause for Champagne
The manuscript for Scott's debut novel, This Side of Paradise, was immediately accepted for publication upon completion in September. Scott triumphantly returned to Zelda, bearing news of his novel. In exchange for Scott's promise to bring her to New York with "all the iridescence of the beginning of the world," Zelda consented to marry him after the book's publication. April the 3rd, 1920, officially marked the marriage of Zelda and Scott. In the first half of the 1920s, Zelda frequently offered her ideas on contemporary love, marriage, and parenthood to an eager media as the rumored model for the character Rosalind Connage in This Side of Paradise.
As a result of their outrageous behavior and popularity of This Side of Paradise, Scott and Zelda swiftly rose to fame in New York. Often intoxicated, they were asked to leave the Commodore Hotel and Biltmore Hotel. According to Dorothy Parker, "They did both look as though they had just stepped out of the sun; their youth was striking. Everyone wanted to meet him." While Zelda and Scott looked placid and calm in public, they often fought behind closed doors. 
2.2.3. A Beautiful Little Fool is Born
One of the most famous lines in The Great Gatsby, "I hope she'll be a fool—that's the best thing a girl can be in this world, a beautiful little fool," was inspired by none other than Zelda Fitzgerald herself, after her daughter's birth. On 26 October 1921, Frances 'Scottie' Fitzgerald was born. Scott overheard Zelda exclaiming when she awoke from the anesthesia, "Oh, God, goofo I'm drunk. Mark Twain. Isn't she smart—she has the hiccups. I hope it's beautiful and a fool—a beautiful little fool." This scene would later be replicated nearly detail for detail in The Great Gatsby during Daisy Buchanan's labor after she gives birth to her daughter. 
2.2.4. Writing the Flapper, by a Flapper
Scott's novel The Beautiful and Damned approached its publication date, and once again, the media's attention was on the couple. When the New-York Tribune requested a sneak peek of the upcoming novel, Zelda Fitzgerald implied playfully that her husband had lifted some of her writing without crediting her. Despite the initial playfulness in the comment, it soon developed into a sore spot for Zelda when the lifting continued. The excerpt of her commentary in the newspaper is as follows:
"…It seems to me that on one page I recognized a portion of an old diary of mine which mysteriously disappeared shortly after my marriage, and, also, scraps of letters which, though considerably edited, sound to me vaguely familiar. In fact, Mr. Fitzgerald—I believe that is how he spells his name—seems to believe that plagiarism begins at home."
This revelation started the ball rolling for an influx of proposals from other magazines. "Eulogy on the Flapper," an essay by Zelda Fitzgerald, was published in Metropolitan Magazine in June 1922. Zelda's biographer Nancy Milford stated that the essay was "a defense of her own code of existence" even though it essentially encapsulated the fall of Flappers and their way of life. Paying homage to her teenhood, Zelda described a penchant for one-piece swimsuits being a trademark of Flappers and the negative impression the older generation often held of them. 
Zelda wrote and published short stories alongside her spouse, even helping him with the script for the screenplay The Vegetable. However, its utter failure and Scott's exhaustion prompted the family to relocate to Paris, France, in 1924. 
2.2.5. Marital Problems
While Scott was unfaithful, Zelda was not entirely innocent either. When the Fitzgeralds relocated to the French Riviera, Edouard S. Jozan, a handsome young French pilot, captured her attention. She danced with Jozan in the casinos in the evenings and went swimming at the beach in the afternoons. Zelda requested a divorce after six weeks. Scott was adamant about confronting Jozan but resisted and confined Zelda in their home until she gave up her demand. Jozan was unaware that she had requested a divorce. Later that year, he left the Riviera, and the Fitzgeralds never ran into him again.
Following the incident, the Fitzgeralds maintained their appearances among their friends, appearing content while avoiding any mention of the occurrence. Scott picked up writing again and completed The Great Gatsby in October. They tried to celebrate by visiting Rome and Capri, but both were depressed and unwell. Scott agonized over the title of his book when the proofs arrived, but Zelda leaned toward The Great Gatsby, thus the name. While suffering from colitis, Zelda also started painting during this vacation. 
In 1925, Ernest Hemingway met the Fitzgeralds. Zelda and Hemingway immediately formed a mutual dislike toward one another, with Hemingway describing Zelda as "crazy." One of the most significant arguments arose when Zelda openly denigrated Scott with homophobic remarks because she thought he was having a gay affair with Hemingway. 
Scott resolved to prove Zelda wrong by having sex with a prostitute to demonstrate his heterosexuality. However, before the deed, Zelda discovered the condoms Scott intended to use with the prostitute. A heated argument followed, leaving her with unresolved jealousy. Later, at a party, she hurled herself down marble steps because Scott was ignoring her and preoccupied with Isadora Duncan.
2.3. Zelda's Mental Illness
The boredom and loneliness Zelda felt while Scott was working was the root of many of the Fitzgeralds' problems. The two were more unhappy throughout the 1920s, and she frequently interrupted him when he was working. Zelda's personality grew more unpredictable, Scott had become a terrible alcoholic, and neither had made any headway with their creative projects.
In this period, Zelda's love for ballet and dancing was rekindled. However, despite her talent and skills as a child dancer, she had waited too long to begin dancing again, and this prevented her from fulfilling her potential. Nevertheless, she was adamant about practicing for up to eight hours daily, which further wore her mind and body out. Despite an invitation to join the San Carlo Opera Dance Company's ballet academy in Naples in September 1929, Zelda turned it down. Friends say that the Fitzgeralds' partying had somehow changed from fashionable to self-destructive and that the couple was constantly moody and drifting off. 
After being admitted to a French sanitarium in April 1930, Zelda underwent months of observation and treatment before meeting Doctor Eugen Bleuler, one of Europe's top psychiatrists. He then officially diagnosed Zelda with schizophrenia. Zelda is also thought to have experienced bipolar disorder in her later years. After her release in September 1931, the Fitzgerald family moved back to Montgomery, Alabama, where Judge Sayre's, her father, health was deteriorating. Scott made his Hollywood departure known while her family was grieving. Zelda's father passed away in Scott's absence, and her health worsened. She moved back into a mental health facility by February 1932.
Zelda suffered from mental illness for the remainder of her life from the mid-1930s onward. In 1934, her paintings from over the years were exhibited to the sanatorium's patients and the public. Like the lackluster response to her book, Zelda was dissatisfied with the reception of her artworks. Scott admitted her to the Highland Hospital in Asheville, North Carolina, in 1936 when she turned angry and withdrawn.
2.4. Save Me the Waltz
Zelda experienced a creative surge in 1932 while receiving treatment at the Phipps Clinic at Johns Hopkins Hospital in Baltimore. She wrote a complete novel within her first six weeks at the clinic and sent it to Maxwell Perkins, Scott's publisher. Scott was enraged when he read the manuscript as the semi-autobiographical events of the book mirrored their marriage, a concept that Scott was planning to use in his novel in progress, Tender is the Night. After forcing Zelda to omit parts that overlapped with his novel, the book was published on 7 October 1932.
There was no denying the similarities to the Fitzgeralds. Alabama Beggs, the main character, marries David Knight, a budding artist who unexpectedly becomes well-known for his work. Before leaving for France, they lead a fast-paced lifestyle in Connecticut. Alabama enrolls in ballet after being dissatisfied with her husband. The book closes when they return to Alabama's family in the South, where her father is ailing, and she becomes ill from exhaustion.
Unfortunately, Save Me the Waltz was met with disappointing sales. The lackluster sales and Scott's ridicule shredded Zelda's confidence. 
2.5. Final years
Their daughter Scottie was expelled from her boarding school in 1938, and Scott quickly pointed the finger at Zelda. Even though Vassar College subsequently accepted Scottie, his animosity toward Zelda was more significant than ever. It was at this time that Scott began an affair with Sheilah Graham. After a fight with Graham, Scott and Zelda embarked on a disastrous trip to Cuba, ending with Scott being hospitalized. This was the last time that husband and wife saw each other. 
In March 1940, Zelda was finally released from the sanatorium. The Fitzgeralds' finances had long dwindled, and Scott's literary career was slowly going up in flames. Up to Scott's passing at the age of 44 in December 1940, they sent letters to one another frequently. Zelda was unable to travel to Rockville, Maryland, for his funeral. Zelda read the incomplete draft of The Last Tycoon, the book Scott was working on when he passed away. She contacted literary critic Edmund Wilson, appealing for him to edit the book. 
After perusing The Last Tycoon, Zelda started writing Caesar's Things, a book of her own. She did not attend Scottie's wedding, just like she had missed Scott's burial. Zelda began checking in and out of Highland Hospital in August 1943. During this period, she worked on her manuscript. Her condition failed to improve, and the book was left incomplete. On the evening of March 10, 1948, the hospital's kitchen burst into flames. While awaiting electroshock treatment, Zelda was confined in a room. The fire spread to every floor through the dumbwaiter shaft, and the wooden structures fuelled the fire. Zelda was one of nine victims. Her dental records allowed for her identification, along with a slipper. 
In the past, Scott and Zelda were interred separately from his family cemetery in the Rockville Union Cemetery in Maryland. Only one documented image of the original cemetery was taken in 1970 by F. Scott Fitzgerald expert Richard Anderson and first made public in 2016. Scottie requested that her parents be buried alongside the other Fitzgeralds at Saint Mary's Catholic Cemetery. The last words of The Great Gatsby, "So we beat on, boats against the current, borne back ceaselessly into the past," are inscribed on their tombstone.
3. Legacy 
Scott saw himself as a failure during his last years, till his death in 1940, and Zelda's passing in 1948 received little attention. But in the years after their passing, interest in the Fitzgeralds soared. The Disenchanted, a 1950 movie about forgotten former celebrities, based heavily on the Fitzgeralds, was written by screenwriter Budd Schulberg. Schulberg knew the couple from his Hollywood days. 
Professor Arthur Mizener from Cornell University wrote a biography of F. Scott Fitzgerald, The Far Side of Paradise, which reignited academic interest in the duo in 1951. A piece on the book appeared in Life magazine, which at the time was one of America's most-read and talked-about publications. Mizener's biography was serialized in The Atlantic Monthly.
3.1. Impact on Women
In 1970, Nancy Milford, a graduate student at Columbia University, made the most significant changes to historical records and accounts of the couple. The first book-length biography of Zelda Fitzgerald, titled Zelda: A Biography made it to the finals for the Pulitzer Prize and the National Book Award and spent weeks near the top of The New York Times bestseller list. The novel reimagined Zelda as an independent artist whose abilities were disparaged by a tyrannical husband. As a result of patriarchal society's suppression of Zelda's unrealized potential in the 1970s, she rose to prominence as a symbol of the feminist movement.
4. Writing Style
In Save me the Waltz, the struggle of Alabama (and subsequently Zelda Fitzgerald) to stop being "a back-seat driver about life" and gain respect for her achievements – to make a name for herself apart from her husband – is depicted in the novel as a central theme. The writing styles of Zelda and Scott were vastly different. Save Me the Waltz used a lot of verbal flourishes and sophisticated analogies in its writing. 
According to literary critic Jacqueline Tavernier-Courbin, "The sensuality arises from Alabama's awareness of the life surge within her, the consciousness of the body, the natural imagery through which not only emotions but also simple facts are expressed, the overwhelming presence of the senses, in particular touch and smell, in every description." 
5. Bibliography
5.1. Zelda Sayre Fitzgerald's Books
Save Me the Waltz (1932)
The Collected Writings of Zelda Fitzgerald (2013)
6. Quotes from Zelda Sayre Fitzgerald
"I don't want to live— I want to love first, and live…incidentally."
"Nobody has ever measured, not even poets, how much the human heart can hold."
"I am really only myself when I'm somebody else whom I have endowed with these wonderful qualities from my imagination."
7. Frequently Asked Questions about Zelda Sayre Fitzgerald
Which characters in F. Scott Fitzgerald's books are inspired by Zelda?
Zelda Sayre has inspired many female characters in Scott's books, such as Daisy Buchanan from The Great Gatsby and Nicole Diver in Tender is the Night. 
8. Books about Zelda Sayre Fitzgerald for Further Reading
Written by Milford, Nancy. (2011). Zelda: A Biography. Harper Perennial Modern Classics
Written by Fowler, Therese Ann. (2014). Z: A Novel of Zelda Fitzgerald.